My Baby Won't Stop Crying – HELP!
If your baby is crying all the time then this can put a lot of stress of you and everyone in your household.
How to deal with a crying baby has led to many parents feeling frustrated.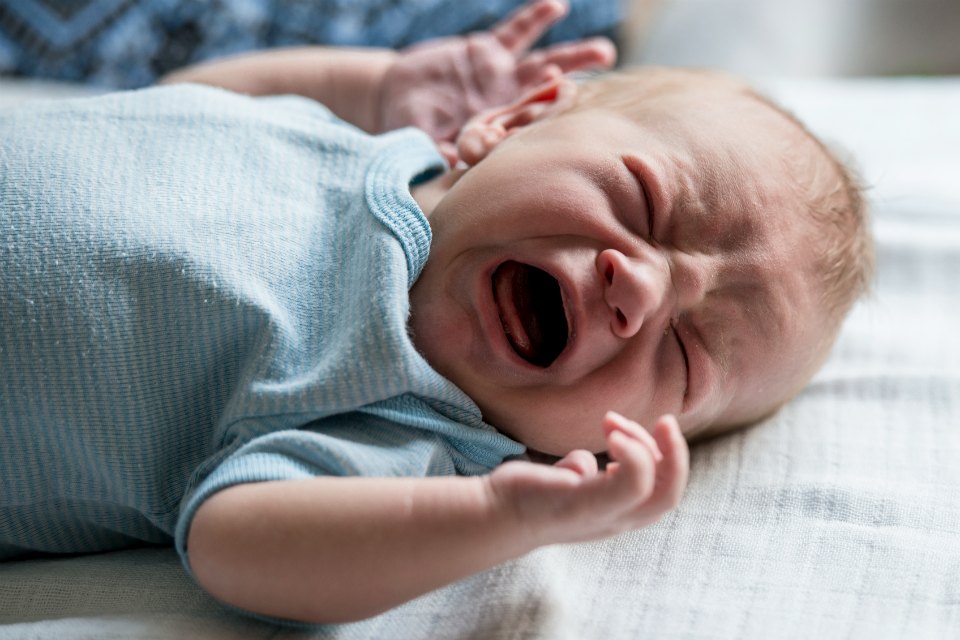 Babies Don't Come With Instruction Manuals
Someone has wisely said that it's only when our children grow up and have children of their own,  that they truly understand that babies and children don't come with instruction manuals and that mums and dads do make mistakes, but always with the child's best interests and a lot of love in mind. How many of us can relate to that?
I am sure there are times when all of us want to cry tears of our own with our baby when this tiny bundle of love won't stop crying.
Crying is Normal
We all know that crying is the only way our baby can tell us when things are not quite right. The average baby cries between 1 and 3.5 hours per day. That's a lot of crying. Crying is normal and a crying baby is completely normal. When she cries, she is communicating her needs to you and she is asking you for a response.
Of course, normally that means that when she is fed, nappy changed wrapped warmly or had layers removed because she is too warm, she will settle or sleep.  The problems really begin though when nothing we do stops those tears.
Inconsolable crying for no reason in young babies is not unusual and there may not be a reason for it. This is often seen in the afternoons and is very common in babies under 5 months old. Experts have given this period in a baby's life different names, but rest assured it is a period and won't last forever. Generally, it is just the baby expressing his feelings in much the same way as we express ours.
Babies Need to Express Their Feelings
Your baby may be trying to tell you that he feels overtired, insecure and aware of the stress going on in your life or that of your family. Babies can sense the atmosphere in the home and often do react to it. This is not a reflection on your parenting skills but is an indication that during the afternoon your baby may want more of your attention and closeness than at other times during the day.
Interrupting the Developing Patterns.
If you notice a pattern developing, you may be able to interrupt the pattern by anticipating it and providing your baby with some soothing activities during this period. Remember if you are breastfeeding, this is also the time of day when your own supply may need some stimulation so also make sure you look after you during the after lunch period.
 Take a rest with your baby and maybe even a bath together. If colic is causing any pain, the bath will not only relax baby but will relax her stomach and help her pass the gases causing the pain. You will both love the warm water and the opportunity to play games together whilst enjoying it.
Try putting on some quiet soothing music or go for a walk or drive in the car with your baby. Enjoying being outdoors together is an excellent way of promoting a healthy lifestyle to him and often the rocking of the pram or car will soothe him enough to help him fall asleep.  If he does, do look after yourself, leave the dishes and rest or do something for yourself.
If you are feeling very stressed by her crying, contact a friend, relative or child care worker and allow them to come and care for your baby to give you some respite.  Many mother's worries and feel some guilt about doing this, but do remember this may be all that is needed to help you both if you are both feeling stressed by the crying. It needed only be a last resort, but it may be a useful one.
Don't forget to have her checked for a medical problem if nothing stops her crying.  She may have an infection or other health cause for her tears.
Your baby is completely normal if he or she cries a lot.  This is just a stage and you as mum will soon learn the cues necessary to meet her needs as she tries to communicate them with you. Once your baby is older and he can communicate with you in other ways, this distressing stage will hopefully become a distant memory.
This article was written by Carol Groves:  Carol trained and worked as a nurse and midwife in Australia and overseas, many years ago before having children. Later I trained and worked as a breastfeeding counsellor with Nursing Mothers (now Breastfeeding Australia). Today I am preparing to be a Doula (Childbirth and Perinatal Support Person) and Mother's Helper.