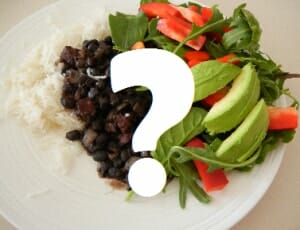 I am a little bit of a voyeur and I love to see what other people eat, especially if they are interested in a healthy eating diet or even a weight loss or weight management diet.
I am personally not aiming to lose any weight really. I am at my post pregnancy weight but I have done a few food days of food diaries and am aware my snacking could be better.
I get so busy with the girls, writing, running errands or driving somewhere that I forget about snacks. The problem is I get hungry and eat a few too many nuts, or a few too many sweet biccies.
Right now I am trying to be a bit more aware of my snacks and today was an okay day in terms of that. This is what I ate:
Breakfast
Today is a swimming day so we have to be out of the house by 7:30am to get to the class. The girls have some toast and some banana, and so do I, plus a cup of English Breakfast tea.
Morning tea
We get changed after swimming and head to the beach for a play with friends. I have packed a snack box for the girls and for myself.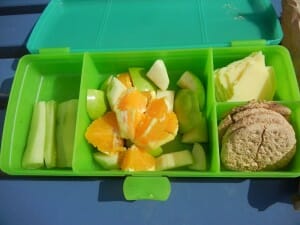 It has cucumber, orange, apple, cheese and some biccies. I have a munch on some of fruit, a piece of cucumber and some cheese plus a coffee with some full fat milk (I can't do skim in coffee, wish I could).
Lunch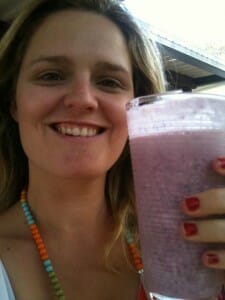 The girls fall asleep in the car so I whipped in, blended a quick Healthy Mummy Smoothie before attempting the transfer:
1 cup of raspberries
1 handful of kale
2 tbs of vanilla Healthy Mummy Mix
200 ml of milk
I also have a bit of polenta and prawns from dinner last night. The prawn dish is very similar to the stuffing in the capsicums here (minus the quinoa or rice). I  added some extra zucchini too as it was on sale at the grocers on the weekend. I ate about ½ cups worth.
Afternoon tea
Isadora wants to have a picnic so we sit out in the sun. She has some yoghurt with honey and some chopped carrots. Me too. Plus I have been getting into lemon and ginger tea lately.
While making dinner I sneak in a couple of seaweed crackers (love these!!) and my worst habit, a few fruit tingles I have in my top junk drawer. I don't eat these around the girls. They are the one thing I need to get rid of.
Dinner
Tonight we had a delicious meal of some BBQd rump steak, homemade sweet potato chips and a side salad. I made sure the salad is about half my plate. I had mixed leafy greens, cucumber, raw broccoli and some olives. I have been mindful pf including more red meat in our diets. I love red meat but just never seem to cook it much. My husband, like the salad dressing comment, has started to ask for more things in the cooking department. One being meat!! We have some great meat recipes on our website too.
After dinner it is a rush to get the kids to bed.
Finally when they are asleep I have a green tea and some choccie. I really can't go without my chocolate so I keep it dark to avoid too much sugar. We have some great chocolate on the Healthy Mummy page too!
All up I had 2 serves of fruit
4 serves of veggies (should really be having 5 but didn't get there today)
3 serves of dairy (coffee, yoghurt and smoothie)
4 serves of cereals/carbohydrates with some toast, sweet potato and some polenta
1 serve of a good heme source of protein with steak (but plenty of protein with yoghurt, milk and Healthy Mummy Smoothie mix).
I drank about 6 glasses of water, plus the cups of tea, which I am happy with. As it gets hotter I need to drink more.
I probably should cut down on my caffeine as I am breastfeeding, but I only got 5 hours of broken sleep the night before.
What did you eat today?
If you need a healthy eating menu plan have a look at our fabulous 28 diet and exercise plan. Perfect for new and old mummas!
Have a great night Mummas!
Mandy x