Nappies. A parent and baby must have (unless you have found amazing modern cloth nappies like these ones). Did you know the average child toilet trains between 2-3 years old, which means somewhere between $2600-$3900 will be literally thrown in the bin over this time on disposable nappies?
The thing is with nappies – it's not always easy to find the perfect type for your bub. Some don't stick, some leak and some are just way too dear. However, one particular nappy brand has decided to give you a box of Huggies if you're unsatisfied with theirs! THANK YOU!
This nappy brand will give you a box of Huggies if you're unsatisfied with theirs
Nappy brand, Thankyou, are claiming to "get you through the night" and if you aren't satisfied with their nappies (and the result), they'll deliver you a FREE box of Huggies straight to your door!
A company that is willing to send you a competitors product if you aren't happy with your purchase, sure shows confidence and guts. And we are LOVING IT! 
Australian parents have been sharing their feedback with Thankyou regarding their nappies, how it compares with leading brands, leakage and comfort. Thankyou's first 'nappy trail' was considered a 'fail'.
However, parents are now saying Thankyou nappies are GREAT and would happily buy them for their baby.
Despite this positive feedback, it seems the Thankyou brand are still on a mission to improve and better their product.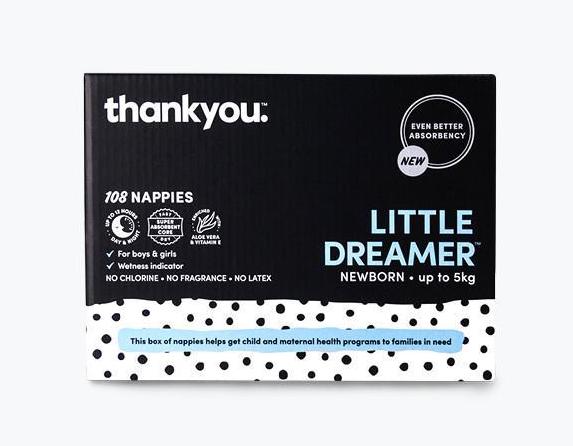 "….We're making you a promise: We'll get you through the night. Even if we have to send you a box of Huggies," reads the Thankyou website.
But why Huggies? Well, Thankyou co-founder and MD, Daniel Flynn told Kidspot,"Huggies was chosen because it's currently the market-leading brand."
Awesome hey?
According to the Thankyou website, their nappies are also enriched with soothing aloe vera and vitamin E, are hypoallergenic and free from nasties like chlorine and latex.
What's more, each box of nappies purchased helps fund safe births or health care to empower mums and bubs in need. Changing nappies, just got literally life-changing!
The Thankyou baby range has funded safe births and healthcare for over 94,477 mums and bubs in Nepal and Zimbabwe, talk about a nappy with a cause.
Find your next box of Thankyou nappies at your local supermarket.
Did you know there is now a service which enables you to hire someone to change your baby's nappy? Plus here are 18 essentials that every mum needs in their nappy bag.
The weight loss program helping mums lose 4-5kg a month
Are you a new mum trying to shift post baby weight? Are you currently breastfeeding and looking at sustainable and healthy ways to lose weight?
The Healthy Mummy's 28 Day Weight Loss Challenge can help. The 28 Day Weight Loss Challenge is a meal plan and exercise program designed by mums specifically for mums to help them lose weight safely, effectively and without giving up certain food groups and taking on vigorous exercise.
The 28 Day Weight Loss has helped thousands of Australian mums take control of their health and lose weight.
To learn more about our 28 Day Weight Loss Challenge click here or you can download your free 28 Day Weight Loss Recipe and Exercise sampler here.