Well my month for November had drawn to a close and I was just amazed at what my body had done. I am so proud of myself for reaching my goal weight of 65kgs and then to go on a reach my new goal weight I set of 62kgs has just blown me away – I have lost 17.5kg on the healthy mummy plans.
It shows how important the healthy mummy program is to us women. I don't think I would have reached this weight at all before Christmas without the push I was given.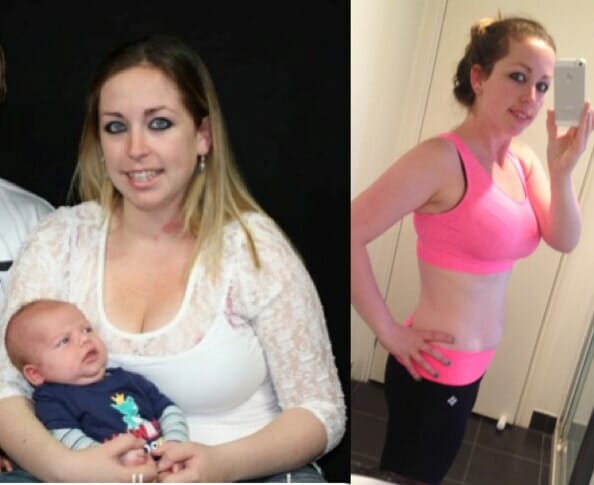 The amazing opportunity to let everyone into my everyday life and model how I live day to day. I am so thankful to have been given this chance and will be forever grateful. I feel now with this last month I have all the tools to make healthy choices and to keep my weight on track.
I have learnt that it is important to treat yourself and reward yourself for your efforts. I have also learnt it is very important not to focus on the number on the scales but the number for your measurements. The transformation in my body has far outweighed my number on the scales.
Towards the end of the month I started mixing things up a little and adding my own flare to the plan.  I rarely copied a smoothie recipe and more just chucked in whatever I felt like eating that morning some worked a treat and others turned out horribly never to be tried again :p by far my favourite concoction is my Creamy Iced Coffee. But my never fail smoothie recipe which I almost have every second day is the Banana Oat Buster Healthy Mummy Smoothie.
I have also been more adventurous with the snacks towards the end of the month and my toddler and I have been testing out all the snack ideas that get posted on the healthy mummy website. By far my favourite is the coffee and date slice. I portioned it up into the 10 suggested slices and wrapped them individually to keep in the freezer and just today I was looking for a sweet and indulgent treat which I can just literally heat and serve.
The weather has been heating up here in Victoria so we have been able to head outside allot more than previous weeks. My toddler loves the fact we can head to the park daily and while he is playing I either do sprints up and down the concrete or bench presses. If no one is looking I will join my toddler on the equipment and you can usually hear us both giggling and laughing so hard.
Looking back at the start of the month I was feeling fine within myself and didn't even feel I needed to lose a huge amount but here and the before and after numbers
                  START OF NOVEMBER           END OF NOVEMBER
Weight       69kgs (down 9kgs)                    61.5kgs (down 17.5kgs)
BMI             26 (down from 29)                   23.1
Bust            100cm (down 10cm)                94cm (down 16cm)
Waist            83cm (down 4cm)                    74cm (down 13cm)
Hips            96cm (down 3cm)                      89.5cm (down 9.5cm)
Thighs       57cm (down 1cm)                       54cm (down 4cm)
I can see a huge difference in my latest picture and everything is starting to feel toned. I am still slowly working on my stomach tho and after my last birth being a c section I'm still imaging how I will get rid of that bump that's left.
I am very pleased to be staying on as a motivating mummy for December and the new challenge for me will be to learn to maintain a healthy weight. I have always fluctuated with weight and have never been able to stay at the one size. So it is like I'm starting a completely new journey to teach myself how to maintain. But now I've learnt to balance my life and I can still indulge in guilty pleasures I'm hoping to be able to keep myself on track.
You will be able to follow me all the way thru the silly season as well as Christmas fast approaches J this is going to be one hell of a challenge and I am so ready for it.
The couple of new goals I am setting for this month are to get down to 60kgs and to also get my toddler swim ready and teach him water safety in the warmer weather. I will be proud of myself and be happy to head out to a pool or beach this year J
Keep motivated mummies and enjoy the journey
Nic xx
GET YOUR 10% DISCOUNT
If you are ready to lose weight then The Healthy Mummy plans offer a healthy and safe exercise and diet plans that are safe if you are breastfeeding and you can use code LOYALTY for a 10% DISCOUNT at the checkout.
Plus we have Cookbooks, Calorie Bibles, Exercise DVD's, Meal Replacement Smoothies and Our 28 Day Plan in our shop.