Omega 3s are incredibly important in all people's diets, especially if you are on a breastfeeding diet or a pregnancy diet.
This fresh recipe today is to inspire you to make sure you get your 2 serves of fish per week. Choose a type of fish and get cooking!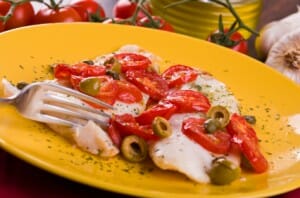 Prep time: 5 minutes
Cook time: 15 minutes
Serves 4
4 x 150grams fish fillets (your choice)
1 box of cherry tomatoes halved
24 olives pitted and halved
4 tablespoons capers
4tablespoons thinly sliced red bell pepper
2 clove garlic, minced
2 tablespoons extra-virgin olive oil
4 tablespoons dry white wine
The juice of 1 lemon and 4 lemon slices
Salt and pepper
Directions
Preheat the oven to 200 degrees celcius.
Cut 4 sheets of baking paper or al foil at around 40 X 30cm.
With one sheet, place the fish in the middle and divide the ingredients amongst the parcels.
Bring the edges up around the fish and fold to enclose, securing the edges firmly.
Cook on a baking tray for around 12-15 minutes.
Serve with a side of vegetables.
Depending on the type of fish but this recipe has around 300 calories per serve.
If you are ready to lose weight then The Healthy Mummy plans offer a healthy and safe exercise and diet routine that are safe if you are breastfeeding.
And don't forget to check out our current promotions and discounts page to see what specials we have on this week on our Healthy Mummy product range