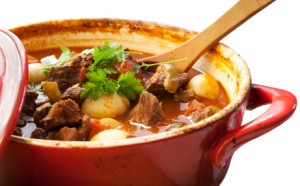 The weather is wild today. Cold, raining and a perfect opportunity to cook a hearty beef casserole in one pot, with added fibre to boost.
The whole family can enjoy this healthy meal that is filling and nutritious.
If you are on a healthy eating or weight loss diet you can enjoy it as well.
Prep time: 10 minutes
Cook time: 45 minutes
Serves 4-6
Ingredients
400 grams of chuck steak diced
2 onions diced
2 cloves of crushed garlic
2 tbs of cornflour
2 carrot, peeled and diced
3 stalks of celery
2 medium potatoes, washed and diced (peeled if you like)
1 can of diced tomatoes
2 litres of reduced sodium beef stock plus additional water/stock if desired
4 tbs of no salt tomato paste
1 cup of soup mix
1 tbs of oil
1 large handful of chopped parsley for post cook.
Directions
1.       Heat a large heavy based dish, add oil and heat through the garlic and onions.
2.       Add in the diced chuck and sprinkle over the flour. Lightly brown the outside of the meat.
3.       Add in the celery, carrots and potatoes and mix around.
4.       Add in the diced tomatoes, tomato paste and stock and soup mix.
5.       Bring the stock to a boil then reduce to a simmer and cover to cook for 30 minutes.
6.       After around 30 minutes, take off the lid and cook on a simmer for an additional 15 minutes to reduce some of the liquid.
7.       This can be eaten as is or with a side of grain.
Without additional side grain there is 380 calories per serve
Special Offer & 10% Discount
If you are ready to lose weight then The Healthy Mummy plans offer a healthy and safe exercise and diet routine that are safe if you are breastfeeding and you can use code LOYALTY for a 10% DISCOUNT at the checkout