If there's one recipe you MUST try this winter, it's this one say mums!
It's the ultimate comfort food, shredded pork, slow-cooked and flavoured with ginger and chilli, served with eggs, veggies and swimming in a flavour packed ramen noodle broth!
No wonder mums in the Healthy Mummy community can't stop posting their pictures and positively raving about the Slow Cooked Pork Ramen Recipe from the 28 Day Weight Loss Challenge.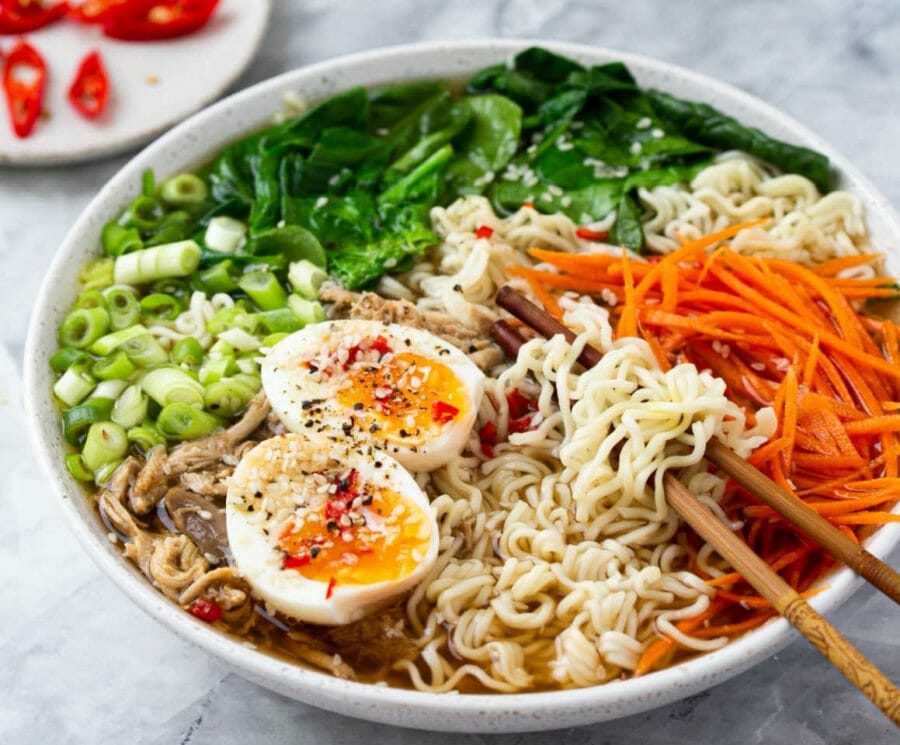 Slow Cooked Pork Ramen – what's it all about?
The beauty of this family friendly recipe is that it's really easy! The pork takes no time to prepare and can be cooked on a meal prep day or in advance if you want. Once it's in the oven, that's it! The oven will do all the work for the next four hours so you can get on with other things. Or put your feet up!
When it comes to serving, it couldn't be simpler! The shredded pork is placed in an appropriately sized bowl (the bigger the better) with the mouthwatering cooking broth, low fat ramen noodles, veggies and topped off with a boiled egg (cooked to your liking! If you love soft boiled runny eggs – go for it!)
It's the perfect recipe for the cooler months and is packed with nutrition for a great immunity boost. What's more, it's filling and comforting but is only 390 calories per serve.  And the best part is that kids love it too so it will be an absolute hit with the whole family!
See what Mums are saying about this recipe plus get the recipe below!

Jess Anderson says it's a great pick me up when you've been a bit under the weather.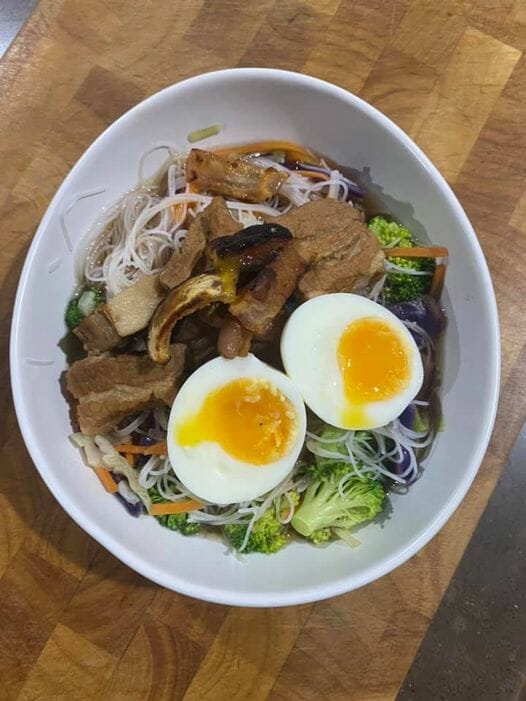 "Could that egg be any more perfect pork ramen for dinner tonight. Quick, easy cooked in steps so I could rest in between as I've been unwell in and out of hospital but still focused on good nutrition to help get better."
Jules Buxton loves that it's a great option to cook it steps and enjoy over several nights.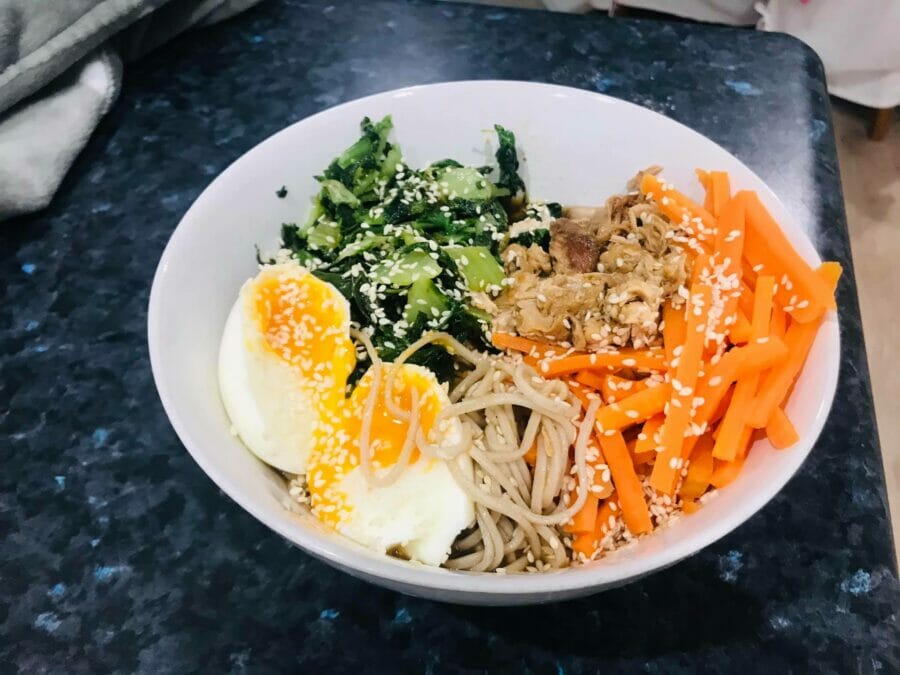 "Yesterday I cooked the slow cooked pork ramen in the oven on low all day and then popped it in the fridge overnight. I was having it for dinner tonight so I skimmed off the fat, shredded my pork and strained the broth. I reheated my serve then assembled it all in a bowl with the noodles, a soft boiled egg, baby spinach leaves, spring onions and julienned carrots. I now have 3 large containers of the pulled pork meat left over for other meals."
Julie couldn't resist having it twice in the same week!
She said "I am having the slow cooked pork ramen AGAIN tonight … it's that good lol this time I sautéed my dads home grown Chinese cabbage and spinach leaves in a tiny bit of sesame oil and added it to my bowl of goodness.
Debbie Harvey used her slow cooker instead of the oven with great results.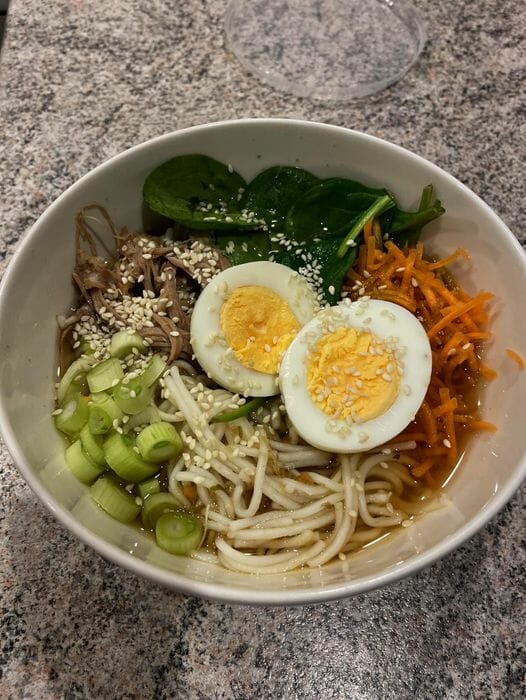 "Cooked this tonight 'slow cooked pork ramen', I cooked the pork and broth in the slow cooker for 8 hrs low rather than the oven, a hit with the fam… so yummy, the pork just fell apart (I used pork fillets from Aldi).
Eleanor Hannah just couldn't get over how good it tasted!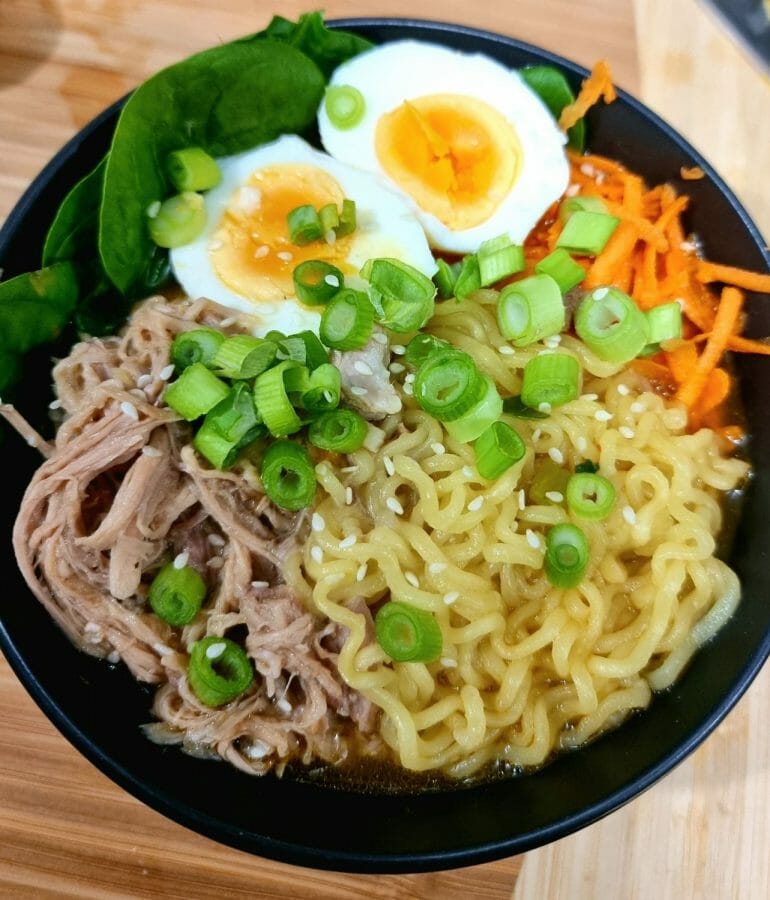 "Omg how blimin delicious is this!!!!!!"
It was a HUGE hit with Kylie Prior and her family even with a few adjustments.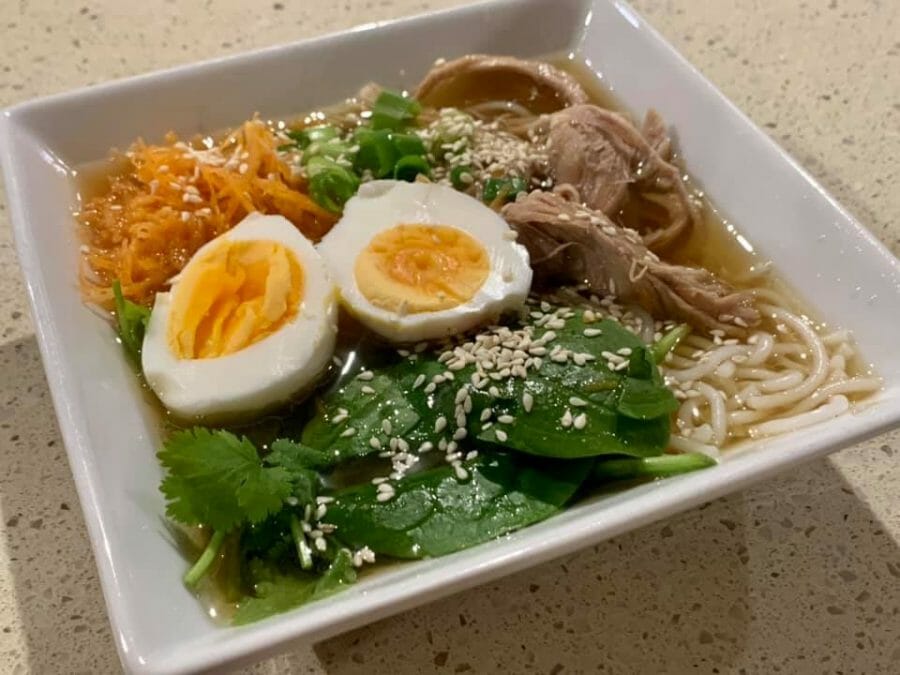 Kylie said "If you haven't jumped on the slow cooked pork ramen train make sure you put it on your meal plan next week!
All five of us inhaled it . A huge family win!
We made ours gluten free to accomodate a family member with coeliac disease by using rice noodles and by swapping the mirin (which I wasn't sure about) to apple cider vinegar."
Kiri Kira Poliseno just had to share how good she thought it was!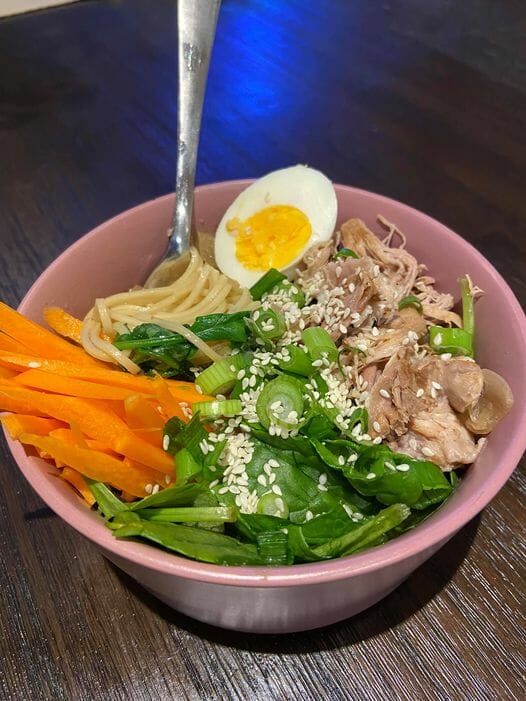 "I know this has been shared so many times but here's another one…. It was just too good not to share. The finished product of this mornings meal prep. I have another 8 serves to put in the freezer
Slow cooked Pork Ramen. Sooo amazingly delicious and I am so full."
Ready to give it a go?!
Get the recipe for Slow Cooked Pork Ramen here
For more amazing recipes like this one, join our 28 Day Weight Loss Challenge!
Want to shift your baby weight but feel like you have NO TIME in your day to exercise and eat healthily? That's where the Healthy Mummy's 28 Day Weight Loss Challenge can help.

Our Challenge entails: 
28 days of at home exercise routines (no gym needed) – with video instruction
Customisable and breastfeeding friendly meal plans
Time-efficient exercises for busy mums – under 30 mins
Challenge combines Pilates exercises with interval and circuit training (HIIT)
Suitable for basic to advanced fitness levels.
Home to thousands of EASY-TO-MAKE recipes.
Thousands of mums take part in our challenges every month and have lost 2 million kilos between them!

Prices start from less than a dollar a day.  Learn More Now