Parenting Hack for Self-Isolation: Turn your body into a canvas for your kid's creativity
Parents have found a fun way to keep their kids happy, creative and connected during self-isolation and it involves allowing their kids to use their bodies as canvases. Yes, you heard that correctly!
Mum-of-3 Tarryn Eames shared her children's masterpiece within the Healthy Mummy community after her kids finished colouring in her husband's tattoo and it quickly became apparent that she was not the only mum with kids enjoying this activity.
Several other mum's shared photos of their children doing the same thing.  A new self-isolation trend? … only time will tell.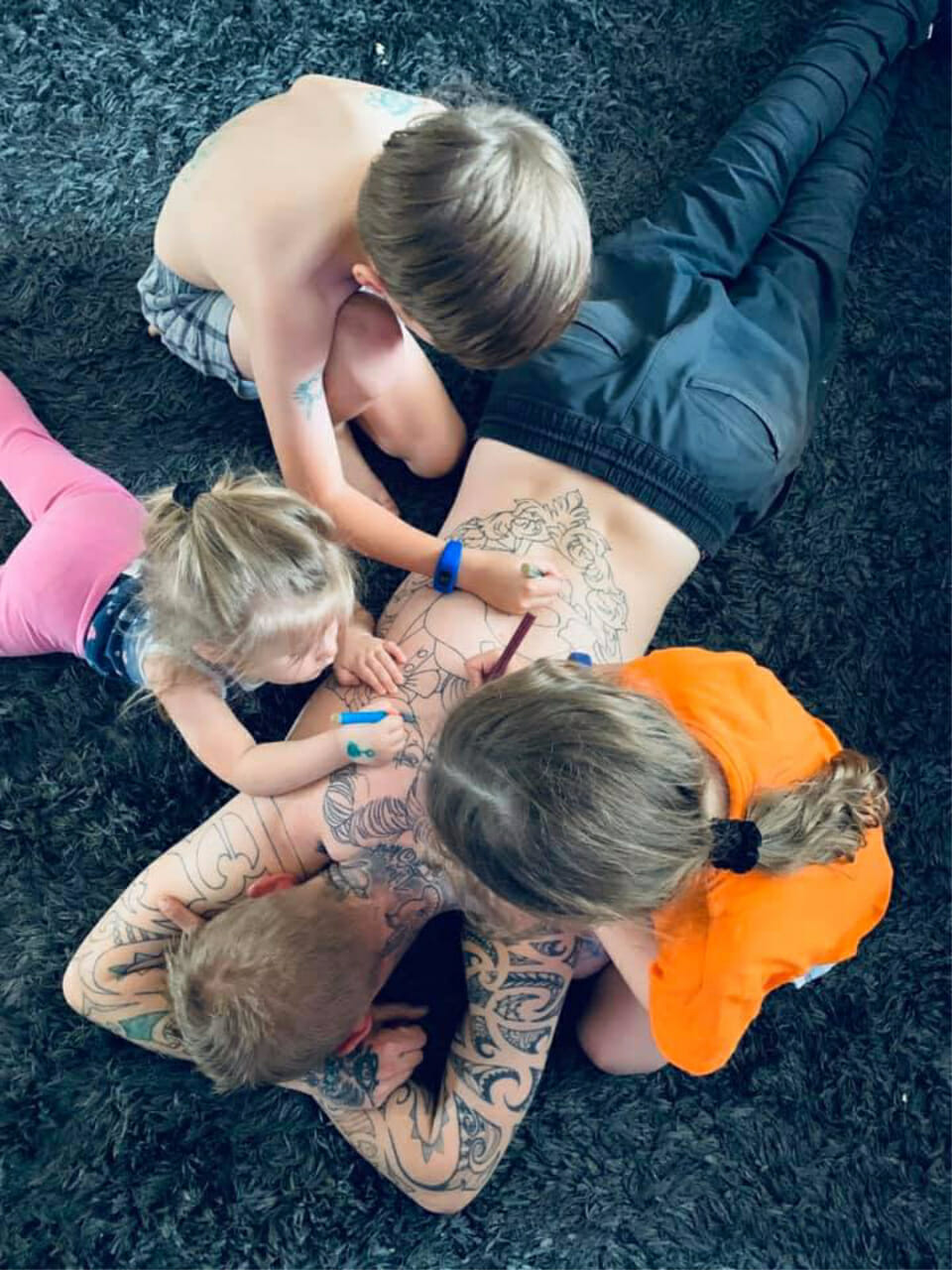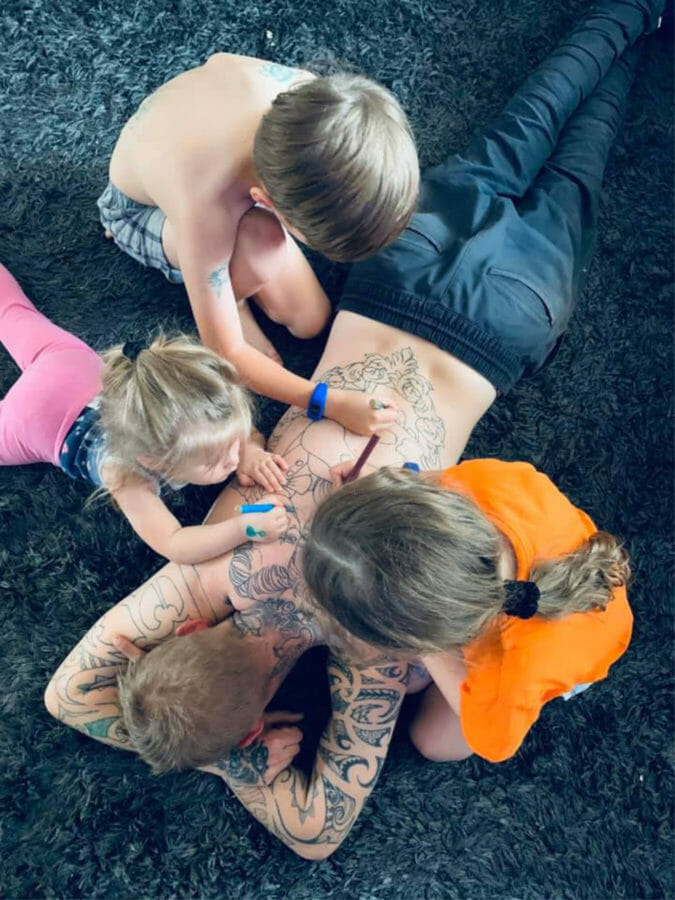 Are the young children of today going to be the most resourceful generation yet? Growing up in the midst of self-isolating to avoid Coronavirus, they are finding plenty of new ways to be entertained.
All they need is a willing participant (mum or dad) and some washable felt tip pens. Presto.. the real life mum and dad canvas!
With very few chances of seeing your friends or going for a job interview in the next few weeks there is no better time to let you kids go wild with their creativity.
Not only will it keep them entertained and amused for hours, it's apparently very relaxing and you might even be able to sneak in a quick 40 winks during the process. Ssshhh we won't tell, if you don't!.
The tattoo canvas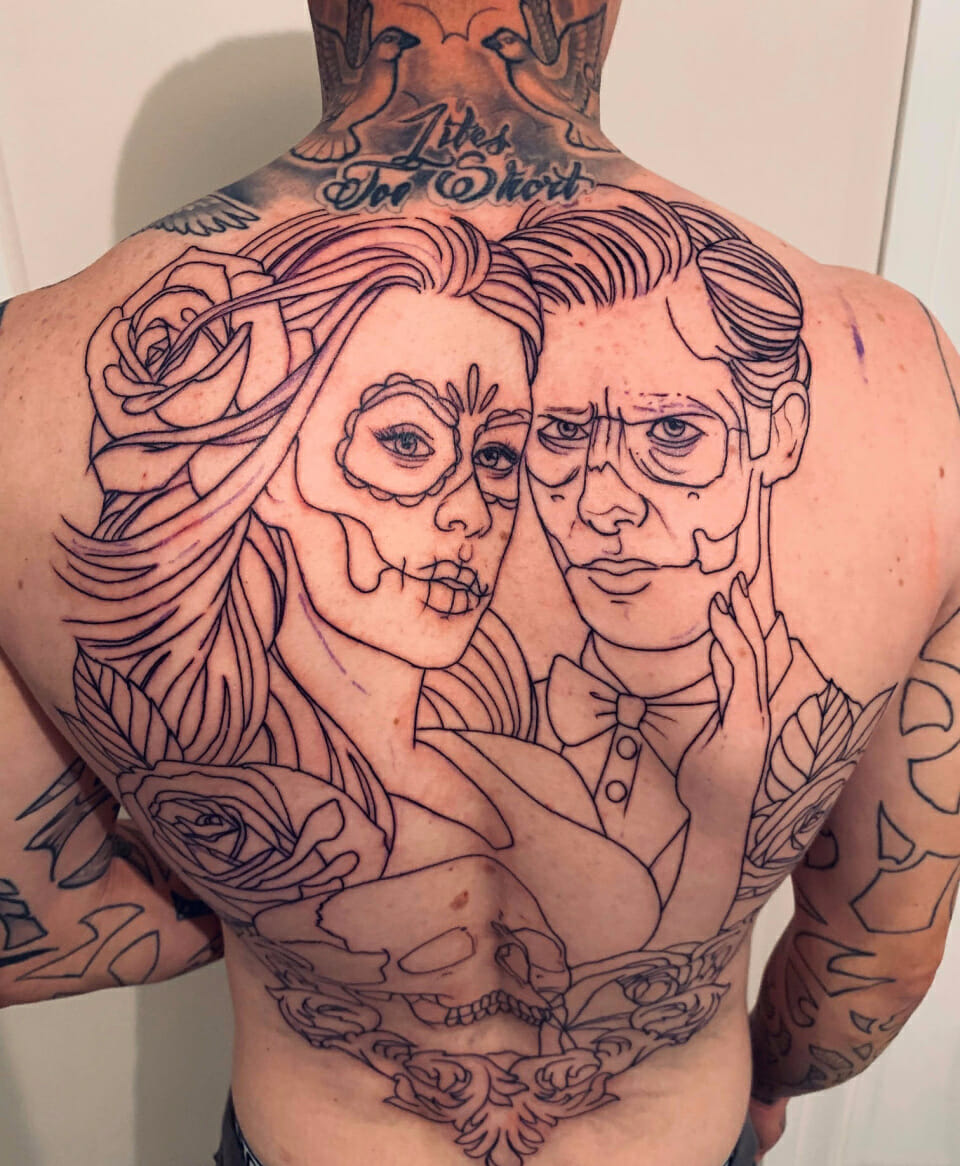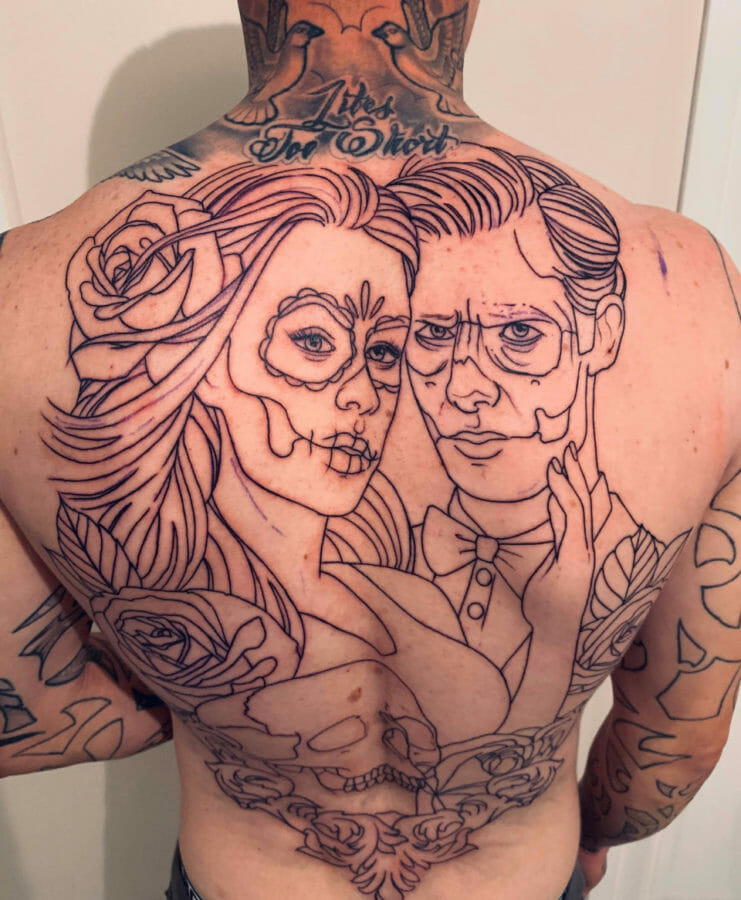 Mum-of-3 Tarryn says "Just like many families around the world right now due to the COVID19 virus my husband and I decided to keep our almost 6 year old daughter and almost 8 year old son home from school.
I was really struggling to cope with the transition mentally.  Both finding the time to try to help them with completing their homework all while trying to keep on top of the usual house duties and keeping an eye on my super adventurous and fearless 2 year old!
I shed a fair few tears throughout the week as I tried to juggle it all. But after reaching out to family and friends I came to the realisation that I am not their teacher.
I am their mother and that is what's most important to me and them right now".
Stop stressing and start having fun with kids
"So I decided to relax and instead of trying to be their teacher and creating more stress during this already stressful time I decided to be their mum and make the most of this extra time I have now been gifted with them.
I want them to remember the quality time we spend together as a family, rather than their mum trying to be a pretend teacher and bossing them around to get xyz done everyday.
So in light of that, on Friday afternoon hubby came home from work early we sat together and spoke about his day.
Then our almost 6 year old daughter asked for us to print her a picture to colour in.
My husband was planning on having a shower so I thought about it for a second and remembered that my husband has a large outline on his back which is a tattoo that isn't quite finished yet and was the perfect canvas for us to colour in.
I thought this was the perfect opportunity for us to end our trying, chaotic, overwhelming and stressful week on a high".
"My kids faces lit up"
After laughing and suggesting that her and the kids colour in their Dad's tattoos she says "my kids faces lit up and they began to jump with excitement and my husband gave us the a smile and a nod!"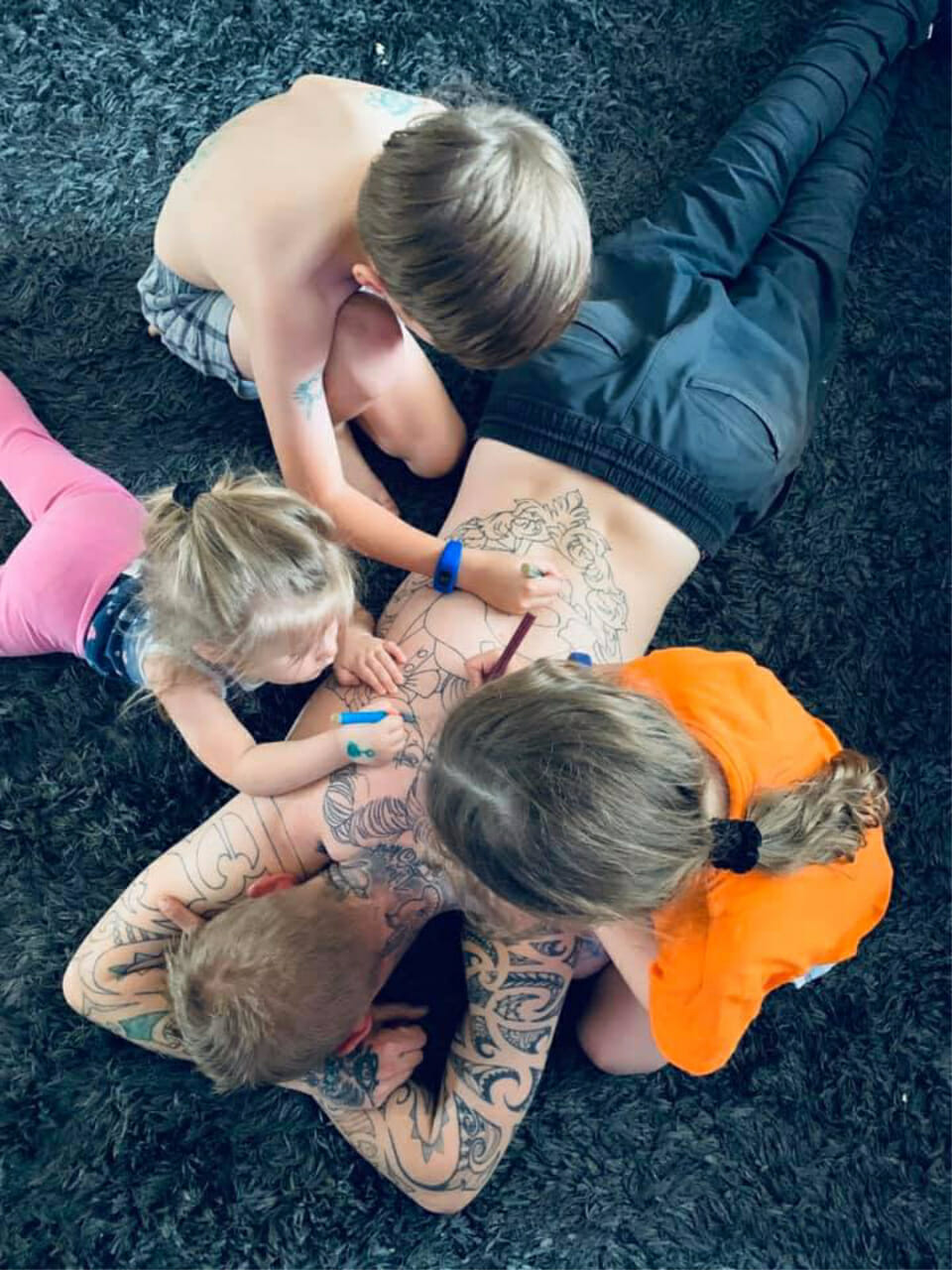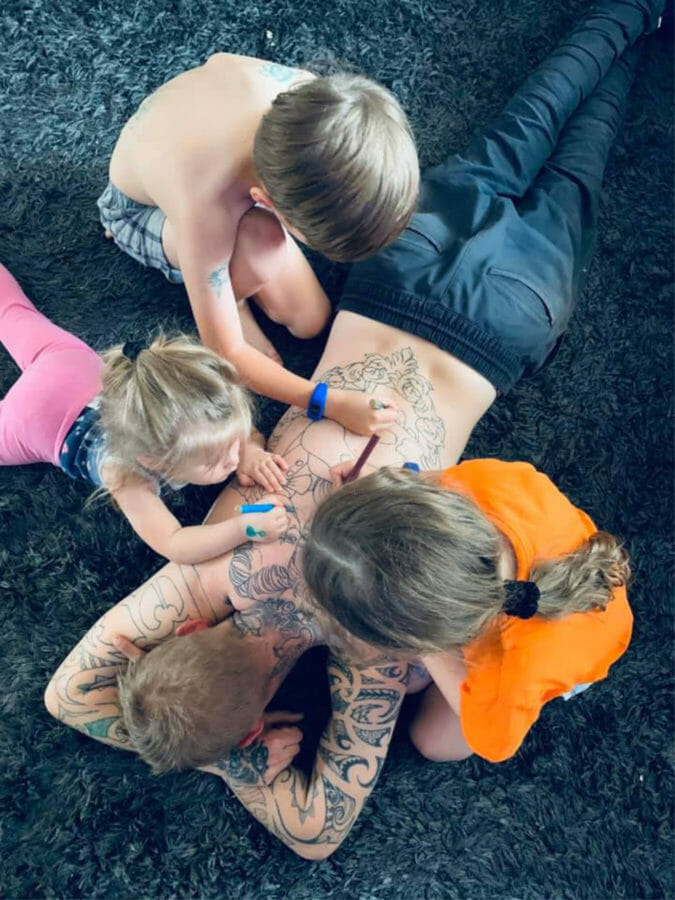 Tarryn says "We gathered up all our textas and we sat together on our lounge room floor for over an hour colouring in every detail of the tattoo.
We spent the whole time laughing, laughing so hard my cheeks were sore afterwards.
We spoke about the colours we were using, we spoke about being gentle and not pressing too hard and hurting daddy, we talked about which parts tickled dad the most and we talked about working together as a team and letting everyone have a turn.
It was honestly the best way to end the week that was and I can guarantee you it will now be a regular occurrence in the Eames household".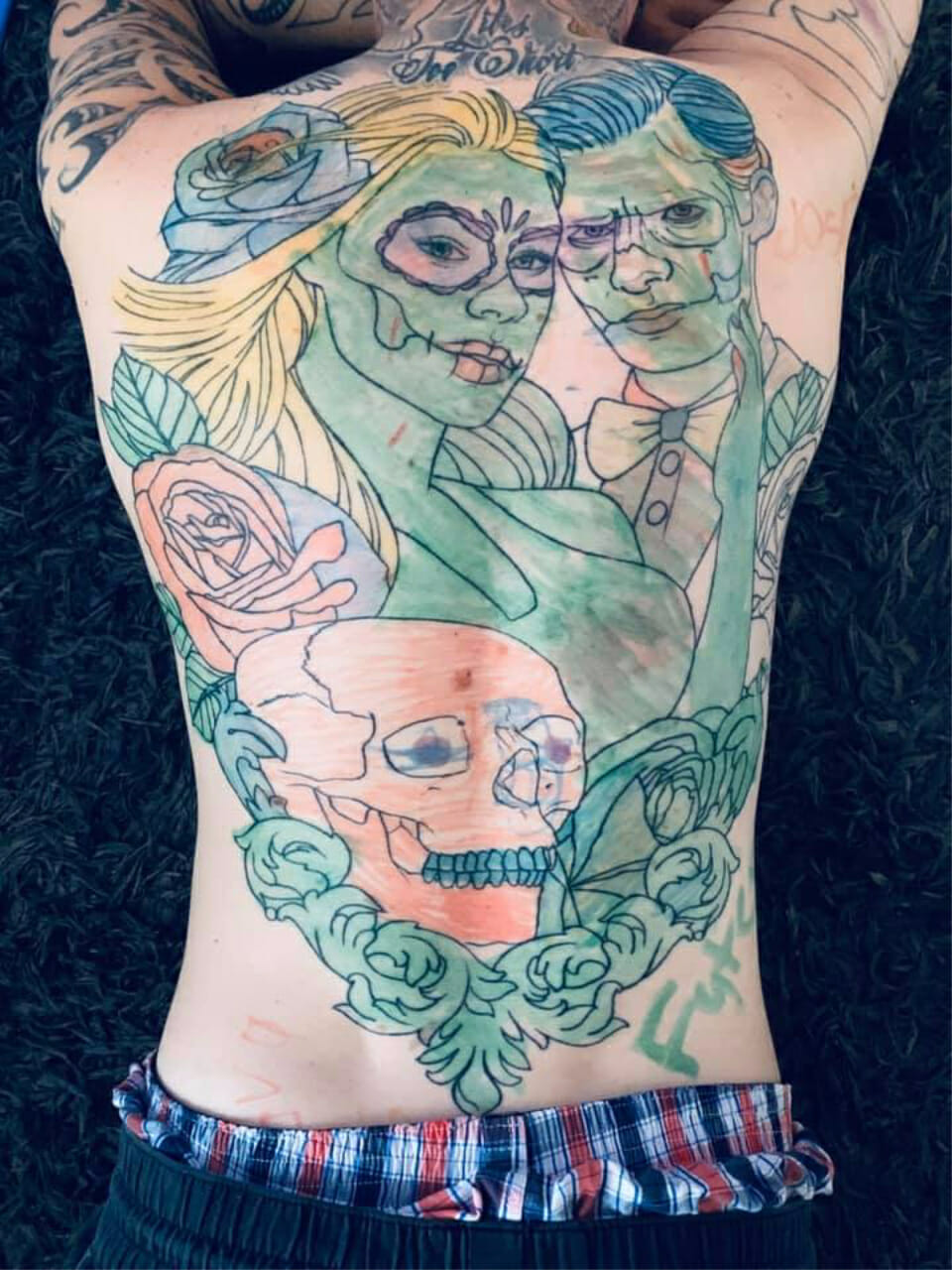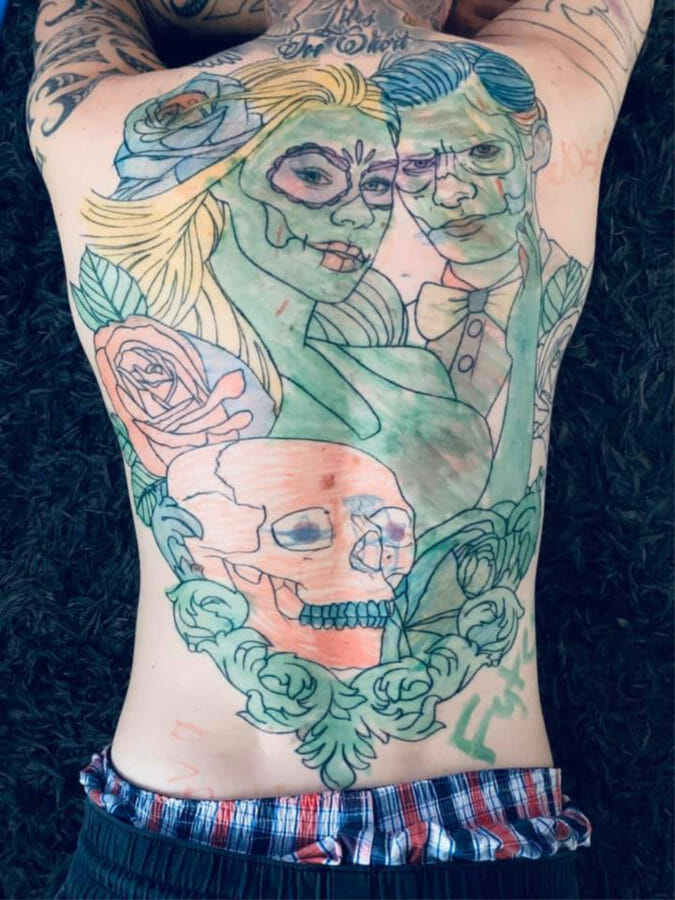 "The kids absolutely loved this and had SO much fun. Well to be fair mummy actually really enjoyed herself too.
My husband says it did tickle in certain spots but it was actually quite relaxing!"
Tarryn's advice: "Get the WHOLE family involved".
What a fun way to relax and have fun with the family. Thank you for sharing your hack with us Tarryn.
Another mum in the Healthy Mummy community came up with a great suggestion for Tarryn "This should become his real tattoo once tattoo artists can work again".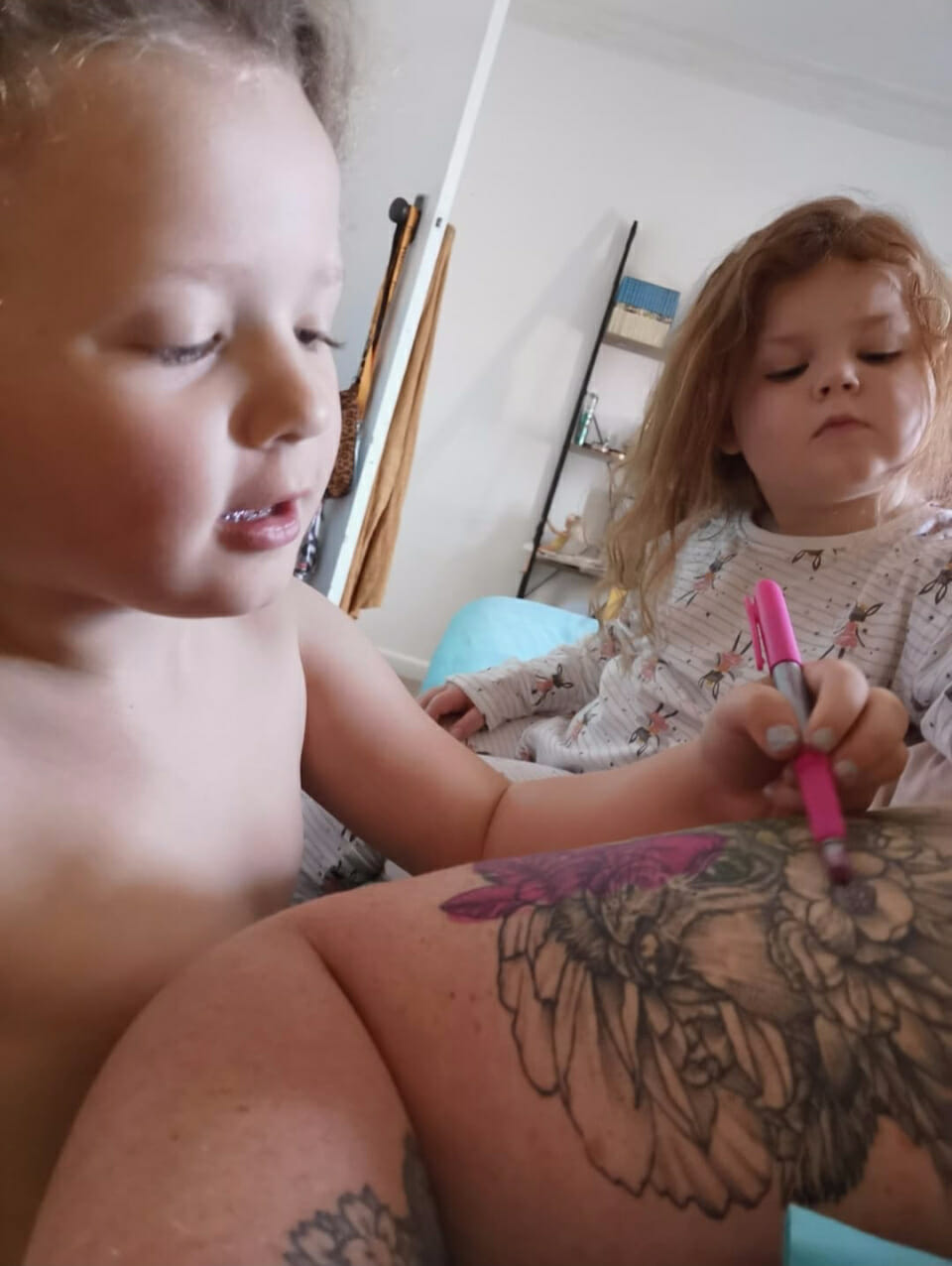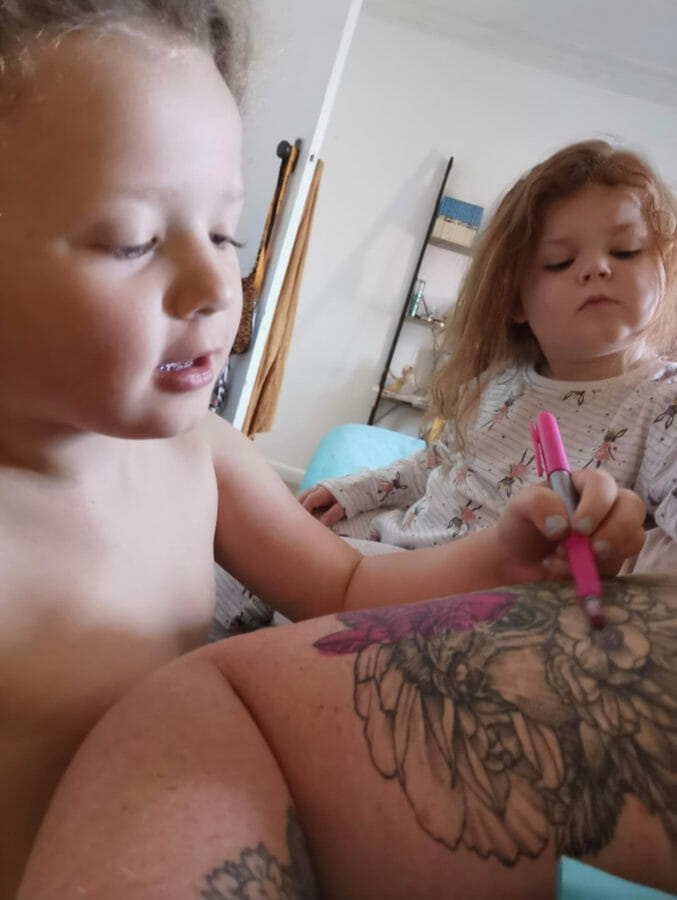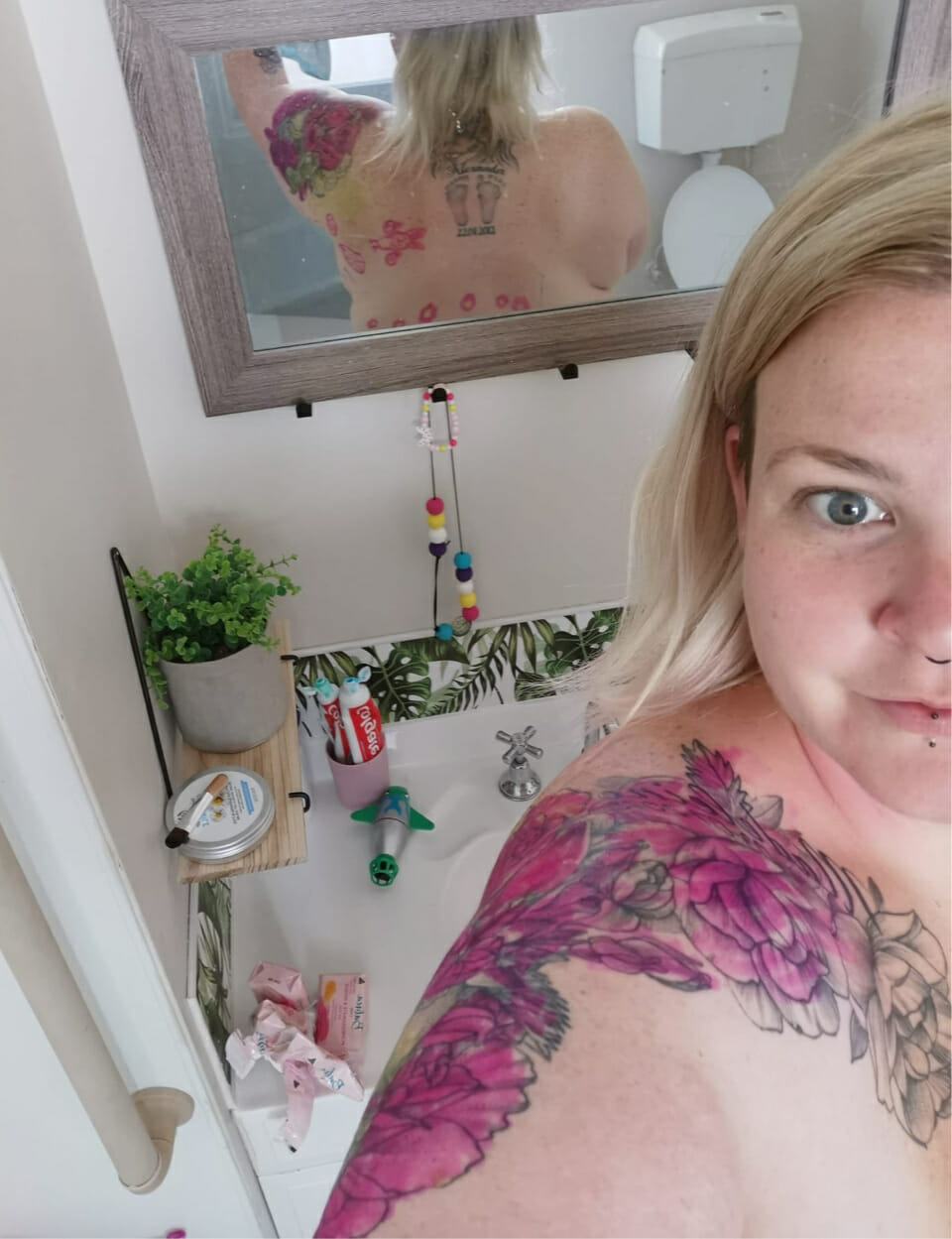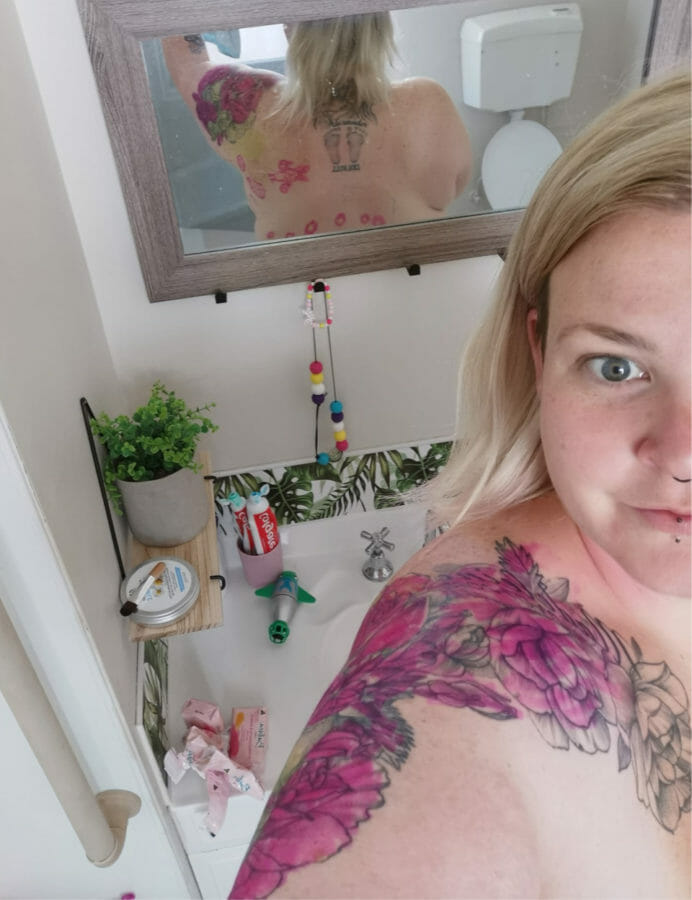 It turns out Tarryn wasn't the only one taking part in this activity. Healthy Mummy Mum-of-4 Amy Atkinson says "My kids do this to me all the time"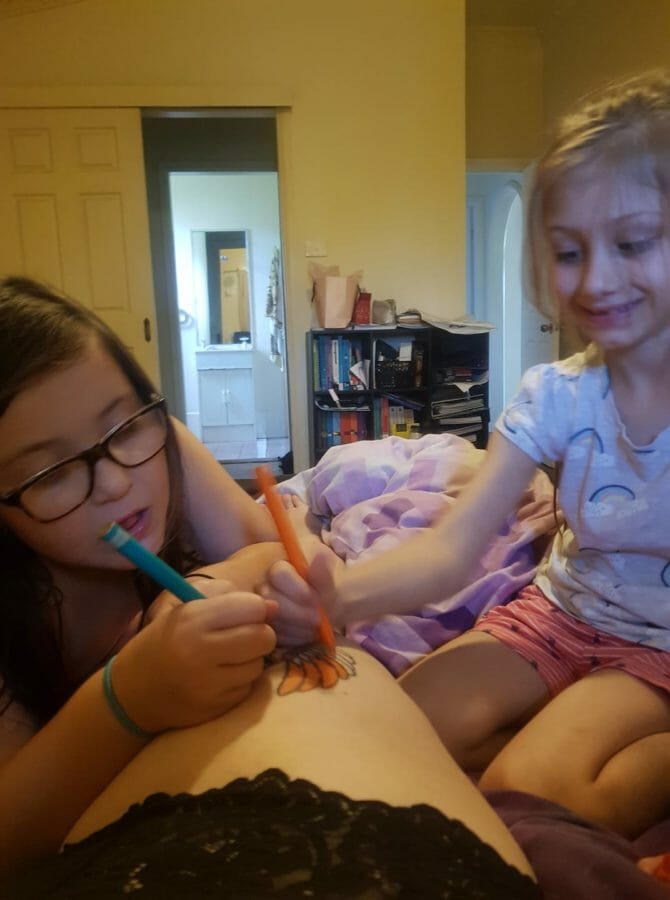 And Healthy Mummy mum Aimee O'Connor says "My daughters do this regularly. They love it".
Leg art "It's better than a massage and goes forever"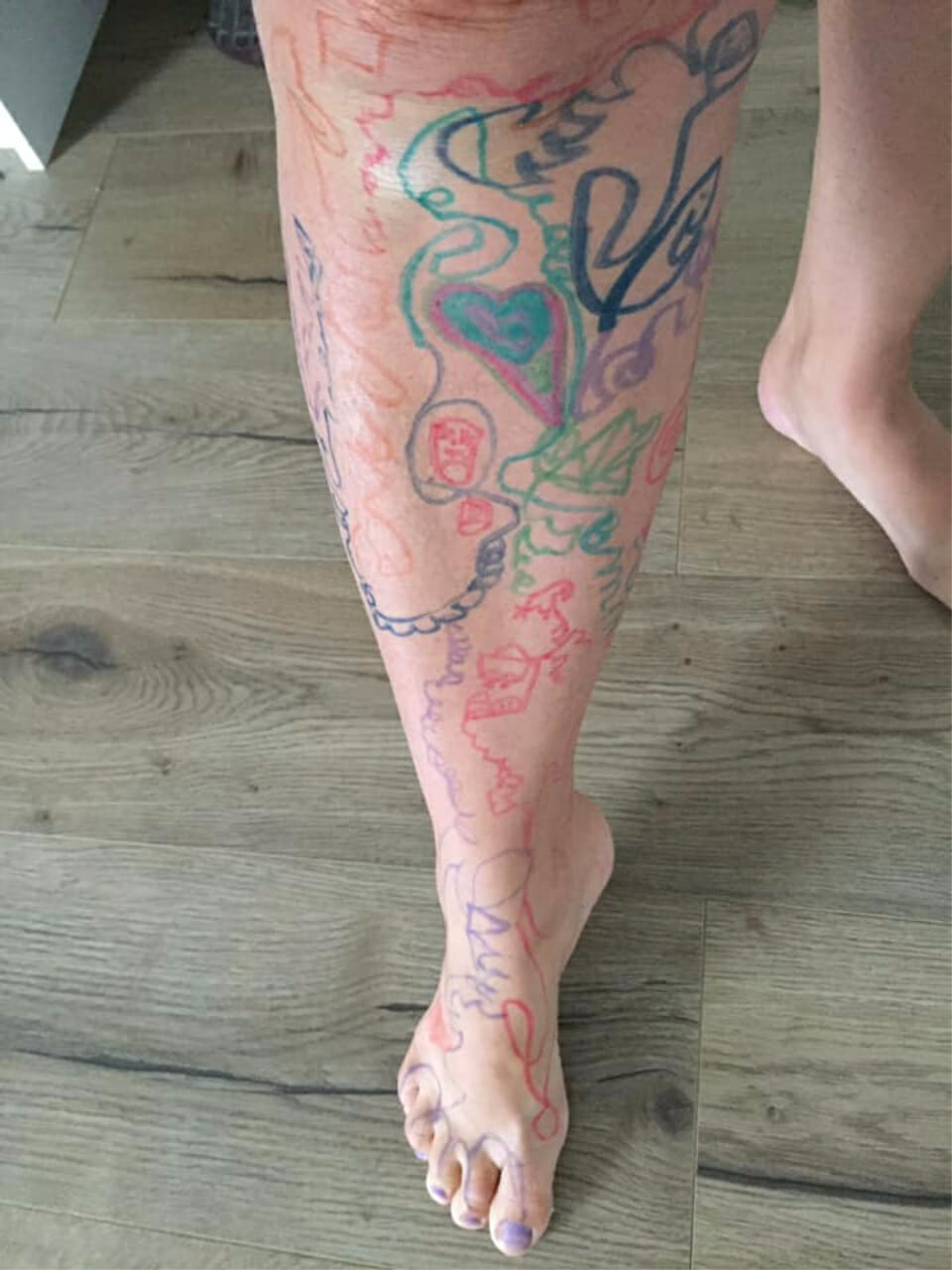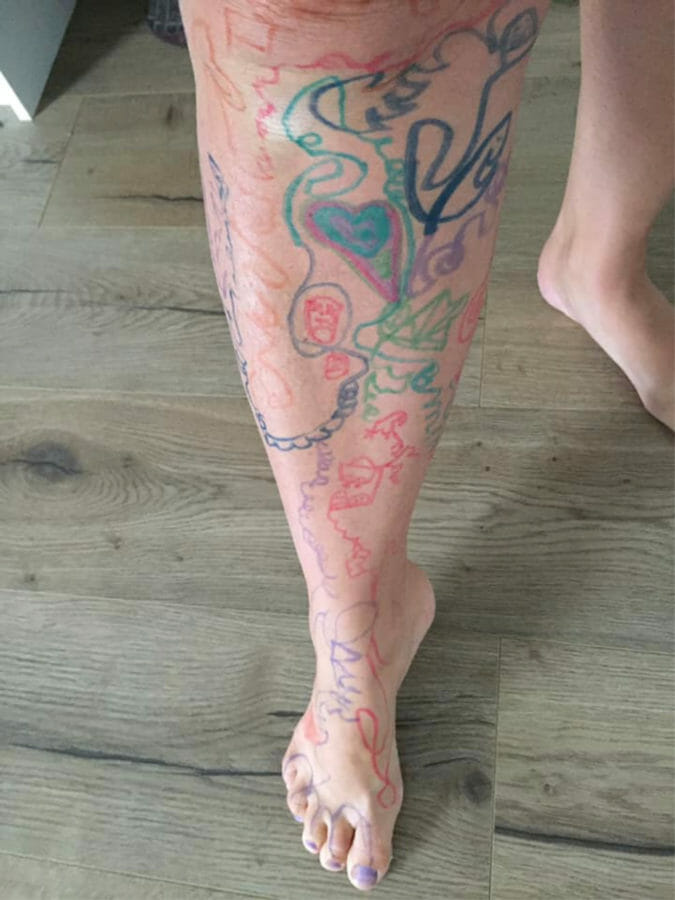 No tattoo, no problem! Healthy Mummy mum Kristy Varley says "Ha ha the kids did this on my legs today. It's better then a massage and goes forever. Almost as good as being a matchbox car track"
Try Hangman
Trish Potter says "On holidays when it was raining we did something similar… we played hang man on my husbands back with my daughters and some textas… It was really funny".
Valuable tip before you start turning you body into a canvas
Samantha Fitzgerald offers some valuable advice for other parents who might want to try this at home.
She says "So my hubby did a similar thing a while back which I didn't really know was happening until the kids were nearly done.
My hot tip…don't let your kids use permanent markers and don't let your husband put a singlet on and think it will be ok to sit on your brand new $6k lounge suite!"
Oops…  Note taken Samantha.  Thanks for sharing with us and sorry about your lounge!
Judging by all the photos that the mums have kindly shared, we clearly have some creative kids in our community.
These are trying, stressful, unknown times for all parents and we are all doing our best to get through it.
While we are not suggesting you all turn your bodies into canvases we do encourage you to find creative ways to connect with your kids – no matter what form this may take. Challenging times often require us to 'think outside of the box'.
If you are struggling during self-isolation you might also like to read
Top tips on how to limit the QUARRELLING during QUARANTINE
How to look after your mental health and wellbeing during the coronavirus crisis
How to deal with your own anxiety and talk to your kids about the coronavirus crisis
The 28 Day Weight Loss Challenge has everything you need to stay fit and healthy! Join today!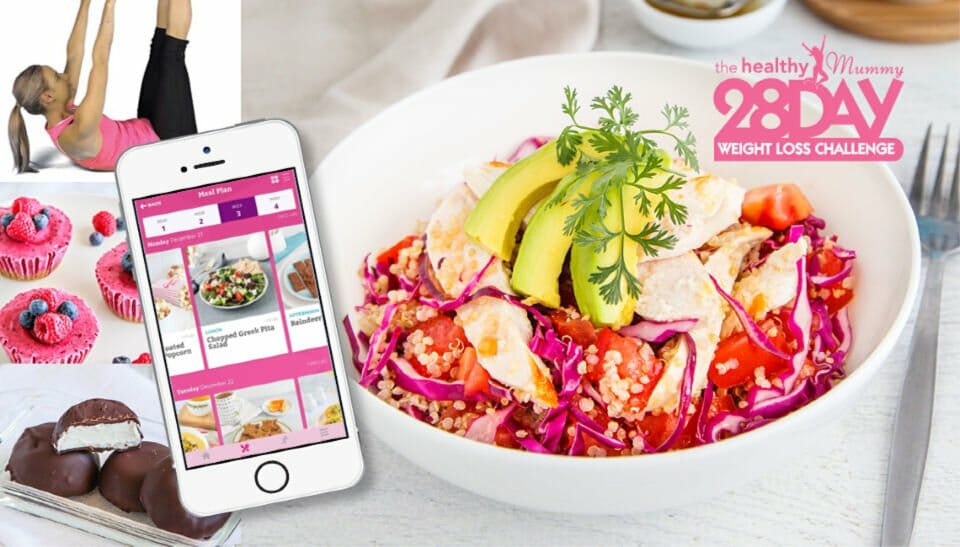 Our 28 Day Weight Loss Challenge is an affordable, customisable weight loss program PROVEN to help mums reach their weight loss goals.
Our Challenge entails:
28 days of at home exercise routines (no gym needed) – with video instruction
Customisable and breastfeeding friendly meal plans
Time-efficient exercises for busy mums – under 30 mins
Challenge combines Pilates exercises with interval and circuit training (HIIT)
Suitable for basic to advanced fitness levels
Home to thousands of EASY-TO-MAKE recipes!