What kind of parenting philosophy do you feel aligned with? I don't really know what we are; bits and bobs of everything really.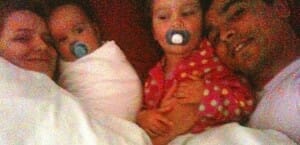 From the outside, you could probably deem our style as 'attachment' parenting. But beware, really, it has been by accident and pure laziness. There is no way that I could be proactive enough to be an attachment parent.
I do understand all types of parenting and appreciate everyone's reasons for choosing them. This is just where we are at at the moment.
It is a minefield though. Comment on one person's mantra and you could get your head swiped off. Disagree with somebody's line of thought and who knows what could happen!! ; )
In our family we are pretty easy going and try everything once. At the moment though I guess you could box us up with a little attachment parenting bow.
My 3 year old has pretty much co slept with us since she was 2. She was a fabulous sleeper from age 1 -2 years after we control cried her over a 3 night period at 1 year of age. She slept from 7pm, by herself after a quick story and kiss, through till 5am. She would come into our bed for a cuddle and bottle when she was little and we prayed she would go back to sleep but more often than not she would be up raring to go. I used to complain about my full unbroken night's sleep!
At 2 years of age, she moved to a toddler bed (don't do it people, keep them contained!) and it was good for 2 weeks and then something clicked and it all went down hill.
At this time I was 3months pregnant and wasn't in great shape tired wise. We left it for 3 months and then I put my name down for sleep school.
I was 33 weeks pregnant at the sleep school and it was hell. The midwife said to me that she was the most stubborn child she had ever met. So I left defeated with Isadora back in our bed.
So she goes to bed in her bed, and she is getting better (if you can call it that) so she is in our bed probably by 12am.
I could keep putting her back in her bed but really, I am so tired during the night that I really am too lazy to keep putting her back and get up to feed Maya too.
Although I do secretly love it. She cuddles me with her little hands and gives me kisses in the morning. I also love getting a little arm around my neck for a cuddle in the middle of the night.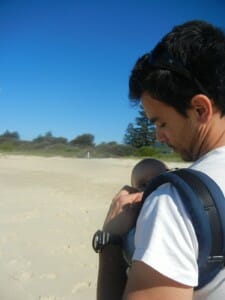 I had a baby bjorn with Isa but this time with Maya, I have bought a new baby carrier, a Manduca. I love it. The reason I bought another one was because Maya wants to be part of the action all the time and she is a bigger baby than Isa ever was and I needed the back support. I also find it easier to hold her in the carrier when I am dropping Isa off at school or when we are running around at the shops or at the playground. It makes it easier than pushing the pram or even my side by side double pram. I still use all of the prams for the girls but the carrier is easier for run-a-bout things.
I didn't do 'extended' breastfeeding with Isadora, she was fully weaned from the breast by 11 months. Maya is coming round to 8 months and I don't intend on weaning her even at 12 months as I am not going back to full time work at an offsite location like I did with Isadora. I can't see me breastfeeding  till she is 10 years old or anything, I just don't think I will be ready at 12 months either.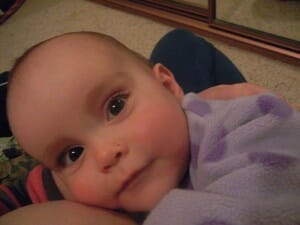 I am not sure if it is because she is my last baby or if it is because she has the opportunity to have that nutrition for longer. I also like the bond we have from feeding. It calms her whenever something is wrong. She doesn't have a 'full' feed each time. Sometimes it is more like a sip to clear her throat. Either way I know how good it is for her that I can't see any reasons to stop.
Although I do realise she needs to get onto some sippy cup action from a mouth development point of view. Plus I intend on her going to little school next year for 1 or 2 days, so she needs to be able to take some other kind of drinking vessel.
What kind of parenting style do you take? And what do you think of ours? Don't worry I won't bite your head off if you disagree, this is just what works for us in our little family. 😉
Hope you are having a happy healthy day ; )
Mandy dos Santos (BSc. Food Science and Nutrition, Grad. Cert. Human Nutrition)
Don't forget to post me a question on Facebook about food or nutrition so you can read more about what you want to read!