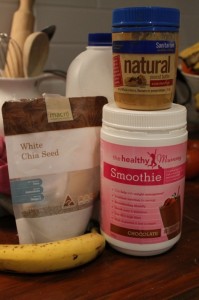 Sometimes when the weather is a little colder, we tend to lean towards indulgent foods. This is not always a good option, especially if you are on a weight loss diet.
But with this Healthy Mummy Smoothie recipe, it tastes indulgent and you get your hit! BUT it is still filling and better for you.
What you need is:
2 tbs of chocolate Healthy Mummy Smoothie mix
1 banana
1 tbs of peanut or nut butter
2 tbs of chia seeds
200 ml of milk
Blitz it all up and 'indulge' in your choc nut surprise.
Special Offer & 10% Discount
If you are ready to lose weight then The Healthy Mummy plans offer a healthy and safe exercise and diet routine that are safe if you are breastfeeding and you can use code LOYALTY for a 10% DISCOUNT at the checkout