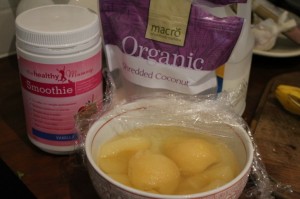 Pear is such a delicious fruit to include in your Healthy Mummy Smoothie as it has some sweetness but will not give you the sugar peaks and lows as it is low in glycaemic index.
Tinned fruit is fine to use as well, as long as you juice the ones in natural juice (not syrup)
Combined with the crunchy and rich flavour of the coconut, you will adore this combination.
What you need:
2 tbs of vanilla Healthy Mummy Smoothie ix
2 pear halves
2 tbs of coconut
200ml of your milk of choice
Blend it altogether and enjoy the calming flavour of the pear.
If you are ready to lose weight then The Healthy Mummy plans offer a healthy and safe exercise and diet routine that are safe if you are breastfeeding and you can use code LOYALTY for a 10% DISCOUNT at the checkout