This healthy eating recipe for Quinoa Porridge is packed with protein and essential vitamins and minerals like iron, potassium, fibre, and magnesium.
You may not have encountered ingredients like Goji berries, sunflower seeds and quinoa flakes before but they all can be found in the health food section of many supermarkets.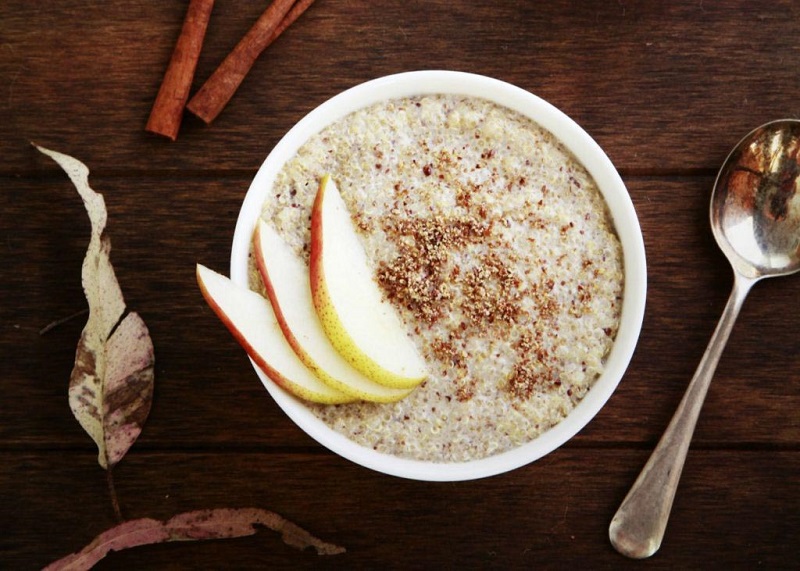 Quinoa Porridge Recipe
Ingredients:
A third of a cup of quinoa flakes
1 cup of unsweetened almond milk
A handful of fresh blueberries
1 teaspoon of cinnamon
1 tablespoon raw sunflower seeds
1 tablespoon Goji berries
5 walnuts
Optional Extras:
Replace the blueberries with strawberries or raspberries
Add some shredded coconut to the top
Add half a chopped banana to the top
Replace the almond milk with skim milk
Sprinkle some LSA on top before serving
Method:
In a small saucepan, bring the milk to boil.
Add the quinoa flakes and the cinnamon, and reduce heat to very low.
Keep on a very low heat for 3-4 minutes, stirring occasionally.
Once the mixture has thickened into porridge, remove from heat.
Pour into a bowl and top with Goji berries, blueberries, walnuts, and sunflower seeds.
Serves: 1. Calories per serve: 302