Raspberries and Cream Smoothie
Yes, cream! Well not quite, but this Healthy Mummy Smoothie is delicious, thick and smooth that you may need a spoon to eat it!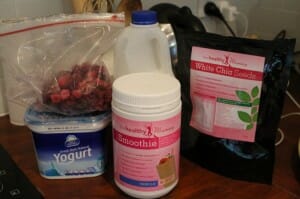 Yes a spoon!! Not your ordinary weight loss drink is it?
A plain or greek yoghurt is a great addition to Healthy Mummy Smoothie as it is high in calcium, protein and also has the benefit of probiotics which is beneficial to your gut flora.
What you need is:
2 tbs of vanilla Healthy Mummy Smoothie mix
1 cup of frozen raspberries (or berries)
1 large tbs of yoghurt
1 tbs of chia seeds
200 ml of your choice of milk
Blend it altogether and make sure you get a spoon as you may very well need to eat it!
Special Offer & 10% Discount
If you are ready to lose weight then The Healthy Mummy plans offer a healthy and safe exercise and diet routine that are safe if you are breastfeeding and you can use code LOYALTY for a 10% DISCOUNT at the checkout