Reduced Fat Chilli Con Carne
Often when you are on a weight loss diet, your husband or partner complains with all the 'healthy' meals you are all eating.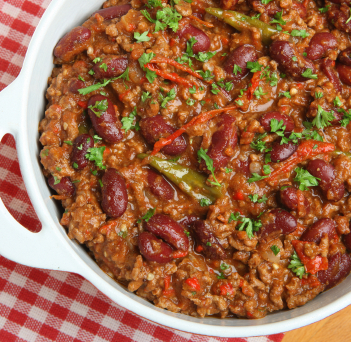 Well he won't complain about this and it can still be part of a healthy eating plan.
This is a revised version of our previous Chilli con Carne. New and improved, lower in fat and calories and higher in fibre.
How did we do it?
Cook it, taste it and you will see.
Prep time: 5 minutes
Cook time: 20 minutes
Serves 4
Ingredients
300 grams of lean beef mince
2 cans of kidney beans
1 onion diced
2 cloves of garlic crushed
½ chilli deseed and chopped finely
4 tbs of tomato paste
1 can of diced tomatoes
1 diced red capsicum
½ can of water
1 tsp of cumin
1 tsp of paprika
1 handful of chopped coriander
Oil spray
Directions
Spray the pan with oil and add in your crushed garlic and onions.
Pop in the mince and break it up with a spatula. Brown the outside.
While the meat is cooking, rinse and drain your beans. With one can of beans, place them on a plate and using the back of your fork, mush them up.
Once the mince is brown on the outside, throw in all of the kidney beans, the diced tomato, tomato paste, diced capsicum, cumin, paprika and the water.
Bring mixture to a boil then reduced to simmer and cook for 15 minutes until the mixture thickens up.
When ready, add the chopped coriander on top.
Serve with some warm tortillas or rice; corn cobs and some cucumber salad with red onion. If you would like something like sour cream, try a reduced fat version or even reduced fat greek yoghurt.
Mmmmm……
265 calories per serve.
Special Offer & 10% Discount
If you are ready to lose weight then The Healthy Mummy plans offer a healthy and safe exercise and diet routine that are safe if you are breastfeeding and you can use code LOYALTY for a 10% DISCOUNT at the checkout