Rhian tells Stellar: 'I realised there was an opportunity to help busy mums'
When Healthy Mummy founder Rhian Allen was six months pregnant with her first child, she made the life-changing decision to quit her job in sales and start her own weight-loss business.
Nearly 10 years later, her decision has really paid off as she's helped 100,000's of mum transform their health and bodies
Rhian says,
"It blows me away that people want to talk to me and I find it all pretty surreal and very humbling!
Nearly ten years in I work as hard today as I worked when I launched the business in 2010 and I LOVE what I do.
I have always placed the customer as number 1, reinvested profits back into the business and always ensured innovation, support & service is key in everything we do.
I feel so grateful to have these opportunities and that I am lucky enough to do something I love and which helps so many women and has helped me to support my own family as well as being there for them.
Thank you so so much to every single customer who supports us – your feedback (good and bad) has always NUMBER 1 to me and always will be.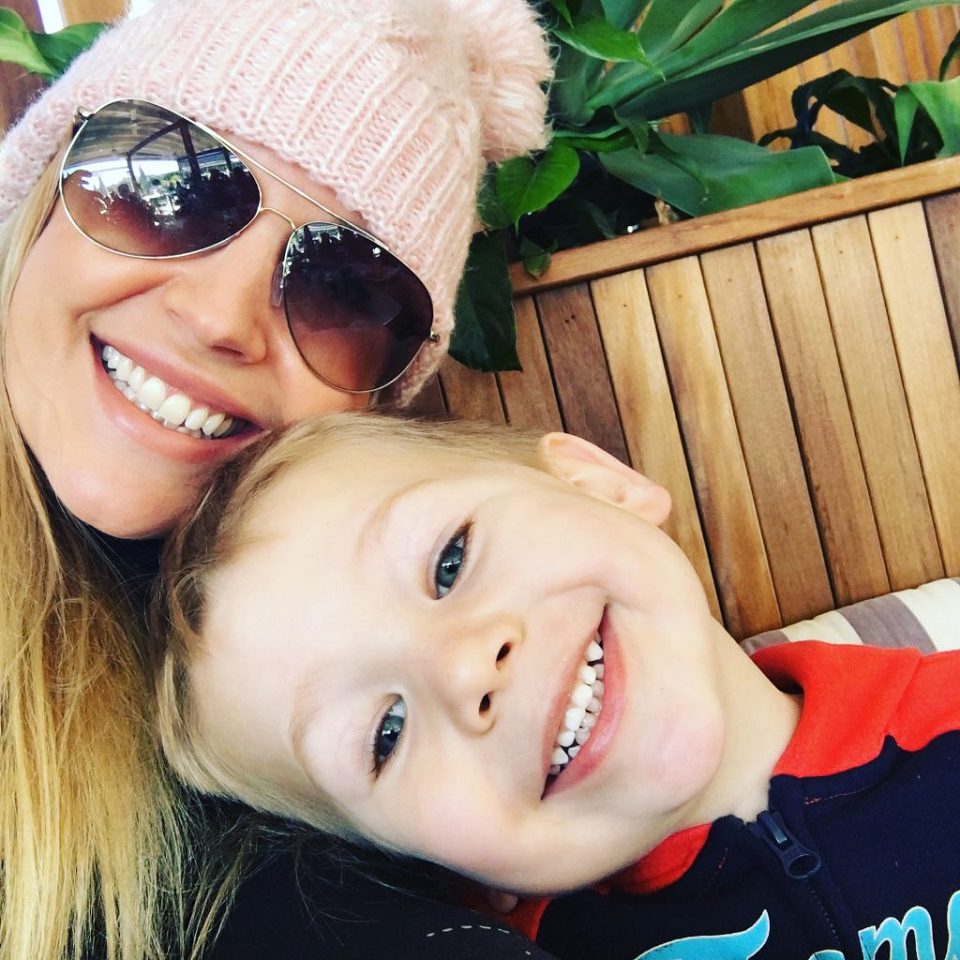 Thank you so much for being here and helping this business succeed, learn and grow and helps us to employ over 150 people (90% are mums) across the Country.
I am also exceptionally lucky to have a team around me who 110% share my own values in customer service, innovation and support and work so hard every day to deliver this.
Thank you to EVERYONE – past and present – who has helped me and the business – I wouldn't be here without and I am so thankful for you every day for this.'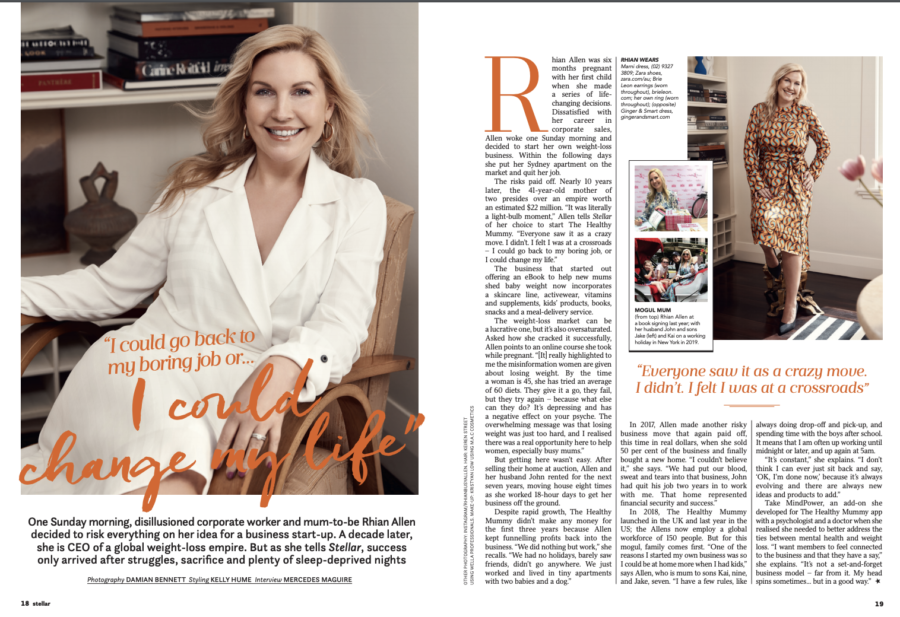 The Stellar interview
"It was literally a light-bulb moment," she tells Stellar magazine.
"Everyone saw it as a crazy move. I didn't. I felt I was at a crossroads – I could go back to my boring job, or I could change my life."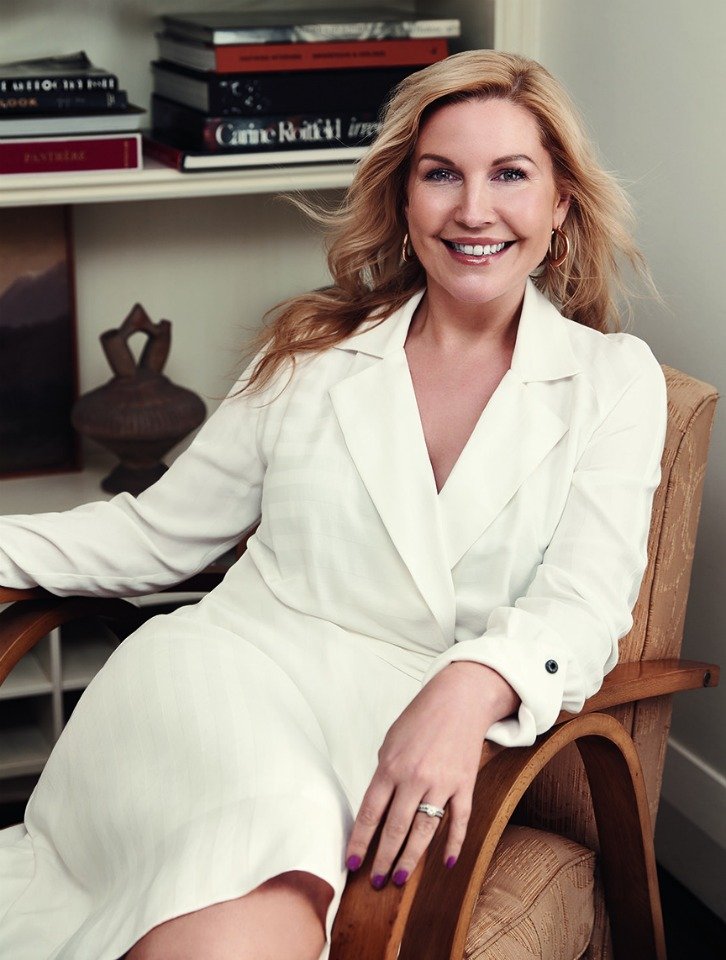 Rhian: 'Everyone thought it was a crazy move'
The mum-of-two revealed her decision to start a weight-loss business came after an online course she took while pregnant.
"[It] really highlighted to me the misinformation women are given about losing weight," she told the publication.
"By the time a woman is 45, she has tried an average of 60 diets. They give it a go, they fail, but they try again – because what else can they do?
"It's depressing and has a negative effect on you psyche.
"The overwhelming message was that losing weight was just too hard, and I realised there was a real opportunity here to help women, especially busy mums."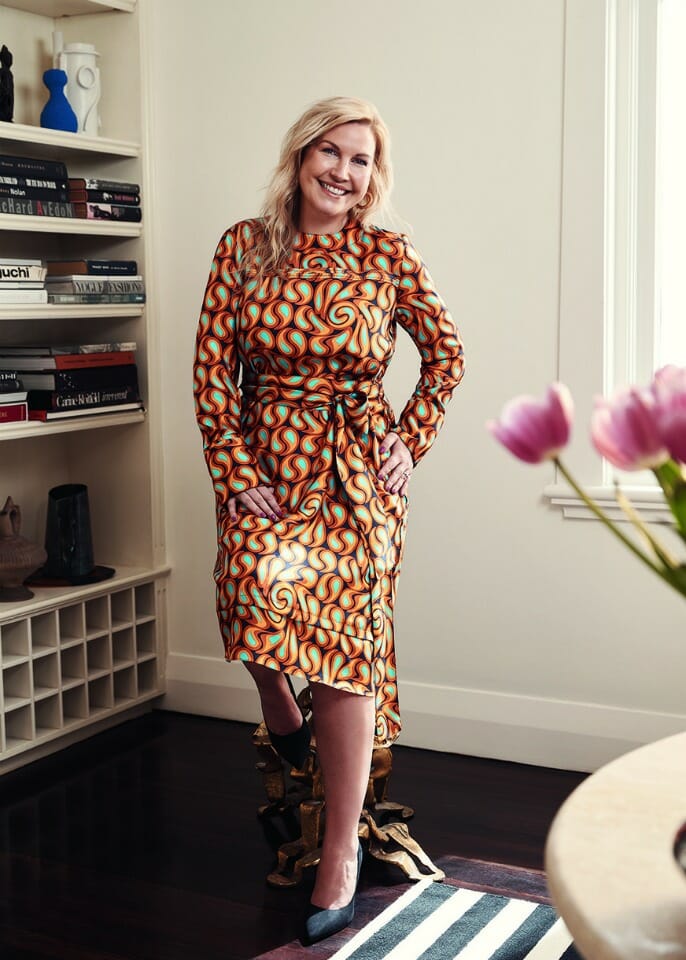 The Healthy Mummy founder admits she did nothing but work
Rhian, 41, had to sell her home and rented for the next 7 years, moving house eight times and working 18-hour days to get her business off the ground.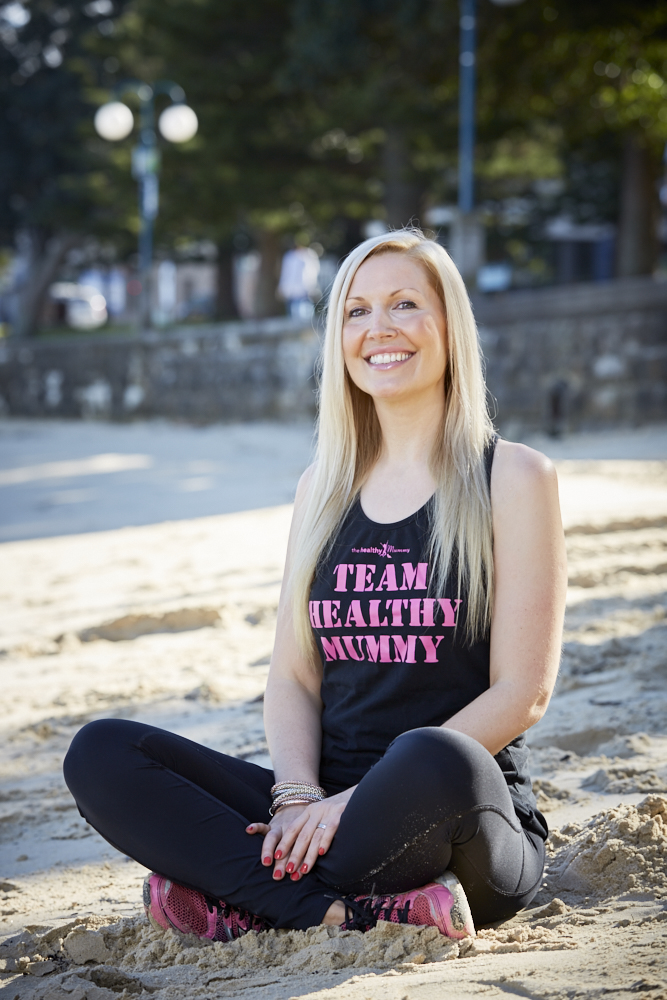 The Healthy Mummy didn't make money for the first three years because Rhian was funnelling the profits back into the business.
"We did nothing but work," she admits. "We had no holidays, barely saw friends, didn't go anywhere. We just worked and lived in tiny apartments with two babies and a dog."
Then in 2017, Rhian sold half of her business. In 2018, The Healthy Mummy launched in the UK and last year it launched in the US.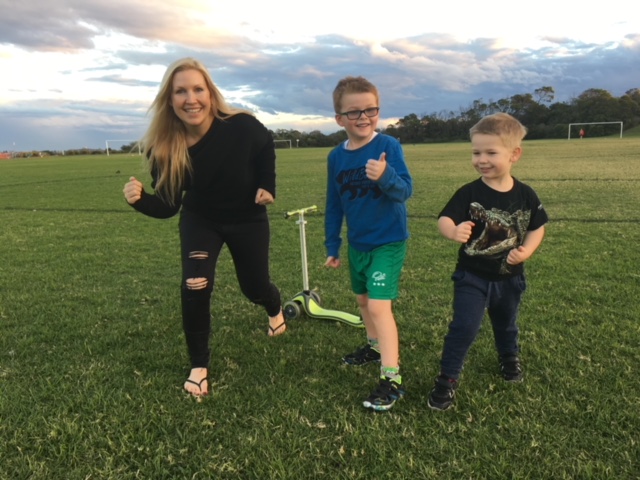 But despite the success fo the company, Rhian makes sure she makes time for her two sons.
The new MindPower add-on is now available on the Healthy Mummy app, and includes a psychologist and a doctor to help women with any mental health issues they have with weight loss.
"I want members to feel connected to the business and that have a say," she adds to Stellar.
"It's not a set-and-forget business model – far from it."
How it began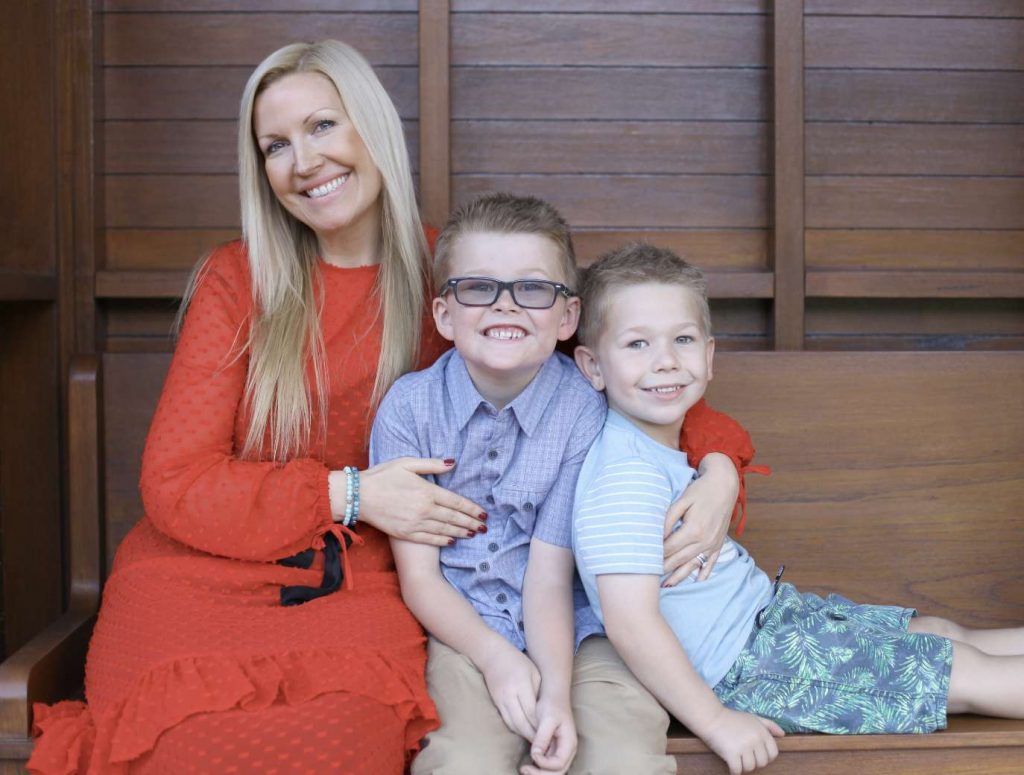 I feel so lucky and grateful to be able to be the Founder of this incredible business and this incredible community that has and continues to change the lives of millions of mums all over the world.

I had been working in a corporate media job for 12 years but it was not where my heart was.

I loved nutrition and fitness and had studied an online course whilst I was at my job which just fuelled by passion for it.

Then I became pregnant with my first baby and experienced the weight gain that all mums face and that was when I realised that there was nothing that existed to help mums get healthy and lose weight after having kids.

So at 6 months pregnant, I quit my job, left my career and sold my house and in October 2010 I launched The Healthy Mummy and in December 2010 my first baby was born.

It has been NON STOP every single day and I could never have imagined 8 years that we would have helped as many mums as we currently do and have done in 8 years.
Results on our programs
Here are literally just a few of the 100,000's of mums who have shared their results with us

It has been a CRAZY 10 years. I had another little bub 2 years in and The Healthy Mummy is a big part of my family's life.

We have launched sooo many products over the years too – all of which have been driven by customer request and it has been so amazing to create so many best selling products that mums want, need and love – and all of which are made in Australia.

We also have lots and lots of other products ranging from our Healthy Mummy Super Greens, Healthy Mummy Pregnancy range, our Healthy Mummy Breastfeeding Powders, our Protein Powders, our Metabolism Boosting Supplement, our Active Wear Range, our High Strength Apple Cider Vinegar tablets, our Immune Boosting Powders, Kids Smoothies, Over 50 recipe books – and LOTS more coming!!

And I was so so so excited that we launched The Healthy Mummy in the UK and US this year

We also have lots lots more planned for Australia including a very very exciting launch coming very soon!!!
Join the 28 Day Weight Loss Challenge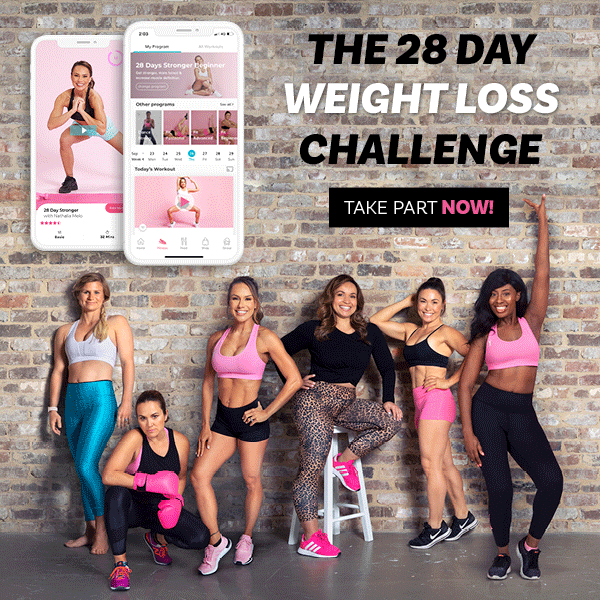 Our 28 Day Weight Loss Challenge, in particular, has been able to help mums lose their baby weight, tackle their health and HIT their weight loss goals.
Our Challenge includes:
28 days of at home exercise routines (no gym needed) – with video instruction
New CHALLENGE THEME each month – so you'll NEVER get bored
Customisable and breastfeeding friendly meal plans
Time-efficient exercises for busy mums – under 30 mins
Challenge combines Pilates exercises with interval and circuit training (HIIT)
Suitable for basic to advanced fitness levels
Home to thousands of EASY-TO-MAKE recipes!
You can learn MORE about our 28 Day Weight Loss Challenge here.