Hi, I'm Sara and I'm a Healthy Mummy motivating mum for May 2014.
I have loved being a Motivating Mum, when I saw the post on your site asking for applications I commented to my husband that getting approved to be a motivating mum would be my sign that I needed to keep going with the plans, and what do you know I get a phone call a few days later.
I was and still am so very excited! I truly believe this healthy mummy weight loss plan is the best way to lose weight and start a whole lifestyle change, a way of life not just a 'fad diet'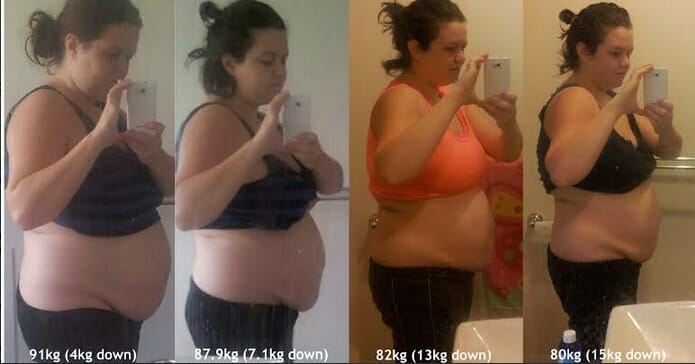 I started off May at 82kgs and down a total of 13kg from my post baby weight of 95kg, and am so excited to say that I am down another 2kg and am now 80kgs for the first time in years! I have just another 5kg to go to reach my half way mark (yay!) and my first mini goal to be 75kg in time for my daughters birthday in August, With the help of the healthy mummy plans I am reaching my goals, I don't know how I could have achieved this without you.

So far this month I have been super busy so I have been taking advantage of the fact that the smoothies are so quick and easy in the morning, berry bang is my favourite and it takes next to no time when I'm rushed off my feet with the kiddies.  Another favourite has been the cannellini bean and tuna salad – it's super filling and surprisingly good! I also made a huge batch of the carrot and lentil soup, my whole family including my fussy hubby ate up and there was enough left over for a second night.

I've been working hard at the gym too, I managed to up my weights for the first time and have finally mastered the tricep dip something I couldn't do when I first started as I just totally lacked the arm strength. I am feeling stronger, fitter, healthier, happier and loving life right now. Everything seems to be falling in to place, I feel so grateful to have discovered this plan it has been one of the best things I've ever done, thank you.
 If you are ready to lose weight then The Healthy Mummy plans offer a healthy and safe exercise and diet plans that are safe if you are breastfeeding and you can use code LOYALTY for a 10% DISCOUNT at the checkout. Plus we have Cookbooks, Calorie Bibles, Exercise DVD's, Meal Replacement Smoothies and Our 28 Day Plan in our shop.