Sarah McDonald Loses 14kg
We agree with Sarah, she looks absolutely amazing in her polka dot swimmers. Congratulations on your weight loss Sarah. Below is her story in her own words:
I was just looking on facebook, and saw a picture in my newsfeed, and thought to myself, "That person has the same bathers as me, but she looks heaps better in them than I do!" I clicked on the picture and was shocked to find it WAS me!
It was such a pleasant surprise and I wanted to share with you, as you have helped me so much to get to this point. I still have a bit of a way to go, but I no longer feel depressed or embarrassed about my weight, and clearly, not only am I happy to go to the beach now, but also happy to be photographed there!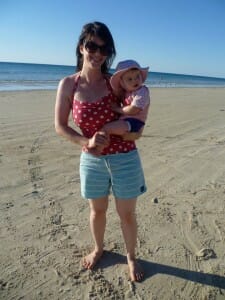 I have now lost 14kg on the Lose Baby Weight and Healthy Mummy Smoothie plans and I am so happy to get where I am and wanted to share my results and say thank you!
Sarah looks amazing and you could too! We don't just offer the product of the Healthy Mummy Smoothie range, but also recipes and ongoing advice and support each day.
Ask any questions and we will get back to you as soon as possible. Remember, every one who works with the Healthy Mummy has kids, so we understand!