Sarah's 9kg Weight Loss Story
My weight loss story began with a comment from my neighbour – a sweet, elderly man whom we speak to often.
He asked me if  I was pregnant again and this made me realise that I wanted to lose my extra weight from my pregnancy in a safe and healthy way.
Nobody had ever mistaken me for a pregnant woman before, and I wanted to do something about it – I then found the Healthy Mummy weight loss plans and I have not looked back and have now lost 9kg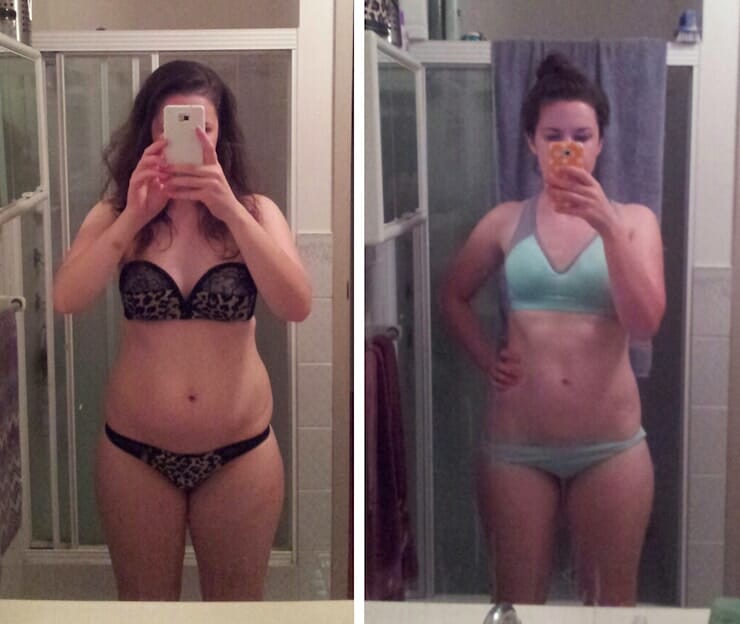 I was so excited to start using the 28 Day Diet and Exercise Book  and the Healthy Mummy Smoothies.
I had reached the point of not even knowing where to start with my healthy eating. I was breastfeeding at the time, and was so relieved to find a smoothie mix that was breastfeeding friendly. The recipes in the book were very easy to follow, and quick to make.
I was honestly surprised to find the healthy mummy smoothies to be incredibly moreish and delicious – and definitely a good motivation to get out of bed in the morning.
They gave me stacks of energy, and my husband was so pleased with the results. I lost two kilos in the first week!
I have found the smoothies are also very satisfying, and a good start to the day. With the smoothies, it is encouraging to know you have had a nourishing breakfast, as we often forget to start the day well, with demanding children of a morning. The back of the smoothie tub suggests to drink 8 glasses of water each day, as well as go for a 45 minute walk – both of these tips are great for making you feel good, as well as getting some fresh air to clear your head. I know there are days when being a mum gives you lots of cabin fever!
My favourite recipes are the chicken pear salad from the 28 Day Diet and Exercise Book – it is delicious! The cook book is so helpful in it's serving sizes, and the calories have already been worked out for you. It's not uncommon for me to flick through the cookbook, or scroll through the website when I am doing my weekly meal planning.
Regards,
Sarah Jane Rochester xx
GET YOUR 10% DISCOUNT
If you are ready to lose weight then the Lose Baby Weight plans offer a healthy and safe exercise and diet routine and you can get a 10% discount by using code LOYALTY at the checkout
PLUS our BEST SELLING 28 Day Diet & Exercise Plan is available as a 200pg Printed Book and you can get your copy here 
Plus our NEW CALORIE BIBLE is now available – get your copy today! Only $19.95 and a must have in your handbag!