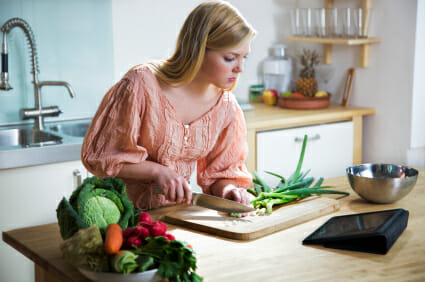 A lot of women ask us how much of each food group they should be eating to maintain a healthy eating plan.
How much protein should they get?
How much fruit should they eat?
How many vegetables should they eat?
Well here is a very simple chart for you to be able to examine to understand how much of each food group you should be eating each day if you are on a regular healthy eating plan, a breastfeeding diet or a pregnancy diet.
This is based off the Australian Dietary Guidelines 2013 publication.

There are some important points to summarise here.
Firstly, we have included the age brackets of 14-18 years as well as 19+ years, pregnant over 18 years and breastfeeding. The reason for these demographics is to highlight that:
Teenage girls require additional energy to support their growth. This should be coming from the food groups of grains and cereals along with dairy.
The dairy component is to highlight the increased need for calcium for the continued development of their bone strength. Obviously you can obtain calcium from alternative sources besides dairy, but dairy has a high bio-availability of calcium at a relatively low price point.
The 19 plus age bracket goes up to the age of 50 years.
Teenage pregnancy requires additional nutrition due to the fact that the mother is still growing herself, hence why we have not included that demographic here. If you are pregnant and a teenager, it is even more important to seek personal medical guidance for your dietary needs.
Pregnant women over 18 years also require additional nutritional needs. You can see in this table that the additional requirements can easily come from cereals and grains and protein.
A few of the reasons for these two food groups being addressed is energy and fibre from the cereals and the protein required for the growth of the baby in utero. This point also reiterates that we do not need to eat for two when we are pregnant.
Breastfeeding women also need additional energy and these have been allocated to the food groups of again cereals and grains which is for energy and fibre, but also to vegetables.
The vegetable category has a lot to do with fibre as well. This is because when you are breastfeeding your digestive process slows down to absorb as much nutrients from your small intestine. This can lead to constipation and therefore fibre from the cereals and vegetables can help alleviate this. Vegetables are also fabulous sources of a wide range of vitamins and minerals.
This chart is a very simple way to be able to view how many servings you should be aiming for in each food group. It is a guide based on the Australian Dietary Guidelines and may differ for individuals health needs. If you are not sure about your needs, please see your GP or medical professional.