I'm so excited to become a motivating mum of the month! For those of you who have not read my weight loss story before, I am a mum to two beautiful cheeky little girls aged 3 and 2 I have been using the healthy mummy range now for 18mths.
In that 18mths I have lost 17kgs!
For me the best thing about signing up to the healthy mummy weight loss plans  was not what I've lost, it's what I've gained! I have gained my body confidence back, a love and passion for exercise, I've gained an enormous support network of mums , who like me want to change their lives and most importantly I've gained the knowledge to maintain a healthy lifestyle for the rest of my life.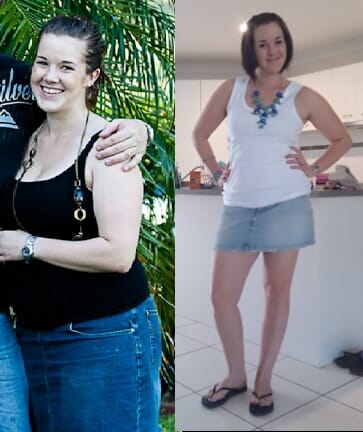 The healthy mummy has such a fantastic range of resources, not only are the weight loss recipe cookbooks family friendly, but the healthy mummy smoothies are just so easy and delicious!! Even my husband has been using the healthy mummy shakes, he loves the flavour and he said they don't make him feel bloated before soccer training or games.  So needless to say I have to hide them from him!
People think losing weight can be too hard and unachievable… especially with children… this is simply not true! You only get out what you put in but sometimes small changes made everyday end up becoming a big change over time.  The thing I've found with using the healthy mummy products is that its taught me over time to be healthy I've learnt to change my lifestyle , I think differently about food and exercise now.  It's not a fad diet or a quick fix, with healthy eating using the meal plans like the 28day and exercise plan anything is achievable. I now can't picture my life any other way. I love exercise, for me a bad day is when I miss my workout.
I had always thought that to be the best mum possible I had to spend every moment I could with my kids when I wasn't working and I would feel guilty leaving them even with their father if I wanted to go and do something for myself.. I made excuses why I couldn't exercise and I didn't have the time or money with 2 young children but all of that has changed. in the 18mths iv have been using the healthy mummy range I have competed in various events like true grit the Brisbane stampede, weekend to end women's cancers 60klm walk, mother's day classic and other fun runs. I feel alive and I'm loving it! I'm not only changing my life but I'm motivating the people around me, my family and friends and I'm being a positive role model for my daughters.
I go to the gym 6 days a week; I go to the early classes at 5:30am while my husband is still at home with our girls. I do my one hour work out and make it home with plenty of time to spare to get the kids ready for day-care and myself off to work. It's all about time management! I pre pack lunches and I lay out all our clothes the night before so our mornings aren't too hectic. I have my healthy mummy smoothie and my fish oils once I get home as personally I can't stomach anything before exercise and I have my smoothie for  breakfast.  On the days that I work I usually just make up a smoothie with the power and skim milk with some ice. Sometimes I'll throw in some blueberries or a banana.
I am so looking forward to sharing my results with you all over the next month, Being a motivating mum this month I hope will not only help you all stay motivate but it's a little kick in the bum for me to reach my new goals ?
Sherie Wilson
GET YOUR 10% DISCOUNT
If you are ready to lose weight then the Healthy Mummy plans offer a healthy and safe exercise and diet routine and you can get a 10% discount by using code LOYALTY at the checkout PLUS our BEST SELLING 28 Day Diet & Exercise Plan is available as a 200pg Printed Book