No Bake Snickers & Coconut Slice
If you need a healthy treat that's also sweet and tasty –  then here is a great one to try.
This super easy No Bake Snickers & Coconut Slice can be enjoyed as a refined sugar free slice while following the 28 Day Weight Loss Challenge. Plus you don't have to turn the oven on which is always nice.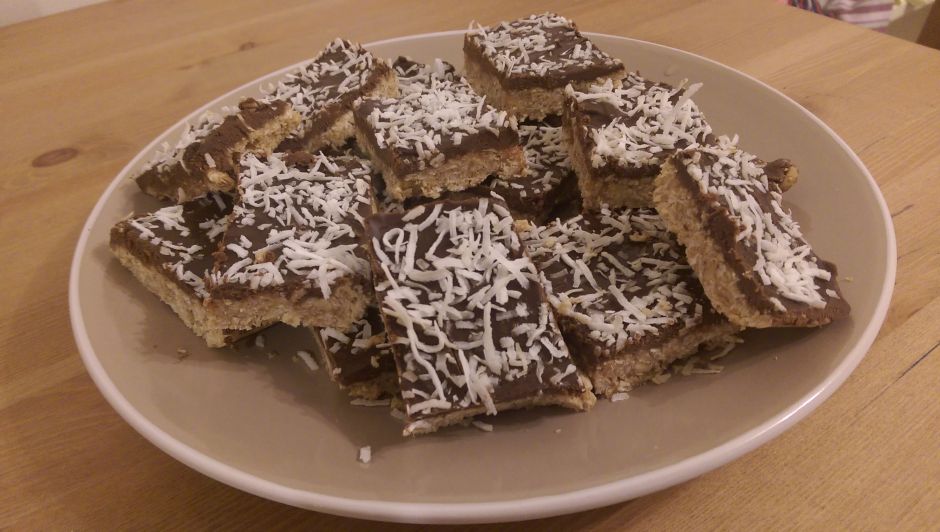 Ingredients
150g rolled oats
80g shredded coconut
60g almonds (blend to make almond meal)
80g 100% pure peanut butter
2 tsp vanilla essence
3 tbsp honey
60ml coconut milk
120g of 75% dark chocolate
Method
In a bowl mix oats, shredded coconut and almond meal.
Add peanut butter, vanilla essence and honey and mix together slowly – it should be hard texture and not easy to mix but it should stick together when pressed.
Spread this on a baking tray and press it hard with your hands or with baking paper
Push it down and make sure it is evenly spread.
Let it rest for 10 mins or you can freeze it for a while.
In a separate bowl melt dark chocolate and add coconut milk so it is easy to spread (not too runny or too thick).
Pour this evenly on top of the oats/coconut base and spread it around to cover the base.
Sprinkle some shredded coconut on top.
Put in freezer for half hour until it sets.
Divide in 16 slices and serve or freeze for use later.
Serves 16
177 calories per serve
Recipe sent in by Shehrbano Yasir
For more healthy recipes like this (that are made for busy mums), why not join thousands of other women on our next 28 Day Weight Loss Challenge?