Spring lift for a healthy life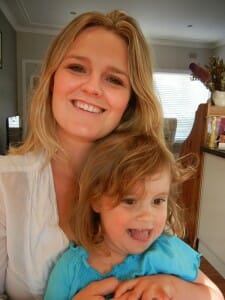 It is spring. The time to regenerate, reinvigorate and revitalise. I feel alive with the sun and the warmth. I also love the change in seasons as it is gives me the opportunity to have a look at where our family and I stand in terms of a healthy life.
It sounds strange, a 'healthy life'…doesn't it? But really, that is what I want us to lead.
Personally, I think myself and the girls are doing well. Although my hubby is struggling with being back behind a desk all day. His health and fitness has gone by the wayside and he feels lethargic and out of sorts. So we are stepping up the tempo and giving ourselves some new goals for Spring, for all of us.
Alongside the Step into Summer challenge by the Healthy Mummy, we are stepping up the action in our house (did you also know that we now have our own personal trainer at the Healthy Mummy. Yes, her name is Sol and she has AMAZING credentials…have a look, she is yours for FREE!!)
So what does that entail for us?
Well we have decided that as a family, twice a week, once we wake we will pack the kids in the car, drive down to the beach and get in an exercise session, together. I will pack the kids some breaky the night before so they have something to munch on. Mr dos Santos will then go to work from there and I will either bring a change of clothes for the girls and for myself and head on with the morning's activities or go home quickly to change and re boot.
I think at the beginning it will be an effort, but I believe that the benefits for all of us will outweigh any beginner disorganisation.
The second goal is to surf each weekend. Which is not a difficult one to incorporate as we both desperately want to do this and we go to the beach each weekend anyway. The weather is begging us to come and dip in.
The third Spring goal is to cook in bulk at least twice weekly to get a stash of healthy meals in the fridge and freezer for lunches. I love foods like these patties or a stew like this which are easy to portion and freeze off. This is also a little for my hubby to get some decent meals into him during the day, but also to save a bit of cash.
The fourth Spring goal is to turn off the television. I am sick of how much time gets wasted after the kids are in bed and I don't particular want them to have the television on either. There is so much else to do and talk about. Play, read, draw and talk. And really there is a lot of crap on the television these days. I complain I don't have any me time, well here it is….use it. Thankfully hubby agrees, otherwise it would be pretty hard to secure this goal.
This was our Sunday conversation while the kids were asleep in the car on our way back home from a visit to Sydney for Father's day. I feel excited about these goals and excited we get to do them together and that I am helping all of the members of our family be healthy! A healthy life, a happy wife…hehehe that should be a new saying!!!
Have a great day and don't forget to head over to see the Healthy Mummy plans.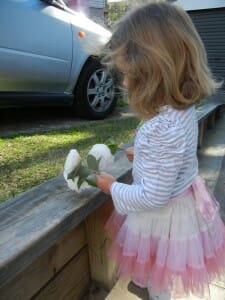 Happy Spring ; ) We are loving picking flowers and giving them to people. Go on, give a flower to someone for no reason. Feels good.
Mandy dos Santos (BSc. Food Science and Nutrition, Grad. Cert. Human Nutrition)
Don't forget to post me a question on Facebook about food or nutrition so you can read more about what you want to read about.