Here is a light and tasty meal that you can serve with your favourite garden salad.
Spring onions are a lovely way to add a hint of onion flavour without being too overpowering.
The fresh herbs in the fritters add another layer of light flavour too.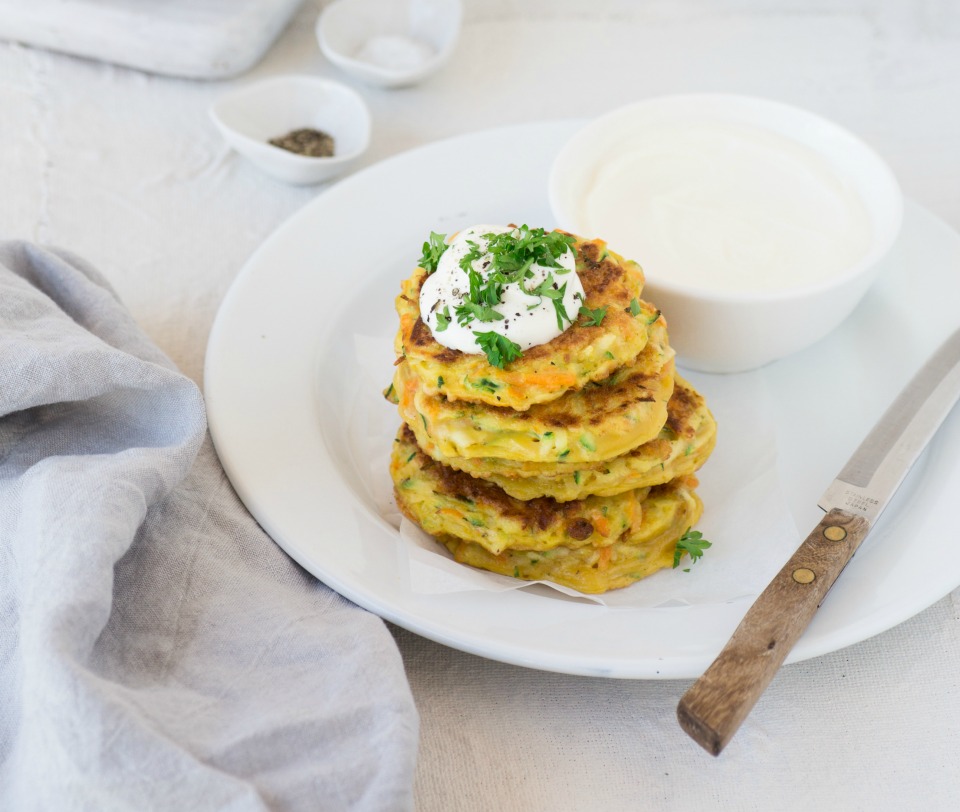 Whipping the feta in the food processor produces a lovely light sauce that's just perfect for spreading on top of these healthy fritters.
Feel free to switch out any of the herbs to use whatever you have on hand.
This can be a lovely gluten free meal if you use almond meal. If not, feel free to substitute with plain flour instead.
You could also consider adding to the fritters:
fresh corn off the cob
a handful of peas
a hint of chilli
some crushed pistachios
Ingredients:
For the fritters:
6 spring onions, finely chopped
1 zucchini, grated and drained
½ cup fresh parsley leaves, finely chopped
1 tbsp olive oil + olive oil spray
150g low fat cottage cheese
3 tbsp almond meal (or plain flour for non-gluten free)
1 egg, separated
Salt and pepper, to taste 
For the feta sauce:
200g low fat feta
½ cup fresh mint leaves
2 tbsp fresh lemon juice
1 tsp minced garlic
2 tbsp olive oil
Salt and pepper, to taste
Method:
To make the sauce, process the feta, mint, lemon and garlic in a food processor.
With the motor running, add the olive oil in a slow and steady stream.
Taste and season as required.
Chill until needed.
To make the fritters, heat the oil in a frying pan over med/high heat.
Cook the spring onions for 3-4 minutes.
In a large bowl, place the cooked spring onions, zucchini, egg yolk, parsley, almond meal, and cottage cheese.
Beat the egg whites until stiff, then fold into the mixture.
Spray the frying pan with olive oil on med/high heat.
Dollop tablespoons of mixture into the pan and fry on each side until golden.
Serve with the whipped feta.
Serves: 4. Calories per serve: 363.