Stefanie Dorien Loses 36kg
Hi Healthy Mummy team, after much umming and ahhing, I have at last found the courage to send in my before and during photos and my lose baby weight results and story:
I am so glad that I found The healthy mummy smoothie mix as it has been a total blessing to me and my ever changing lifestyle.
I began my weight loss journey in January 2012 after weighing my heaviest weight of 150kg. By July I had managed to lose 20kg, from watching what I ate and going to gym .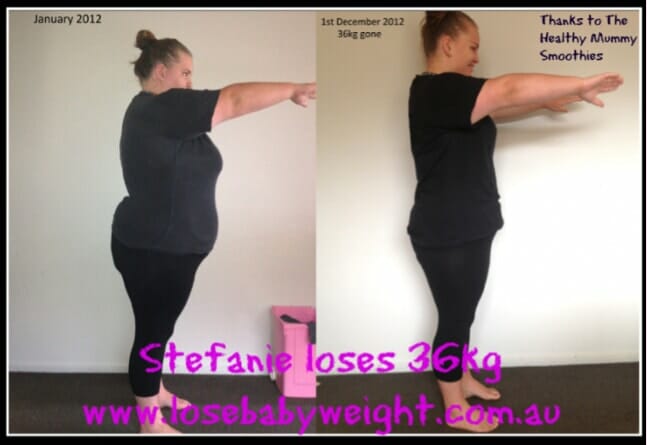 But after losing this initial weight, I needed help as for 4 weeks I couldn't lose another kilo.
So I then jumped on the internet and googled "healthy weight loss drinks for breastfeeding mums" and this is where I found the healthy mummy smoothies.
After seeing all the reviews and the before and after weight loss pictures, I thought that I had to give this a try as if it had worked for so many others then it could also work for me. So I decided to purchase one of the starter packs. And I was delighted to find that after one week, I had lost a kilo, FINALLY a loss! And since then I have continued to buy and use the product and each week I have lost 1kg – I am one happy and regular customer!
It is now December and I have now lost another 16kg! Which in total brings my weight loss to 36kg YIPPEEE!
Having the healthy mummy smoothies for breakfast and lunch plus going to the gym 5 days a week has totally changed my life. I still have a long way to go, but I am so proud of myself for changing my lifestyle
My daughter now has a happy and fit mummy which she deserves and I will continue to get even healthier!
Thank you so much for developing such an incredible product that works AND tastes absolutely incredible. I'm so lucky to have found you on google! Stefanie Dorien
If you are ready to lose weight then The Healthy Mummy plans offer a healthy and safe exercise and diet routine that are safe if you are breastfeeding.
And don't forget to check out our current promotions and discounts page to see what specials we have on this week on our Healthy Mummy product range