Eggplants are a brilliant source of B vitamins and folate which is great for women, especially if you're lean on the red meat front. This Delicious Stuffed Eggplant Recipe is a great addition to your healthy eating plan.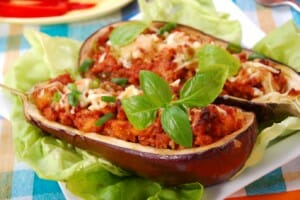 They are also in season at the moment so are a decent price in the supermarket.
This meal is delicious and a great addition to your healthy eating plan, or even your weight loss plan.
Stuffed Eggplant Recipe: Procedure
Prep time: 10 minutes
Cook time: 40 minutes
Serves 4
Ingredients
2 medium eggplants cut in half
2 cloves of garlic
2 spring onions
2 cups of pearl barley
4 tbs of reduced-fat ricotta
1 can of diced tomato
2 tbs of tomato paste
½ cup of reduced-sodium chicken stock
4 tbs of parmesan cheese
1 tbs of oil
Stuffed Eggplant Recipe: Directions
In a pan, heat the oil and cook the crush garlic and onion until soft.
Scoop out the insides of the eggplant, chop it up and pop it in the pan.
While this is cooking, start cooking you pearl barley as per the packet instructions.
When the eggplant starts to soften add in the diced tomatoes, tomato paste, chicken stock and ricotta and cook on a medium heat for around 5-10 minutes.
When the pearl barley is cooked, drain and add to the eggplant mixture on the stove. Stir it through.
On a lined tray, place the open-cut eggplants hollow side up. Fill them evenly with the pearl barley/eggplant mixture.
Top with grated parmesan.
Place them in a 200-degree oven for  30 minutes. Try this delicious stuffed chicken breast recipe!
Enjoy the meal
310 calories per serve
If you are ready to lose weight then The Healthy Mummy plans offer a healthy and safe exercise and diet routine that are safe if you are breastfeeding