Ladies – are you ready to kick sugar to the kerb and say goodbye to the sweet stuff with this month's 28 Day Weight Loss Challenge? We know we sure are!
Bring on the SUGAR DETOX!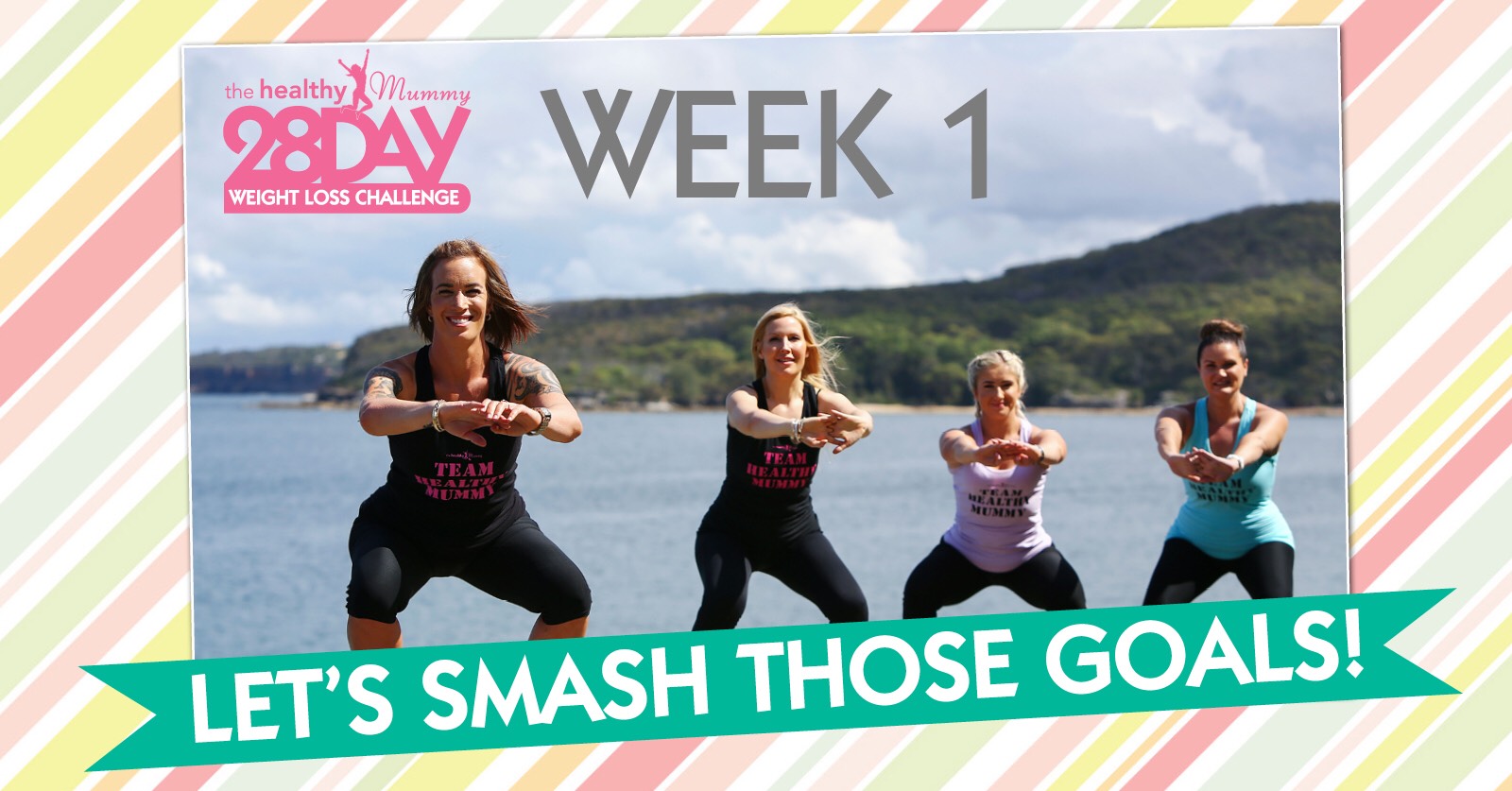 First of all, we want to congratulate you on your AMAZING efforts last month! You should be extremely proud of yourself. Now let's get ready to SMASH this month!
Day 1 – Fitness Test
It's day one of the Challenge. Do you know what that means? It's Fitness Test Day!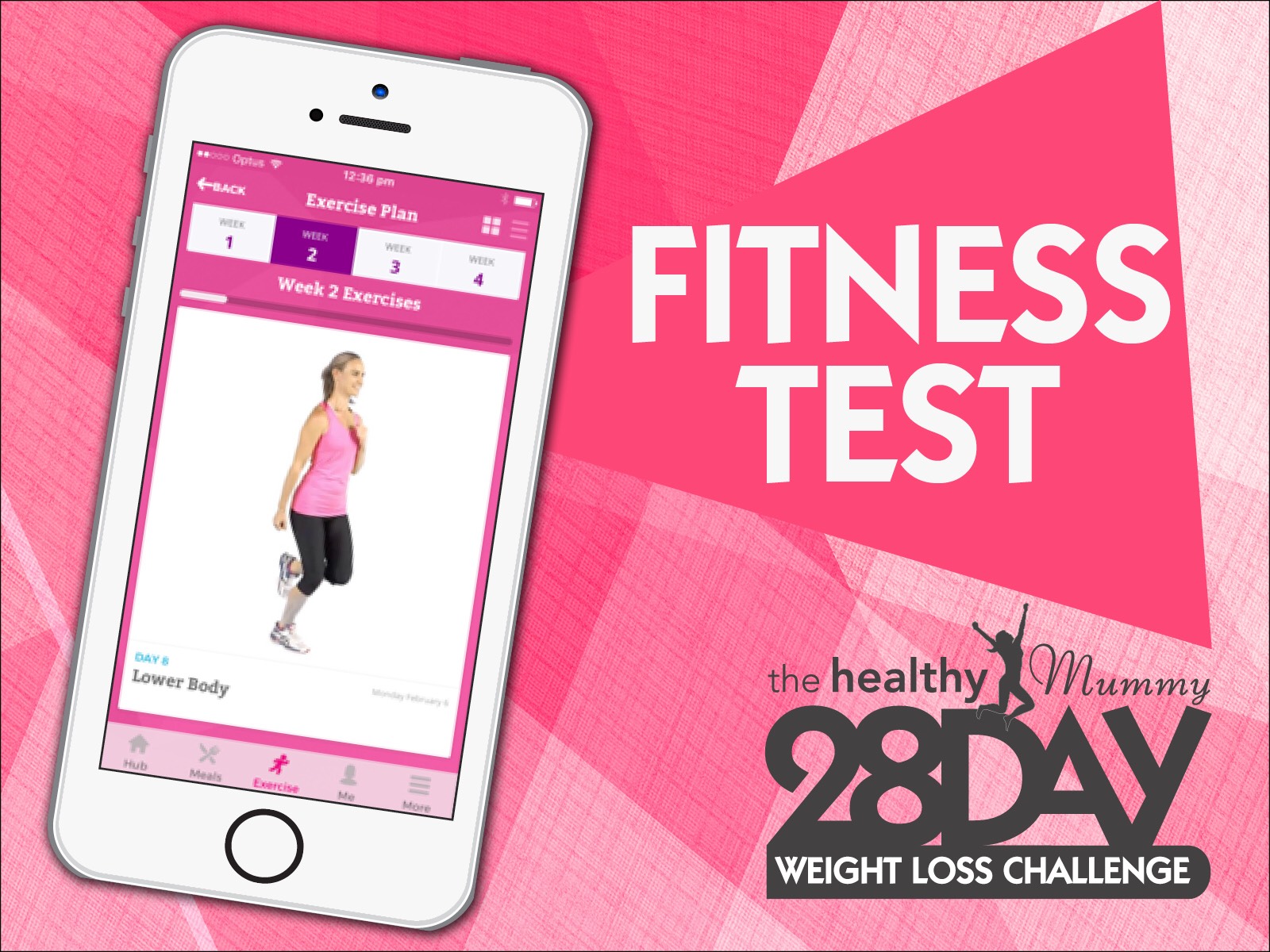 As part of our 28 Day Weight Loss Challenge we encourage our mums to complete a fitness test on day 1, day 14 and day 28 of the challenge. 
The Healthy Mummy's Fitness Test is a fantastic way to track your fitness and progress without worrying (or stressing about) a number on the scales.
The test helps you track your upper body, lower body and core strength progress over the challenge.
Check BMR
Day one of the challenge is also the PERFECT time to take your measurements and check your BMR.
Your BMR is your basal metabolic rate.
This is an important number to know on the 28 Day Weight Loss Challenge, firstly so you're aware of how much you can eat and still lose weight, and secondly, so you know how much you must eat to stay healthy – you must never eat below your BMR calories, as this can send your body into energy-conserving starvation mode.
Click here for more on how to calculate your BMR.
Stefanie Shares Her Tips On Getting Started
Are you new to the 28 Day Weight Loss Challenge and not exactly sure on how to get started? Well never fear! Healthy Mummy Stefanie shares her tips on how to get started!

1. Find Out Your BMR
"I would recommend first weighing and measuring yourself. After that is all done, you can work out your BMR. It is important to fuel your body so your metabolism continues and you lose weight the right way. It's important not to send our bodies into starvation mode," Stefanie says.
To find out your BMR, click here.
2. Watch The Instruction Video
"I would recommend watching the instructional videos in the Challenge hub which gives you a rundown of the hub, customising your meal plan and all the 28 Day Challenge has to offer," she says.
"A great place to go to get a real understanding of where everything is."
3. Customise Your Meal Plan
"Now you have seen how it all works, you can work at tackling your first meal plan. It is fully customisable and has several search functions to narrow down meal types. This is helpful if you are vegetarian, looking for meals to suit what you have in the fridge/freezer and if there are certain foods you are craving."
4. Prepare Yourself!
"The first shop can be a bit on the more expensive side if you are lacking a lot of the pantry staples," she says.
"I recommend using up what you have first, instead of purchasing everything straight away. So if you have white rice and recipe calls for brown rice, you can use up your white rice and when you're out then add the brown rice to your shopping list. This can save that initial outlay.
"But if you do purchase all these ingredients, your next shop will be much cheaper. A lot of ingredients are bought in bulk and will last a while before you need to repurchase."
5. Snack Prepping
"I tend to make all my snacks in one sitting to save me time and ensure I have something to eat at those busy times. I will generally write down how long they all take and read the recipes to work out how I can save as much time as possible – i.e. whilst something is simmering on the stove, I could blitz up some bliss balls in the blender.
"A lot of people also set aside time to do big meal prep, but I often have leftovers from dinner in the freezer so rarely do this myself."
6. Getting Your 30 Mins Of Exercise A Day
"The 28 Day Challenge also offers an exercise program. These are focused around different areas throughout the week and are designed to fit around a busy mum's lifestyle. They go for around 30mins a day and can be as easy or difficult as you choose.
"They also allocate different exercises for those after C-Section or with abdominal issues.
"The time you exercise is totally up to you, and what works for one mum may not work for another. So find a time of day where you're more likely to be able to get it done."
Stefanie adds: "Once you have learnt all the ins and outs you will find it very time saving and easy to work your way around."
Helpful Sugar Information
If you are interested in having more energy, better sleep and improving your general health and losing weight (especially from the stomach area), reducing your sugar intake can have a dramatic impact.
Our Sugar Detox challenge is not about obsessing over the exact grams of sugar in our food – rather it's about being more educate and informed about where hidden sugars may be lurking to help you make better meal choices.
This month our goal is to say goodbye to processed foods and help to whole foods! You can get your sweet-fix from fruits, honey and dairy products!
So, How Much Sugar Is Too Much Sugar?
The current recommendation from the World Health Organisation is to reduce "free sugar" intake to less than 10 per cent of a person's total energy intake, adding that a further reduction to below five per cent would provide further health benefits.
"Free sugars" are defined as simple sugars like glucose, fructose and sucrose, which are added to lots of processed foods, and are naturally present in honey, syrups, fruit juices and fruit juice concentrates.
It is important to: 
Stick to six teaspoons or less of added sugar per day.
Remember that there are natural sugars in many foods but it's the "free sugars" – that is, simple sugars (added sugars) – you should be looking out for.
When a food is in its whole and natural form, like a piece of fruit or full-fat milk, then the other elements in the food balance out the sugar and our bodies can cope with it. So, if a recipe has 20g of sugar in it, but is made with fresh fruit, vegetables, proteins and dairy then the sugars are ones our body can cope with.
Don't worry yourself silly counting every teaspoon of sugar you eat, but be conscious of the added "free sugars" in your diet.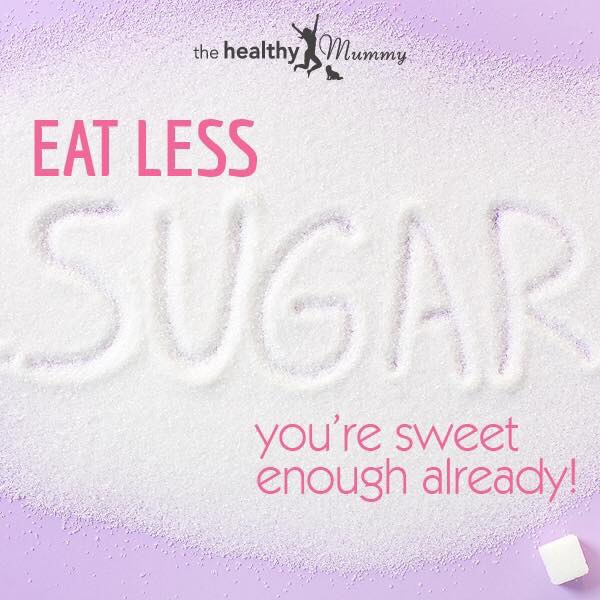 This month, we will be sharing loads and loads of helpful sugar blogs to help you better understand how the sweet stuff can hinder your health, great sugar alternatives, the health benefits of saying goodbye to sugar and healthy recipes that satisfying and delicious. Be sure to keep your eyes peeled on our Facebook Pages and emails!
And Most Of All
Well ladies, we hope you are feeling excited to tackle the May challenge! Just remember: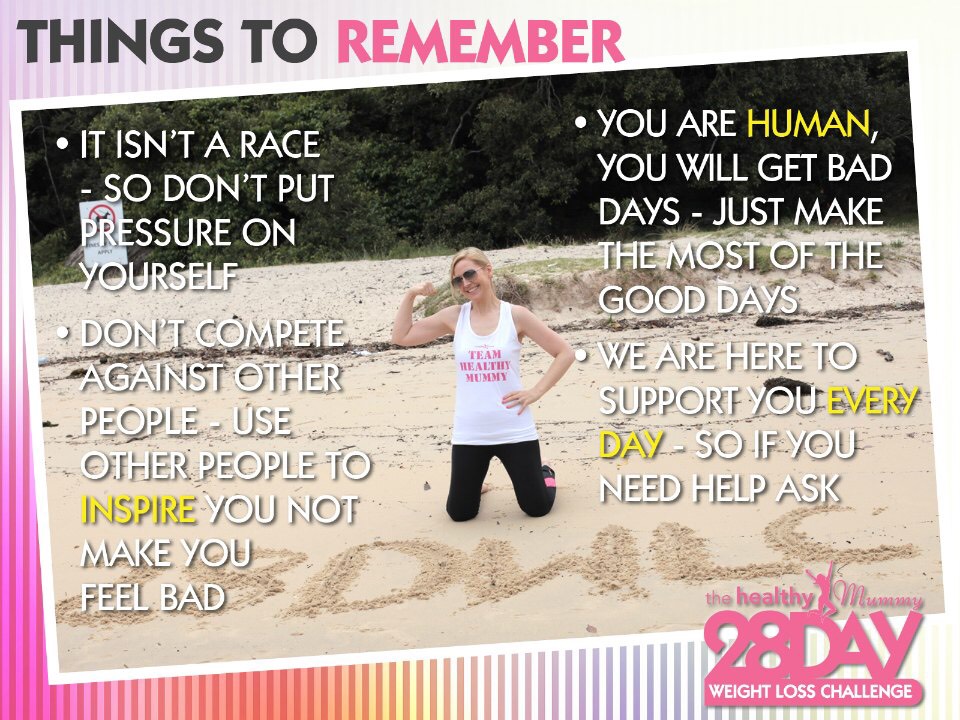 Well, good luck ladies! We have every bit of faith you'll do amazingly this month! Remember – we have your back no matter what!
For additional support, be sure to join our online Facebook support groups.