Oh my, my world has gone a little crazy with work and the kids…resulting in some serious planning of meals required.
But, tonight I was able to whip up this delicious, low fat, pasta which had my favourite superfood…KALE.
And, wait for it, the kids ate it all! Kale is a brilliant source of iron and vitamin C.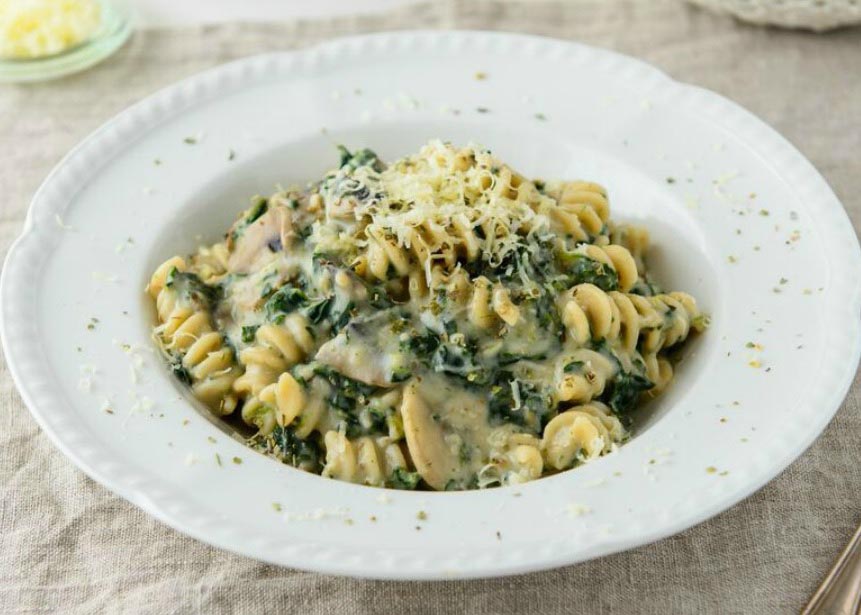 Superfood Pasta Recipe
Prep time: 5minutes
Cook time: 15 minutes
Serves 4
Ingredients
2 cloves of garlic crushed
4 tbs of sesame seeds
1/2 bunch of kale chopped
1 can of diced tomatoes
2 tbs of tomato paste
1/4 cup of salt-reduced stock
Pasta to serve
oil spray
Directions
1. Cook the pasta as per the packet instructions.
2. Panfry the garlic and kale until the kale is a little crispy
3. Add in the sesame seeds and lightly brown
4. Add in the diced tomatoes, tomato paste and stock and bring to the boil.
5. Transfer sauce into a blender and pulse until combined.
6. Stir the sauce through the pasta and scatter a few sesame seeds on top.  Another delicious pesto pasta Recipe!
And Voila!!! Your kids are eating KALE!!!
390 calories per serve
If you are ready to lose weight then The Healthy Mummy plans offer a healthy and safe exercise and diet routine that are safe if you are breastfeeding