Takeaway, Skipping Breakfast and Junk Food: The Worrying Trend Of Mothers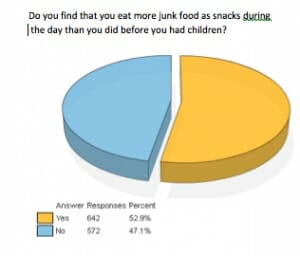 A survey that The Healthy Mummy conducted with Bub Hub last year with over 1200 mums showed some amazing results for us to be able to help you.
Some interesting stats which came out were:
62% ate takeaway at least once a week;
50% of you were skipping breakfast;
53% ate more junk food as snacks post having children.
So today I wanted to give you 5 quick tips for these three key areas to help you get out of these unhealthy eating ruts as they are doing nothing for yoru health or your families.
Takeaway foods
Of course there are better options out there for takeaway but the trap often falls into high salt, high sugar and high fat foods. They might be cheap, but the ingredients can be cheap and nasty as well.
Whenever I have a fix of takeaway, I wake up in the night incredibly thirsty, and then have a headache the day after. Two signs from my body telling me to choose something different.
Here are 3 meals which will take you less than 10 minutes and you don't even need a recipe. They are healthy, quick, cheap and better for your waistline.
Seriously in the time you wait for the pizza to be delivered, you might as well have made this and have your partner clean the dishes!!
Scrambled eggs on a bed of baby spinach with two slices of wholegrain toast. Who says you can't have breakfast for dinner!!
Spaghetti with a cold can of tuna, one tomato diced, sprinkle of parsley and dash of oil and a handful of olives.
Baked beans. Some can be a little high on the salt and sugar but the choose the better option and eat it with wholegrain toast. Beans are high in fibre and protein which is great for everyone, especially when you are trying to lose some weight.
Skipping breakfast
The mornings are fast, they are busy and they are full on with kids. Especially as everyone is getting use to the school morning schedule again.
But, as the old saying goes, breakfast is the most important meal of the day. And it is.
Of course, try a Healthy Mummy Smoothie.
Can't stomach much and need to eat on the run, try a boiled egg.
Have a wrap and wrap it around your boiled egg or a banana to eat on the go and have less mess on your hands.
Snacks
One of the leading causes of making bad snack choices is under preparation.
Prep your snacks the night before or in the morning so they are there ready to go. Three great snack options are:
A piece of fruit which will keep you sugars high.
A handful of nuts which will give you fibre and protein.
A natural yoghurt topped with the top two!
And there are plenty more healthy snack choices on the Healthy Mummy site.
If you are ready to lose weight then The Healthy Mummy plans offer a healthy and safe exercise and diet routine that are safe if you are breastfeeding.
And don't forget to check out our current promotions and discounts page to see what specials we have on this week on our Healthy Mummy product range