The Best Post Pregnancy Exercise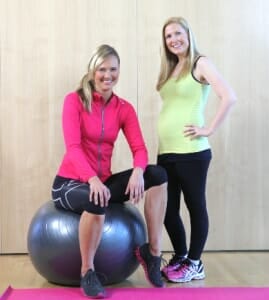 Pregnancy is a tough time on any woman. Your body changes and therefore it is important to adjust or alter your pre and post pregnancy exercise routine in order to support and assist your body, as well as your mindset throughout the journey of pregnancy.
Throughout pregnancy, we all gain pregnancy weight – which is healthy and needed for your body to support your growing baby. The weight distribution also changes – you gain more pregnancy weight on your tummy and breasts, as well as your hips, which means that your body will be under strain from supporting that new weight.
Your back will need extra support, due to the increased weight of your breasts and tummy, as will your core muscles, due to the weight of your baby – so make sure you don't overdo it in pregnancy and that you follow a sensible and healthy post pregnancy exercise and weight loss plan post pregnancy – such as The Healthy Mummy Plan
Nurture your body throughout your pregnancy, and you'll find that post pregnancy, you'll be better equipped to nurture your new baby.
Benefits of Pilates Post Pregnancy
Post pregnancy exercise such as Pilates, is known for improving your core strength, stability, muscle balance and body awareness and great to start after you have had your baby. And yoga is known for improving your mindset and for keeping you supple – so also a great one to do
Having a strong core will mean that you are stronger, fitter and more supported. Being a new mum requires lots of lifting and carrying of your baby as well as things like nappies and bottles, and if you are not particularly strong or supported, you could find that you strain certain muscles. Having a strong core can prevent this. Click here to see specific exercises and advice on how to strengthen your core after pregnancy.
A healthy pelvic floor following pregnancy will help to prevent things like leaking, and it will also improve your sex life. Keeping your muscles strong and stabilised will also make it easier for you to return to exercise after your baby is born. See specific exercises for your pelvic floor here
Improved mindset means that you'll also be more able to relax. Being more supple means that you'll be able to move more easily without stiffness, and having that relaxation time set aside for yourself can help you to be a happier, calmer mum.
We recommend that if you find yourself unable to do yoga or Pilates exercise on a certain day, that you at least take a little time out to relax – for example, when your baby goes down for a nap, jump in the bath and take half an hour out to meditate. You'll feel much happier for it. The calmer and more centred you are, the happier you'll become.
And if you are relaxed and able to cope with pressure, you'll be more than able to cope with a little one who is throwing a tantrum.  And below you can see some specific videos for you to follow and do in the comfort of your own home. Just remember we always advise gaining your Doctor's clearance before doing any kind of exercise post pregnancy as doing too much too soon can lead to injury and long term problems.
There are plenty of exercises that new mums can do, but to start with, you must be gentle and take things slowly. One of the best exercises for any new mum is walking – it is weight bearing, so it won't put too much pressure on your joints, and if you do it outdoors, it also gives you chance to reconnect with the world outside your home.
Walking is also a great calorie burner, and if you do it with friends and family, it can also be pretty fun – plus, if you do it with other people, you'll be more likely to stick with it. Walking helps to tone your body, and if you go on regular brisk walks, you'll be boosting your cardiovascular system – which means that you'll be reducing your risk of heart disease, heart attack and stroke.
If you are able to, you could try exercises that are slightly more intense, such as light weight training, jogging, dance class or step class. However, you should always check with your doctor first, just in case your body isn't strong enough to deal with high intensity exercise.
Getting small amounts of regular exercise will improve your overall fitness and strength. When you have a baby, you don't need to rush straight back into a full on routine – instead, enjoy the time with your baby and fit in exercise where you can. Start off with small bursts of exercise – for example, in ten minute increments, and keep doing that until you feel comfortable.
Then, you can add extra five minute bursts of exercise into your routine, to build up to a routine that you feel comfortable with. If you don't get back into a routine straight away, don't worry about it. Eventually, you'll be back to your old self – but enjoy spending time with your baby first.
Find an exercise and an exercise routine that works for you, your life and your baby and you'll be well on your way to being a stronger, fitter, healthier – and ultimately, happier mum.
This article was written by Sol Walkling, the Healthy Mummy Pilates Expert and Trainer – to see Sol's credentials and read more about her click here
And don't forget to check out our Healthy Mummy product range – and also check out our promotions and offers page for discounts and special offers each week .