The Healthy Mummy Pregnancy Group Q&A Summary – Nikki Boswell, Fitness Expert
Nikki Boswell, Women's & Children's Fitness Expert, held a Q&A session in The Healthy Mummy Pregnancy Support Group and here is the summary of questions and answers.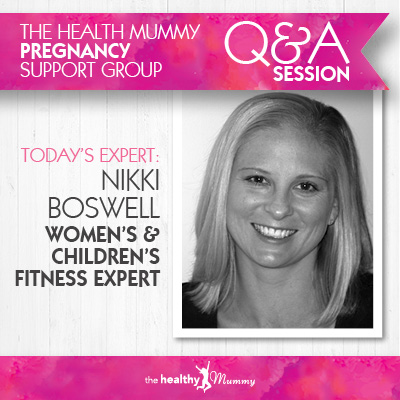 In The Healthy Mummy Pregnancy Support Group we hold Q&A sessions each week or two with experts to talk about relevant topics to do with healthy pregnancy.
On March 18, 2015, Nikki Boswell, Women's & Children's Fitness Expert, held a Q&A session and below is the summary of questions and answers:
Q: I have been doing the exercise segment of The Healthy Mummy Pregnancy Eating & Exercise Plan a couple of times a week. Is that enough to get the full benefits of the stretches?
A: Yes, a few times a week should be all you need. It really depends on your fitness level/exercise regime before pregnancy but the recommendation is to continue to aim for 150min of moderate exercise each week (so 30mins x 5 days).
Q: Any tips for exercises or stretches that can help if you have hip pain during pregnancy? I had the worst sciatica when pregnant and sitting down all day at work made it worse. Some good stretch ideas would be great.
A: Getting up and moving around as much as you can is definitely a good start. Both stretching and strengthening exercises can help to relieve back pain. Yoga definitely has benefits for both stretching and strengthening. Try using a swiss ball/ stability ball at your desk, this gives you the opportunity to correct your posture and strengthen your core.
Q: During pregnancy what are the main exercises to avoid?
A: During pregnancy the main thing to remember is that this is a time for fitness maintenance not setting pbs. So continue with your usual exercise provided that there is no risk of physical injury from high impact/ body contact and there is no risk (little) risk of falling as your centre of gravity changes with the growing bub. Keep your heart rate moderate (you should still be able to talk), and weights light and go for higher reps. Avoid lying on your back after the first trimester and just listen to your body, get as much rest as you need.
Q: Does being physically active during pregnancy help with the length of labour?
A: Being physically active during pregnancy is not only important for a healthy mum and healthy baby, but it gets your body ready for labour. It improves your cardio which you will need especially for a long labour and strengthens those muscles for pushing. It also will assist in improving your recovery once bub arrives.
Q: I am so confused with running and heart rate and how much to do, any tips?. For a slow run my heart rate is anywhere between 160- 180, but I feel fine and could easily talk- is this ok? I'm only doing short 5km runs as I'm not sure of what the right thing is. I'm 10.5 wks with no.3?
A: So you should aim to keep your heart rate below 75% (with the ball park of 145 bpm throw around). This should be worked out on your pre-pregnancy heart rate. The talk test is a good guide. Keep it moderate and listen to your body (don't forget to work your pelvic floor!)
Q: I'm a bigger lady who is pregnant with number 4 (13 weeks). I've started doing aqua aerobics and walking in the water twice a week. I'm wondering how do I stop my lower back hurting bad the next day. I do have lower back problems?
A: It sounds like you have a pretty suitable exercise regime for you. You could try adding in some stretching or yoga. If you feel comfortable, it is safe to stretch/exercise from a hands and knees position. From here you can gently move into the cat/cow pose, child's pose, or simply lift one leg at a time up from the floor. Just be sure your spine is in the neutral position first (pelvis slightly tucked under to give you a flat back).
Q: Can you tell mums here why you would recommend the Healthy Mummy Pregnancy Eating & Exercise Plan & Book?
A: The Healthy Mummy Pregnancy Eating and Exercise Plan has it all worked out for you! Everything you need for a healthy pregnancy in one place.
Q: I've recently returned to the gym and I'm only doing light exercise but I'm wondering what I should keep my heart rate under? I have a heart rate monitor and I was trying to keep it under 120 but it did creep up to high 120s before I brought it back down, is this safe?
A: This really will depend on your fitness and heart rate before pregnancy. Around 120 should be fine, aim to keep it under 75% of your max pre-pregnancy – just let your body be your guide. Make sure you can talk comfortably but probably not sing. Take lots of rest.
Q: I also wondered about my heart rate when exercising. My doctor and trainer said I should try to keep it under 150bpm, but it is getting above that even when I'm trying to go easier. I feel fine when exercising – is a higher heart rate a concern?
A: So your heart rate will naturally be higher during pregnancy even at rest. If your doctor and trainer have recommended staying under 150 then take their advice – they will know you, your condition and training history. The general figure that is thrown around is 140 bpm but there are a lot of variables in this.
Q: I am suffering with varicose veins in my legs and trying to strike the right balance between exercise and rest as one in particular gets painful. Are there any specific exercises or stretches that would help or should that be avoided?
A: (answer from a group member) This is a great read about varicose veins.
A: Sorry to hear about your pain. You are doing the right thing by trying to balance between rest and exercise. There isn't really any specific exercise that you can do, but try compression stockings. Good luck.
Q: I live in a hilly area and find that pushing the pram up and down the little hills, with my 11 month old really hurts my knees, I'm currently 20 weeks pregnant, any tips?
A: My advice is simple – avoid the hills! If it causes you pain it is best to avoid it. Obviously if you live in a hilly area this is easier said then done. Take rest when you need.
Q: I was a regular gym-goer and have been trying to go since getting pregnant. I'm now 12 weeks and would like to go back to body pump classes. Is there any part of the class I should modify or not do?
A: Definitely talk to the instructor. Lying on your back after the first trimester is not recommended and there is a lot of that in body pump. The instructor should be able to assist you to modify the exercises. Keep your weights nice and light.
A: (answer from group member) I'm a body pump instructor and have continued teaching pump throughout my first pregnancy. I'm currently 32weeks and still going strong and I put that down to body pump. I have put my step on an incline (head at higher end, feet at lower end) and I don't do any abdominal work on my back. I also use plates for lunges or just my body weight now rather than a bar on my back, to help with balance and stability. I'd also suggest you take the weight light if you've had time off pump and you're going back. Also don't shy away from telling your instructor you're pregnant it's important we know these things about our participants so you can still enjoy our classes.
Q: What exercises should I steer clear from? I'm pregnant with bub no. 2 and I'm 6 weeks. I'm doing squats, walking and I'm on the move a fair bit, as well doing light work outs for 20-30 mins a day. I want to stay active but not sure what to steer clear of?
A: Those exercises sound fine. You should be able to continue with your usual workout (providing your pregnancy is not high risk or has any other restrictions). Avoid exercise where there is the risk of falls due to changes in centre of gravity and obviously avoid exercise that has high impact/full contact. After the first trimester avoid lying on your back but you can modify exercise to the sitting/semi recline position. Keep your weights light and work on maintenance.
Q: How much activity is enough? I'm a RN on a busy surgical ward. 10000 steps is a pretty chilled day and around 15000 is more average. I do a structured walk on my days off but is my general activity level enough?
A: The recommendation for pregnant women is the same, about 150mins per week (30mins x 5 days) of moderate intensity exercise. It sounds like you are getting a lot of walking in (I hope you have great shoes!). Although it is a lot of steps you need to make sure you are getting your heart rate up just enough too.
Q: I find that I get a real boost of energy after I have the Healthy Mummy Pregnancy Smoothie. Is it best to drink this before I exercise or after do you think?
A: The Healthy Mummy Pregnancy Smoothie is perfect pre or post workout! I personally prefer it after (within 30mins for max benefit), but it could also be taken before depending on how well you tolerate food before exercise.
Q: What abdominal exercises should be avoided? I've read mixed recommendations about things such as planks etc. specially in regards to muscle separation and so on?
A: It once again depends on what you were doing before pregnancy. Definitely avoid crunches (I didn't include these in my list of things to avoid before – simply slipped my mind, but they require lying on your back so I hope it is assumed NO crunches people!). If you were planking before you should be ok to keep planking, if you didn't plank before this is not the time to start. You can modify and plank from kneeling but there are also plenty of other core exercises you can do. Remember your back is an important part of your core and exercises that put you in a hands and knees (crawling position) will help strengthen your core. Yoga poses like Cat/ Cow; Childs pose, birds pose (lifting alternative arms and legs to horizontal and holding – or just arm or just leg) are good.
Q: Can you please suggest Abdominal exercises for third trimester. Are hip bridges ok?
A: I would probably avoid hip bridges in the third trimester (I don't think I would have even been able to do them!). As I said in some of the other comments (I may have better descriptions in these so worth a look if you can find them), your back is also a really important part of your core so anything that gets posture correct is a good start. Using a swiss/stability ball and simply sitting with great posture (feet flat, hips just slightly tucked under, shoulders relaxed, feet hip width apart), and just gently roll the hips back and forth to extend and flex the spine. I also mentioned yoga poses like cat/ cow.
Q: I'm a hairdresser and always on my feet. I'm 20 weeks pregnant. What would you recommend to help? I am training 3 times a week with a women's outdoor fitness group. I walk my dog also, 7 days a week about 30-40 mins a day. Yes I have new runners?
A: I recommend an apprentice! LOL! It sounds like you are keeping your self very active – as we've talked about, just work on maintaining what you were already doing before pregnancy, listen to your body and get as much rest as you need.
Q: Where do I buy The Healthy Mummy Pregnancy Smoothies & Exercise Plan?
A: Here is the link to our pregnancy products shop.
For those finding it hard to fit exercise into their days and feeling extra tired with pregnancy, here are some tips.
Click here to visit our pregnancy products shop.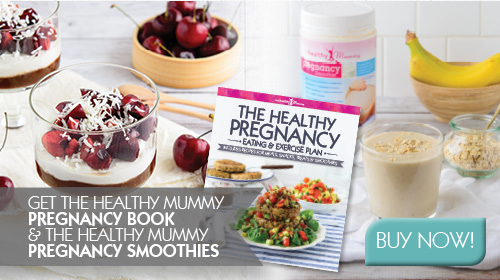 Disclaimer: Always speak to your doctor before changing your diet,taking any supplements or undertaking any exercise program in pregnancy. The information on this site is for reference only and is not medical advice and should not be treated as such, and is not intended in any way as a substitute for professional medical advice..
Our plans promote a health weight gain in pregnancy to benefit the mother & baby and you can read more on this here 
The owners of The Healthy Mummy do not make any representations or warranties, express or implied and shall have no liability or responsibility to any person or entity with respect to any loss or damage caused or alleged to be caused directly or indirectly by the information contained herein and nothing in this disclaimer will limit or exclude any liability for death or personal injury resulting from negligence, limit or exclude any liability for fraud or fraudulent misrepresentation, limit any liabilities in any way that is not permitted under applicable law or exclude any liabilities that may not be excluded under applicable law.