The Heart-Stopping 21 Second Video That All Parents Need To See
Dubbed the Summer of Drowning by Australian press, this summer has been one of the worst for tragic swimming pool deaths, especially in young children. One mother's viral video could explain why this keeps happening and why it is to critical for parents to be vigilant when it comes to backyard safety.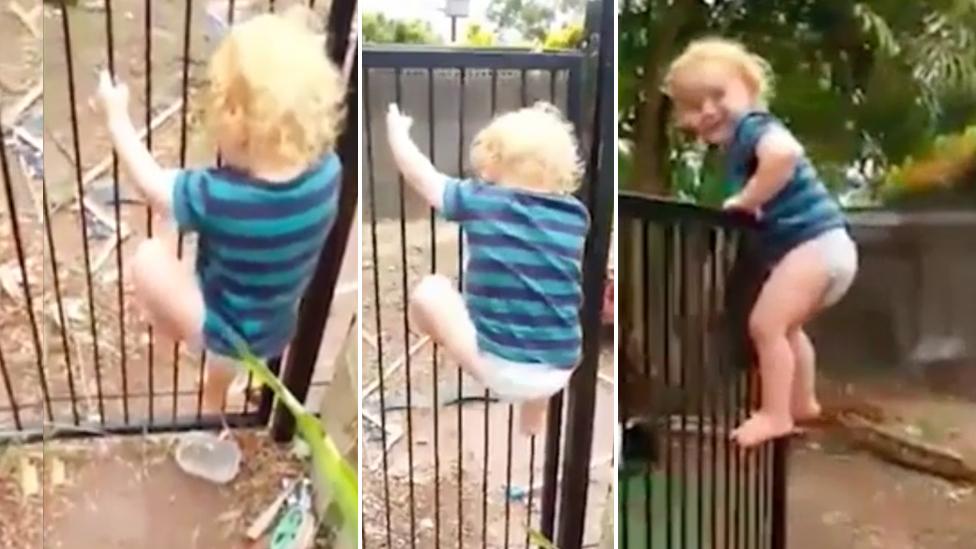 21 second is all it takes.
Wendy Atkinson timed it. And it only took a frightening 21 seconds for her two-year-old son Brodie to scale a fence and unlock the gate. While this particular gate only led to a backyard (thankfully), the video proves just how easy it is for a child to break through a fence, providing access to a road, a drain, a pool, or any other dangers that may lurk on the other side.
The 21 second video has gone viral due to the incredibly important message that goes along with it:
You can never be too careful.
Wendy, a mother of four from Adelaide, recently explained that the video is meant to "teach parents just how quick and clever two-year-olds can be."
"I understand people are going to be passionate about this as it is terribly confronting but I feel it has to be shown," Wendy added.
Australian standard fence couldn't stop a toddler.
Wendy said that the fence Brodie easily climbs over is higher than the Australian standard and proves that children, even children in nappies, have the capability of getting through this barrier with ease.
"He can scale and open the gate in 21 seconds unassisted, no chairs, tables or bikes to stand on," Wendy explains. "Think about that. 21 seconds."
This wasn't the first time Brodie has scaled the fence. Wendy has watched him do it on a few occasions and each time, reprimanded him for his actions. However, she then decided that her toddler could teach other parents just how easily it for a child to climb a fence and for tragedy to strike.
What's the solution?
The video has prompted many people to raise the question of whether the current Australian fencing standards are up to par. But even a 10 meter fence may not keep children as determined as young Brodie out of harm's way. While not all toddlers are as amazing at climbing as Brodie, many are.
The answer lies in adequate supervision. All. The. Time.
"As vigilant as we like to think we all are and would love to be, when you add extra risks like unpredictable siblings, friends, environment, it gets beyond your control. Accidents will happen."
Perhaps this video acts as the confronting proof that Australia needs to see in order to help prevent any more accidents, especially backyard pool drownings, from happening.