The Weekend Can Be Healthy Too!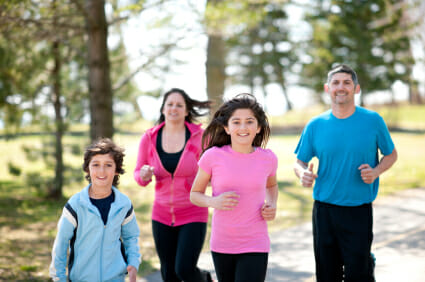 The weekend can be a healthy time with family and friends. Here are a few tips to be able to continue your healthy eating and exercise plan into the weekend.
Exercise with family
The best thing about this kind of exercise is that you are doing it with people you love. Therefore it will not feel as arduous or boring as doing it by yourself.
There are many ways you can exercise together:
Tip chasey
Going for a bike ride
Rumbles
Using your kids as weights
Or simply letting them play in a park while you run around and do strength exercises in between. You could even use these stick exercises as inspiration in between hill sprints.
Eat well with family and friends
Eating and celebrating with family and friends during the weekend does not mean you have to break your healthy eating plan. In fact, it is the best way to be able to practice slow eating when there is nothing to rush your meal.
Set the table with a table cloth, candles, glasses, serviettes and knives and forks. Dress it like the French do.
Mix up a variety of salads and healthy appetisers. Maybe some Vietnamese spring rolls or some delicious crunch noodle salad or you could try a low-fat beetroot dip which is great for not only a party but also as a snack with some veggie sticks.
BBQ up some chicken or beef, keep it clean and simple.
Sit back and enjoy the meal with your family and friends. And maybe have some BBQ pineapple afterwards.
This is the best time to be able to subconsciously teach your children healthy eating habits as well. Eat slowly and consciously and they will follow. Let them be part of your healthy eating journey as well.
Think Slow
This is not just with eating and exercising it is also with your mind.
Give yourself an opportunity to stop for a moment, reflect and re-energise.
Yoga, meditation or some light pilates or stretching are great ways to be able to slow down a little.
Our mind needs time to rest and sometimes sleep is hard to come by as a mum, especially a new mum, so by stopping, breathing and relaxing and THINKING OF NOTHING, we can re-energise ourselves.
Mediation has been shown to increase your brain capacity and memory. Two things which seem to disappear or be hard to find as a new mum!
Plan ahead for the week
This is two fold:
Plan your meals
Plan your day to day happenings, work, agenda and diary
Your meals
Meal planning is one of the most effective ways to be able to stay on track with a weight loss plan or a healthy eating plan. By buying only what is on your menu plan you have no temptations inside the home to break you great work.
You can plan your breakfast, snacks, lunch and dinner or just dinners. Here are some additional tips on menu planning.
Menu planning is also a fabulous way to be able to stick to a budget or even save money. Both of these are helpful for families on one income or if you need to save a little extra for all the Christmas and Festive spending on hand.
Your diary
As mothers we are often multi-tasking beyond comprehension. By reading and looking ahead for the week we can prioritise and remind ourselves what is ahead.
By planning simple to do lists we can make sure that we do not lose control of what the day has planned and what appointments need to be kept.
Organising your day or week only needs to take a few minutes, but a few minutes can save your mind space when you feel like the whole world is about to implode after the fifth vomit on your shoulder and a molar teething three-year-old wrapped around your legs.
And then just remember IT IS THE WEEKEND!!!! AND ENJOY!!
If you are ready to lose weight then The Healthy Mummy plans offer a healthy and safe exercise and diet routine that are safe if you are breastfeeding.