Three Causes For Stressful Weight Gain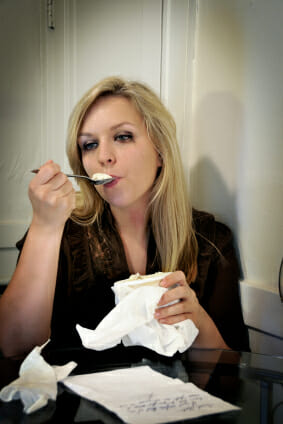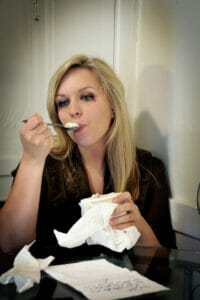 When we are mums, the spare time in our hands is limited. We want to do the best by our children, our husbands, our families and ourselves. But the time factor.
Stress is one area of our lives that tends to creep up.
Stress can also often lead to weight gain or stopping you from losing weight. Here are three areas to think about if you are stressed AND trying to lose weight.
Are you too stressed to cook?
One of the causes for obesity today is the lack of home cooked freshly prepared meals. People believe they are too stressed too cook and do not have enough time. They opt for either take away meals which are convenient for time but not convenient for your waist line nor your hip pocket.
We also eat a lot more par-prepared meals like packaged soups, packaged pasta sauces and packaged whole meals. Some of these are nutritionally sound, others are full of fat, sugar, salt and artificial ingredients.
Cooking at home does not have to be gourmet. We do not need to be the next Masterchefs. We can eat steamed veggies on rice with a swig of soy sauce. We can eat fresh tomatoes on pasta with basil and parmesan cheese. Both option are far healthier than anything pre-made or bought from a  fast food shop.
My new best friend as work has increased and the demands of my kids have increased is Menu Planning. Seriously daggy but ridiculously liberating at the same time. It takes 10 minutes each week and it saves my life.
Are you so stressed you binge or emotional eat?
Another cause of weight gain is incessant binge or emotional eating. Often when we are stressed our hormone levels can change resulting in 'cravings' for sugar or certain foods.
The most important point to remember here is to stop, think and mindfully eat. It is ok to have chocolate. It is ok to have pudding or a packet of chips. But do you know you are eating it? Do you remember eating it? Did you enjoy it? Did you, did you really enjoy it or did you just eat it?
I saw a fabulous quote on facebook this week. "No one regretted not eating a cheesecake?" Too true.
We can eat these foods, occasionally, and they will not really do you or your weight loss goal incredible harm but you do need to include them in what you have eaten that day or week and make allowances for what else you will eat either that day or week so that you stay on your healthy eating plan.
Are you too stressed to exercise?
Often people will say that they do not have enough time in their day for exercise.
When losing weight or trying to lead a healthy life, exercise does not need to be 2 hours at the gym or a 10km run each morning. One of the best ways to change you exercise plan and regime is to do it slowly, consistently and also including incidental exercise.
These examples may sound boring but they will add up and change your weight and your health.
–          Take the stairs
–          Go for a 15 minute walk after dinner with the kids, hubby and the dog (even if you only have the kids with you).
–          Dance while you a doing the vacuuming.
–          Do 10 push ups, 10 star jumps and 10 sit ups before each meal.
–          Walk to the shops.
–          Go up and down the stairs three times before putting the washing out.
Exercise is also incredibly beneficial when we are stressed. It gives us time to clear the mind, release some endorphins and solve the world's problems!
If you are ready to lose weight then The Healthy Mummy plans offer a healthy and safe exercise and diet routine that are safe if you are breastfeeding