Tiarne Has Lost Over 12kg
Time to introduce my self 🙂 My name is Tiarne and I have to say that I am super excited to be one of the Healthy Mummy Motivating Mums for June after having lost over 12kg on the healthy mummy weight loss plans.
I am 25 years old and have a wonderful and incredibly supportive husband who has joined me over the last 8 months to help me get both my confidence and my body back.
I have two beautiful children who are exactly two years and 5 days apart, my youngest being 10 months old. Having two pregnancies close together meant that I never lost all of my baby weight from my first and saw me stack on the numbers by the end of my second pregnancy.
Having been a very fit, active and petite girl my whole life I found the excess weight very hard to deal with and found my confidence , self esteem and general happiness suffering in a big way . It put major stress on my marriage, affected the well being of my two babies ,I found my friendships started diminishing and I found that my mental illness ( Bi Polar) was flaring up in a huge way!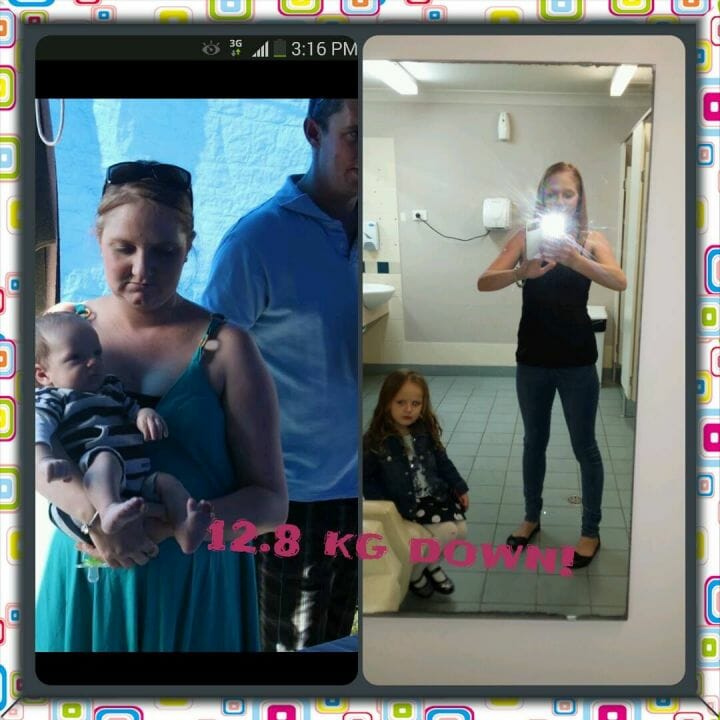 Then one day while browsing weight loss options online I stumbled across The Healthy Mummy weight loss plans and I have never looked back. I started off with the 28 day plan and also incorporated the healthy mummy smoothies. Within a week I felt amazing! I had also dropped 2kg in the first 7 days and that was it ,I was hooked.
By the time I had finished the 28day plan I had fallen in love with food, the smoothies and the lifestyle. I quickly jumped back online and re stocked on the smoothie mix and also purchased the healthy eating summer cookbook and the workout dvd. The results were so good that even  my husband got on board and started having smoothies for breakfast with me. 
8 weeks after following the healthy mummy weight loss plans. First the 28 day diet and exercise plan and then following on with the healthy spring and summer cookbook, smoothies and recipes from the 28 day diet, I had dropped 6 kg going from 64kg to 58 kg ( I started at 49kg pre pregnancy) , and my husband had dropped 8kg. The weight loss gave me the confidence and the energy to join a local boot camp twice a week and I also started one personal training session a week.  
I found the exercise DVD to be perfect for when my little ones would have a nap and I needed to get in a workout within a limited amount of time. It is broken up into 10 and 15 minute increments that target particular areas. I suffered from some pelvic floor issues after my second baby and found the DVD to be a perfect introduction back into the world of exercise. It was such a relief to find that they focussed a lot on the pelvic floor and adapted exercise to suit the needs of people who needed to take things a little slower.
My husband is OBSESSED with the Dijon Mustard salad dressing from the healthy spring and summer cookbook and makes sure that he drowns every piece of salad in it, he has even been known to take spoonfuls of it on it's own. 
Being from a very laid back, small coastal town and having a surfy husband, our family spends alot of time at the beach. My goal is to be rocking out in my bikini by next summer with confidence and thanks to the healthy mummy plans I now know that it is more than possible. 
To date I have lost over 12kg and am sitting at 52kg only 2kg away from my goal weight however, I still have my mummy wobbly bits to tone and my stretch marks that I  need to learn to love.  I also want to work on my strength, my overall fitness and have new personal goals that I want to achieve. 
One thing that The healthy mummy has taught me is that being healthy is a lifestyle. Eating nutritious food and exercising doesn't just benefit you physically it also benefits you mentally. Since starting this plan I have not only lost weight but I have been more energetic, happier and have a smile on my face most of the time .Thanks to lose your baby weight  I am on the road to becoming the person I always knew I could be and I couldn't be more excited to share the journey with everyone else. 
Tiarne xx 🙂
GET YOUR 10% DISCOUNT
If you are ready to lose weight then the Lose Baby Weight plans offer a healthy and safe exercise and diet routine and you can get a 10% discount by using code LOYALTY at the checkout
PLUS our BEST SELLING 28 Day Diet & Exercise Plan is available as a 200pg Printed Book and you can get your copy here 
Plus our NEW CALORIE BIBLE is now available – get your copy today! Only $19.95 and a must have in your handbag!