Top Ways To Stay Motivated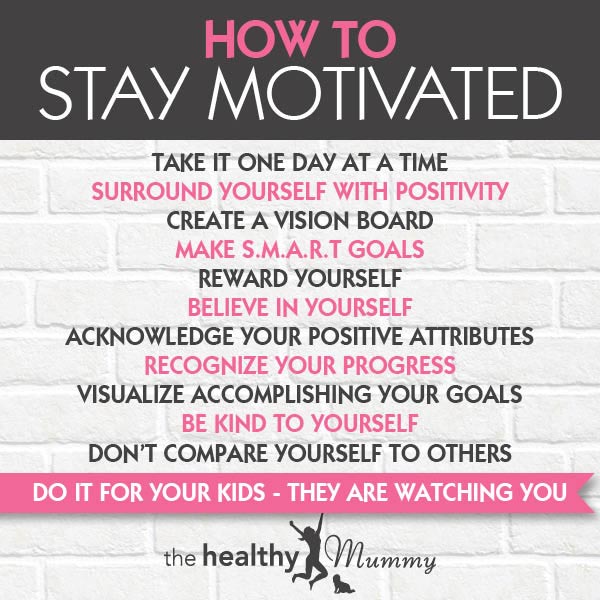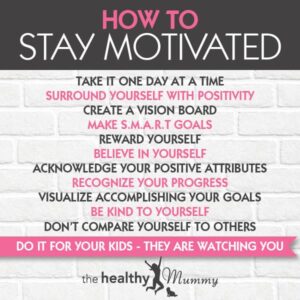 Sometimes, even the best-laid weight loss plans can fail.
You might feel like you're totally ready to embark on a diet or exercise regime – but if you're not motivated enough, you could struggle to shed the pounds.
Motivation is key to a successful weight loss regime, so here are our top motivation tips to help get you started on your Healthy Mummy weight loss plan.
Think about what you want from the weight loss regime. Are you looking to be more toned? Do you want to be a certain size? Find some inspiration, be it in the form of a favourite celebrity of even a friend or family member and stick a photo of that person to your fridge – an easy way to remind you why you're losing weight when you go to the fridge mid-afternoon.
Try not to cut out everything you love. When dieting, it can be tempting to think "I'm never going to touch the biscuit tin again", but realistically, that's not possible. Allow yourself some treats – just count them as part of your daily plan. You could also make sure that you eat them in the morning, so you have the rest of the day to burn the calories off.
Give yourself a reward every now and then. Treating yourself to something you want – be it a new bag or even a long luxurious bath will help to keep you on track and will also help to keep you motivated.
Cheat occasionally. Eating takeaways or going out for meals with friends is all part of life – and you need to be able to function normally, instead of always being "on a diet". If you like, allow yourself to eat a "cheat meal" once a week so that you can taste a little bit of what you fancy.
Exercise with someone else – doing it with someone else means that you are more likely to stick to it. Sign up to gym classes with your best friend, or even just go for a walk with your neighbour.
Take advantage of your pet. If you have a dog, walk it! It's a great way to get some daily exercise – and even just walking for 30 minutes per day can help to boost your weight loss.
Be prepared. If you know that mornings aren't good for you, lay your workout clothes out next to your bed so that you can jump into them in the morning. Alternatively, you can arrange your workouts at times of the day that you know you'll be able to keep to.
Use tracking programmes to track your calorie intake. This way you can see exactly what you're eating, helping you to stay on track. You can also use tracking programmes to track weight loss and inch loss, which are both great motivators.
Plan ahead. If you do lots of shopping each week you'll be more likely to make impulse purchases. Instead, plan your meals out for the whole week, then do one big food shop once a week to buy the food you need.
Never, ever quit! You can do it. Weight loss takes time and you should be aiming for up to 2lb a week, although you might not lose anything on some weeks and more than 2lb a week on others. Keep at it and you will get there.
If you are ready to lose weight then The Healthy Mummy plans offer a healthy and safe exercise and diet routine that are safe if you are breastfeeding