Travel Diary Of A Pregnant Healthy Mummy – Part 1
Hi All! My name's Alisa. I work in the editorial team at Healthy Mummy and I'm going to keep you posted on a little dream of mine that's become a reality. My "babymoon", or my last hoorah!!!
I'm traveling to America by myself and I'll be keeping a travel diary to share with you all.
My background story
I have 2 kids who are 7 and 5, and I'm 15 weeks pregnant with No. 3. My husband often travels, so his job requires a certain degree of flexibility. Thankfully I love spontaneity – so it works for us. However, like many mums who hold down the fort, there are times I've longed for adventure of my own, a chance to spread my wings, just to feel the fresh air of new experiences under them.
This is one of those times and I'm SO excited.
The Babymoon
I'm calling this trip my babymoon (A relaxing or romantic vacation taken by parents-to-be before their baby is born). My babymoon, however, is a 2+week solo mission.
My first stop is LA, where I'll be visiting a long time girlfriend (who has a 2yr old I haven't even met yet!). Next stop is the Big Apple – New York – with another girlfriend.
I am so grateful to my nearest and dearest, family and husband, for their support. I promise to buy you all oversized American t-shirts with Donald Trump's head on it as a thank you.
The Pregnancy and Travel
I am now in my second trimester which is the best time to travel. My sickness has passed, my energy is back and I'm feeling pretty great, really.
I have a letter from my doctor requesting to be exempt from going through the scanning machines at the airport. In saying this, it's only a very tiny amount of radiation and apparently safe. However, some doctors recommend that pregnant women get the pat-down instead to be on the safer side. (If you don't want to do that or haven't done that, be reassured that going through the body scanner should be absolutely fine.)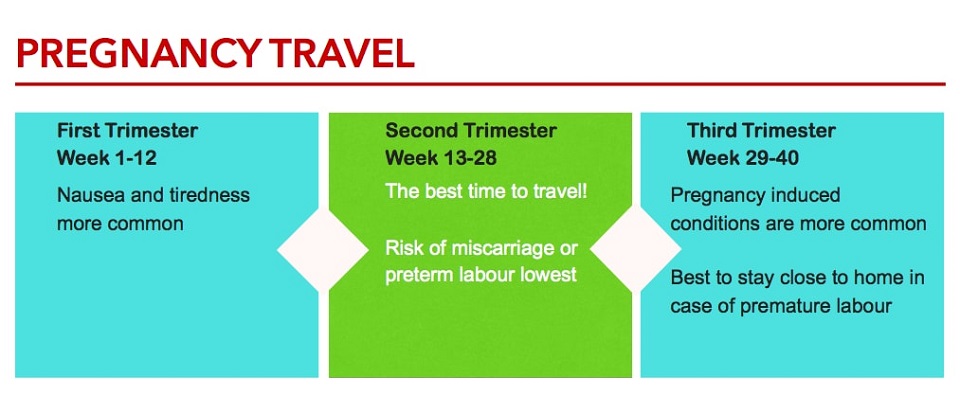 The Lead Up
So after months of planning, the time arrives, and to my surprise, instead of being excited… I'm NERVOUS. I haven't travelled on my own for over 10 years.  Thoughts are running through my head: "Is my passport really in date?" (Checked a million times already). "Is there anything I've missed?" (There isn't). "How are the kids going to be without me?" (I knew the answer to that: f.i.n.e.) "How was I going to be without them?" (Hmmm…) This could only mean one thing: I'm due for this holiday.
I said my goodbyes to the kids – fortunately they left me first to stay with family for several days and were very excited. I was… EMOTIONAL! Pregnancy hormones not helping here.
The Packing
Okay, with kids goodbyes done it's time to pack: tights, trainers, flats, loose tops and soft layers. This mumma was going for comfort. I planned to do a lot of walking (and maybe a 'bit' of shopping). The less I pack the more room I had for those Trump t-shirts that are in such high demand over here (warning: this joke may recur).
In all seriousness, I was glad to have plenty of room in my bag for my Healthy Mummy Pregnancy smoothie to keep my energy up and give me sustenance no matter where I was going to have to go – to track down the Trump t-shirts (I told you). Once I was all packed, the excitement kicked in (finally!).
I'm ready now. Time to say goodbye to hubby who has just flown in from a job overseas. We plan to talk as often as we can and I find myself missing him again already. A long 16hr+ flight ahead but thoughts of watching reality TV shows on the plane, uninterrupted, sipping on a cold glass of… oh, wait, orange juice… make it somewhat bearable.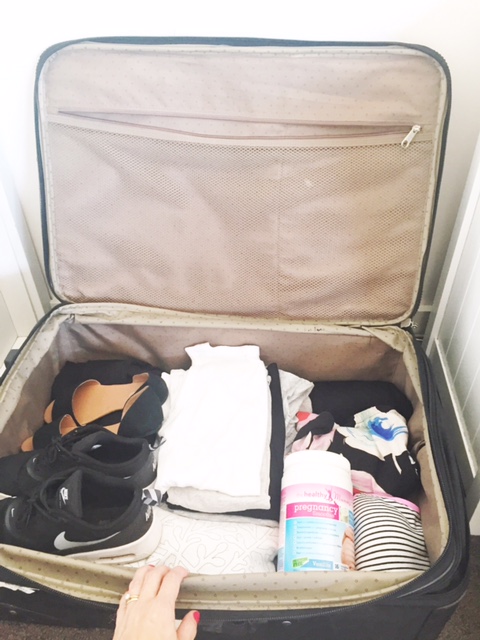 Next time you'll see me I'll be on the streets of LA doing important things like celebrity spotting or something. Okay, I'll try to spot Bradley Cooper for you. Fingers crossed.
Alisa xxx
We can't wait for your next update, Alisa!
For more pregnancy information, click HERE.