Try these 5 Comforting Recipes from the Winter Warmer Challenge – starts June 20th!
The 28 Day Weight Loss Challenge has HEAPS of amazing comfort food for winter, that will satisfy your cravings but without all the calories.
Winter can be a perilous time when you are watching your weight. As the temperature drops there's the obvious temptation to grab your comfy jumper and ugg boots and snuggle in front of the heater. And with that ALWAYS comes the comfort food cravings!
Unfortunately, some comfort foods get a bad rap for being unhealthy and calorie-dense which can often lead to weight gain in the winter time.
Thankfully, The 28 Day Weight Loss Challenge has HEAPS of amazing comfort food for winter, which will give you all those comforting feelings you crave, but without all the calories. Think warming curries, soups, pasta and hot desserts. What's more, the fresh ingredients in these recipes will give your immunity a decent boost and leave you warm and satisfied no matter how cold it is outside!
The July Winter Warmer Challenge is full of comforting recipes that are kind to your waistline AND your wallet. It kicks off on June 20th and also marks the start of the 6 Months to Summer Challenge! – Find all about it here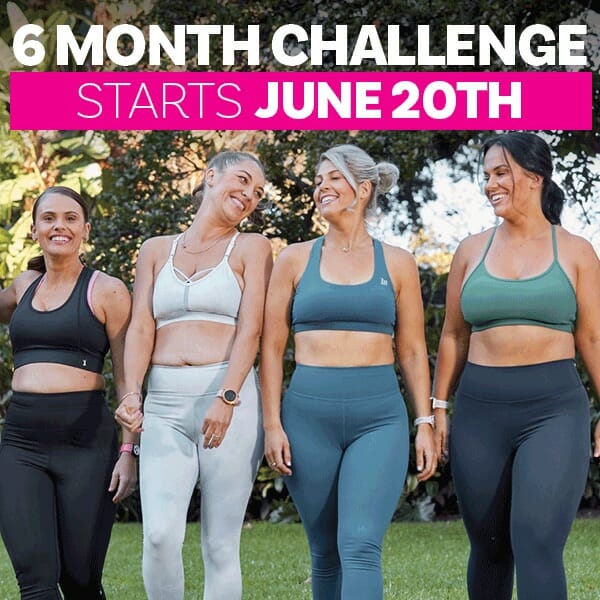 Try these 5 COMFORTING Winter Warmer Recipes
Lasagna Soup – 324 calories $2.39 per serve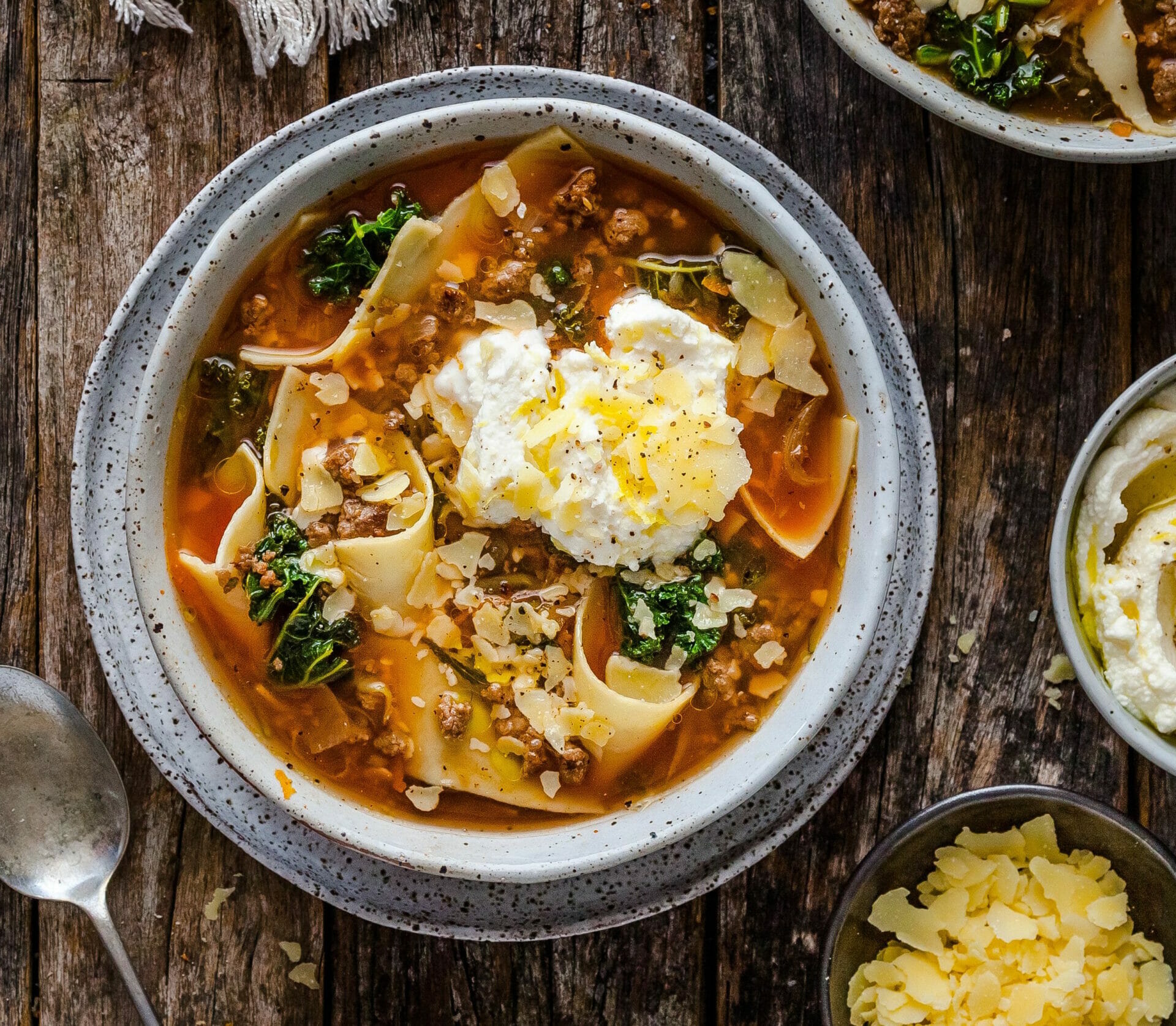 With the distinctive flavours of lasagne, this warming soup is great to make on the stovetop or super easy in the slow cooker. It's high in protein to keep you feeling fuller for longer and is the ultimate comfort food.
Easy Chicken Nachos 376 calories per serve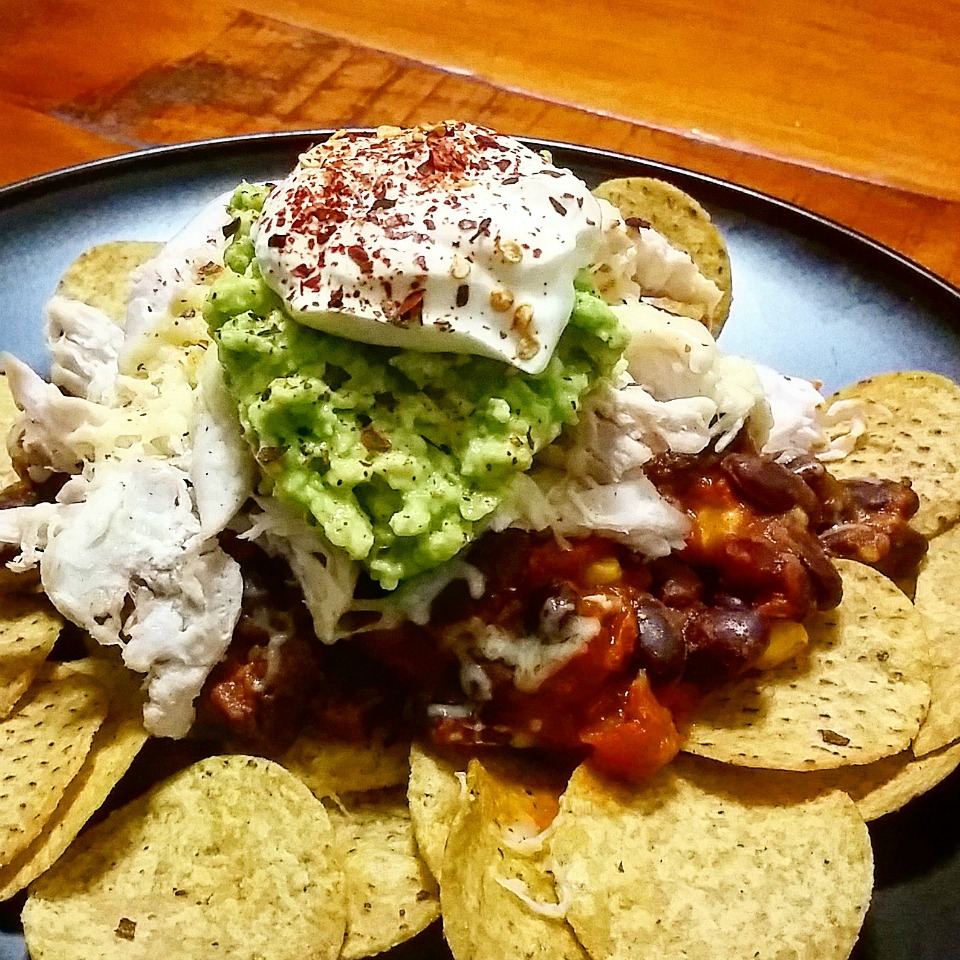 If you have some left over chicken in the fridge, this Mexican inspired meal can be knocked up in a matter of minutes! It's super tasty and the kids will LOVE IT!
Beef Rendang – 465 calories $2.27 per serve
Cheaper cuts of meat like lean chuck steak are perfect for long slow cooked curries like this warming beef rendang. When served with rice and veggies, a small amount can go a long way and feed the whole family at a low cost per serve.
This freezes well too so you can always make a double batch of the curry and squirrel it away in the freezer for a family meal another night.
Serves 4
Ingredients
1 brown onion, roughly chopped
3 cloves garlic
1 tbsp ground ginter
1/4 ground turmeric
1 small red chilli
1/4 cup water
600 grams stewing steak, like chuck
2 tsp extra virgin olive oil
400 grams reduced fat coconut cream
1/2 cup basmati rice, uncooked
2 medium carrots
1 cup green beans, trimmed
2 small head bok choy, trimmed
Method
Make the rendang paste by placing onion, garlic, ginger, turmeric, chilli and water in a blender and blitzing until smoothie.
Cut the beef into large pieces.
Heat the olive oil in a heavy based saucepan over medium high heat. Add the beef and brown all over, around 4-5 minutes.
Add the rendang paste and cook for a further 4-5 minutes until the beef is coated well with the paste and smells fragrant.
Add the coconut cream, stir to combine. Cover the pan with a lid and reduce to a simmer for 90 minutes or until the sauce has evaporated and thickened and beef is very tender.
About 25 minutes before ready to serve, cook the rice according packet directions.
Cut the carrots into batons and steam on the stovetop with the beans and bok choy for approximately 8-10 minutes, or until tender crisp.
Divide rice, beef rendang and steamed vegetables evenly between four bowls to serve.
Leftover beef rendang can be stored in the fridge in an airtight container for 3-4 days or freeze for up to 3 months.
Chicken and Spinach Pasta 289 calories $2.21 per serve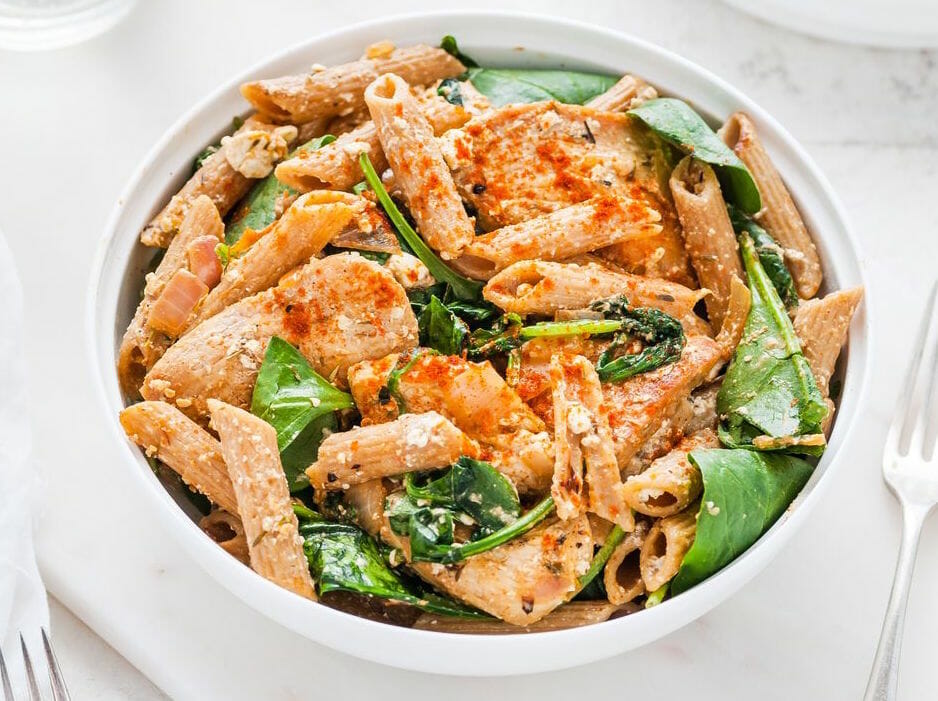 Dried spices add a nice kick of flavour to this simple pasta meal without breaking the bank.
Want to make it even cheaper? Switch out the chicken breast for chicken thighs instead. Why not make a double batch and use leftovers for your lunches for the week?
Get this recipe on the 28 Day Weight Loss Challenge
Winter Warmer Smoothie 198 calories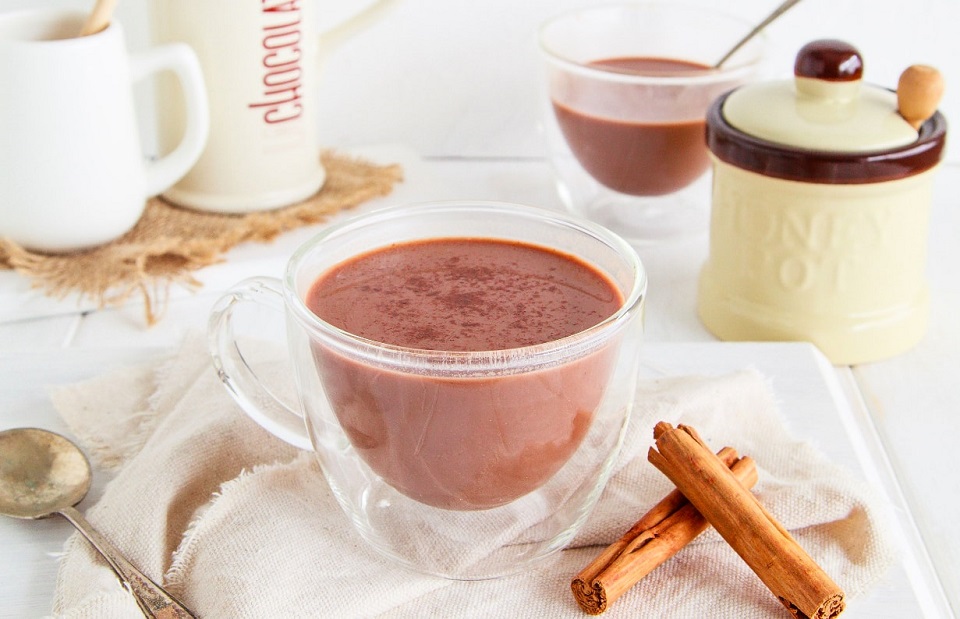 On a cold winter's evening, curl up on the couch with this healthy hot chocolate alternative.
Served warm and filled with the comforting flavours of vanilla, honey and cinnamon, this hot drink will have you losing baby weight while enjoying its tasty goodness! And it's only 198 calories per serve.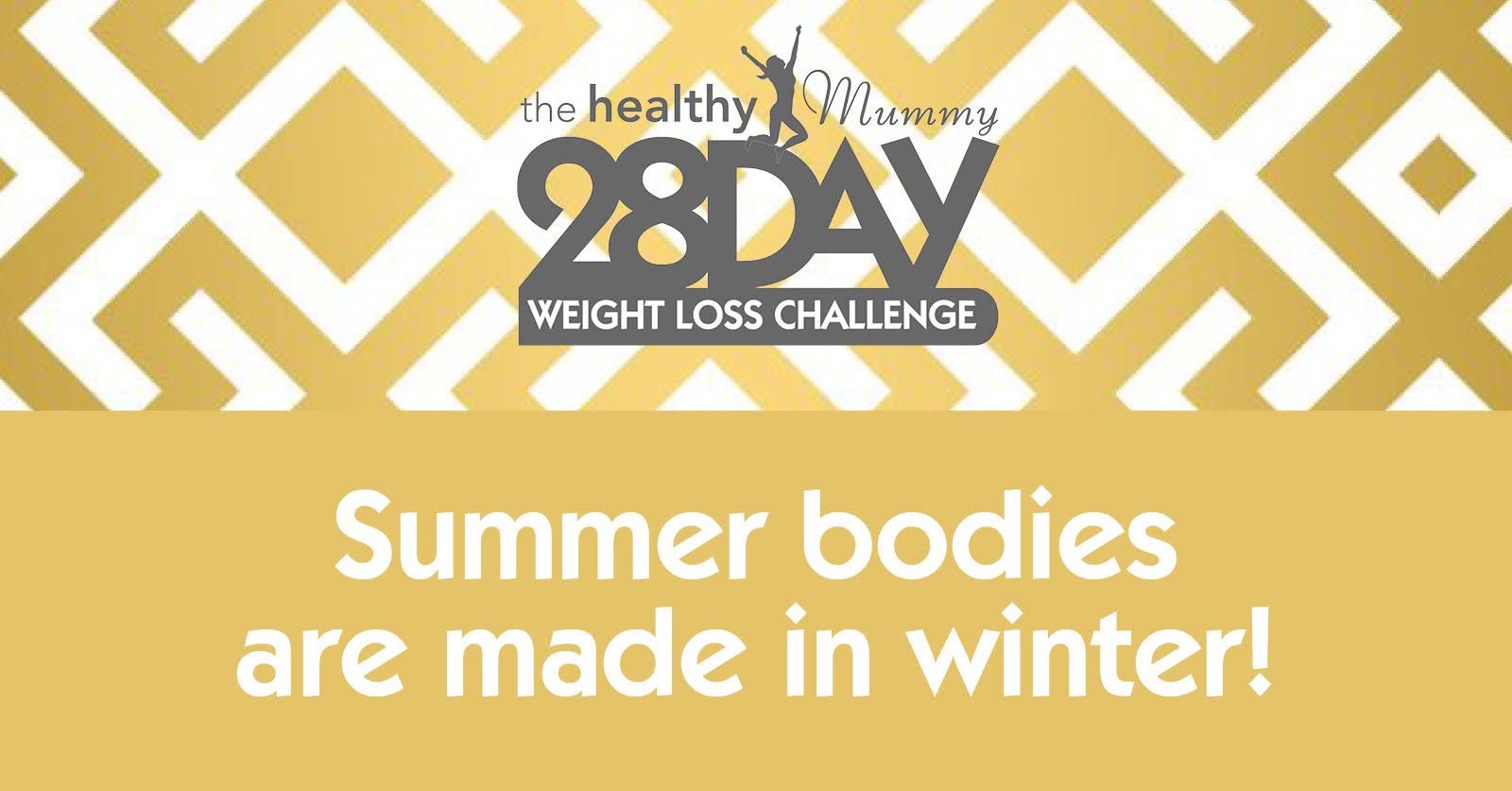 10 Ways to get your Winter body ready for Summer
7 awesome and easy ways to get fit this Winter
Want access to all these recipes and thousands more? Join the 28 Day Weight Loss Challenge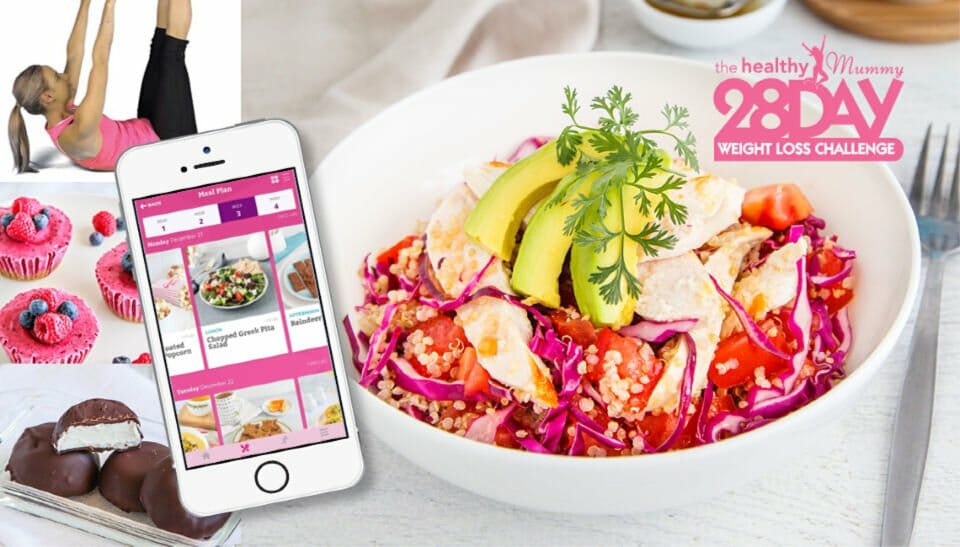 If you are interested in kickstarting your weight loss and want to improve your energy – not to mention – improve your overall health and wellbeing – our 28 Day Weight Loss Challenge is an awesome program to check out.
Our 28 Day Weight Loss Challenge includes:
28 days of at home exercise routines (no gym needed) – with video instruction
Customisable and breastfeeding friendly meal plans (including a 7 day cleanse)
Time-efficient exercises for busy mums – under 30 mins
Challenge combines Pilates exercises with interval and circuit training (HIIT)
Suitable for basic to advanced fitness levels
Home to thousands of EASY-TO-MAKE recipes!
To learn more about our 28 DAY WEIGHT LOSS CHALLENGE CLICK HERE