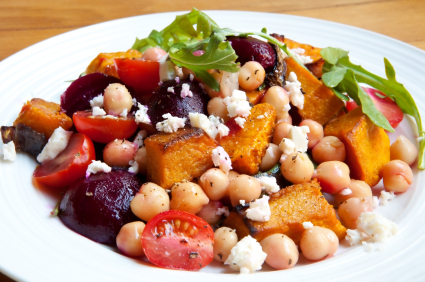 This salad is a great winter warmer and perfect for a winter weight loss diet.
 
Due to all the colours and variety of vegetables we are getting a variety of antioxidants, vitamins and minerals.
The addition of the feta and chickpeas will give you a hit of protein to sustain the energy and satiety for longer.
Prep time: 10 minutes
Cook time: 25 minutes
Serves 4

1 can of baby beetroots washed and drained and cut into quarters
1 can of chickpeas washed and drained
1/2 japanese pumpkin diced
100g of feta diced
8 cherry tomatoes halved
2 cloves of garlic crushed
1 brown onion diced
1 tbs of oil
1 lemon squeezed for juice
Directions
First, chop up the pumpkin and place it on the baking tray with some baking paper and place in a 200 degree oven and roast for 20 minutes.
While the pumpkin is cooking, in a pan heat the oil and pan fry the garlic and onion until it starts browning.
Add in the chickpeas and beetroot and heat through on high for a few minutes.
While cooking, chop up the remainder of the ingredients and toss in a bowl.
Add the chickpeas, beetroot  and roasted pumpkin to the bowl, fold through, squeeze of the lemon juice and serve
320 calories per serve.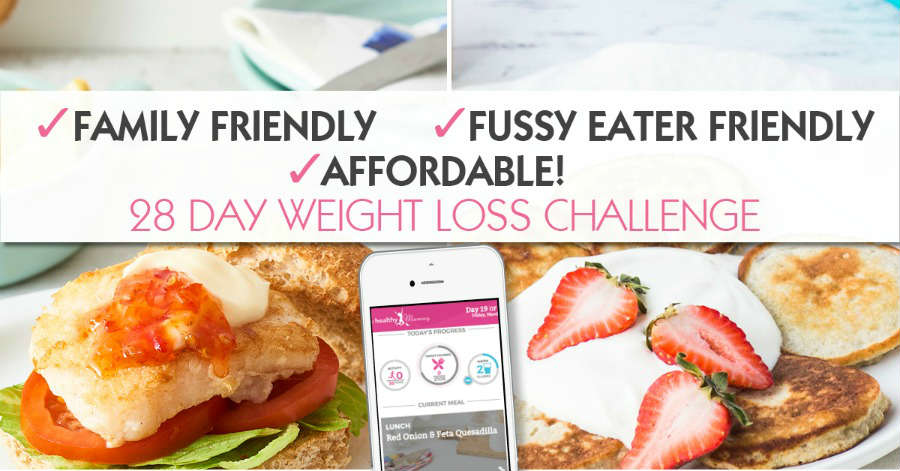 For great recipes like this one, join our 28 Day Weight Loss Challenge. Each month, you'll receive 28 days of healthy, quick and easy-to-cook recipes that the whole family will love as well as daily mum-friendly exercises.
Each month our 28 Day Weight Loss Challenge is themed, targeting things like reducing sugar, budget recipes, meals for fussy eaters, recipes with five ingredients or less, and many more.
You can find out more about the Challenge as well as this month's theme HERE.