Another week down! It's week 3 of the Energy Boosting Challenge!
Yay! You have completed ANOTHER week on the 28 Day Weight Loss Challenge! You ladies ought to be so very proud of yourselves and everything you have achieved so far.
If this is your first 28 Day Weight Loss Challenge, you are now starting to create new habits, and no doubt starting to feel better already!
Lets' focus on those FEELS! If you've had a slip up (or two) in the first 2 weeks, that's completely okay but it's important to let it go and move forward.  Now is the time to shake that off and refocus on the week ahead and getting back on track with this challenge and achieving your goals. Do not dwell on past mistakes, and definitely don't use them as an excuse to stop.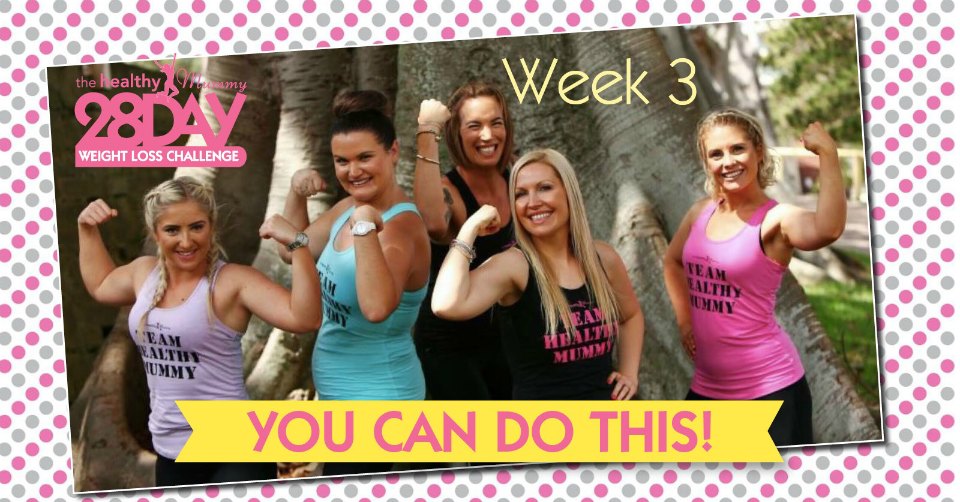 Nicola Oates' 7 TIPS for staying on track!
Let's keep up the motivation with these tips as we head into Week 3:
1. Find your exercise FUN!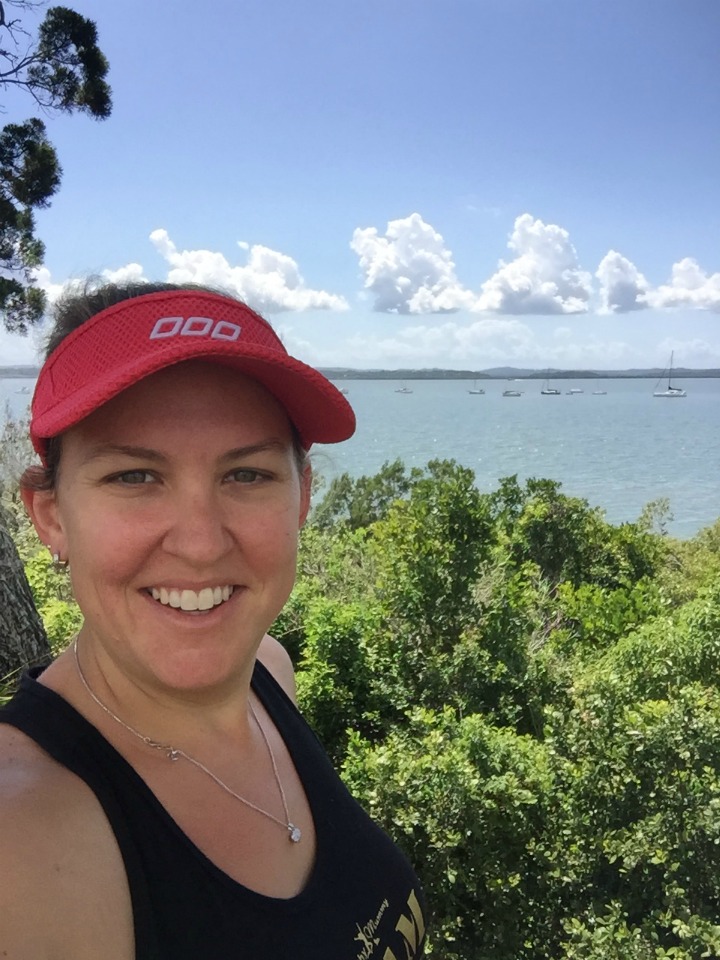 You are more likely to stay focused and pursue your goals if you are enjoying what you're doing.  Find a way to work out and exercise that you enjoy and it won't feel like a chore. Aim for 30 minutes of active time every day.  Can you include your family, friends or pets?  Or do you enjoy alone time to 'get it done'? Find your space, dedicate your time and get your body moving.
2. Include energy rich foods
Eating healthy meals without processed foods will naturally lead to having more energy!  This week you should aim to include some of the following foods in your weekly meal plan for your body to be at its best.
Foods rich in iron and vital nutrients include beef, barley, cacao nibs (yum), eggplant and spinach.
3. Keep snacks simple
Avoid binging and unhealthy options by having on hand a selection of snacks.  Your snacks don't have to be complicated; keep it simple and you'll find it easy to maintain.
Why not try including boiled eggs, cheese cubes, apples or bananas… they are all simple, delicious and healthy easy snack options – and will give you a sustainable energy boost.
Avoid anything with processed and refined sugars, the sugar high will quickly wear off.
4. Water is your friend!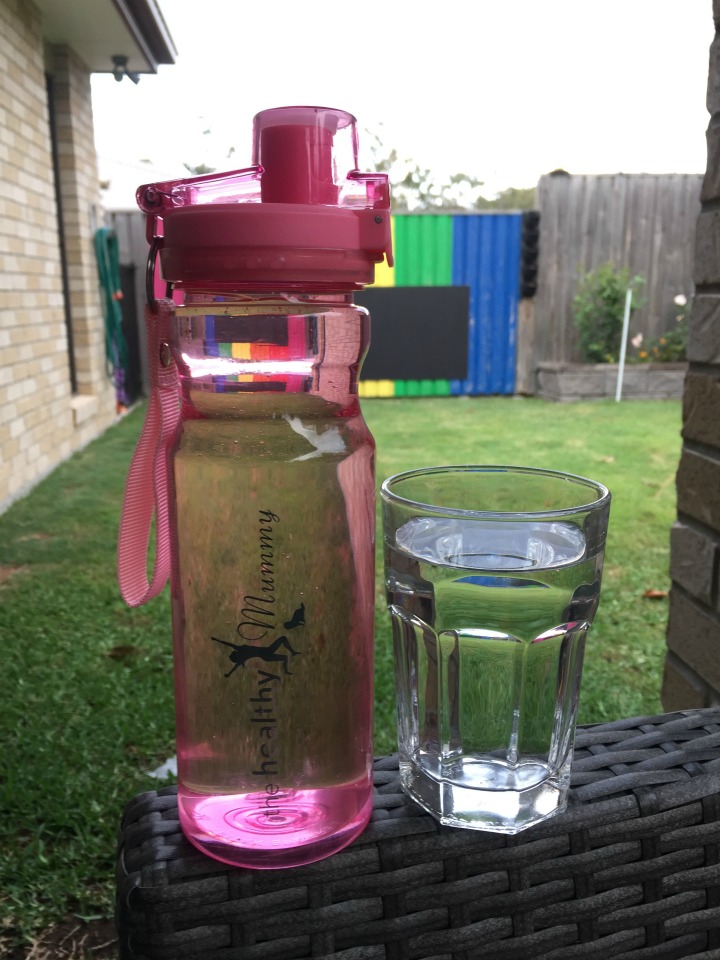 If you don't already have one, grab yourself a good quality drink bottle and carry it with you at all times.  Aim for a minimum of 8 glasses of water a day, or 2 litres.  During the summer months you should consider increasing your intake.  Your skin and body will love you for it.
5. Meal prep!
Whether it's having a big cook-up day and stocking up your freezer with ready-made dinners; baking some snacks or making smoothie bags for your freezer stash, every little bit of meal prep helps to make your journey easier.
When life gets busy, and you are running short on time it's better to have options sorted and you can avoid making the wrong food choices because you're a hangry little binge-eater. Set aside a little time to prepare your snacks, or make smoothie bags for the freezer; or have a big cooking day with the slow cooker, stove top and oven all going to really kick off your week well and truly organised.
6. Smoothies and Super Greens!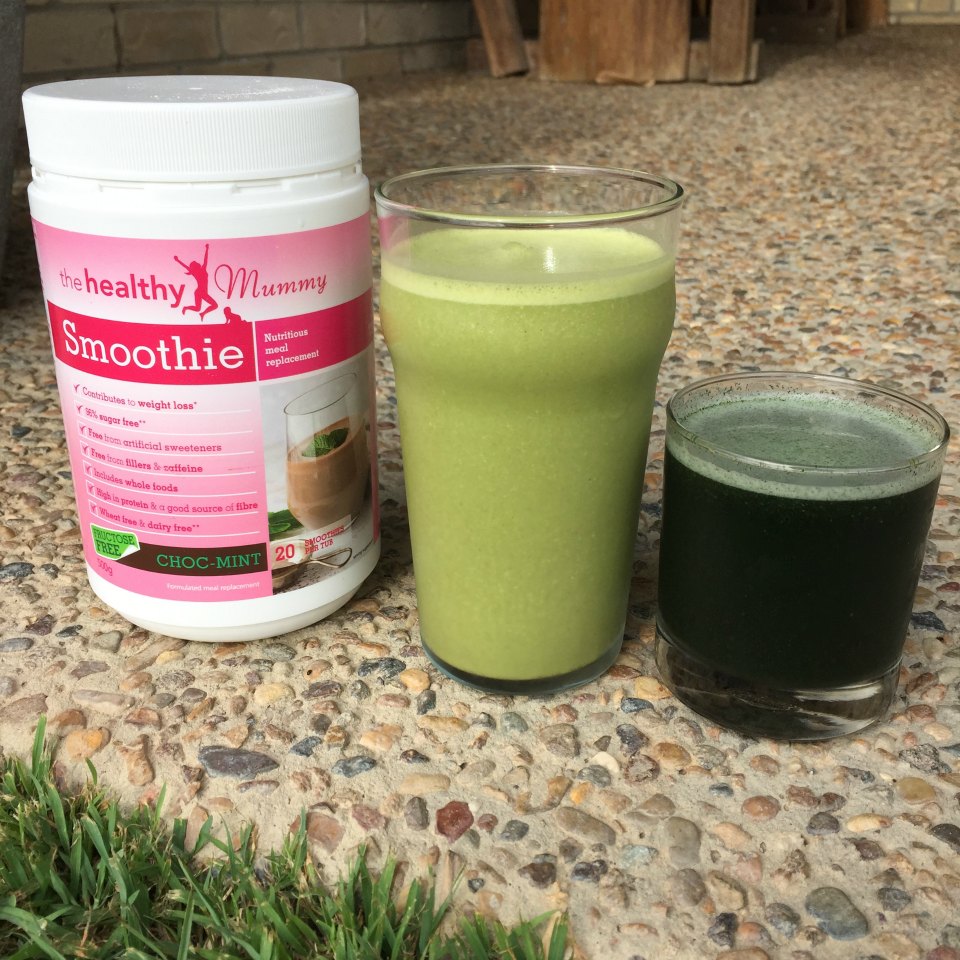 Healthy Mummy smoothies are a great start to your day. Breakfast in a glass filled with all those good nutrients your body deserves.  For extra energy fuelled goodness, throw in some rolled oats, banana and/or SPINACH – what a delicious super food right there!
Healthy Mummy Super Greens, either on their own or added to smoothies will also assist in making you feel revitalised.  Avoid the 3pm soft drink or coffee pick-me-up and grab a icy cold Super Greens instead!  Smoothies on the go are also an excellent option for busy Mums.  Pack and go with a shaker and you have a smoothie on the run, or lunch pre-prepared.
7. Measurements and fitness test
Weight loss is a slow journey, don't be discouraged if you haven't seen any change on the scales yet.  Ditch the scales and focus on your feels.  Take your measurements, keep a track with your fitness test and you'll start to see the differences.  Set yourself daily goals, focus on those and you will get results.  Make every day count – you can do it!
Today is Fitness Test Day!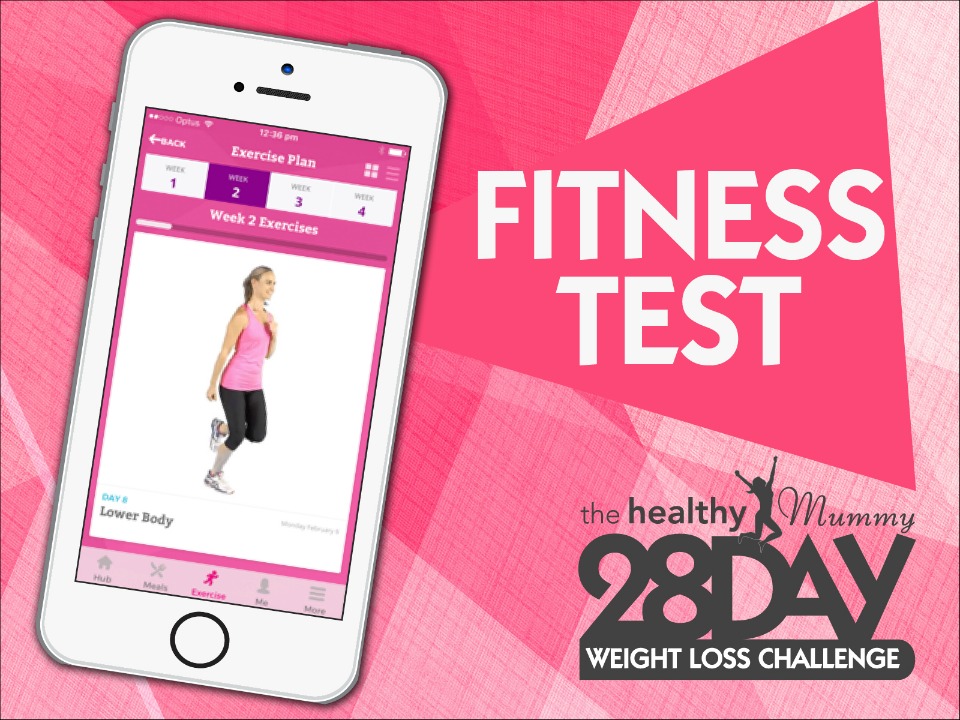 The fitness fitness test is a great way to track your progress and celebrate how far you have come.
For more on the fitness tests, click here. 
How Cassie is staying on track in week 3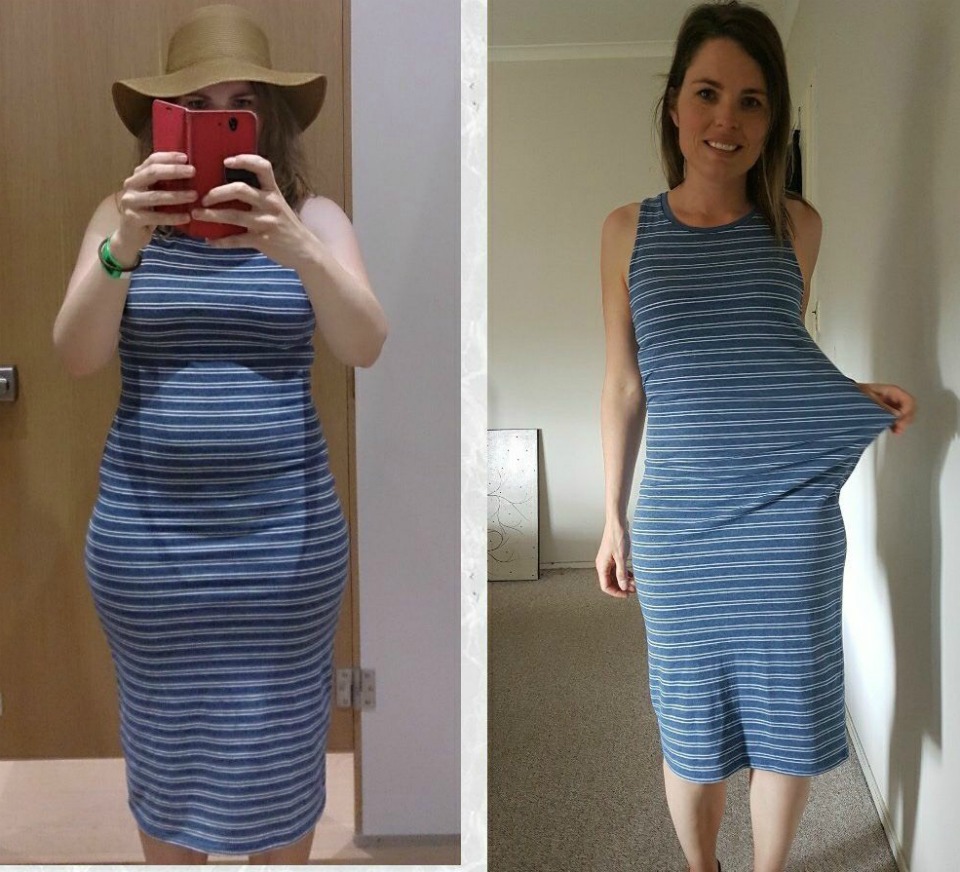 "I've been following the 28 Day Weight Loss Challenge since January this year and have worked on loving and accepting myself as I am," she says. "I've lost 9kg along the way too.
"November is MY month!!! I am ready to kick butt. Two weeks to go and I'm loving the food and feeling revitalised with the Energy Boosting exercises."
Cassie's top tips to stay on track in week 3:
Follow the meal plan and stick to cals
Incorporate super greens into my routine for extra energy!
Use the app exercise to build my core strength swith the core and energy boosting workouts
Sleep is my friend- early nights and loving the mind and body breath meditation
Week 3 Meal Plan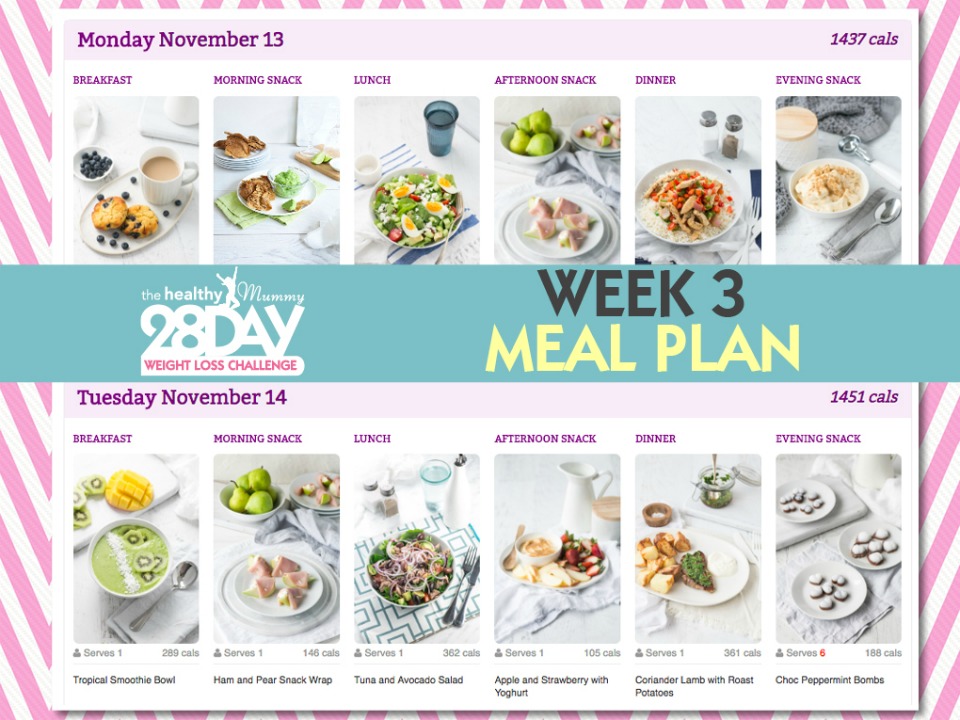 This week's meal plan is looking DELICIOUS and is totally ready to go!
The food for the first two weeks of the Energy Boosting round was simply AMAZING! Week 3 is no exeption – there are some yummy meals here.
Breakfast
Blueberry Breakfast Scones. The fact I get to have scones for breakfast is a winner in my eyes. I can't wait to try these out.
Lunch
Tuna Sushi Bowl. At 400 cals this is a delicious and filling lunch.  we love that it is deconstructed so we don't have to waste any time rolling them – just throw it all in a bowl and enjoy.
Picnic Plate. Kids love eating meals like this! A great lunch to enjoy together.
Dinner 
Ditch the takeaway! The Healthy Mummy has healthier, tastier versions of family favourites.
This week we are really looking forward to the Homemade Butter Chicken and the Homemade Ricotta and Spinach Gnocchi with Napoli sauce.
Snacks
Pikelets with Smoked Salmon – easy and delicious!
Pea and Avocado Dip with Pita Crisps – this dip is a great way to get some extra veggies into your day.
Support
The Healthy Mummy Facebook Support Groups are another awesome way to find motivation, connect with other mums on a similar journey and share experiences! To learn more about our different support groups click here.
Also, if you are not yet on the Challenge and would LOVE to increase your energy, it's NOT TO LATE TO JOIN THE ENERGY BOOSTING CHALLENGE!
All you need to do is CLICK HERE. 
Almost there ladies – KEEP IT UP!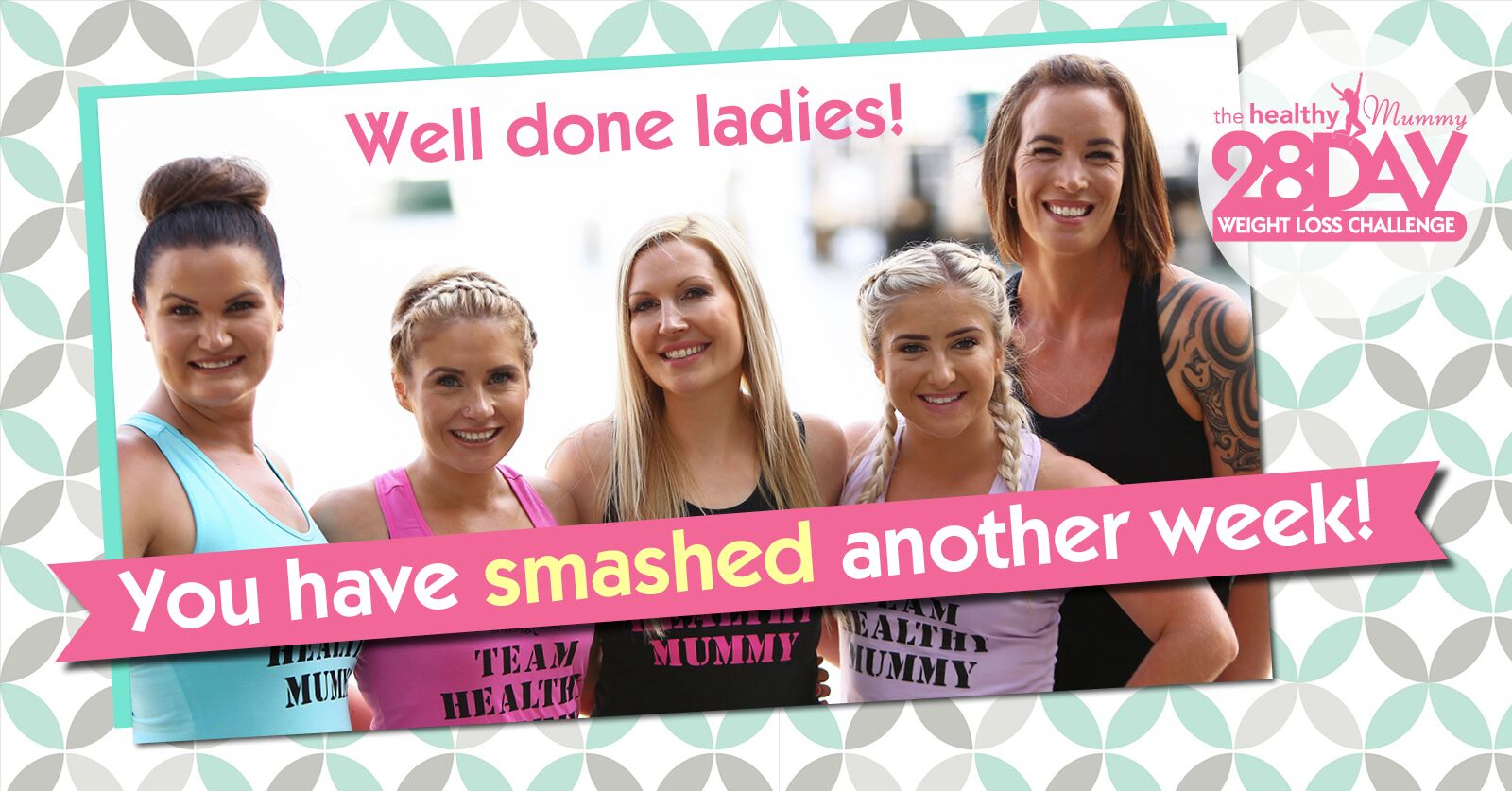 Well, more than half way there ladies! Keep up the amazing work. You can do it! Bring on week 3!