What And How Much Should I Eat?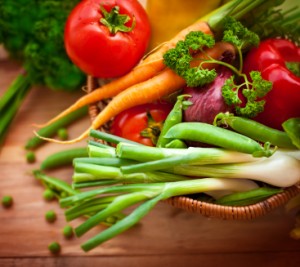 In the change of the dietary guidelines, not only for infants as discussed last week, here and here, there have also been updates to the adult dietary guidelines.
Today I wanted to briefly go through with your what the recommended daily serves of each food groups are and how big is a serving size.
These two points seem to be basic, but especially serving size repeatedly appears to be a point of confusion for many.
The Australian Dietary Guidelines suggest that women from 19-50 years of age consume:
Vegetables: 5 serves
Fruit: 2 serves
Grains: 6 serves
Lean meats or protein alternatives: 2 ½ serves
Dairy and its alternatives: 2 ½ serves
Sometimes foods: 0-2 ½ serves
This is all jabbawocky if we do not know what a serving size actually is. And this is the fun part.
Vegetables
A serve is ½ cup of uncooked vegetables as per the picture.
Or if you are having salad or green leaves, it is 1 cup uncooked.
Fruit
A serve is one medium sized piece of fruit, 1 cup of diced fruit (no added sugar) or 2 small plums or kiwi fruit (smaller fruits)
Grains
A serve is 1 slice of bread or a small roll; ½ cup of cooked pasta or rice, grain or porridge; 2/3 cup of cereal
Lean protein
Cooked lean 'red' meat 65 grams or 100grams cooked; poultry 80 grams cooked, 100 grams of cooked fish either a fillet or in a can; 2 large eggs; 1 cup of cooked legumes or beans; 170grams of tofu.
Dairy
1 cup of milk (250ml) and this is inclusive of non-dairy milks as long as there is 100mg of calcium added per 100ml; 2 slices of cheese (40grams); 1 tub of yoghurt, 3/4 cup or 200ml;
One really easy way to visually see these amounts is that:
1/2 cup is one handful
¼ cup is about the size of an egg
Or another method is filling your plate in these proportions for lunch and dinner.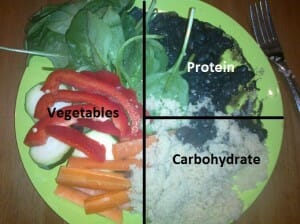 In a normal healthy balanced eating plan, there is no harm having your sometimes foods items. I have them all the time. But it is more about fitting in all your daily foods first.
Once you start eating the foods you should, you will feel that you are satisfied, full and feeling great.
Special Offer & 10% Discount
If you are ready to lose weight then The Healthy Mummy plans offer a healthy and safe exercise and diet routine that are safe if you are breastfeeding and you can use code LOYALTY for a 10% DISCOUNT at the checkout