What To Add To Your Healthy Mummy Pregnancy Smoothie & Why
Cheree Sheldon, Nutritionist from The Healthy Mummy Pregnancy team shares a list of great ingredients to add to your Healthy Mummy Pregnancy Smoothies and why they are beneficial.
One thing I love about cooking is how creative you can be. The Healthy Mummy Pregnancy Smoothie is the perfect base to get experimental with. You will be amazed at how versatile this Smoothie powder can be!
There are heaps of options for super foods and ingredients to add to your smoothies, so lets look at a few: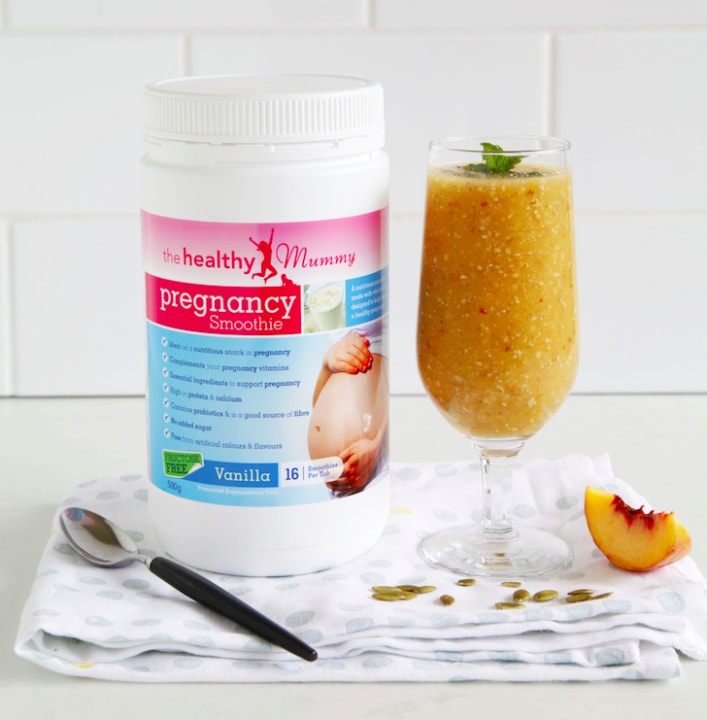 Berries – full of antioxidants and a great source of Vitamin C, these will add so much flavour while boosting your immunity. Blueberries and blackberries might help to reduce your risk of varicose veins and help ease the discomfort of them.
Avocado -a beautiful source of good fats, and fat soluble vitamins like Vitamin E, which is good for your skin, so may help stretch marks.
Chia Seeds -great source of fibre (easier bowel movements), high in calcium (cramps), and high in omega 3 fatty acids (baby's brain!)
Spinach or kale – good source of non-heme iron as well as calcium and chlorophyll. Will help keep your body in an alkaline state and assist with fatigue and brain-fog. But the greens that are highest in iron is fresh parsley!
Carob powder – contains antioxidants, and protein and minerals. This is a good caffiene free "choc" hit.
Cacao powder – rich in magnesium, cacao is the raw form of cocoa. It is a strong chocolate flavour that still retains its nutrients and will aid your brain function and heart health. A warning though, it reduces iron absorption, and contains caffeine, so don't go too crazy with it!
Dandelion leaves – the latest fad food in American health stores, this wild weed is packed full of chlorophyll and nutrients. The iron in this leaf is more absorbed than spinach. It is a cleanser that helps to purify your blood. If you are 100% sure that your weed is dandelion, add the young leaves to your smoothie after you give them a good wash!
Nuts – a beautiful source of protein, fibre and fats, nuts also contain heaps of vitamins and minerals. Almonds are high in calcium, cashews contain tryptophan (feel good food!), hazelnuts have lots of B vitamins, and walnuts iron, zinc and potassium.
Banana -will help with nausea and morning sickness due to the B6 and potassium in them. Useful for regulating an upset tummy and bowel movements, they soothe your digestion and will also help prevent cramps!
Dried fig -provide fibre, iron, potassium and calcium. They will help bowel function while giving you energy.
Oats – soothe the stomach, and calm the nerves. They help with sugar metabolism so can be used to help prevent and manage gestational diabetes.
Pumpkin seeds – contribute folate, iron, zinc, and calcium.
Brewer's yeast – an acquired taste, a small addition can boost your B vitamins dramatically, giving you more energy when you feel fatigued. The star ingredient in lactation cookies, this super food also helps reduce blood sugar levels and lower cholesterol.
Beetroot – packed full of antioxidants, beetroot helps the liver process all those extra hormones floating around in your blood, which may reduce morning sickness and skin breakouts.
"Green powders"- think spirulina, barley grass, wheat grass, chlorella, algae, Vital greens, broccoli sprout powder, and the list goes on. These products are a useful and easy way to add more nutrients to your day.
The list can seriously go on and on! Bee pollen, maca, lacuma, Moringa, camu camu, coconut oil, flax oil, goji berries, acai, mesquite, yacon, gubinge, and more weird and wonderful ingredients pop up all the time. You need to find the ones you like, and add variety with them.
Cheree Sheldon, Nutritionist
Click here to visit our pregnancy products shop.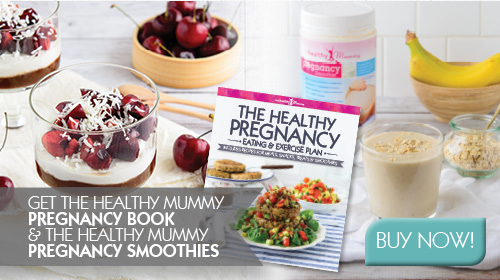 Disclaimer: Always speak to your doctor before changing your diet,taking any supplements or undertaking any exercise program in pregnancy. The information on this site is for reference only and is not medical advice and should not be treated as such, and is not intended in any way as a substitute for professional medical advice..
Our plans promote a health weight gain in pregnancy to benefit the mother & baby and you can read more on this here 
The owners of The Healthy Mummy do not make any representations or warranties, express or implied and shall have no liability or responsibility to any person or entity with respect to any loss or damage caused or alleged to be caused directly or indirectly by the information contained herein and nothing in this disclaimer will limit or exclude any liability for death or personal injury resulting from negligence, limit or exclude any liability for fraud or fraudulent misrepresentation, limit any liabilities in any way that is not permitted under applicable law or exclude any liabilities that may not be excluded under applicable law.