EVERYTHING You Need To Pack In Your Hospital Bag For Labour
If you are in the latter stages of pregnancy and getting ready to pack your hospital bag, check out our handy guide below for an overview of the things you will actually need.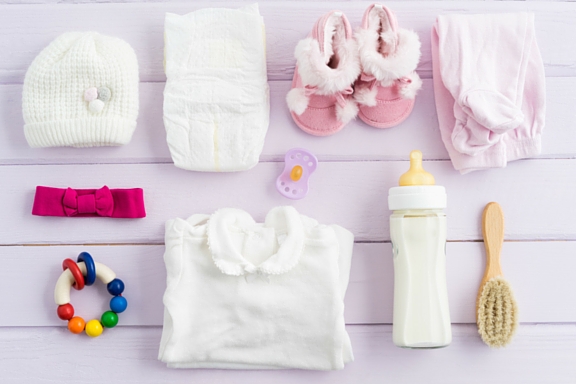 To use during labour
This is completely personal but some people like to bring along items that could help make them more comfortable during labour.  Some suggestions would be:
Clothes for labour – swimmers, old t-shirt, warm socks, old knickers and tracksuit for afterwards
Thongs or slippers
Your birth plan
Antenatal card
Speakers and a great playlist on your iPod
Heat packs for any back pain; sports drinks and cold water
Own pillow if desired – have non-white cover on it so it doesn't get mixed up with hospital ones
Candles or aromatherapy oil burners (check with the hospital as some don't allow them)
Oil for massage
Swiss ball
Stress balls
Spray bottle for cooling and also for washing perineum after urinating post birth
Food or drink such as barley sugar, jellybeans, fruit/muesli bars, powerade, lemonade  
New baby essentials  
Grab a packet of newborn nappies, some wipes, and nappy bags. Newborns tend to wee and poo quite a lot so you will get a crash course in nappy changing.
Cotton balls or baby wipes, although some hospitals provide them
When it comes to outfits for the little one, about 6 onesies and singlets should do (depending how long you need to stay in). Pack different sizes as you won't know whether bub will fit into 0000 or even 00 until you meet them.
Also pack baby some socks and hats as the maternity ward can get quite chilly.
Mittens and baby nail clippers can be useful to prevent scratching.
Pack around 4 muslin cloths to wrap baby.
If you ahve decided to bottle feed – bottles, formula, plastic storage container
Bring a blanket along to put on baby when you take them home.
You'll also need to have your baby capsule as you can't leave the hospital without it. You can buy these or hire them from many hospitals or baby equipment hire companies (they also usually offer an installation service).
Gadgets
You will be fielding so many phone calls and taking so many snaps of your little bundle that you definitely don't want to forget your phone and camera (and chargers!).
Toiletries
The first shower you have after giving birth is possibly the best shower of your LIFE so treat yourself to some nice toiletries to use.
You'll need some large sanitary pads as you will most likely have some heavy bleeding after birth which can last around 6-8 weeks.
Pack some breast pads too – even though your milk may not come in until you get home every woman is different and some women have leakage from day one.
You'll need all the usual stuff – soap, shampoo, deodorant, moisturiser, lip balm, hair ties, hairbrush, elastics, headband toothbrush, toothpaste, and face wash. You may want nice toilet paper or flushable wipes.
Arnica cream/tablets for bruising
Plastic bags for dirty/wet clothes
Your baby won't need much, but some paw paw cream can help protect their little bottom from the tar-like first poo which will come along in the first few days of life. And you may wish to use organic/natural baby wash for baby's first bath.
For mum to wear
It's a great idea to pack a soft dressing gown, socks, and comfortable pyjamas for your stay. It's often a bit cold in the hospital, and you will probably not be going much further than the bathroom or kitchen at first so there's no need to dress up.
Pack yourself some big soft cotton underpants to wear with those surfboard sized sanitary pads. They will cover your completely and are gentle on your lady parts which might be sore and tender. Also they will be soft on any scars if you have had surgery or stitches. Black and one size too big can be a good idea.
Once you are ready to leave the comfort zone of your pyjamas, you'll need some soft and comfy clothes. Ensure that what you wear allows bub to have easy access to your breasts (they will be spending a lot of time there if you are breastfeeding!) so think button up shirts, cardigans, or loose dresses that you can easily pull down. You can also get some great maternity singlet tops that allow you to easily breastfeed while keeping your stomach covered.
Your breasts might get sore as the milk starts to come in, so bring along some soft bras, nursing bras or crop tops which you might even like to wear to sleep.
For your support person
You could also pack a small bag with toiletries and a change of clothes for your partner in case they are allowed to stay overnight, or in case your labour goes later than expected. Coins for vending machines, snacks, swimmers and beach towel could come in handy too.
Healthy snacks
Hospital food isn't exactly known for it's high quality (think cold toast made with cheap white bread!) so it's a great idea to pack a few healthy snacks of your own.
Try cashews or almonds, natural or Greek yoghurt (you can add a chopped apple or banana from the hospital kitchen for extra nutrition)
Cheese and crackers
Trail mix
Fresh fruit
Why not ask your friends to bring you some lovely fresh seasonal fruit instead or a giant box of chocolate? OK, as well as the chocolate…
Here is list of super healthy snacks that you could make in advance and pack.