Yoghurt and Mint Chicken Skewers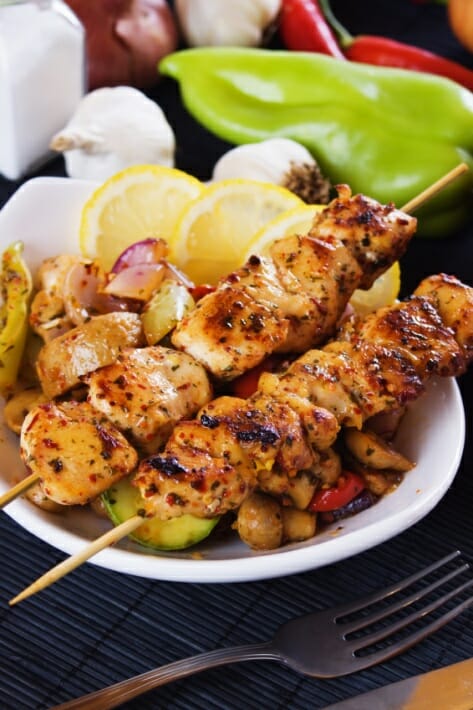 Chicken skewers are a fun and interactive way to eat with the family.
These yoghurt and mint chicken skewers are a combination that is delicious and has a different twist on the old grilled chicken. It will be a perfect fit in your families' healthy eating plan.
Prep: 5 minutes
Cook: 10 minutes
Marinade (optional): 1 hour
Serves: 2 adults and 2 children
Ingredients
500 grams of skinless chicken breasts diced in cubes
½ bunch of mint leaves
¾ cup of plain yoghurt
½ lemon juiced
1 tsp of paprika
Salt and pepper for seasoning
6 skewers soaked in water
Oil spray
Directions
Dice up the chicken and thread them onto pre wettened skewers. Place them evenly on a plate.
In a bowl mix up all the ingredients and tear up the mint leaves on top. Mix the marinade together and then pour it on top of the chicken skewers. Roll them around so all sides are covered in yoghurt.
You can cover the skewers and place them in the refrigerator to marinade for an hour or you can cook them on the grill straight away.
To cook, use the oil spray on the grill (not a light or on naked flame). Cook the skewers for a few minutes on each side.
Serve with your favourite salad and rice.
Yummo!
310 calories per serve for 2 chicken skewers.