Is Rice healthy? Everything you need to know plus 20 healthy recipes
Poor old rice often gets a reputation as the 'bad guy' for those of us trying to lose weight. No carbs allowed, right? Not so!
Poor old rice often gets a reputation as the 'bad guy' for those of us trying to lose weight. No carbs allowed, right?
But in fact that is wrong, no food group is left out on the 28 Day Weight Loss Challenge. It really is all about the choices you make.
We've pulled together an ultimate guide on everything you need to know about rice and weight loss, as well as 20 of our healthiest rice recipes from The Healthy Mummy app.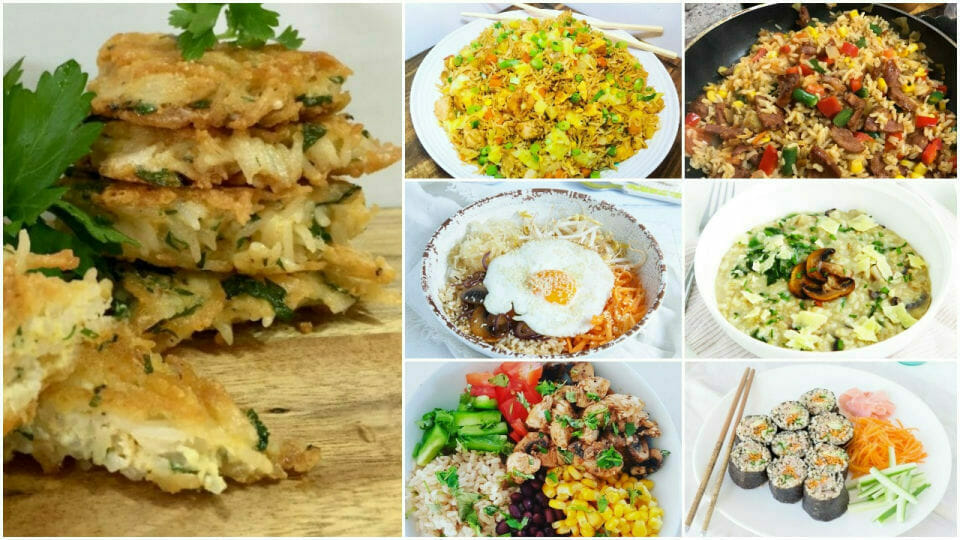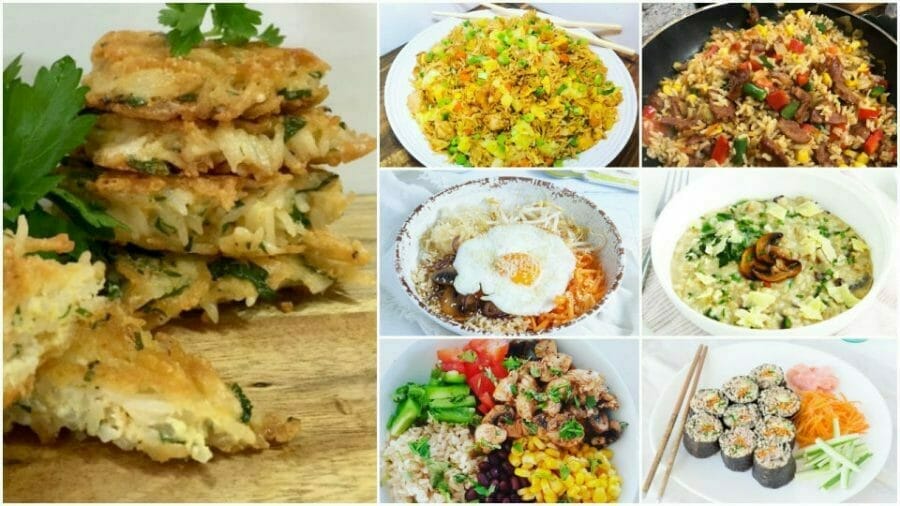 Health benefits of rice
Rice is a good supply of energy, helps fight inflammation, reduces the risk of cancer, prevents constipation, helps control blood sugar levels and supports your immune system. Plus, it is naturally gluten-free!
We do recommend that you opt for brown rice when you can, it has fewer calories with the added benefit of selenium and manganese.
Find out more about that here – 10 Reasons Brown Rice Is Better For You Than White Rice.
Why is rice so popular?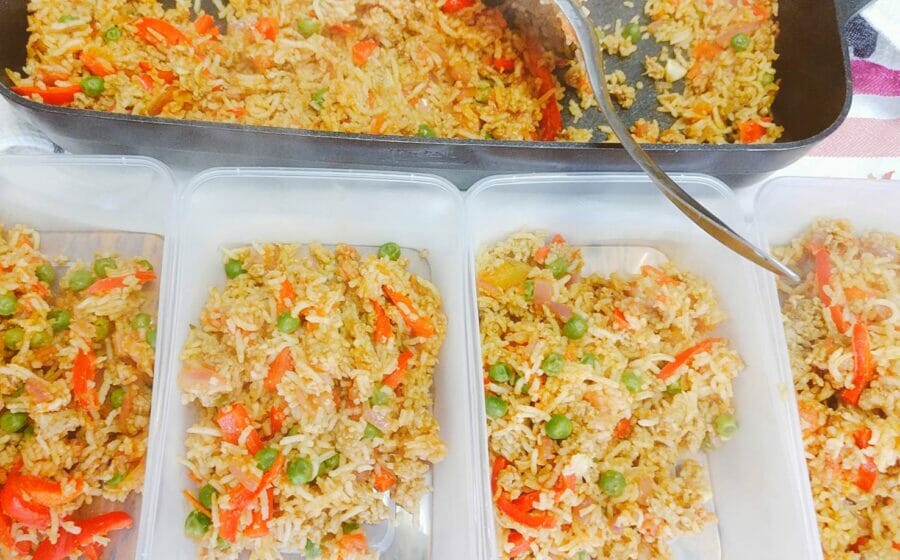 It wouldn't be unfair to say that rice is one of the most ubiquitous foods in the entire world. It seems that just about every nation on earth has its rice-based cuisine making it a staple part of many people's diets and it forms part of many healthy meal recipes.
In fact, it's estimated that around half of the people in the world get around 50% of their calories from rice which makes it a pretty important little grain indeed!
Is it healthy though? Well, the answer to this all depends on what type of rice you eat, how it's been processed, and the method in which it was cooked.
The difference between white and brown rice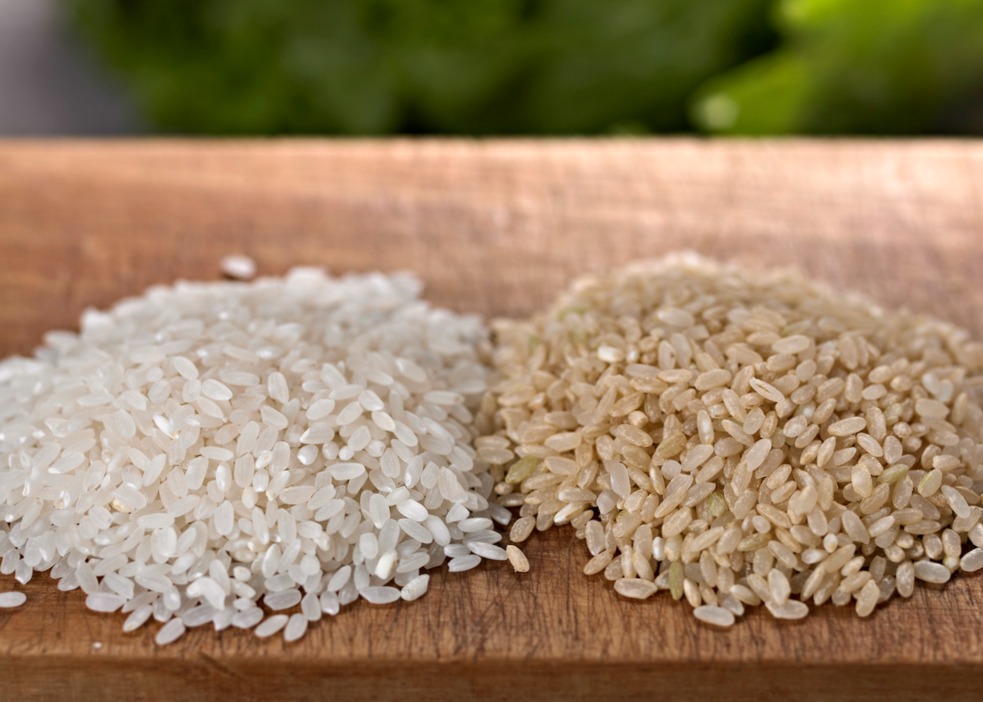 Interestingly, white and brown rice is made from the same grain; they are just milled differently. During the milling process, brown rice's kernel keeps its bran layer intact, whereas this layer is polished away with white rice.
For this reason, white rice is considered unhealthy by many people as it's more highly processed and is missing many of the vitamins, minerals, and nutrients present in brown rice.
You see, most of the "goodness" that's present in brown rice is located in the fibre-rich gran and germ. Once you take this away, you're left with white rice, which is considered to be "empty carbs."
White rice vs brown rice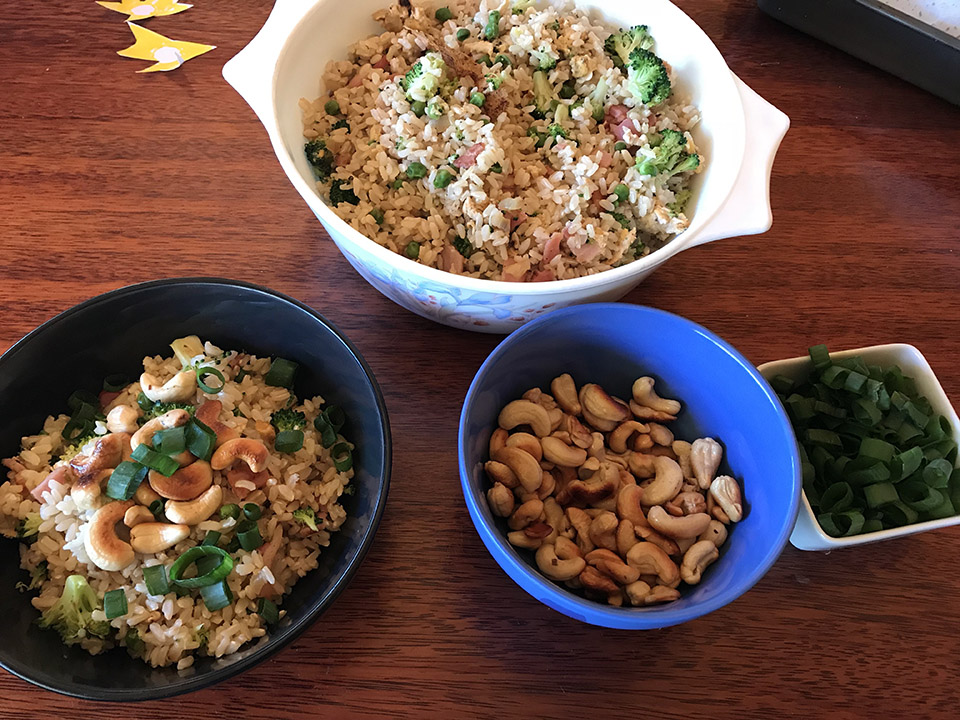 With that said, all hope is not lost for those that prefer white rice over brown as you can usually purchase white rice that has been enriched with added nutrients such as iron and B vitamins making it somewhat less "empty."
Did you know that boiled rice is said to contain fewer calories than steamed rice? This is because when you cook rice in water, some of the calorie-rich starch is drained away as well as some other water-soluble nutrients.
100 grams of boiled rice contain 28.17 grams of carbs compared to 33.88 grams in steamed rice. So if you're watching your waistline, it's time to get steaming your rice (and make it brown while you're at it!).
How many calories are in white rice
Raw white long-grain rice – 365 calories
Cooked white long-grain rice – 130 calories
How many calories are in brown rice
Raw brown long-grain rice  – 370 calories
Cooked brown long-grain rice – 111 calories
No rice or pasta in the pantry? Try these delicious Quinoa recipes instead!
How to cook brown rice easily at home
20 HEALTHY and delicious rice recipes under 450 calories
1. Slow Cooked Taiwanese Chicken and Rice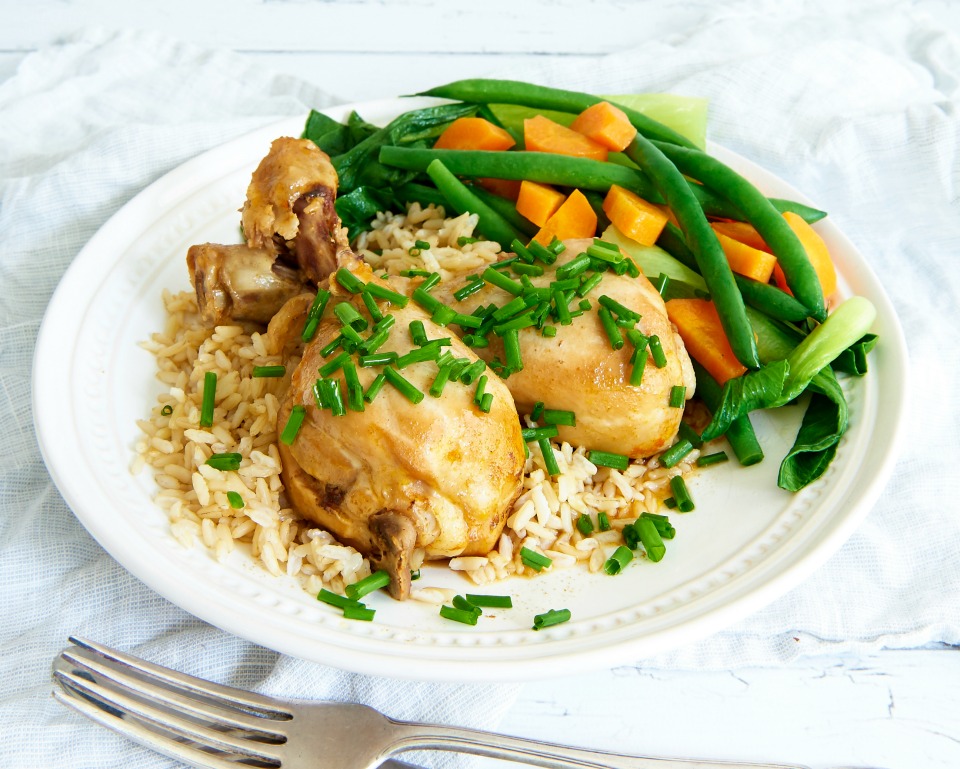 As the weather gets cooler, it's great to start using your slow cooker (or a low oven) more often to prepare the family meals like this slow-cooked  Taiwanese chicken recipe that we will share with you. This recipe is an amazing chicken dish with slightly spicy Taiwanese-inspired flavours.
2. Butter chicken with rice (446 calories)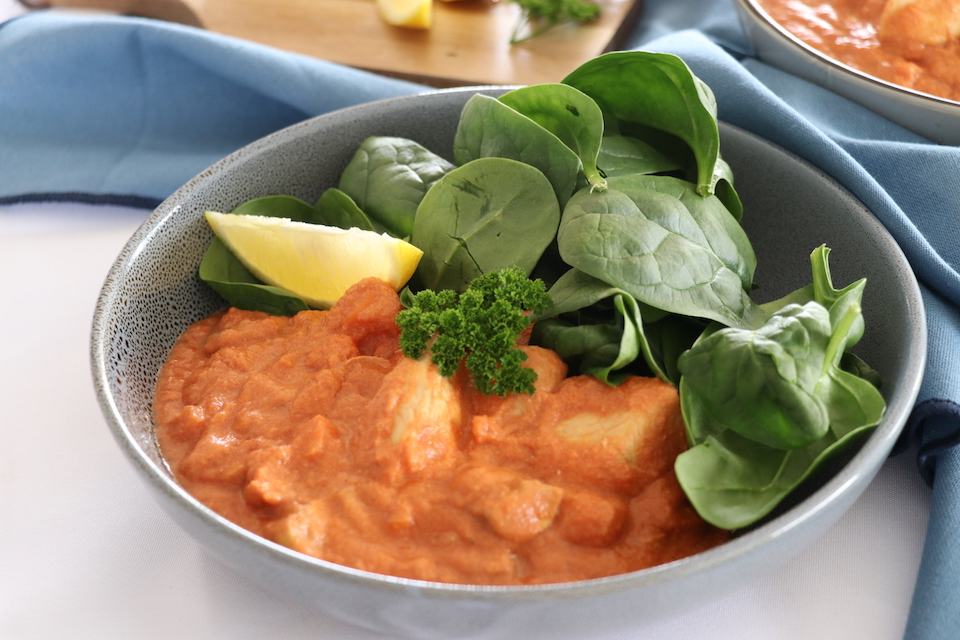 There's really no need to miss out on your favourite takeaway-style meals when you are trying to lose weight. This recipe come straight from our 28 Day Weight Loss Challenge.
3. Slow Cooked Asian Chicken (320 calories)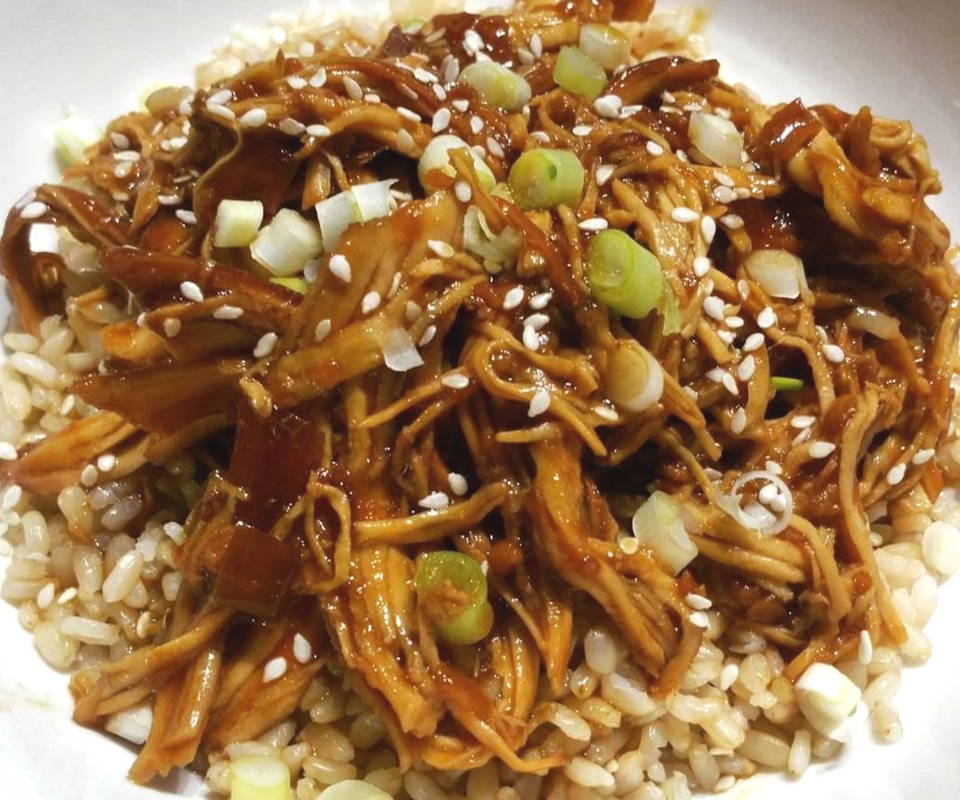 With yummy, tender chicken and full of delicious Asian flavours, this chicken dish is a winner. mind-blowing rice recipes!

Best of all it's only 320 per serve INCLUDING the rice, making it ideal if you're following the 28 Day Weight Loss Challenge.
4. Chicken and Pineapple Fried Rice (317 calories)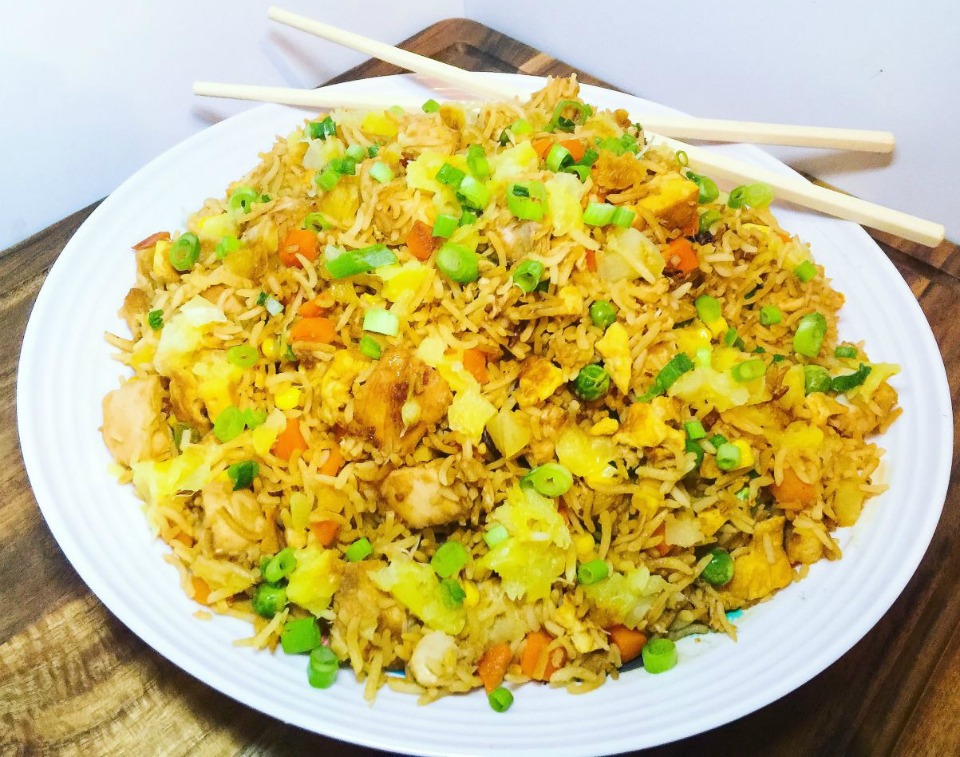 This twist on a favourite takeaway dish can be enjoyed on the 28 Day Weight Loss Challenge and the whole family will LOVE it.

This rice recipes comes from the 28 Day Weight Loss Challenge and can be found HERE. 
5. Mushroom risotto (258 calories)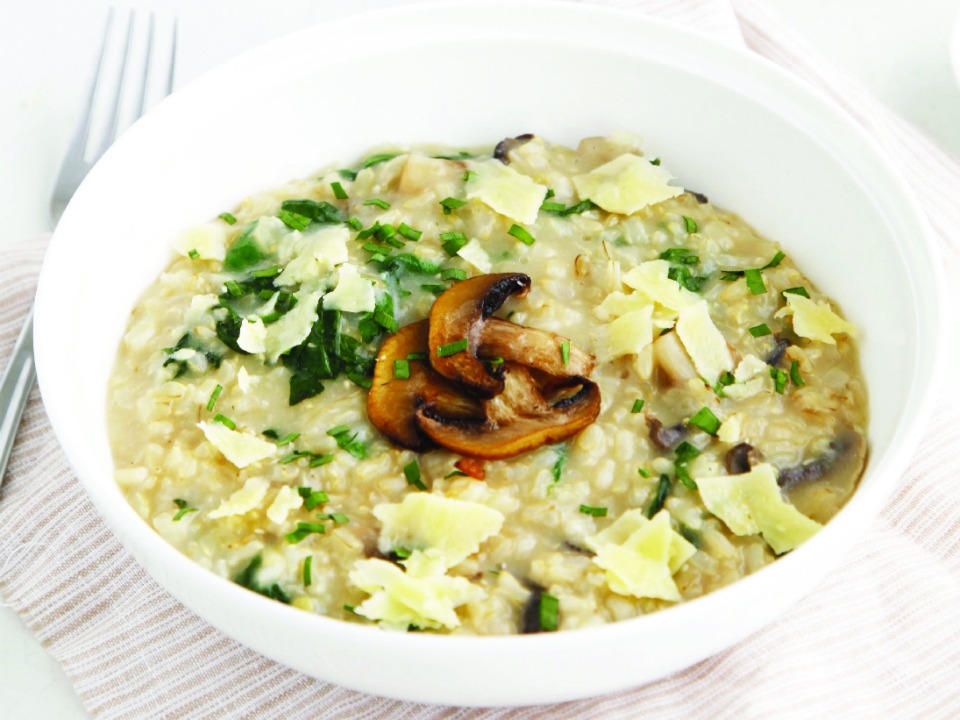 This risotto uses mushrooms but you can also add any meat if you want to bulk it up – it is also great for adding in extra veggies if you have them in the fridge too.
6. Italian tomato and spinach risotto (294 calories)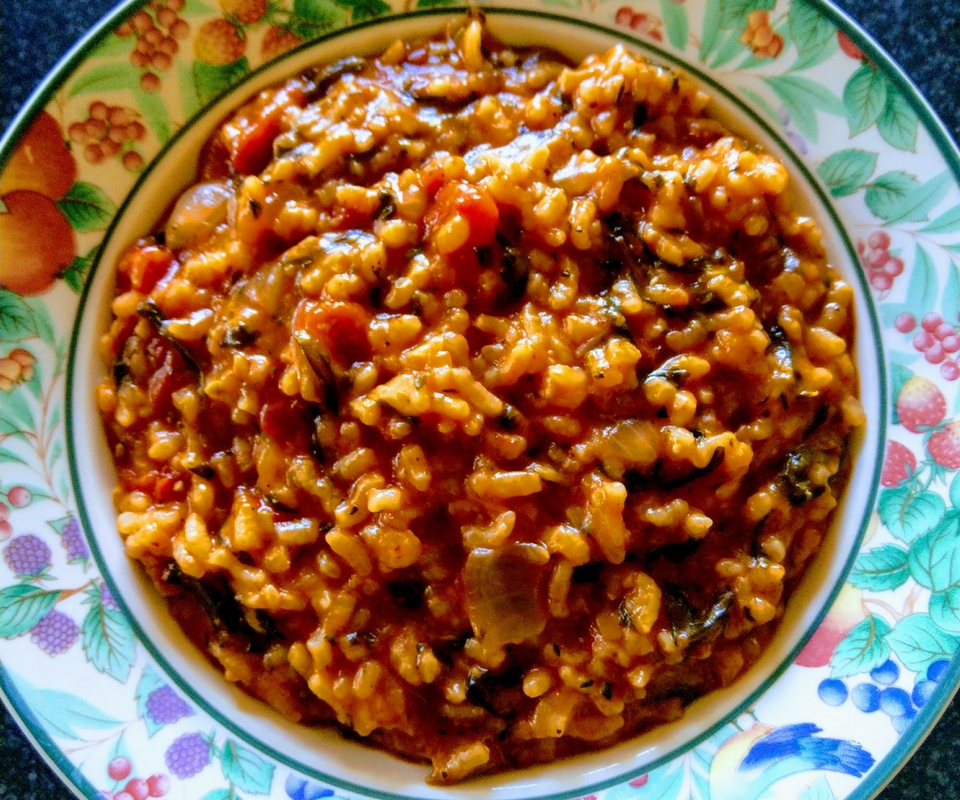 With lots of hidden veggies, this rice recipe is a healthy option for the whole family. Perfect served with a light green salad on the side. Feel free to use vegetable stock if you'd like to make this meal vegetarian.
7. Zucchini and Cheese Arancini (335 calories)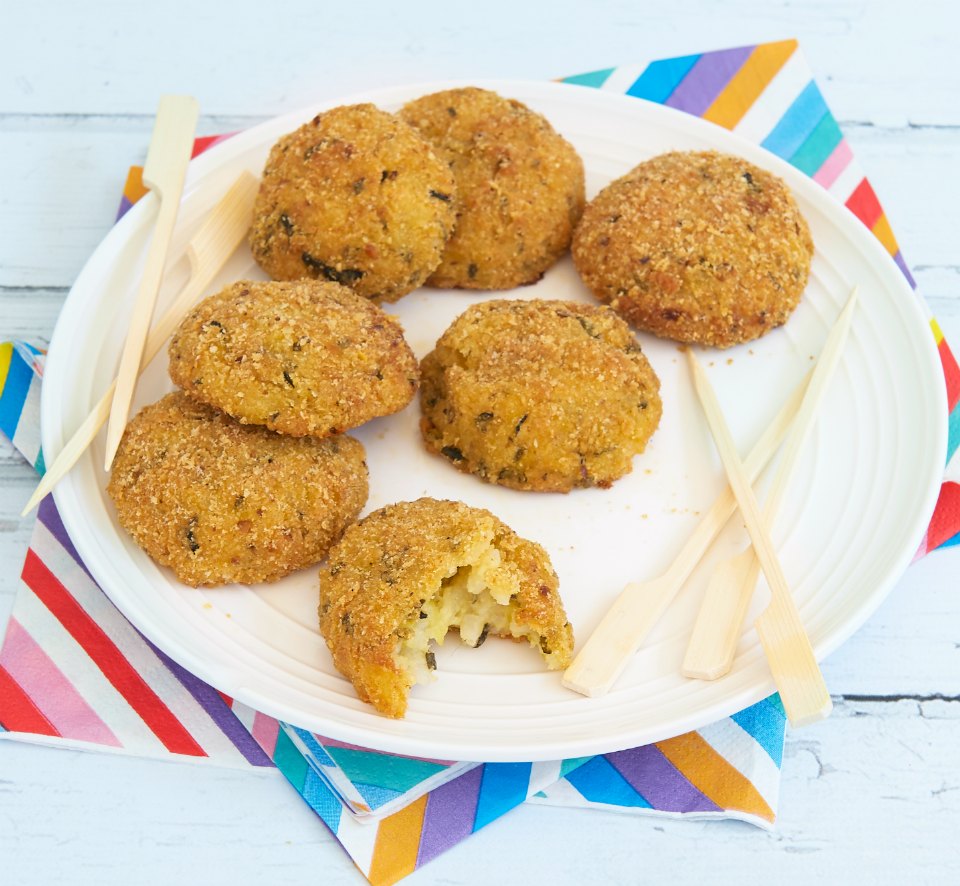 Arancini balls are a great lunchbox item for the whole family and you can add your favourite flavour combinations to suit everyone.
8. Tuna & vegetable sushi rolls (345 calories)
Use pre-cooked brown rice for this recipe. Alternate sushi fillings depending on your tastes and what you have on hand – think leftover chicken and avocado, or cooked tofu strips with cucumber and bean sprouts.
9. Rice, Avocado And Tuna Sushi Bowl (417 calories)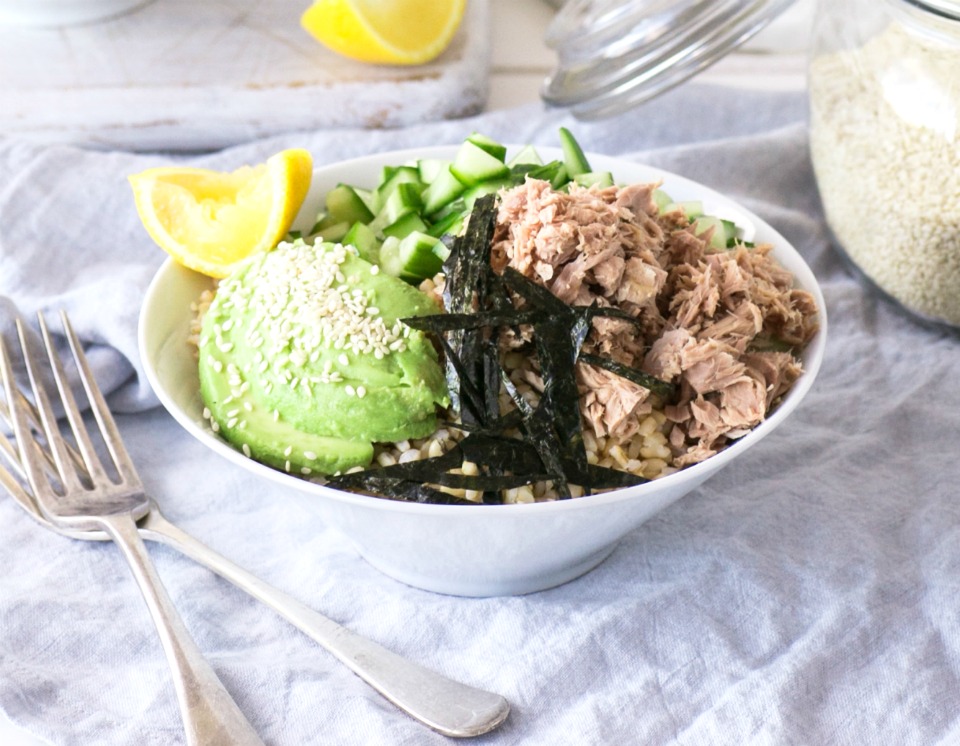 The delicious meal is like a deconstructed sushi roll. Prepare the rice ahead of time so you can just assemble everything quickly when ready to serve.

This sushi rice recipe comes from the 28 Day Weight Loss Challenge, get the full recipe here. 
10. Zucchini and rice frittata (378 calories)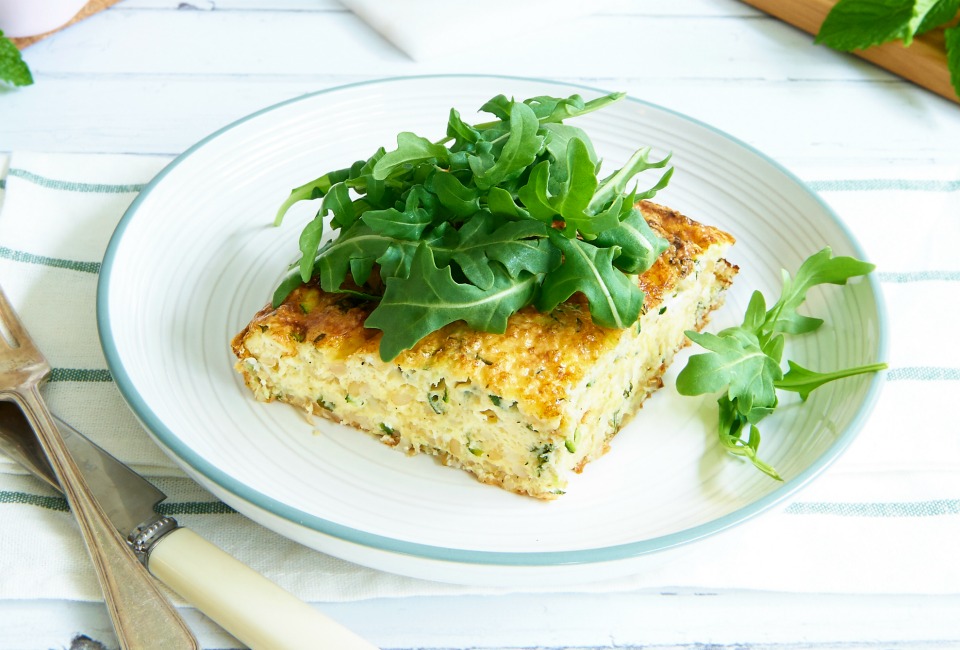 Adding brown rice to this recipe helps to bulk out the meal and ensure you are full and satisfied.
11. Asian pork and veggie rice balls (171 calories)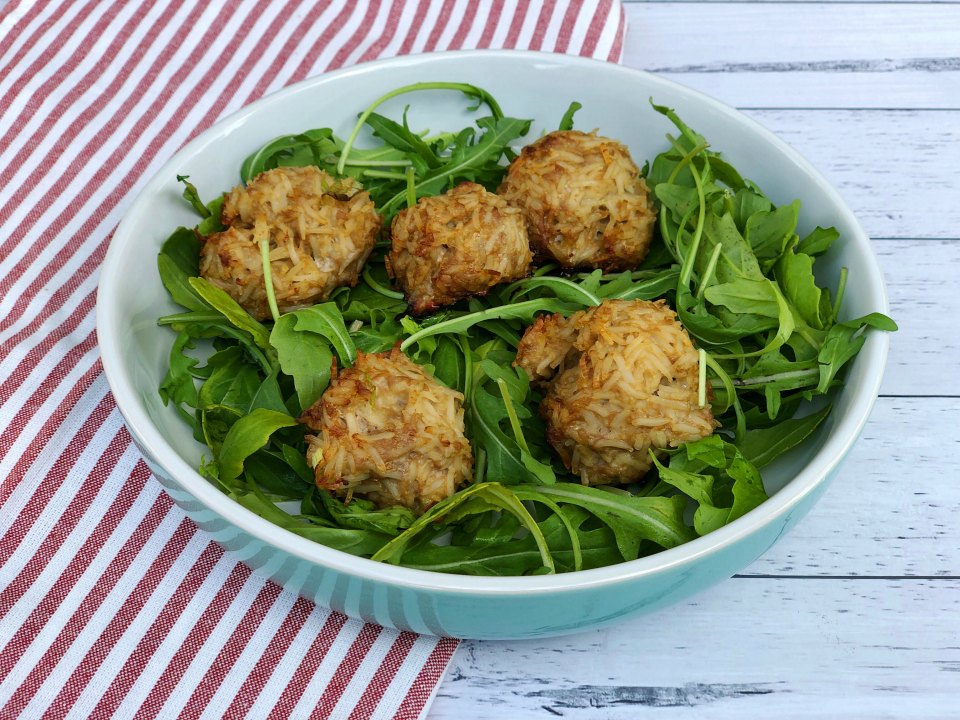 These Asian inspired rice balls are a great savoury snack that can be kept in the fridge for 3-4 days or in the freezer for up to two months. Just grab 2-3 balls per person and reheat when you want a quick and delicious protein filled snack.

Straight from the 28 Day Weight Loss Challenge get the full recipe here. 
12. Parmesan rice patties (69 calories)
If you fancy a savoury snack, these 69 calorie cheesy patties are a great option. You could also serve three with a salad for a light lunch.
13. Spanish rice with chorizo (409 calories)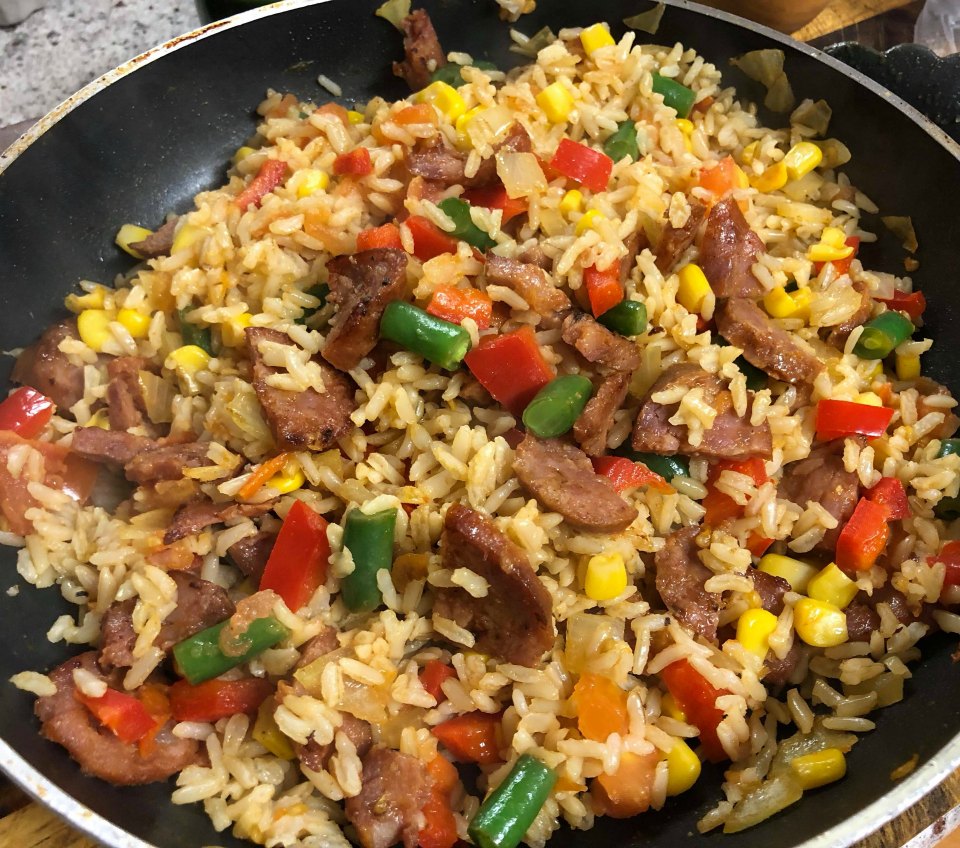 A tasty dish the whole family will love. This recipe comes straight from the 28 Day Weight Loss Challenge.
14. Cinnamon and coconut rice pudding (190 calories)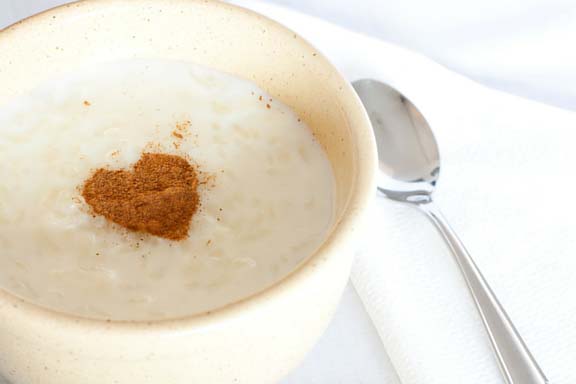 Grab the recipe shared from the 28 Day Weight Loss Challenge HERE.
15. Mexican stuffed chicken with broccolini and brown rice
A delicious inspired recipe using staple ingredients and served with brocolli and brown rice. Just 370 cals!
Ingredients
600 grams chicken thighs skinless
1/2 red capsicum diced
120 grams kidney beans drained and rinsed
1 whole corn cob kernels sliced off
3 tbsp salsa
3/4 cup brown rice cooked as per packet instructions
1 tsp smoked paprika
1 tsp extra virgin olive oil
1/2 tbsp extra virgin olive oil
1 bunch broccolini
1 tbsp Parmesan cheese grated
Instructions
Preheat oven to 220C.
Heat the 1 tsp olive oil in fry pan on high heat. Add corn kernels and capsicum to pan, sauté until browned.
Transfer cooked capsicum and corn into a mixing bowl, add kidney beans and salsa, then mix well.
Flatten each chicken thigh out with a meat tenderiser or rolling pin.
Lay a piece of baking paper on top of a piece of foil then lay chicken thighs on top of baking paper.
Spread Mexican mix over chicken thighs, sprinkle Parmesan over it, and roll into a log. Wrap first with the baking paper then tightly wrap the foil over the baking paper in a big burrito style.
Place on baking tray and bake for 30 minutes.
Remove from oven carefully and remove foil and baking paper.
Drizzle ½ tbsp olive oil on top and sprinkle with paprika.
Place back into oven and bake for a further 10 minutes. Allow to cool for 5 minutes before slicing into 4 serves.
Steam broccolini and serve with the Mexican chicken and brown rice.
Serves 4 at 370 calories per serve
16. Sticky Chicken Thigh and Fried Rice Tray Bake Recipe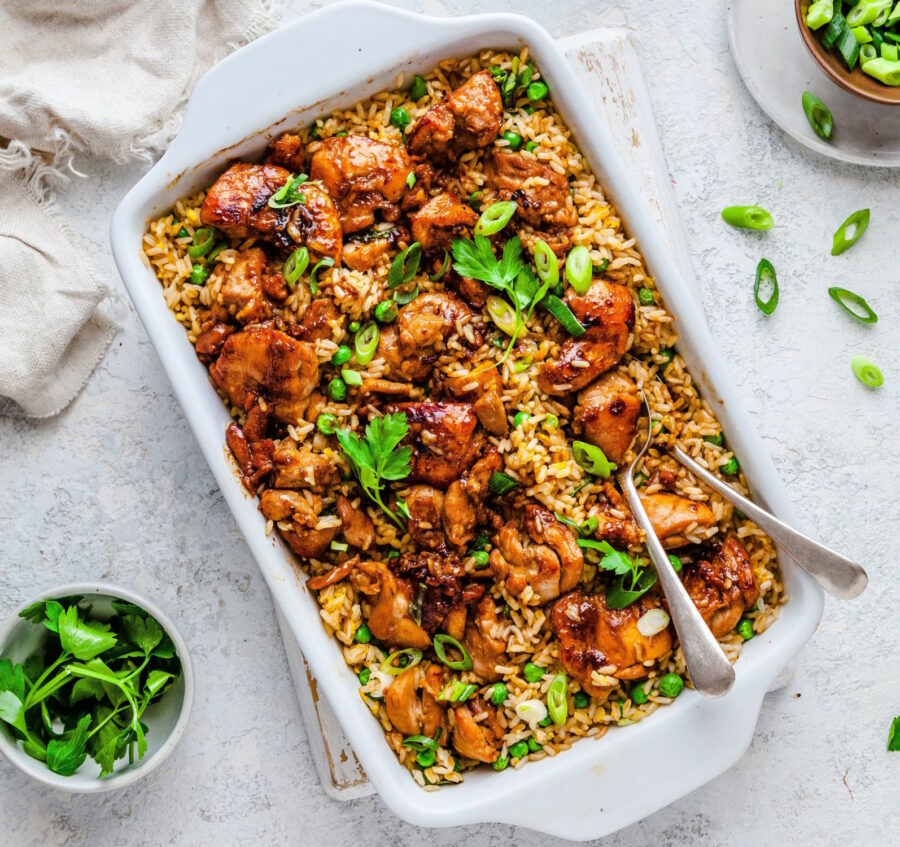 This  Asian inspired 'all-in-one' tray bake dish is just like a Chinese takeaway,  all in the one pot! It's a perfect 'fakeaway' meal for the weekend or midweek without all the calories or cost.
Ingredients
1 cup basmati rice uncooked
1/2 cup salt-reduced liquid chicken stock
1 cup water 2 tbsp tamari (gluten free soy)
1 tsp sesame oil
500 g chicken thigh fillets trimmed and chopped
2 tsp honey
2 cloves garlic minced
2 tsp fresh ginger minced
2 spring onions sliced
1 cup frozen peas defrosted
2 free ranged eggs beaten
Instructions
Preheat oven to 200C.
Place rice in a deep baking dish with stock, water, half of the tamari and all of the sesame oil.
Cover with foil and cook for 30 minutes. Meanwhile marinate the chicken in honey, the remaining tamari, garlic and ginger.
After the rice has been cooking for 30 minutes, remove from the oven and stir through the spring onions and peas.
Make four holes in the rice and pour a little beaten egg into each hole.
Place the chicken on top of the rice. Return to the oven and cook for a further 20-25 minutes or until the chicken is cooked through.
Toss the rice and chicken together to combine with the egg.
Divide between four bowls to serve.
Leftovers can be stored in an airtight container in the fridge for 2-3 days, or freeze for up to 3 months.
Serves 4, 392 calories per serve
17. Ochazuke rice bowl with mushrooms, carrot and soy sauce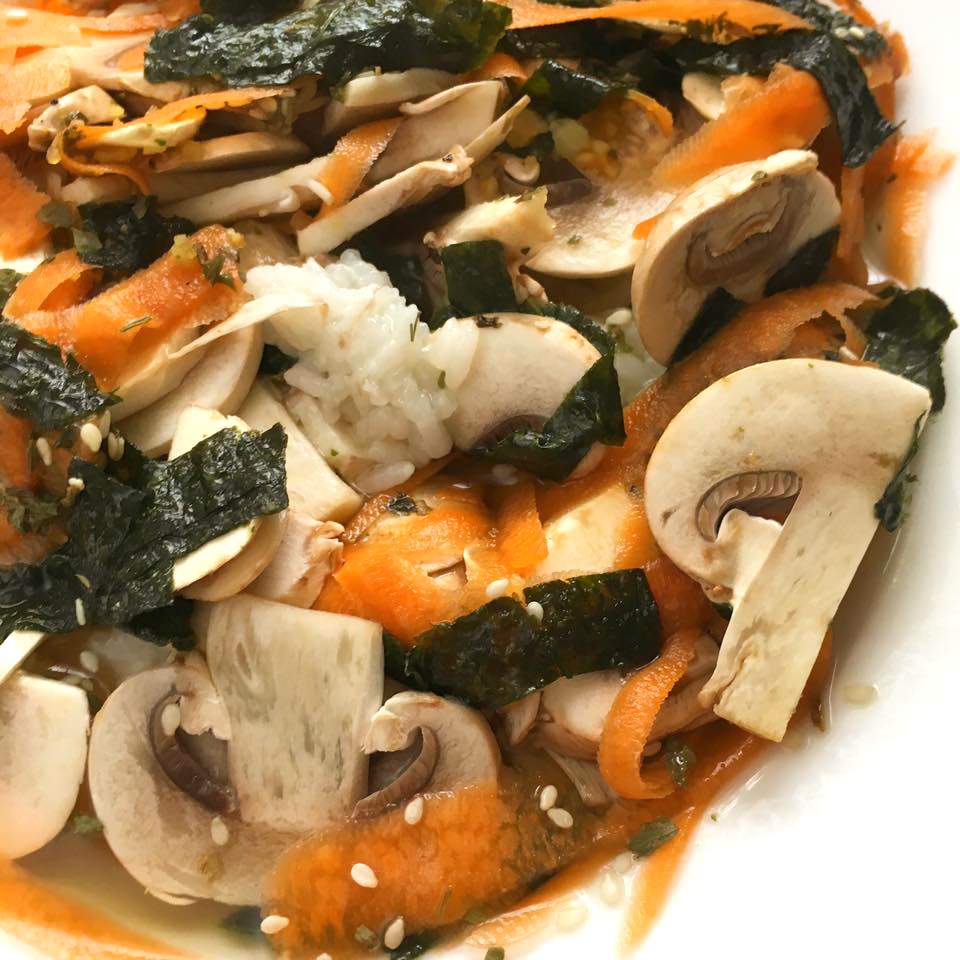 Ochazuke is a popular Japanese dish, made with green tea infused rice, soy sauce and lots of fresh veggies.
18. Filling and fuelling zucchini and rice frittata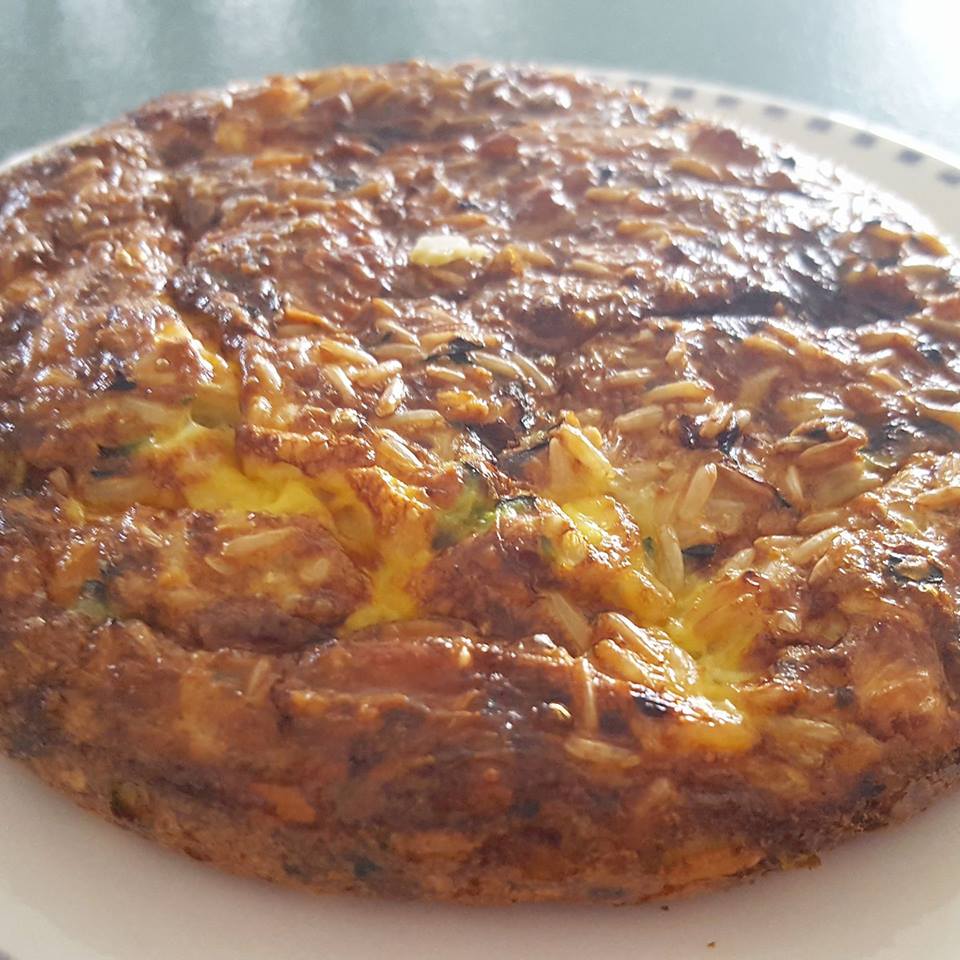 Prepare this satisfying frittata ahead of time and in a larger batch so you can store in the fridge and reheat for lunches throughout the week.
Adding the brown rice helps to bulk out the meal and ensure you are full and satisfied.
19. Fibre-rich Korean-style veggie rice bowl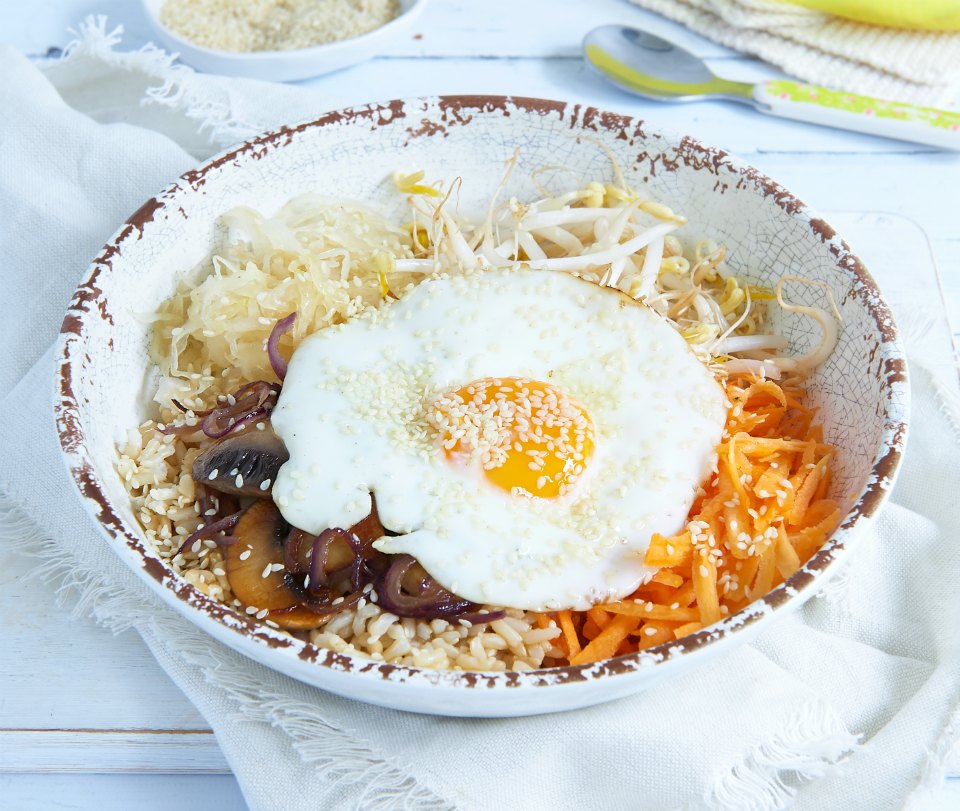 Don't spend your hard-earned cash at a Korean restaurant when you can make a super healthy version at home. This delicious rice bowl dinner is filling as it's packed with healthy veggies and the goodness of brown rice.

Get this recipe here.
20. Protein-packed Chicken Burrito Bowl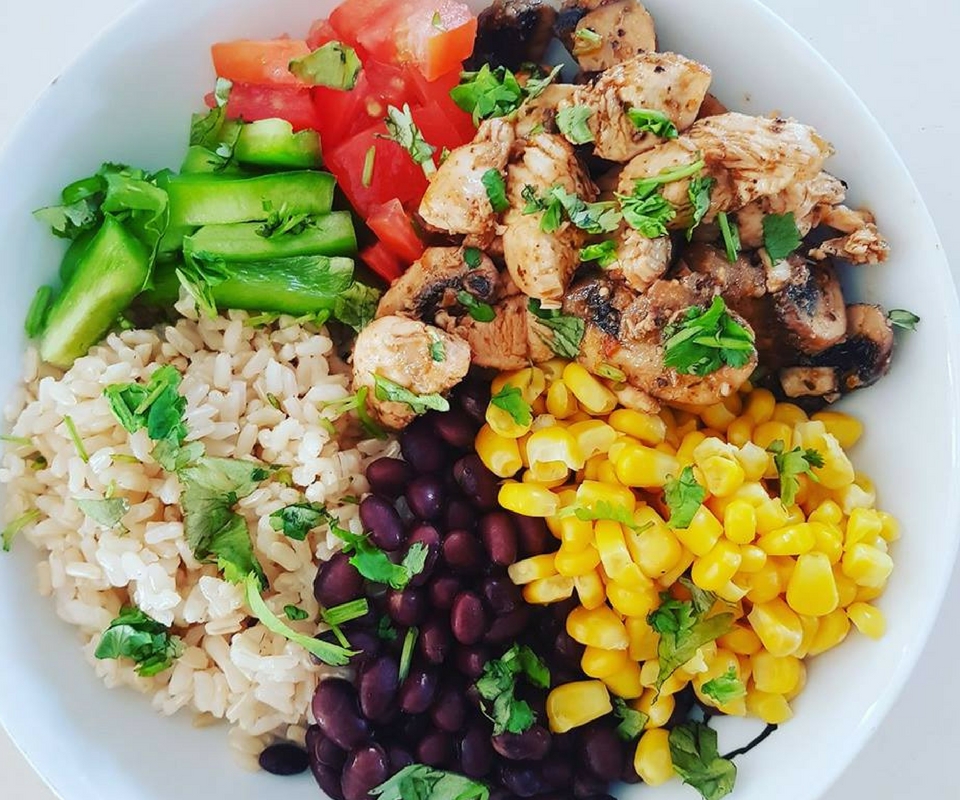 This colourful burrito bowl dinner is packed with protein and a kick of Mexican spice. Speed up the cooking process by using pre-cooked rice or leftover chicken.
Want more recipes? Join our 28 Day Weight Loss Challenge
Want to shift your baby weight but feel like you have NO TIME in your day to exercise and eat healthily? That's where the Healthy Mummy's 28 Day Weight Loss Challengecan help.

Our Challenge entails: 
28 days of at home exercise routines (no gym needed) – with video instruction
Customisable and breastfeeding friendly meal plans
Time-efficient exercises for busy mums – under 30 mins
Challenge combines Pilates exercises with interval and circuit training (HIIT)
Suitable for basic to advanced fitness levels.
Home to thousands of EASY-TO-MAKE recipes.
To find out more on the 28 Day Weight Loss Challenge click here.