5 Stylish Swimsuits That Will Flatter Your Curves
Many of us curvy ladies tend to dread summer because it means we have to go swimsuit shopping! But not this year, because we've found a range of gorgeous and flattering swimsuits that will have you feeling so confident you'll want to go to the beach every day just to show them off!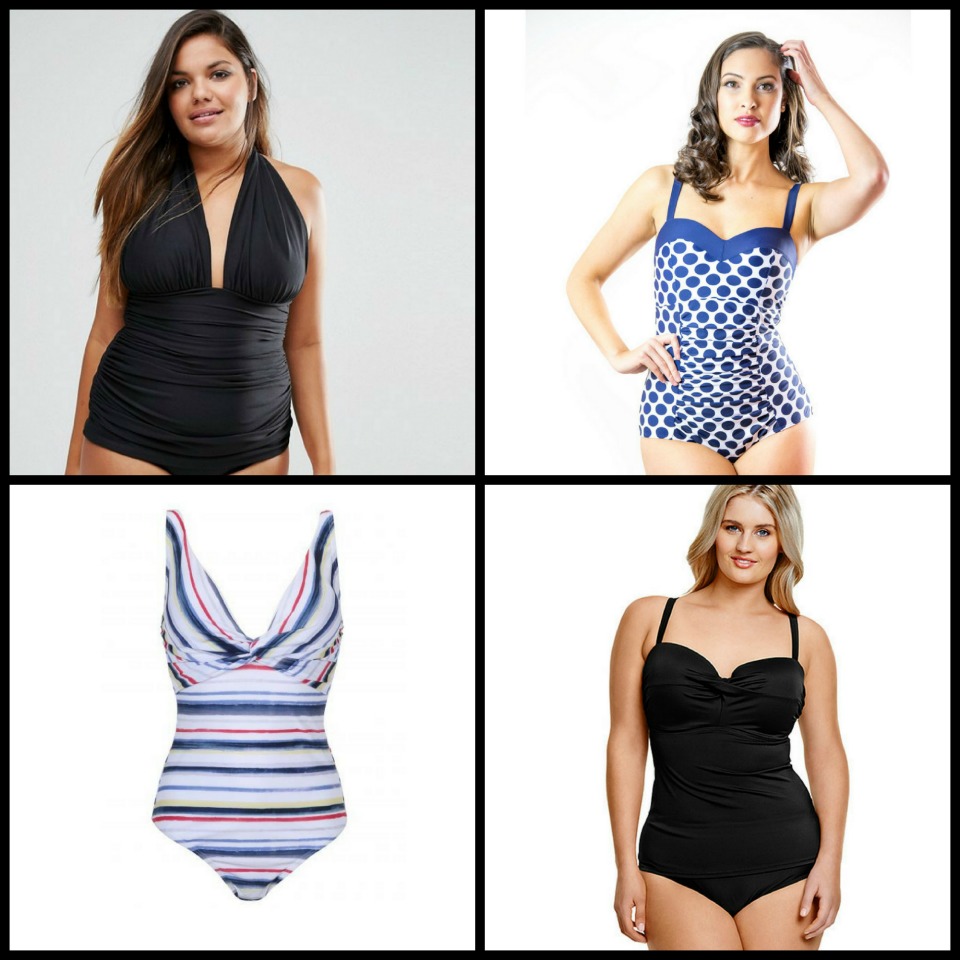 5 Swimsuits That Will Flatter Your Curves
1. Sirens Swimwear
Sirens Swimwear is 50s style that flatters everyone. It is shape wear so it sucks you in and holds you there. It's great for big breasted women and despite the fact there's no underwire, they have structured cups that give great coverage.
They also have excellent bum coverage which is important if you don't want to flash the whole beach while trying to struggle with kids, towels and toys!
The other fantastic thing about Sirens is that they have a 'shop at home' option. You can pay a deposit of $199 and select five swimsuits to try on at home.
Then you just send back the ones you don't want in the satchel provided and they charge or refund you the difference. So no more changing room awkwardness!
Swimwear available in sizes 8 to 20.
Buy it from Sirens Swimwear here.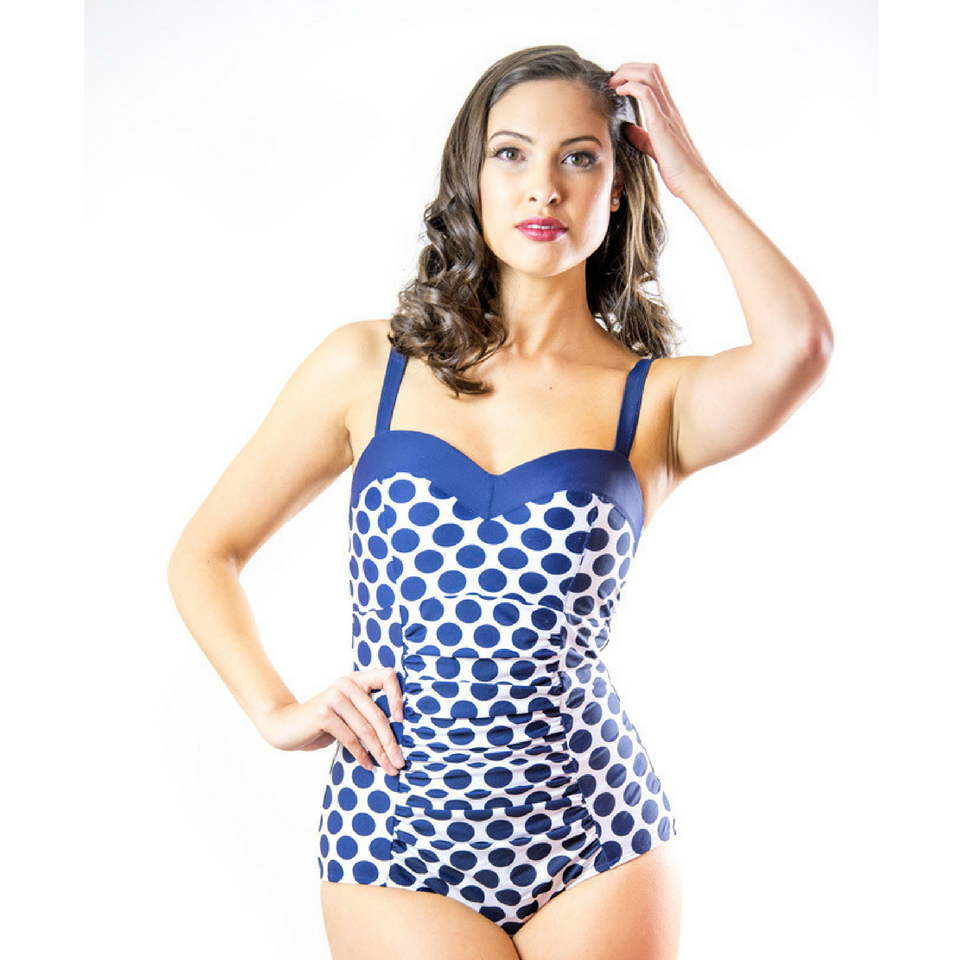 2. Curvy By Capriosca
Curvy By Capriosca is designed specifically for curvy women. They are designed with thicker straps for better bust support and a lower leg rise for better bum and leg coverage.
They have large cup sizes stocking up to a size 30, so there really is something for everyone.
One of their most popular styles is their black wrap tie six ways one-piece. It's so flattering and it's like you own six swimsuits for just $99!
Swimwear available in sizes 10 to 26.
Buy it from Curvy By Capriosca here.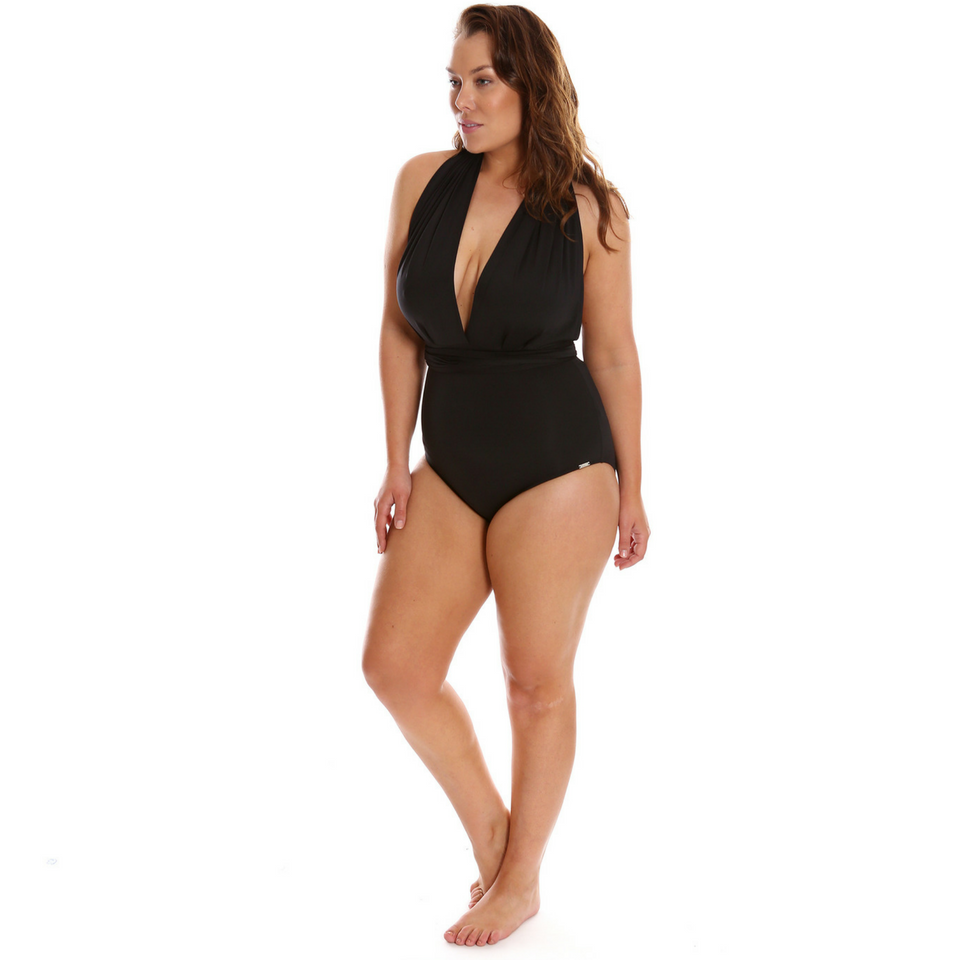 3. ASOS
ASOS has a massive range of curvy swimsuits for every woman. We love this ruched halter, it's flattering around the 'mummy tummy' and the halter top has great breast coverage. It retails for just $69.
This brand has a great range, including swim dresses if you want more coverage and less cling. They also have some great beach coveralls to pop over your swimsuit.
Swimwear available in size 18 to 29.
Buy it from ASOS here.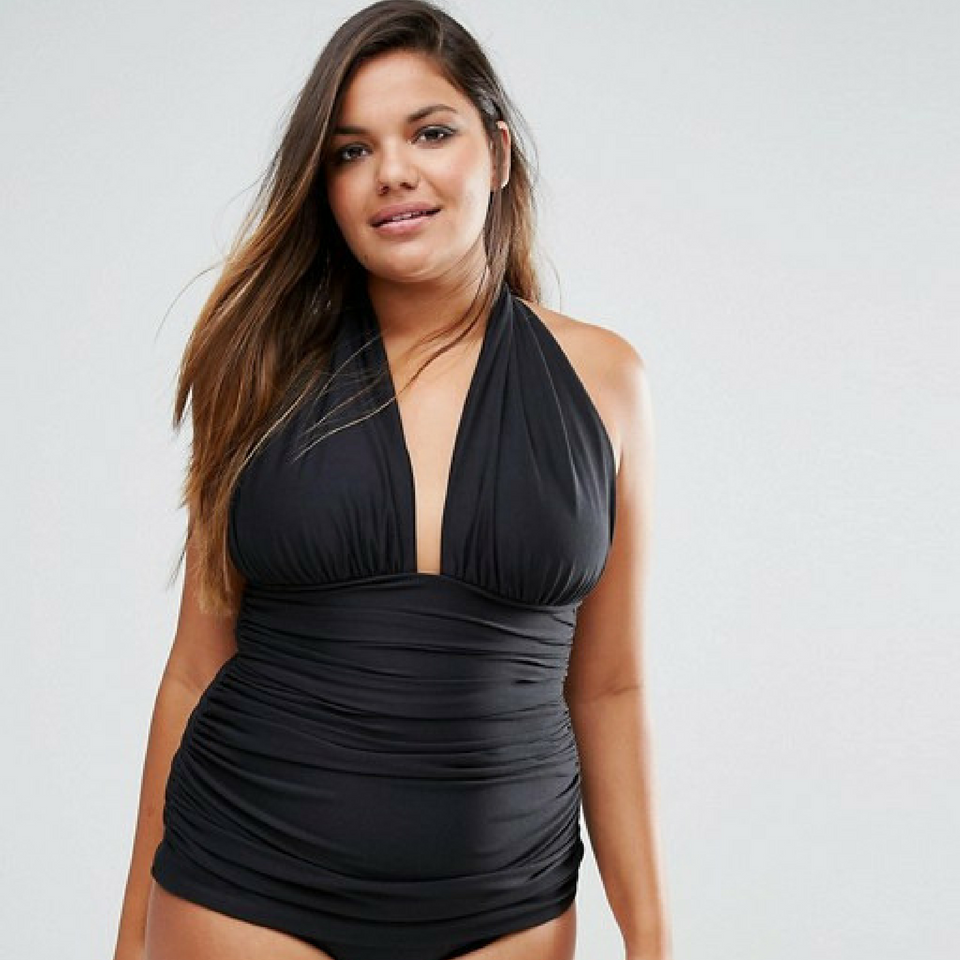 4. Target
If you are currently top-heavy (thanks to breastfeeding) but smaller in the rest of the body, then Target has the perfect option for you, and it's only $20.
Their super-flattering tankini comes in sizes 12 and 14, but up to a cup size F- so you can shop to your bust size with no problem.
Buy it from Target here.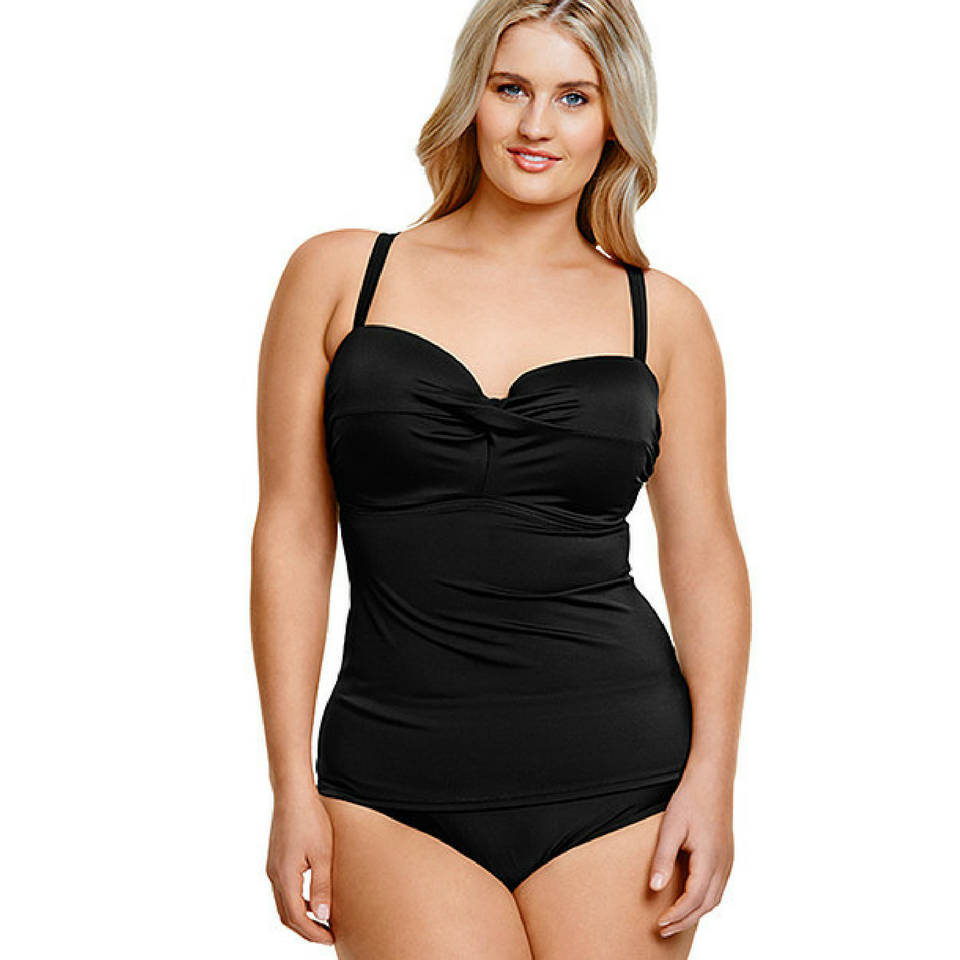 5. Jeans West
Jeans West has moved into swimsuits and they have some really nice options if you go up to about a size 16 to 18. They have good cup sizes and the control mesh keeps you all tucked in nicely.
They are a reasonable price too, this Ischia style (below) is only $44 and it's so cute. There are a few to choose from so go and check them out.
Swimwear available up to size 18.
Buy it from Jeans West here.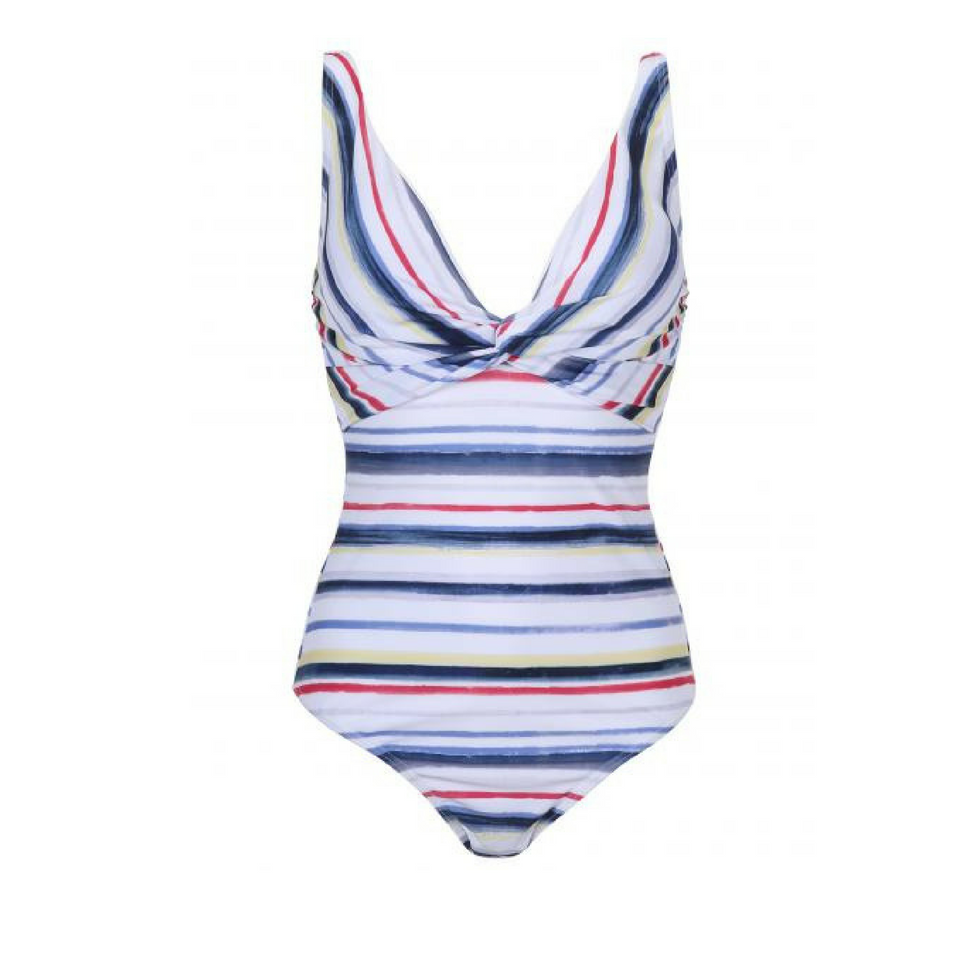 We hope this help you find the perfect swimsuit to enable you to feel confident and enjoy the summer making memories with your family!
If you're pregnant and after some comfortable swimsuits, read this post. Or maybe you're wanting a nice floral dress for summer, try this post.