We have an awesome group of MOTIVATING Mums to help you navigate the 28 Day Weight Loss Challenge throughout the month of November. Find out a little bit about each of them below.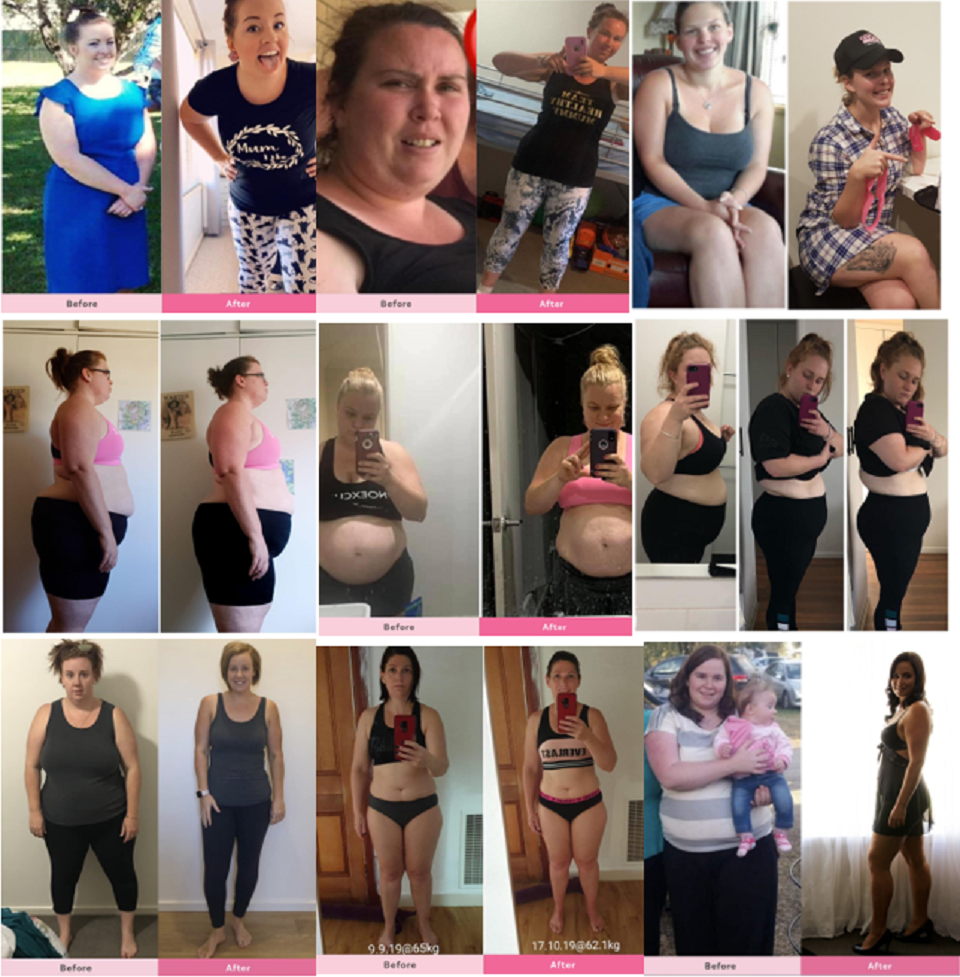 Meet November's Motivating Mums
We all know staying on track can be tough at times, but these awesome Healthy Mummy's promise to be there with you every step of the way on your 28 Day Weight Loss Challenge.
Zoe Terry
Zoe is a mum of one from Scarborough QLD. She has been living The Healthy Mummy life since July 2019 and has lost over 19 kgs so far.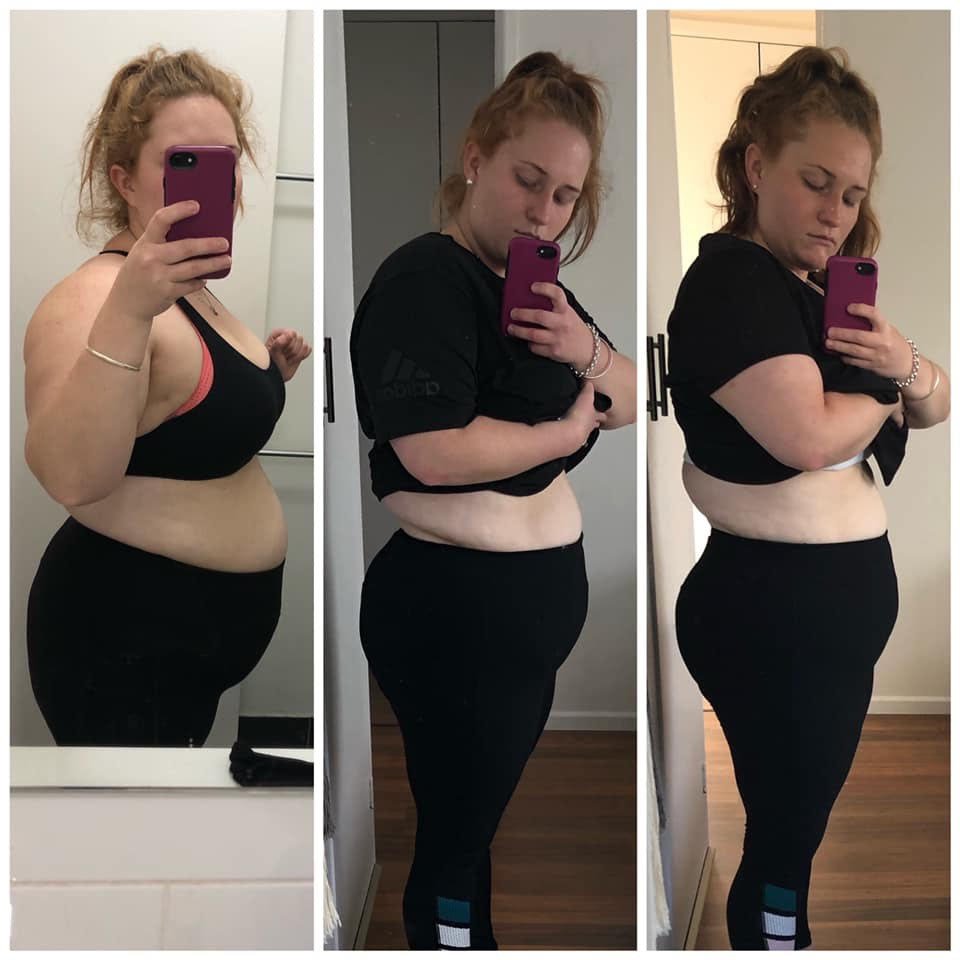 "I'm hoping to lose another 20 kilos or so. Although I am not focused on a particular number or clothing size but want to feel strong and healthy!
"I've already noticed huge changes in my health: my 3-year-old now struggles to keep up with me!
I've had PND (postnatal depression) since my son was born and struggled even on medication. I came off the medication and struggled to balance my moods.
Since joining The Healthy Mummy and focussing on both my physical and mental health I have been able to balance my moods successfully without medication. I have so much more energy now and love challenging myself every day."
Zoe's motivation for joining Healthy Mummy
Zoe shares, "My father has health issues and I worry about him. I realised if I didn't make changes my son would have to worry about me too when he grows up.
I no longer wanted my husband to look at me and I didn't want to look at me either. I dreaded having to find something to wear and I was always tired. I needed to change and stop living half a life. I wanted to live the life that I deserve!"
Zoe's top tips
Just start! That's the hardest part! Once you have created healthy habits and routine it gets easier!
Commit to yourself! You take care of others, now it's time to take care of you!
Be proud of yourself for every step you take towards your goal no matter how small.
Zoe also adds, "I'm absolutely obsessed with the Healthy Mummy Smoothies! I have 1-2 a day and I love that I can fuel my body with so much goodness in a matter of minutes!"
Kerrie Phillips
Kerrie, 39, is a single Mum from Traralgon Gippsland Victoria. She has been with The Healthy Mummy since September 2019 and loves it.
"My Healthy Mummy results so far are 3 kilos and 3 dress sizes. Super proud of the achievement I've made so far.
I decided to join Healthy Mummy and start doing 28 Day Weight Loss Challenge to get toned, fit and healthy. I also know health and fitness are great for mental health and it has worked wonders for me.
" started at 65kg and I am aiming to get to 55kg. I know with scales though it's not always kilos that make the difference. My measurements (which I need to get a tape measure haha) I've noticed in my clothes has changed heaps."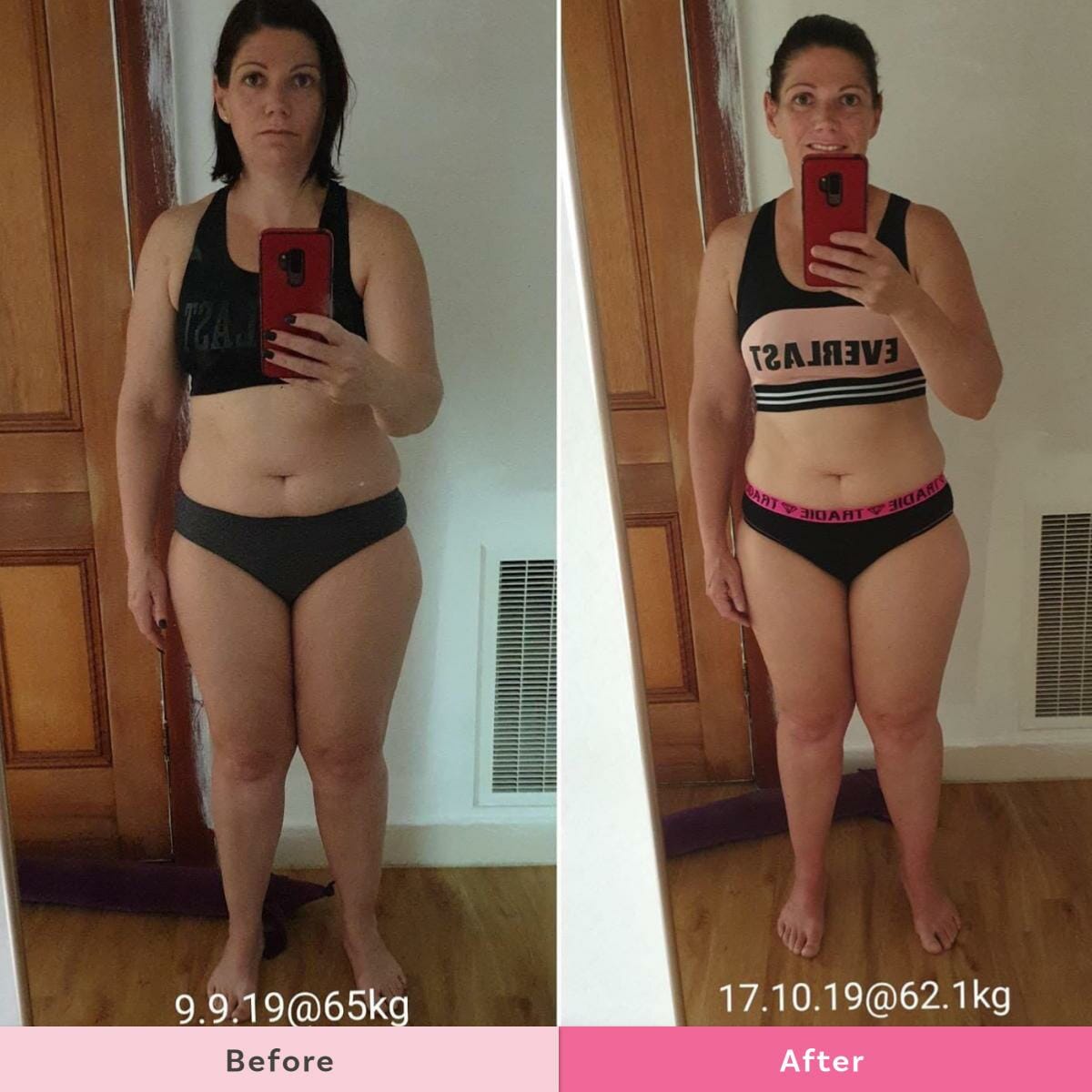 Kerrie's favorite meals
"Our favourite meal so far is One Pot Spaghetti. It's so yummy. My favourite snack would have to be Vita Wheats with boiled eggs yummy".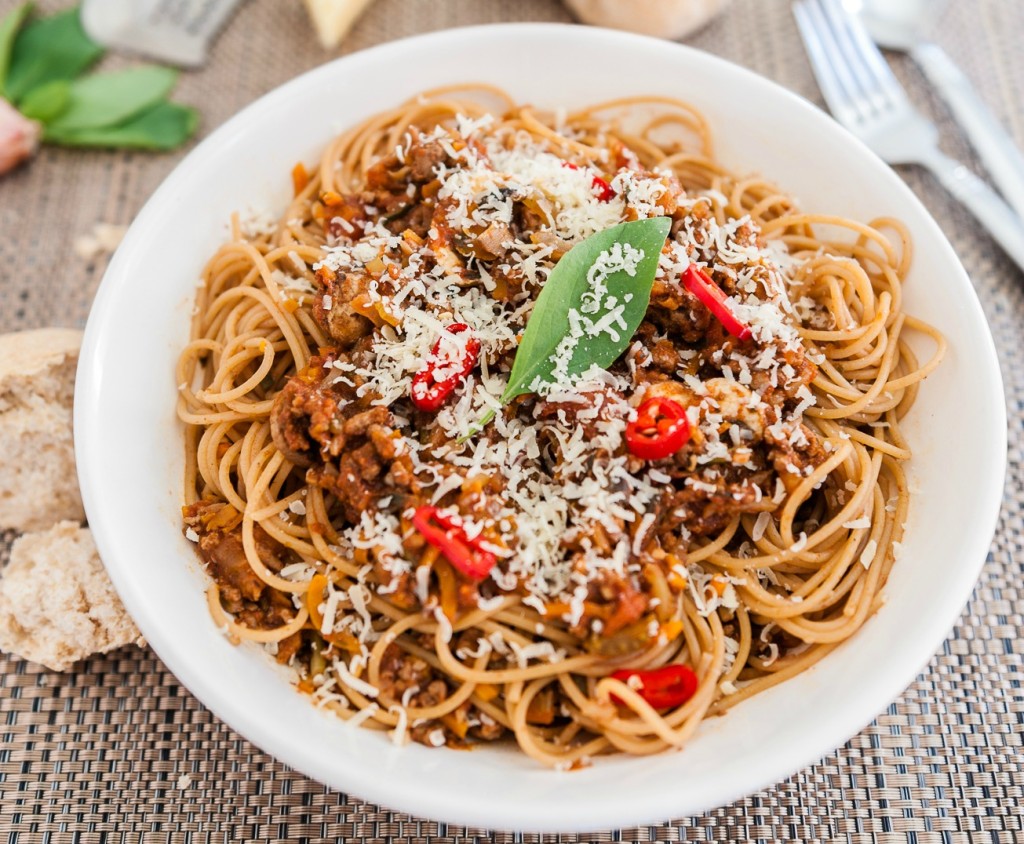 Kerrie's top tips
Stick to favourite meals. Meals similar to ones you've already been eating and add a new dish twice a week to try first.
Utilise the support group for more advice and information. Ask questions.
Set yourself a goal. Put up in view somewhere you can view regularly.
Kerrie adds, "My mental health is amazing. My fitness level has increased dramatically."
Summer Bostock
Summer, 31, is a mum of three boys aged 4, 5 and 7 (one boy with ASD and Epilepsy then another son with sensory processing disorder and ADD).
She is a Specialist Teacher's Aide and on her feet a lot now as she works mainly with the kids who run out of class and climb up trees etc. "The bonus is that it helps me keep up good exercise now."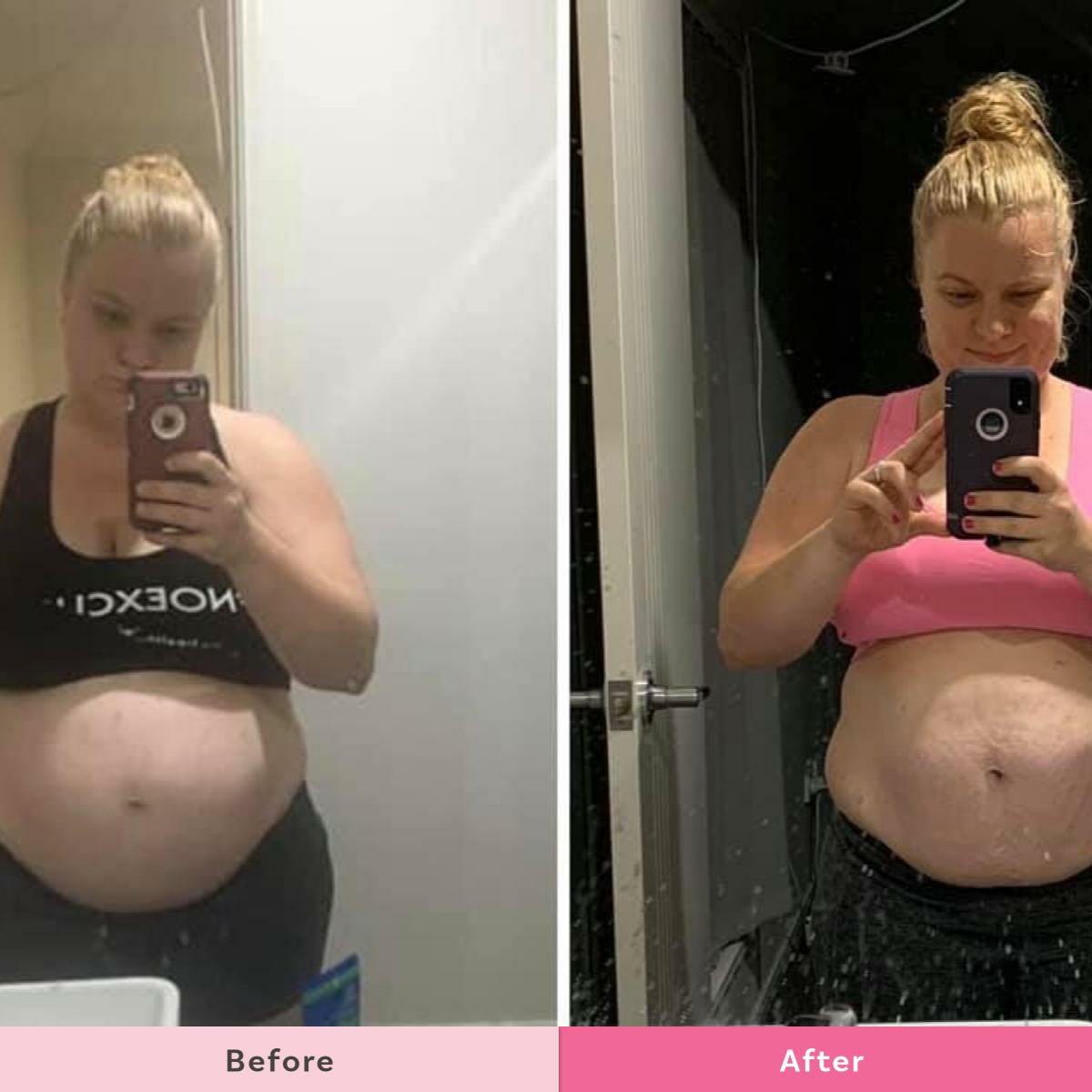 "I've been with Healthy Mummy for a couple of years now (crazy how fast time goes) I did do well a while ago when I started but then had an injury and health issues after another and let it get to me.
So two months ago I decided I had to do something about my health.
I've recently been in the hospital many times with heart issues and no answers. My only answer was that it was a wake-up call to seriously sort myself out!
"If you are like me and have felt like many things have gotten in your way, I'm here to say let's do this together because obstacles that get in our way do NOT need to take us away from being happy and healthy mummas!"
"In the past two months, I have now lost 8kgs and 24cm!!!! I'm so darn excited. I use the Healthy Mummy Smoothies, 28 Day Weight Loss Challenge and I'm in love with the new fitness apps now!!!!
My current obsession is Chorizo Spanish Rice, oh my word if you haven't tried it put it on your to-do list!"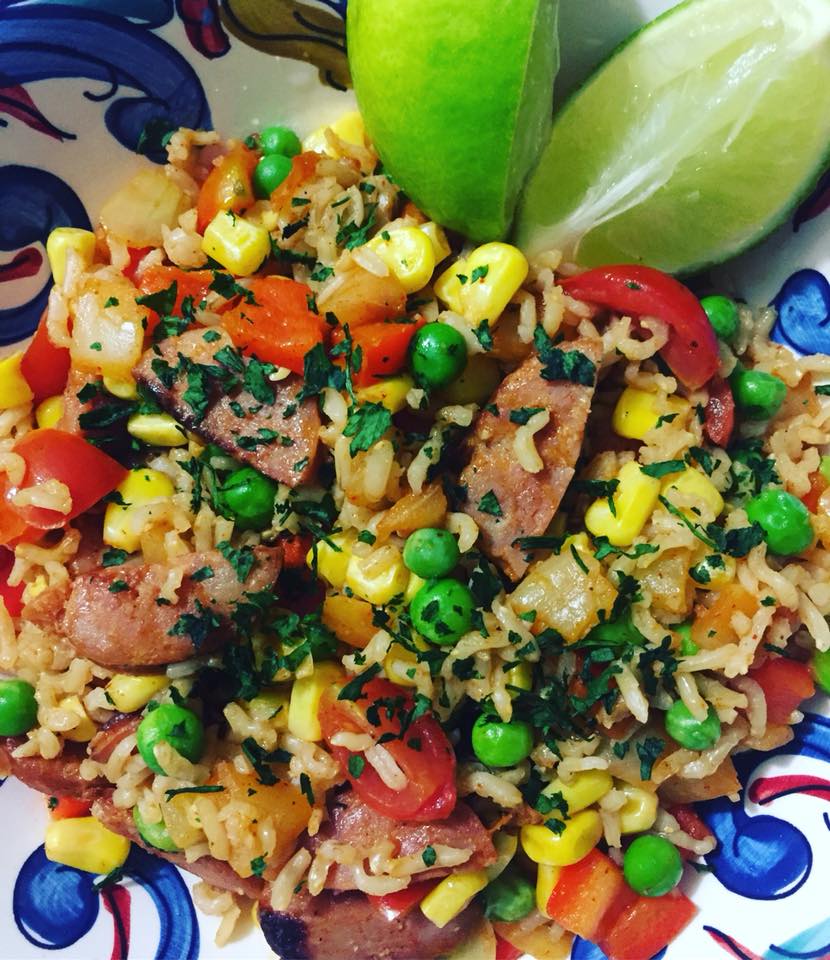 Chelsea Dixon
Chelsea, 32, is a mum of four children aged 10, 6, 3 and 2 from Gympie Sunshine Coast Qld. She has been a Healthy Mummy member since March 2019. "In that time I have lost 42.5kgs I still need to lose 7.5kgs to get to my original goal of 50kgs."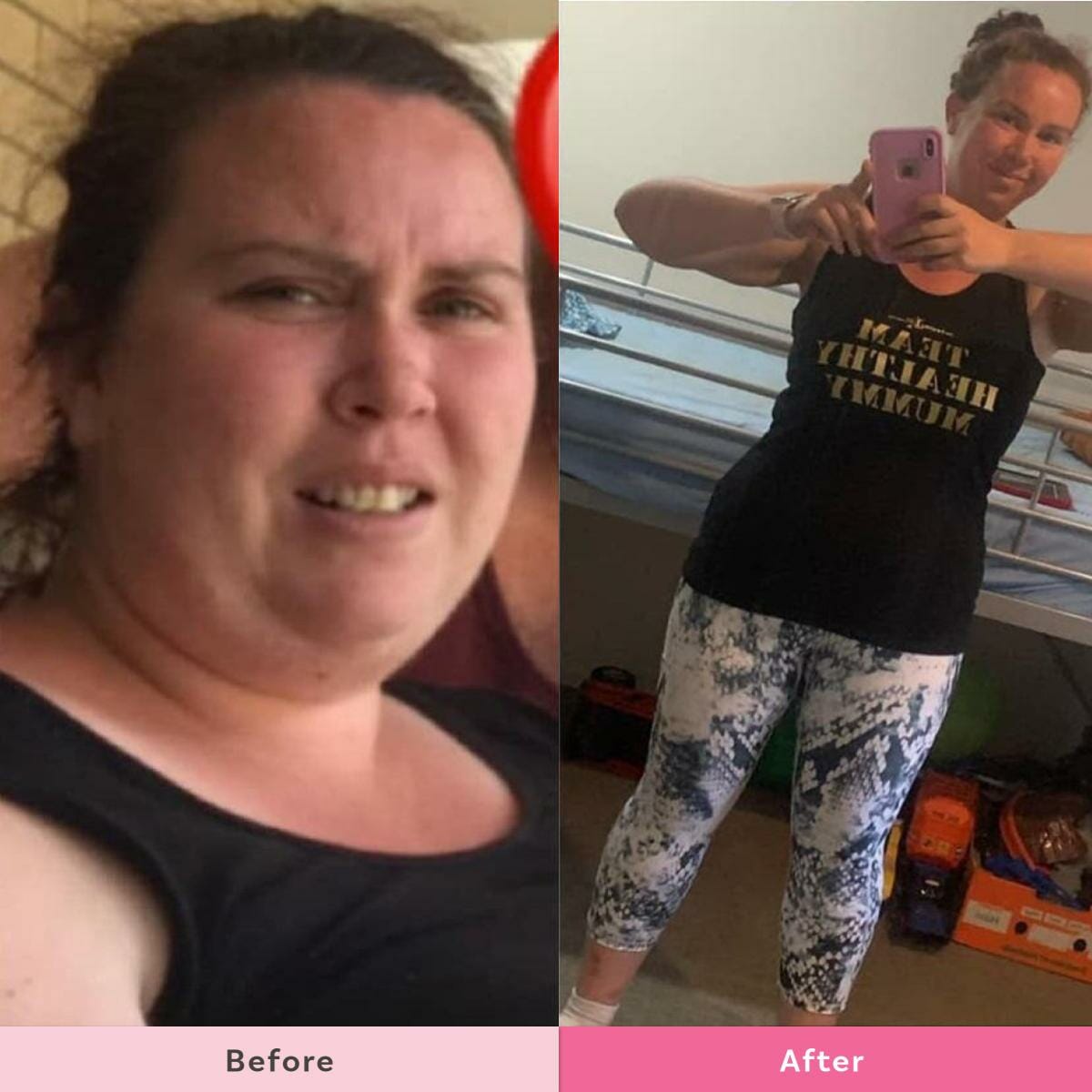 Chelsea's favourite Healthy Mummy recipes and Smoothie
"I use the Healthy Mummy Smoothies for breakfast every day, generally an iced mocha as they are my favourite. I have started using the supplements and protein powder and noticing great results especially with recovery time.
My favourite meal is Chicken Parmigiana & salad. It's on my meal plan every week and my favourite snack is the banana cinnamon & oat muffins."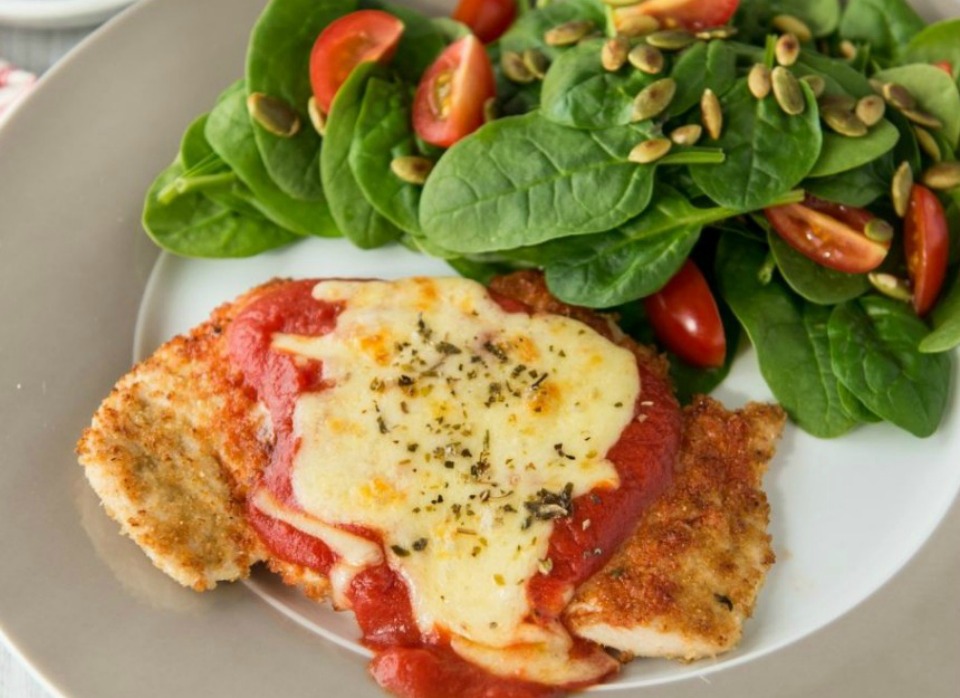 Chelsea's motivation to join Healthy Mummy
"I chose The Healthy Mummy over all the other fad diets because it is a lifestyle. I wanted something forever not just a quick fix. I wanted to be around for my children and live comfortably. I am now the healthiest & fittest I have ever been in my life. This girl now loves exercise & can run. My goal for November is to lose 3-6 kilos with this challenge or get as close to my 50 kilo loss as possible."
Chelsea's top tips
Keep it simple slowly transition and make it work with your lifestyle.
Customise your meal plan to suit you and your budget keep it fun and try lots of flavours but keep it simple repeat meal snacks so meal prep is easy.
Set reminders for water. Drink your water it truely helps with weight loss.
Kate Jacklin
Kate has been following The Healthy Mummy for four and half years now, using the 28 Day Weight Loss Challenge and Healthy Mummy Smoothies daily for breakfast. "I've lost 26 kilos combined after my two babies."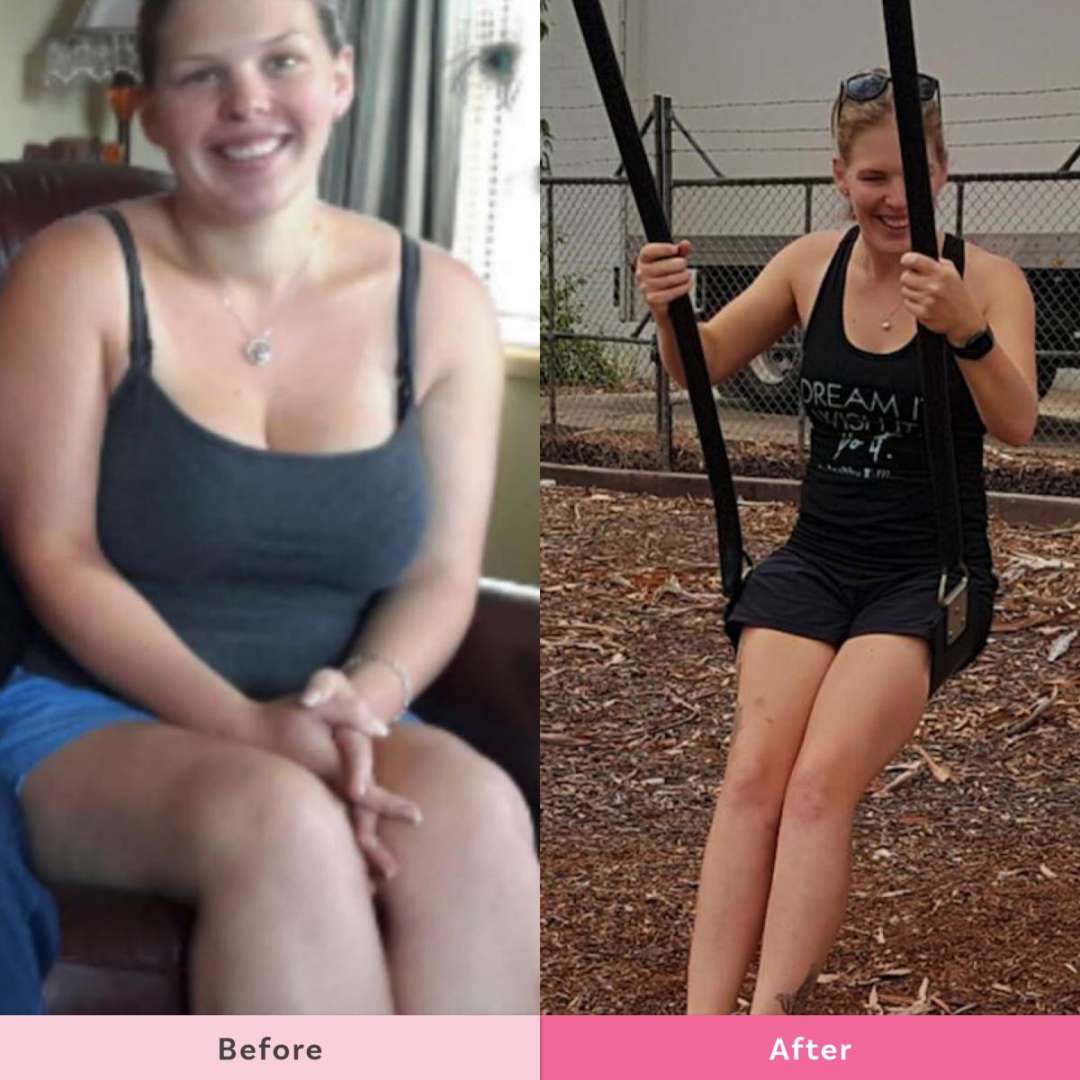 "I suffer Psoriatic Arthritis which had me crippled in the beginning, even when I struggled to walk The Healthy Mummy stuck by me and helped get me through! With daily motivation, the meal plans and adjusting workouts to suit what I could do!
Using The Healthy Mummy App makes my life a ton easier! Having my week's meals planned takes away so much stress and having all the workouts and places to record info/progress always with me is super handy too."
Kate's top tips
Don't expect a miracle overnight, slow progress is good sustainable progress, you WILL get there.
Don't jump in all at once, take it slow! Calculate your BMR, understand how everything works, understand what your body needs.
Figure out your goals and make a plan to achieve them – Write your goals down and stick them somewhere you'll see them often.
Don't stress about exercise, find something you enjoy and do it as much as you can. ANY exercise is good!
Be prepared – Customise your meal plan BEFORE the week starts, grab your groceries and do a little prep to give yourself no excuses!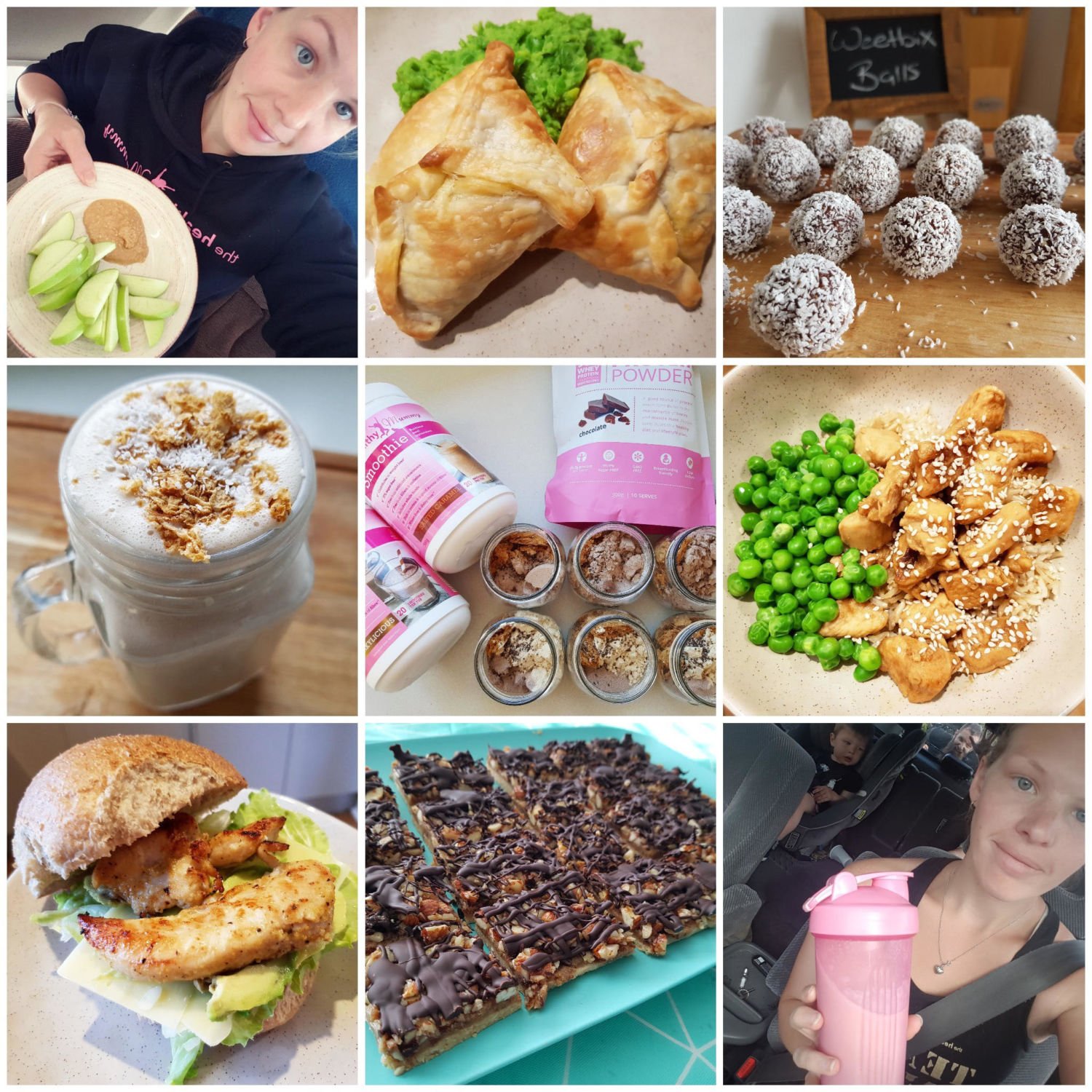 Naomi Rajamanickam
Naomi, 30, is a mum of two boys (Riley, 8 Patrick, 2). She joined The Healthy Mummy over a year ago as she was breastfeeding and excited to find something inclusive of breastfeeding mums!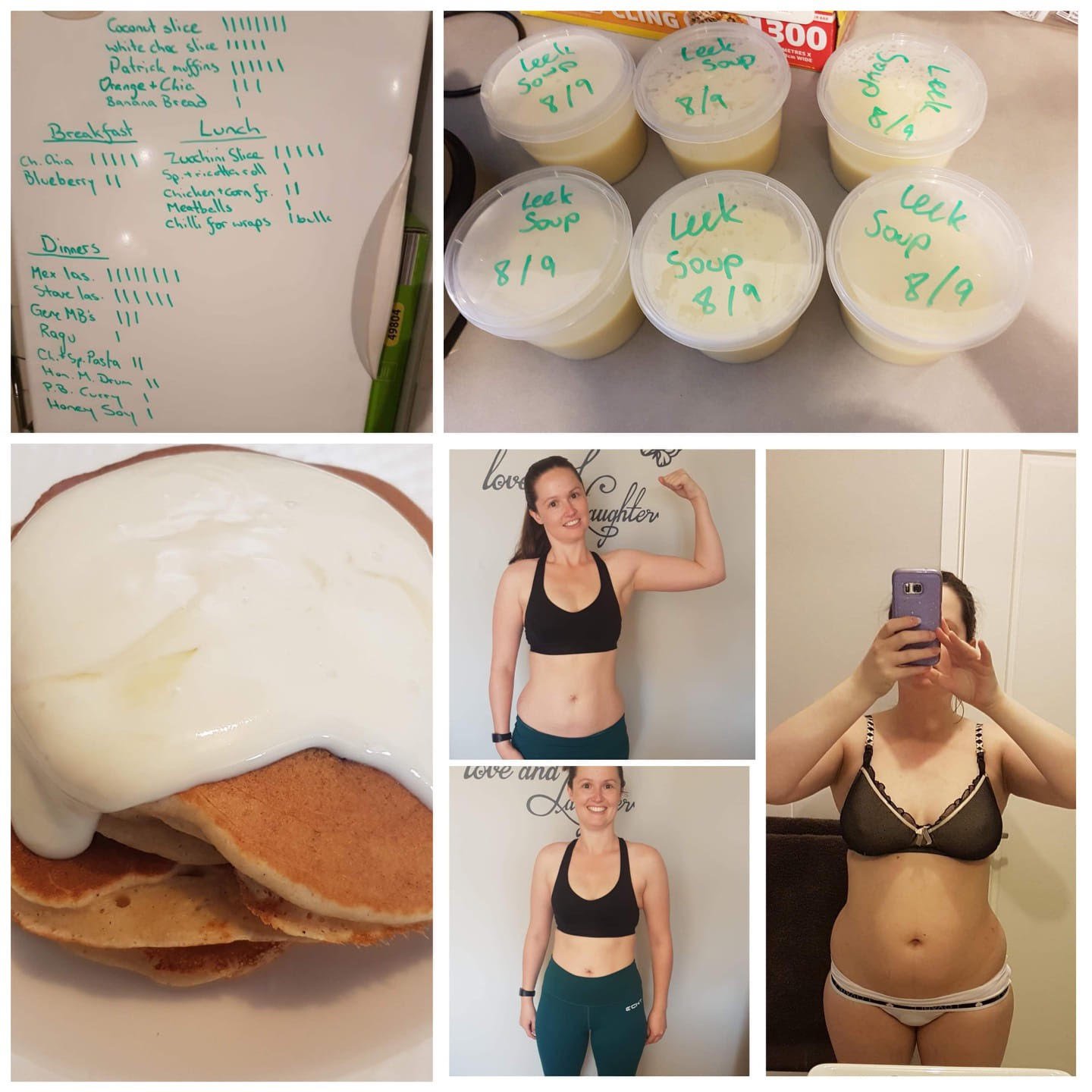 "I am now a lifetime 28 Day Weight Loss Challenge member and regularly use the Healthy Mummy Smoothies, protein and snack bars!
I lost the weight I wanted and got down to pre-pregnancy/pre-IVF weight but then lost momentum and gained a bit back.
This time around my goal has been gaining muscle rather than to lose weight. My weight is still a little higher but I am much stronger!
My goal for November is to gym three times  a week and to do two times my body weight on the leg press (I'm currently doing 14kgs away from that goal)."
Naomi's top tips
Organisation! I write out what frozen meals and snacks are in my freezer so I know what I have and if it's getting low.
Check your cupboards so you don't double up on ingredients to keep it cost-effective
Make extra so you have a contingency for when life throws a curveball!
"My favourite meal at the moment is Sticky Chicken Drumsticks but it changes because there are just so many recipes to choose from in the 28 Day Weight Loss Challenge. "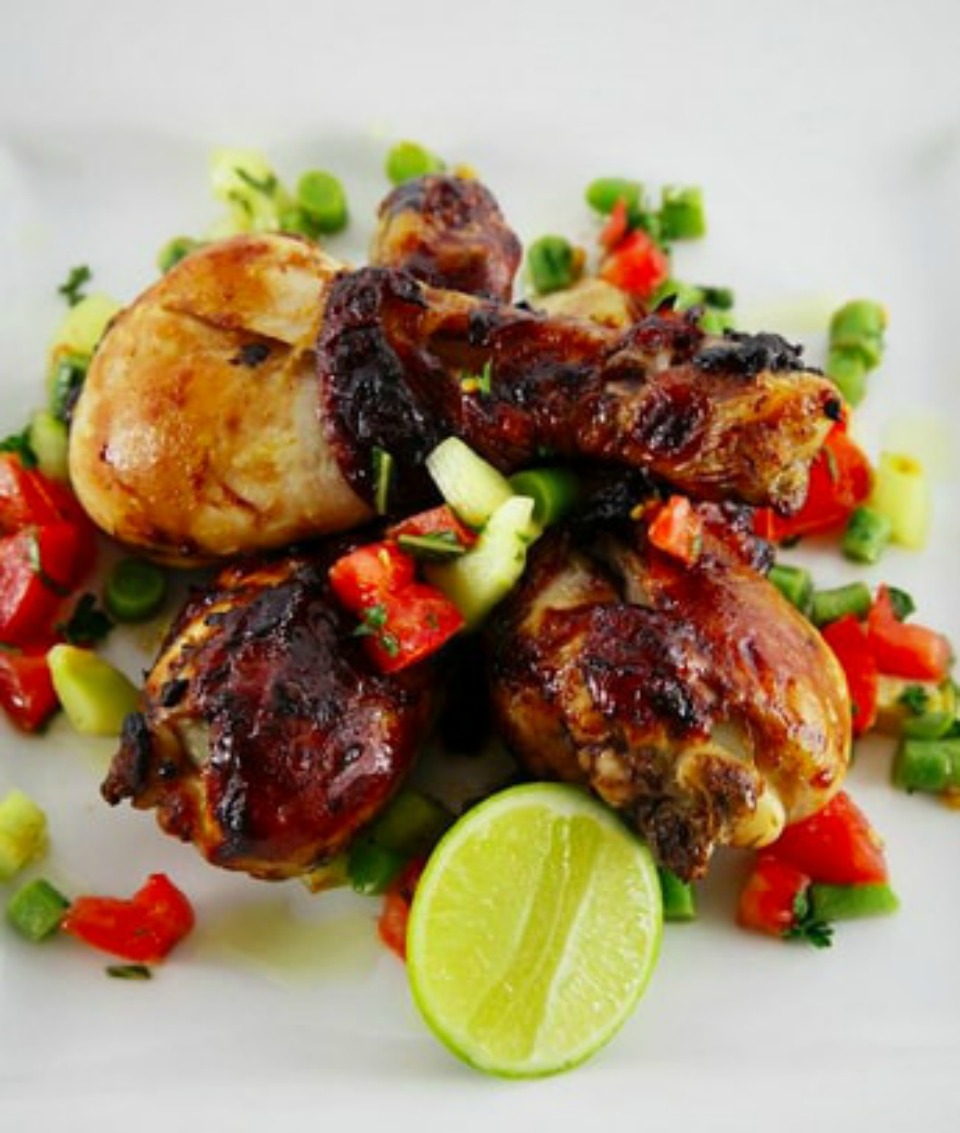 Hannah Pech
Hannah, 33, is a busy mum of five aged 8,6,4 and two nearly 2 year olds, from country South Australia.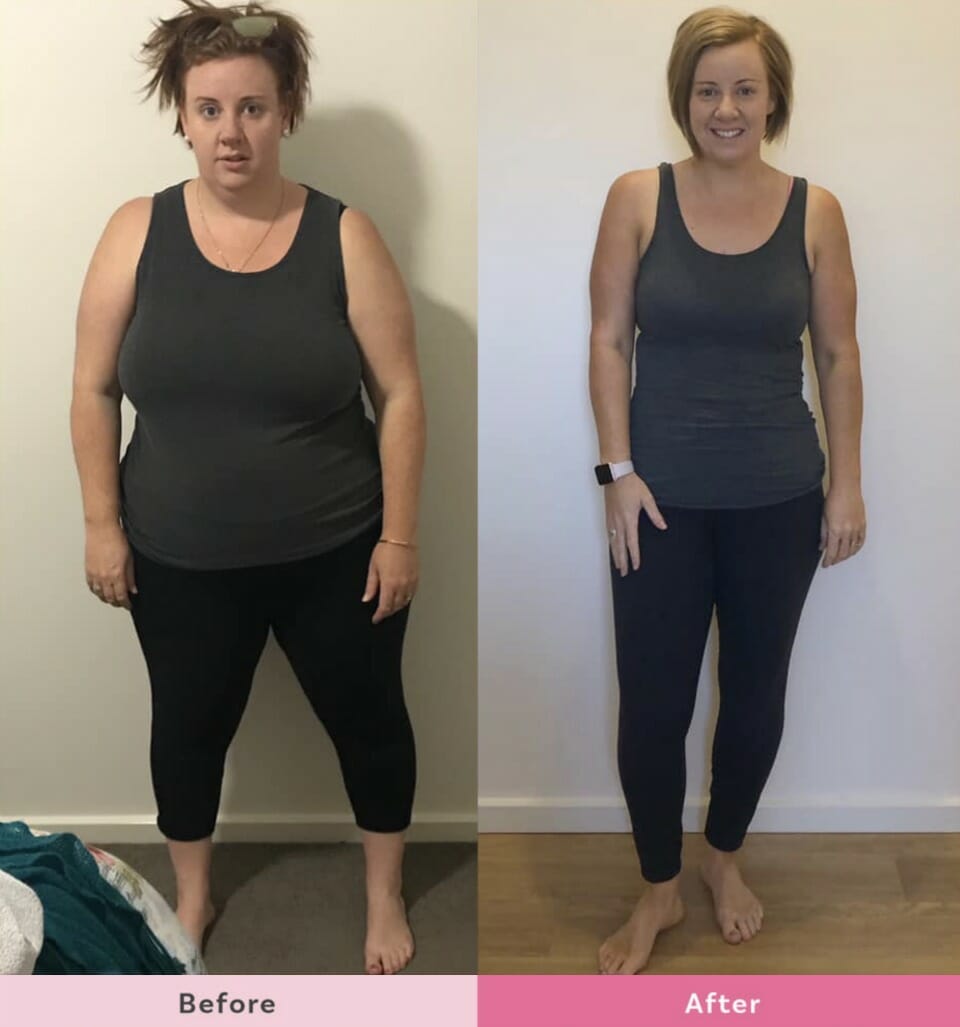 "I have been a Healthy Mummy member for eighteen months now and in that time have lost 35kg, from 105kg to70kg, and my current goal is to lose 5 more kilograms and work on toning and strength."
Hannah's motivation to join The Healthy Mummy
"I originally signed up to The Healthy Mummy because after five kids in 6 years I had chronic back pain and had lost the "me" which comes with being a mum, and putting everyone else's needs above myself.
"Through the 28 Day Weight Loss Challenge I've grown in so many ways. Now I love to exercise, have made new and lifelong friends and have totally changed my relationship with food.
"My goal for November is to finally smash the 70kg mark, which would make 10kg loss this year. I want to make the most of November before I maintain my weight over the summer period."
Hannah's favourite meals
"My favourite Healthy Mummy meals change constantly because there are so many amazing recipes available on the 28 Day Weight Loss Challenge, but currently I am loving the Ultimate Baked Potato and the Choc chip banana bread!"

Hannah's top tips
Start simple. Choose some nice sounding recipes and give them a go!
Don't overthink it, snacks can be as easy as some popcorn and an apple, exercise can be a short walk around the block, we all start somewhere.
Think of it as a lifestyle and embrace every part. If you look at it as a long term change the weight won't be your biggest priority.
Hannah adds, "Since starting The Healthy Mummy my chronic back pain has disappeared on its own. I've started to change the way my kids view food and eat. I've become to love exercise and rely on it for my positive mental health along with being active with my kids. I've broken the cycle of emotional eating and can now instinctively make better choices."
Tegan Palmer
Tegan, 25, is a mum of two from the Western suburbs of Melbourne. She has a daughter nearly 5 and her son is 2.5 years old.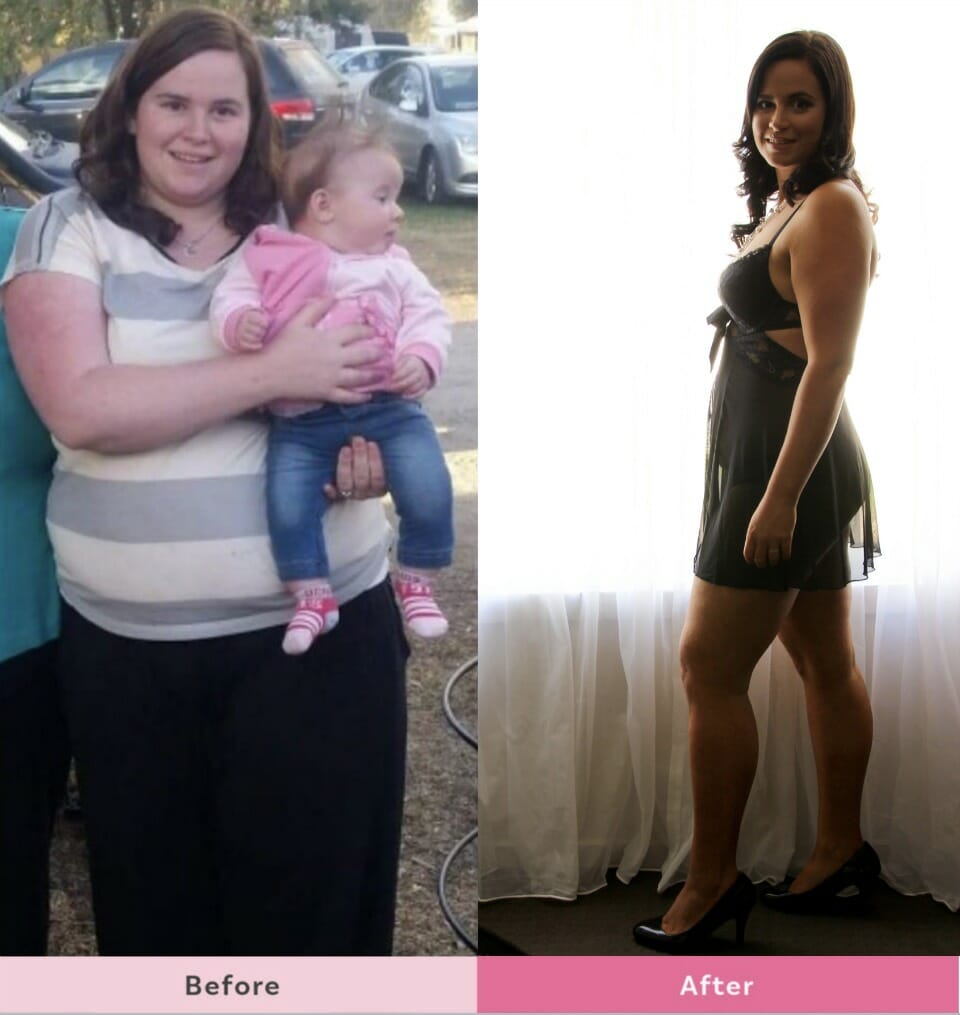 "I've been following the Healthy Mummy for two years, using the 28 Day Weight Loss Challenge app, Healthy Mummy Smoothies, protein powder along with other Healthy Mummy merchandise and products. "
Tegan's favourite recipes
"My favourite recipe from the Healthy Mummy is the Chicken and chorizo enchiladas because it's definitely a budget-friendly meal and with only five ingredients it's absolutely delicious. My favourite snack is definitely the White choc and apricot slice."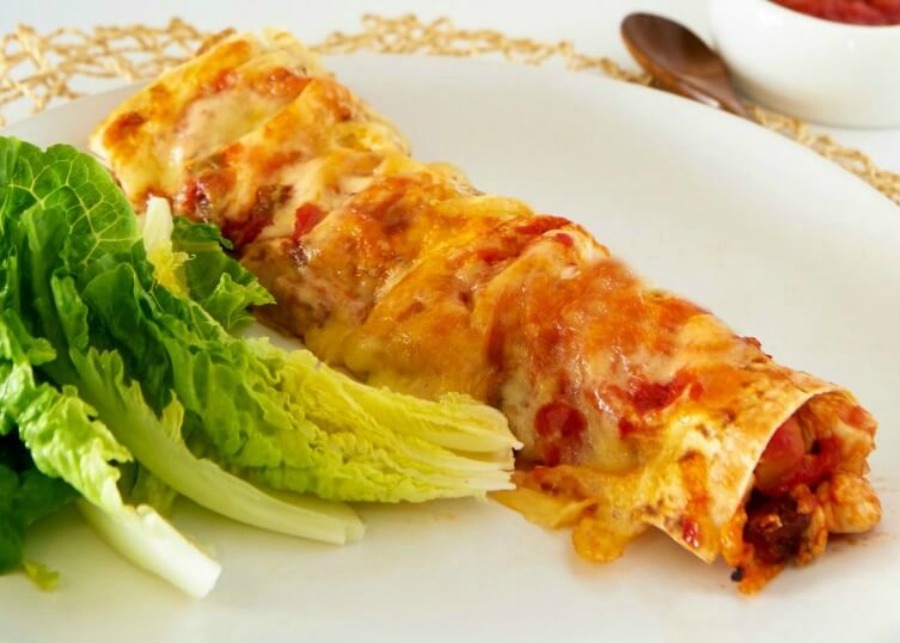 Tegan's motivation for joining Healthy Mummy
"Over the last 18 months, I've lost 30kgs and hoping to lose another 6.5kgs over time. I don't have a specific time frame.
My reason for using The Healthy Mummy was because of my two beautiful babies. My kids deserve a mum who would join in with them, take them to parks, take them for walks and get them out and about experiencing the world too. I didn't want to sit on the sidelines because I was too lazy to join in.
I also joined for myself. It was something that I knew was going to give me back my confidence and help me love my body again.
I was a stay at home mum, no family nearby, two best friends who worked. I never really got out of the house either so I found that I spent a lot of time snacking and not exercising.
I also have an underactive thyroid, which never showed steady levels and was on a high dose of medication.
Since losing 30 kgs my levels have dropped dramatically and are now steady and I've been able to reduce the amount of medication I'm on.
My goal for November is to finally get under 70kgs. And I know that being a motivating mum will definitely help reach my goals. I'm starting off November at 71.6kgs. My final weight loss goal is to get to 65kgs."
Tegan's top tips
Customise your meal plan to what you already eat now.
Choose 2 or 3 snacks and repeat them, I shop fortnightly so I choose 5 or 6 dinners and repeat them as well which helps me keep my costs down, and also helps me having meals prepped ready to go the following week.
 Utilise the app filter when customising and choose the budget-friendly and the 5 and under filter. This will help narrow down foods that will be cheap to make.
Kylie Pryor
Kylie is a mum of three kids aged 6, 4, and 2, from Sydney.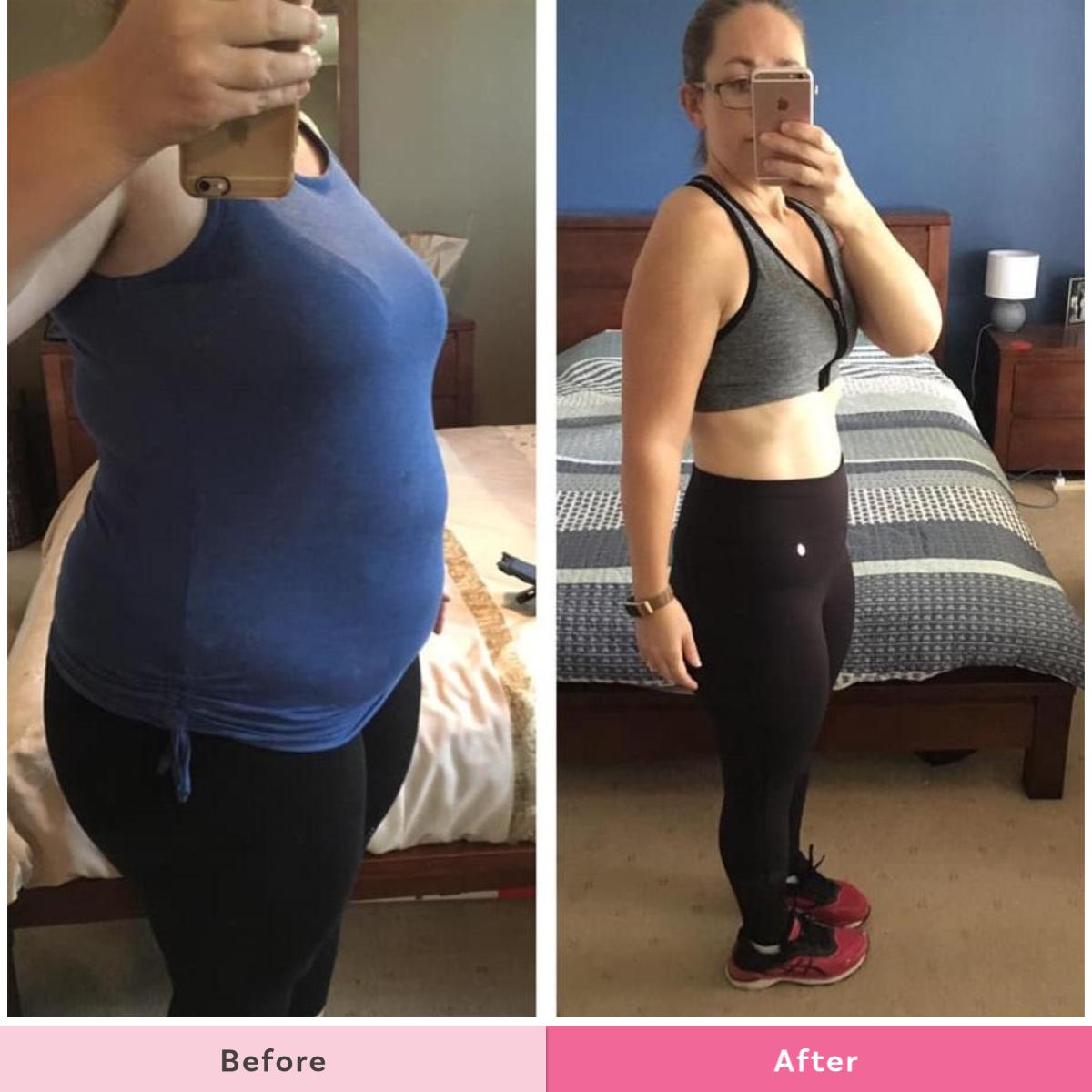 "My goal when joining The Healthy Mummy was simply to lose weight. I've struggled with my weight my whole life and never found a way to keep myself healthy.
When I started I was 103 kilos and quite miserable and lacking confidence. I had a four-month old baby and two young children and decided it was time to start focusing on my health.
I've been on the 28 Day Weight Loss Challenge for two and a half years and in that time I've lost 35 kilos. I find the challenges so easy to stick with because it's all organised for me, the meal plan, the shopping lists, even the exercises are all in the app. There's no excuse that "it's too hard" as everything is done for me."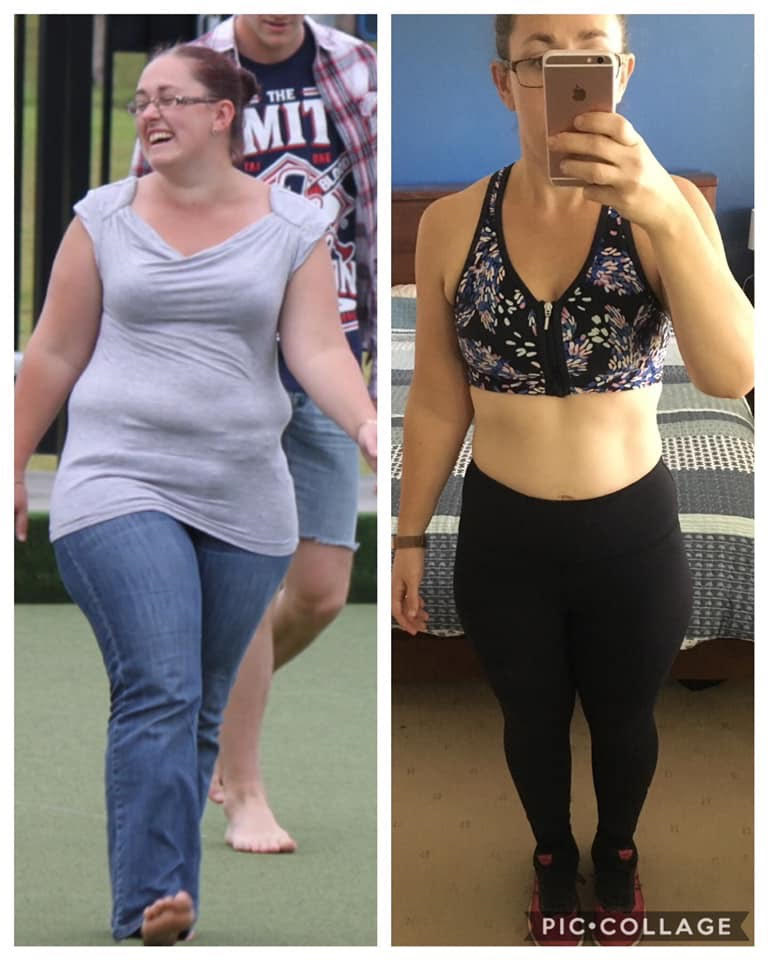 Kylie's favourite meal
"My favourite meal on the Healthy Mummy 28 Day Weight Loss Challenge is Teriyaki Chicken with rice and greens. It's quick and easy and my family devours it every time!
"My favourite snack is Snickers Mousse, I have it for dessert most days.
"I love the Healthy Mummy Smoothies as well, my favourite is the Chocolate banana bread smoothie using the chocolate fudge smoothie powder. It's so tasty and the smoothies are so quick and convenient."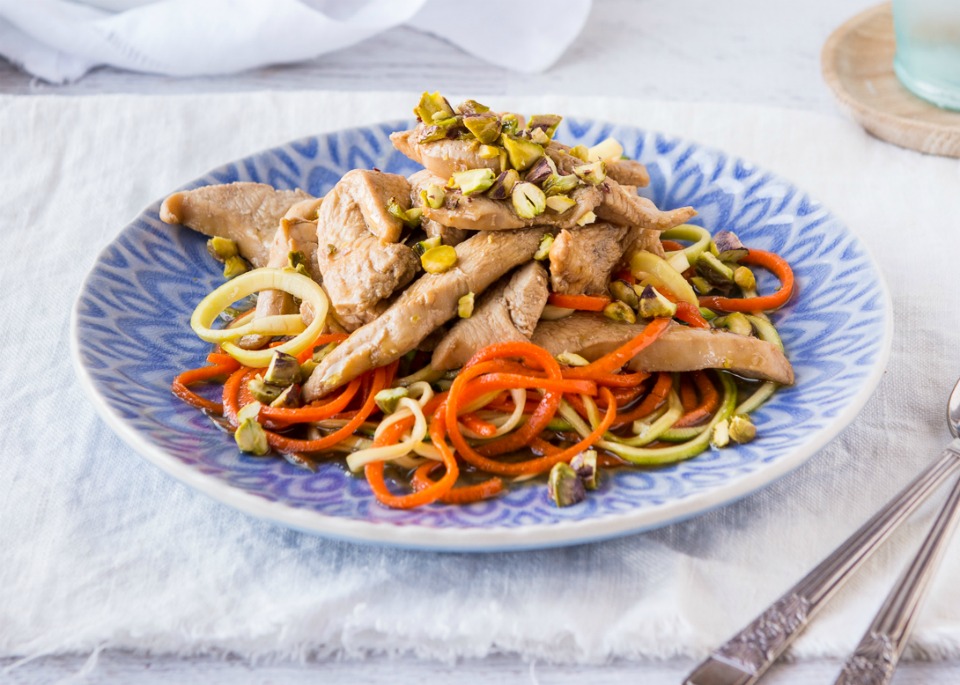 Kylie's motivation
"My goal with Healthy Mummy is to lose weight. Ideally, I would like to get to 60 kilos as that was what I weighed when I met my husband.
"I'm now only 8 kilos from that goal which is amazing. Over time though my goal has come to include fitness. I never used to be very active and now I work out 4 times a week or more.
"My fitness goal is just to get stronger and fitter, and every day I get closer to that goal! Since joining Healthy Mummy I'm the fittest and healthiest I've ever been."
Kylie's top tips
"My advice to those starting out is to familiarise yourself with the 28 Day Weight Loss Challenge app, but also the Healthy Mummy Facebook group.
"The ladies on there are so lovely and helpful and everyone is always able to give you advice when you need it. Checking in with the group is a great way to keep you accountable.
"My last tip is to customise! I customise every meal plan from the huge database of recipes on the app. I have a fussy family and I try to stick to a budget each week so I regularly change the meal plan to suit what works for my family."
Bridget Finlayson
Bridget, 30, is a mum of an autistic son Noah who is 8 and lives in Hervey Bay, QLD with her husband and cute kitty Abi.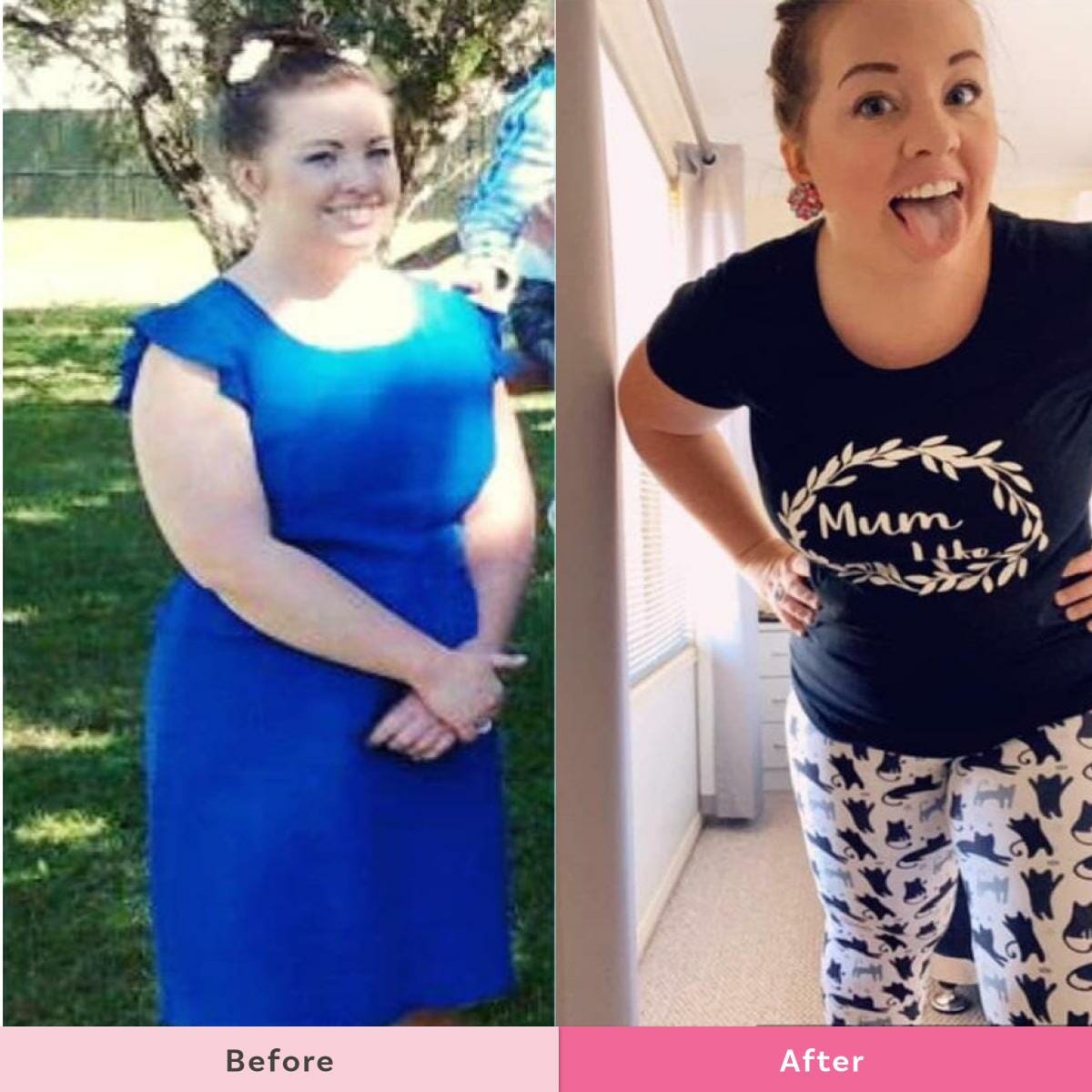 Bridget shares, "This is my second go at  The Healthy Mummy as medication and medical conditions have seen me put a lot of weight back on that I had lost with The Healthy Mummy in 2017.
So far I've been back on track for the last month or so and have lost 2kg which is incredible.
For the month of November, my goals are to do my daily exercises every day and get at least 10,000 steps in.
I also want to stick to my Healthy Mummy 28 Day Weight Loss Challenge app menu all month and not make excuses to eat out.
I have been using the 28 Day Weight Loss challenge on and off for three years now and my favourite meal would have to be the Mexican lasagne, my favorite snacks are the Healthy Mummy apple pie snack bars or cheese and crackers. Cheese is life."
Bridget's motivation
"I'm going to be following the 28 Day Weight Loss Challenge because I know it works. In 2017 I lost 15 kilos and became the healthiest I have ever been in my life.
"My reason WHY is that I deserve to be happy and healthy and I want to set a good example to my son that we can do whatever we put our minds to. My end goal is to feel happy and healthy in my own skin again and to work towards a loss of 10 kilos.
"I'm not giving myself a time limit as with certain medication weight loss can be hard but it will happen if I can consistent."
Bridget's tips for getting started
Don't overwhelm yourself with too much change too soon.
Throw all of the crap out of the house as you will end up eating it if it stays.
Talk to your family and get them on board as this will make your life so much easier.
Bridget's tips for motivation
Make a motivation board so that the reminder is in-front of you, remind yourself why you started… you are worth it!
Go for a walk, chances are it will help you to stop and think about things before you make bad decisions.
I love the Healthy Mummy Smoothies and have at least one a day and my fav combos are sneaky snickers and gingerbread man.
Bridget adds, "I have seen so many health benefits from starting back on the Healthy Mummy; I sleep better, my cholesterol levels have dropped, my hair and skin are healthier and I'm back to drinking at least 2L of water a day.
I suffer from quite severe anxiety and depression due to nasty circumstances that occurred nearly 2 years ago now and Healthy Mummy helps me to be positive and open to new things again, I don't know what I'd do without it."
Sandra Gee
Sandra, 33, is a mum to two girls aged 4 and 5 from Sydney.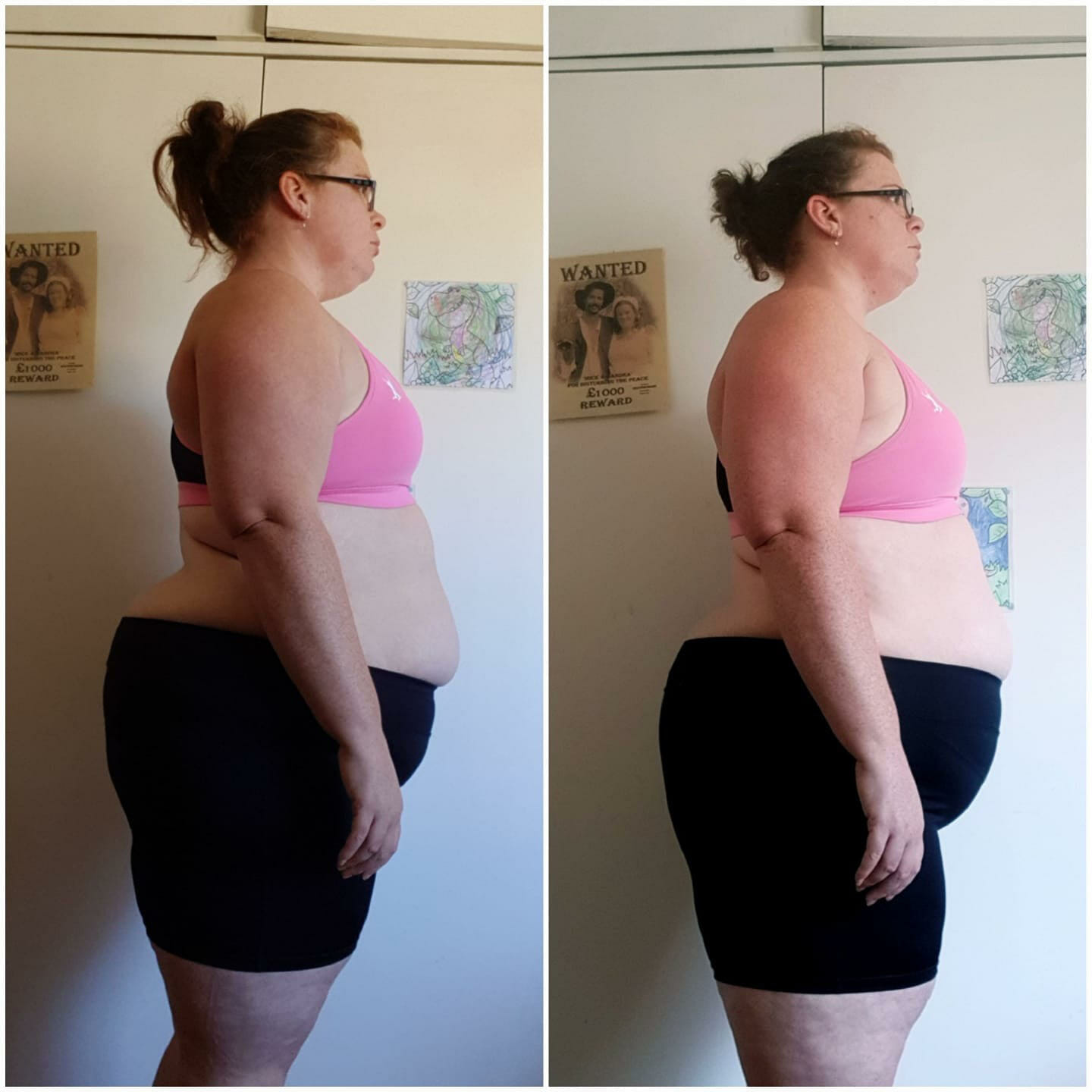 Sandra shares, "I joined the Healthy Mummy in April 2015 after the birth of my second child. I didn't want my girls to grow up as concerned for my health as I am for my mother.
Soon I managed to lose 22 kilos in my first year with the help of the 28 Day Weight Loss Challenge and Healthy Mummy Smoothies. I also managed to impress my doctors by significantly reducing my blood pressure and improving my PCOS.
Between health issues, life, and some medication I have put some of the weight back on. But I am back to smash my way back to my goals, focusing on improving my strength, fitness, and health markers!"
Sandra's favourite recipes
"My favourite challenge meal is Chicken and Mushrooms and my favourite snack is Choc-almond Chilled Pudding."
Sandra's tips for starting
Spend some time getting familiar with the app so you can get the most out of it.
Customise the meal plan to suit you and your family.
Use the exercises to your advantage! There are no excuses when some can be done in only a few minutes!
Sandra's motivation tips
Find your reason why and write it down. Revisit this every time you feel like giving up. Stick it on your fridge or motivation board so you have a constant reminder.
Make sure you take measurements and progress pictures. These can seriously motivate you when the scales aren't moving.
Have a friend or family member help keep you afloat. By working out with you, listening to you, supporting you, and helping to make better choices when out and about.
Thanks for sharing a little bit about yourselves mums. We can't wait to SMASH the November 28 Day Weight Loss Challenge together.
Join the 28 Day Weight Loss Challenge
The no.1 mums only health, fitness & weight loss program
It is like a PT, Coach, Nutritionist & Chef – ALL IN YOUR POCKET – with EASY to follow food & fitness plans
You get unrestricted access to :
● Nutritionist & chef designed weekly meal plans
● Personal Trainer crafted At-home workouts- 28 minutes and under
● Daily Motivation from My Coach
● Personalised Shopping lists to make life easy
● Over 4,000 healthy and delicious recipes at your fingertips
● REAL TIME support from The Healthy Mummy Team and OVER 200,000 other mums