Mum Of Triplets Dies Suddenly After Babies' First Christmas At Home
*** Trigger warning, this post mentions death***
A mum who finally brought her triplet daughters home after they were born 10 weeks early has died. Rachel Park had just one week at home with her longed-for girls, celebrating their first Christmas, before her sudden death.
The community is now rallying behind her distraught husband Steven as he faces raising their precious daughters solo.
Long Journey To Parenthood
After several years of trying for a family and many rounds of IVF, 39-year-old Rachel and 37-year-old Steven welcomed Poppie, Mollie and Evelyn into their lives in March this year, at just 26 weeks.
It's understood Rachel, who had Type 1 diabetes, was showing signs of high blood pressure due to pre-eclampsia, leading to the early delivery.
The tiny trio had only just be allowed out of hospital and last week the UK couple said that their three girls was all they wanted for Christmas.
Proud mum Rachel said last week, "It was touch and go with all three at some point but they're all out and fine now. We were told to prepare for the worst.
"They've had quite a tough journey but they're growing now and doing well. We're looking forward to Christmas, there's toys everywhere!"
Steven gushed, "We were so scared that they may not make it this far, and will therefore be really celebrating the festive season. They're the only presents we want.
"We just sat on the sofa thinking 'they are our family'. They lay on our laps and we were in disbelief."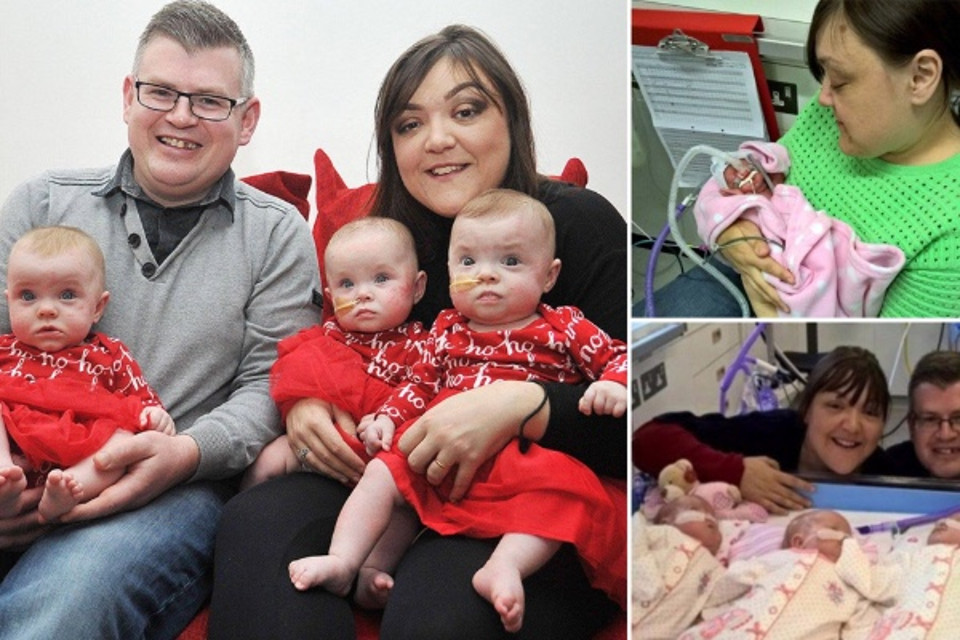 Shock Death Stuns Community
Police have said Rachel's death is 'unexplained but not believed to be suspicious'.
Friends have now set up a crowdfunding page to raise money for Steven and the nine-month-old triplets, as they face life without Rachel.
*If feel as though you might need someone to talk to, contact Beyondblue or call 1300 22 4636. For information on postnatal depression visit Panda.