Nutritionist (and her children) weigh in on The Healthy Mummy Kids Chocolate Smoothie
Our Healthy Mummy Kids Chocolate Smoothie is SO yummy that our Healthy Mummy community (well, their kiddies) have been LOVE, LOVE, LOVING IT!
It was our mission to create a product for children that is healthy, minus any added sugar, jam packed with nutrition (including probiotics) and even entice little fussy-eaters.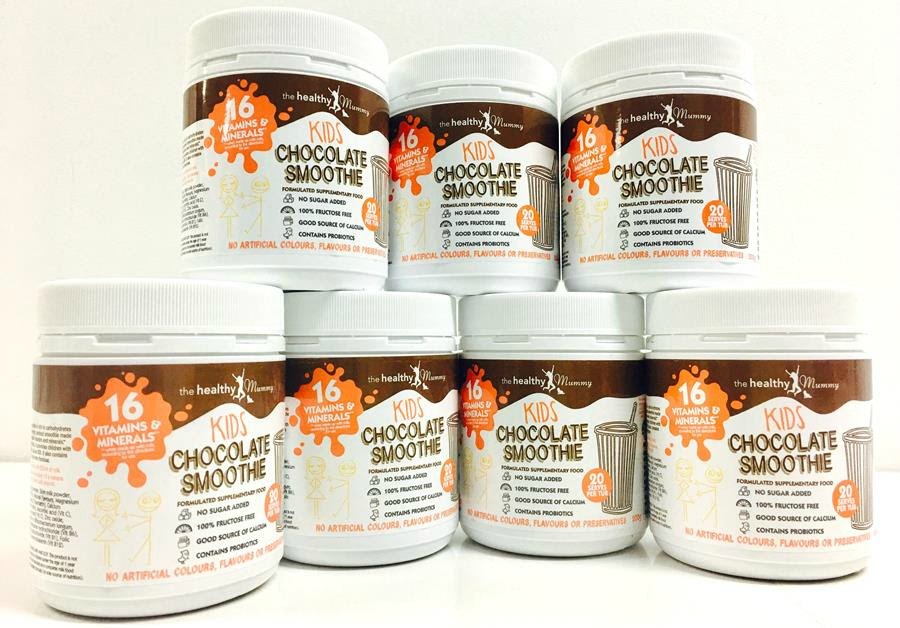 A healthy kids snack, free from all the nasties
The main difference between the Healthy Kids Smoothie and most other commercially bought chocolate drinks is that other brands contain LOTS of added sugars. Milo, for example, is 46 per cent sugar (mostly added).
In addition, unlike other chocolate drinks, our Kids Smoothie has plenty of goodies including:
16 vitamins and minerals (Milo has 9 vitamins and minerals)
Probiotics (to assist with healthy gut function)
188mg of calcium per 10g serve (Milo contains 170mg of calcium per 20g serve)
The sugar content in The Healthy Kids Smoothie is from NATURAL sugars from the lactose in the milk and is FREE from added sugars.
We have had so many mums email us to let us know that their kids are loving these smoothies and how RELIEVED they are feeling their kids are sipping on nutritiously filled and vitamin loaded snacks.
But, what does a professional nutritionist have to say about our NEW kids product?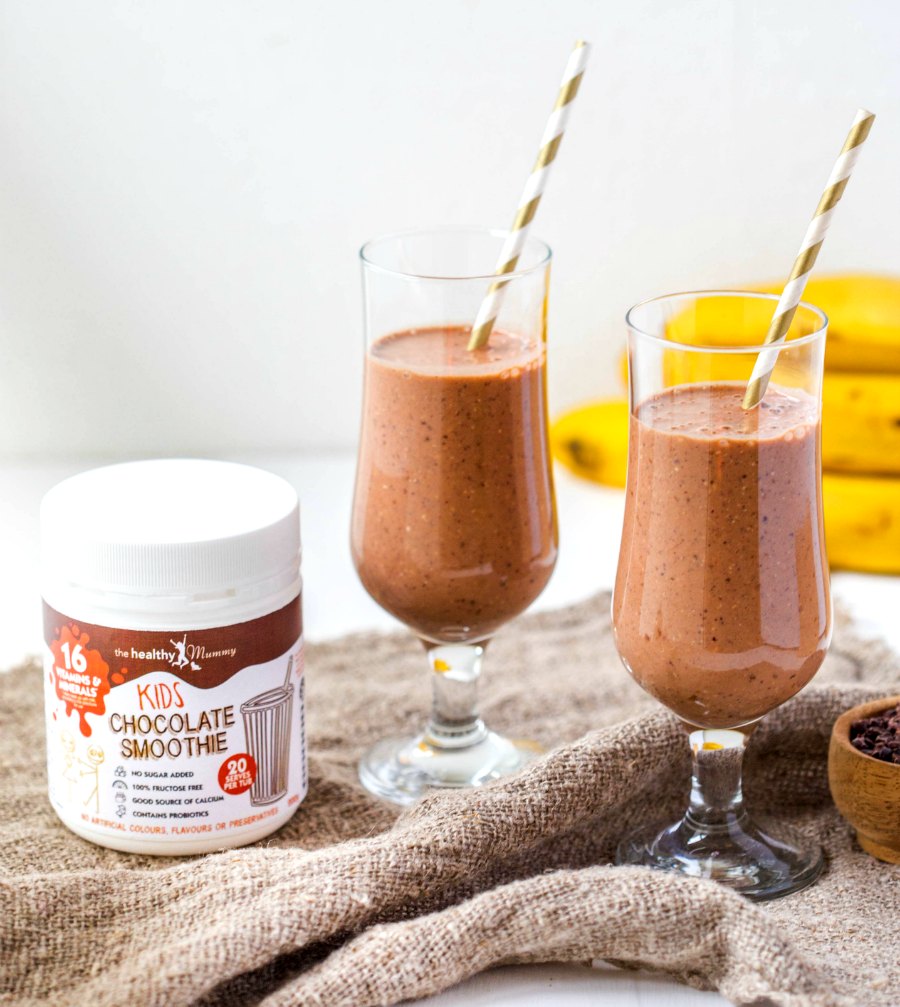 Nutritionist weighs in on the Healthy Mummy Kids Chocolate Smoothie
Elisha Danine (BHSc Compl Med) is a clinical nutritionist who specialises in nutrition for weight loss, insulin resistance, digestive and mental health.
With a huge amount of experience in complimentary health, Elisha helps people to work through food related issues such as diabetes and obesity, and provide assistance to combat emotional eating.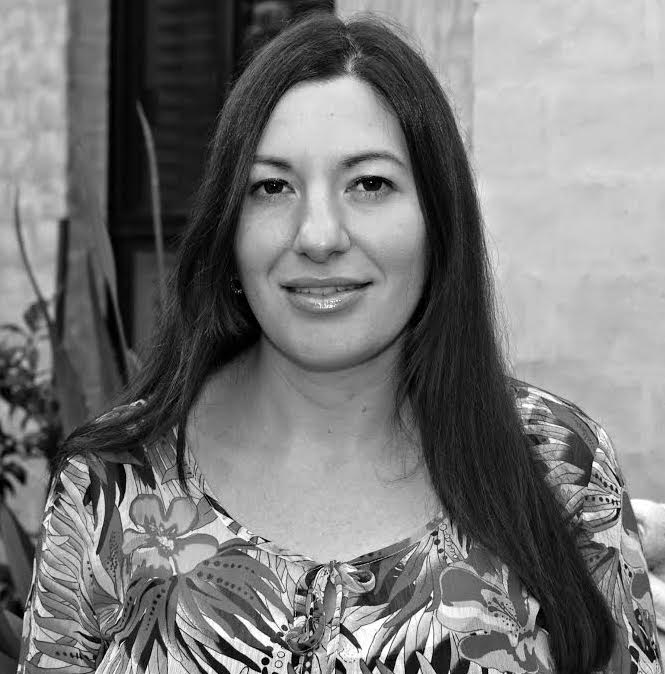 We recently asked her to suss out our Kids Chocolate Smoothie and whether of not she would give it to her little one. This is what Elisha had to say:
What Elisha Danine had to say about the Kids Chocolate Smoothie
We received our tub of Healthy Mummy Kids Chocolate Smoothie and Miss 6 couldn't wait to try it.
As a mum and nutritionist, I am always looking at ways to achieve the ideal nutrients in my children's daily diet (which can be difficult when you have a fussy eater).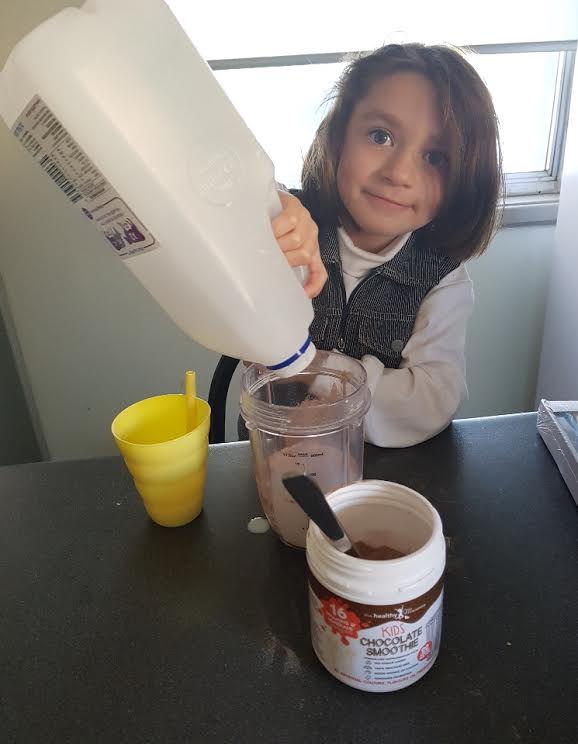 My daughter loved the taste of the Kids Chocolate Smoothie, and has subsequently asked for it daily.
I really love the fact that there is no added sugar in the smoothie and that it also contains added probiotics.
I would be more than happy to recommend this nutritional drink to any parent looking to improve their children's health.
It's a big tick from us.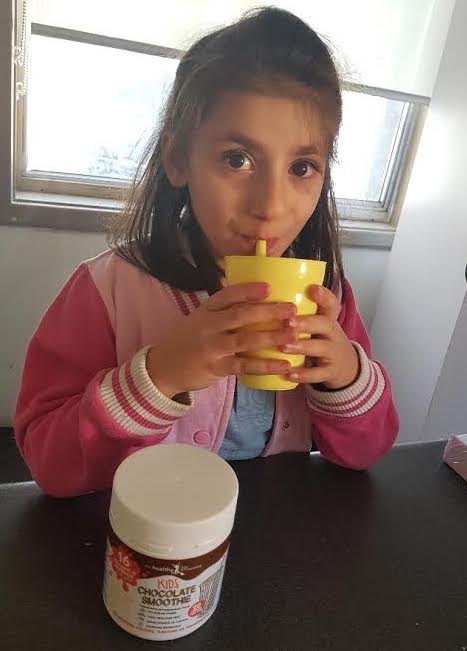 The VERDICT on the Kids Smoothie is A BIG THUMBS UP!
Absolutely amazing. We are so pleased Elisha and her family LOVE our Kids Smoothie!
If you want to entice your fussy eater with a delicious, vitamin loaded treat and or ensure your kiddies are getting the right minerals they need for their growing bodies be sure to check out our Healthy Kids Smoothie
Healthy Kids Smoothies – chocolate and banana flavours available!
The Healthy Kids Smoothies have been specially made as a healthy snack for kids and is ideal if you have fussy eaters or want to ensure your children have a nutritious and healthy smoothie snack. It also has a 4.5 Health Star Rating when made with skim milk. It contains NO added sugars.
For the chocolate flavour click here.
For the banana flavour click here.
The sugar content in The Healthy Kids Smoothie is from NATURAL sugars from the lactose in the milk and is FREE from added sugars. WHO recommend aiming for 5% added sugars in the diet and this product provides NO added sugar.
The Healthy Mummy Kids Smoothie is rich in carbohydrates and protein and is a natural energy packed smoothie made for kids.

It contains 16 essential vitamins and minerals and when combined with milk, provides children with 50% of their Calcium RDI. 

It also contains probiotics needed for healthy guts.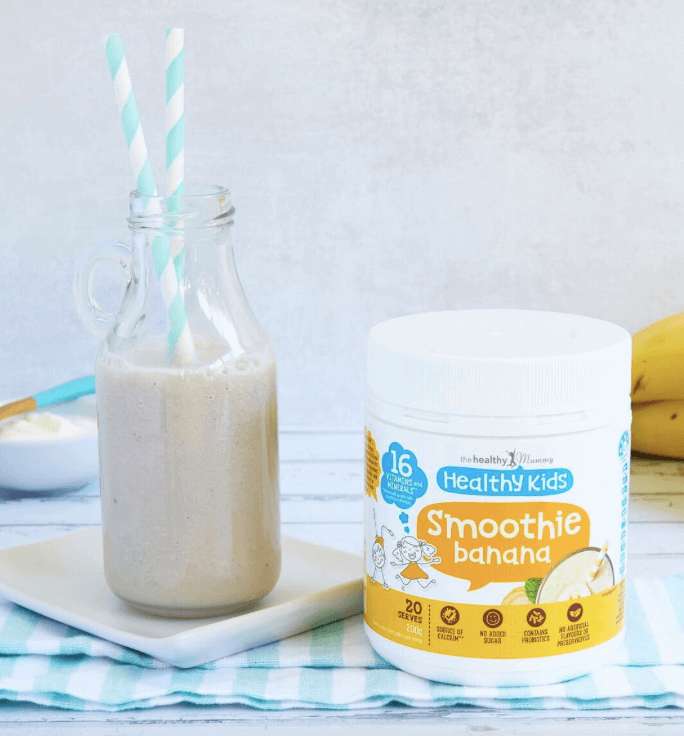 What do you need to know about The Healthy Kids Smoothie
It is a nutritious snack made for kids

It contains probiotics

It contains 16 Vitamins and minerals

It contains NO artificial colours, sweeteners, flavours, preservatives or MSG in the product

It is rich in protein

It contains NO added sugar

It contains 16 Vitamins and minerals – when combined with milk
Allergy information
The product contains dairy (the base of the smoothie) and  a small amount of soy (within d-alpha-tocopheryl).
The product does not contain any ingredients derived from gluten, fish, eggs, nuts or sulphites. However the factory in which the product is made does store and manufacture these products but they are not produced on the same line.
For more info on the Kids Smoothies and our products, click here.