Product Safety Australia have issued a national recall on popular baby beanbags, Bubba Beanbags due to choking and suffocation hazards.
As a mother whose daughter required emergency surgery after inhaling one of these beanbag beads at nine months, I urge all parents to take this recall seriously.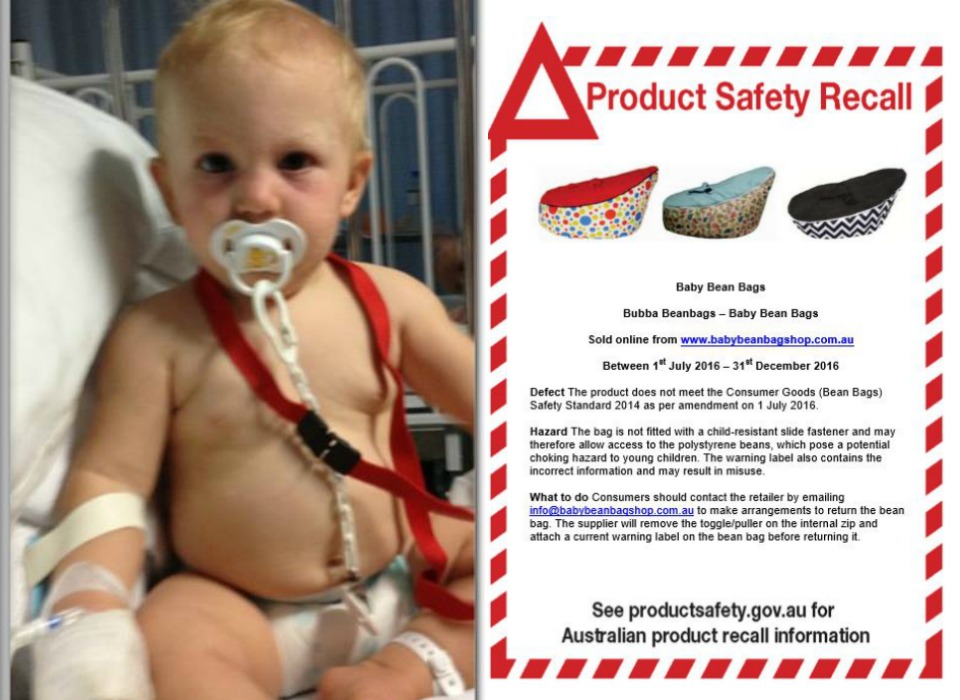 Infant Requires Lung Surgery After Inhaling Polystyrene Bean
When my daughter was still growing in my tummy, baby beanbags hit the shelves and instantly became a 'must-have' accessory. Naturally, I had to have one. They were a great addition to any living space and my daughter seemed to enjoy sitting in it.
However, nine months after welcoming her, my cheeky little crawler got hold of one of the bean bag beads. A few days earlier I had added more beans to the bag and some must have escaped under a chair and missed the vacuum cleaner. She ended up inhaling the bead and it quickly started to impact her lungs. Within hours her lips started to turn blue, she became listless and she was making a strange wheezing sound.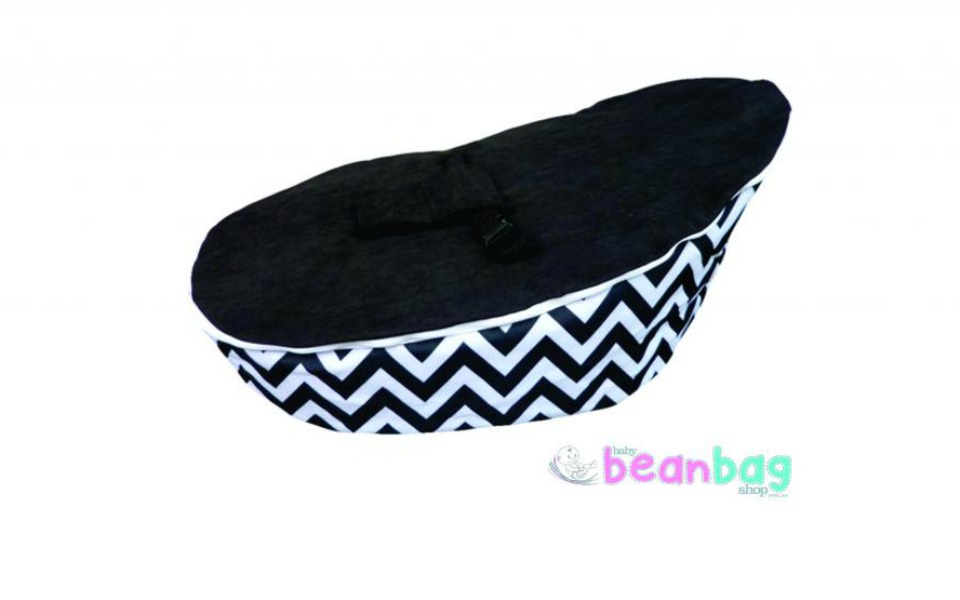 Image source: Product Safety Australia
I immediately brought her to the ER where they discovered her breathing was irregular and something was in her lung. I put two and two together and admitted that it could possibly be a beanbag bead. She was air lifted to a larger hospital to undergo emergency surgery to remove the bead from her lung.
I can honestly say it was one of the worst experiences we've had to go through. Watching my daughter helpless on a hospital bed, knowing deep down that I should have prevented it from happening by being more cautious, is something no mother wants to see or feel.
Sure, it was a freak accident. Babies swallow things they shouldn't all the time. My daughter made a full recovery but it was a huge wake up call for me and I binned the baby beanbag the moment we returned from the hospital.
Australia Wide Product Recall Issued
My ordeal is not the first time a child has choked or been hospitalised due to the bean bag beads. This week Product Safety Australia have put out a national recall on the popular Bubba Beanbags citing, "the product does not meet the Consumer Goods (Bean Bags) Safety Standard 2014 as per amendment on 1 July 2016."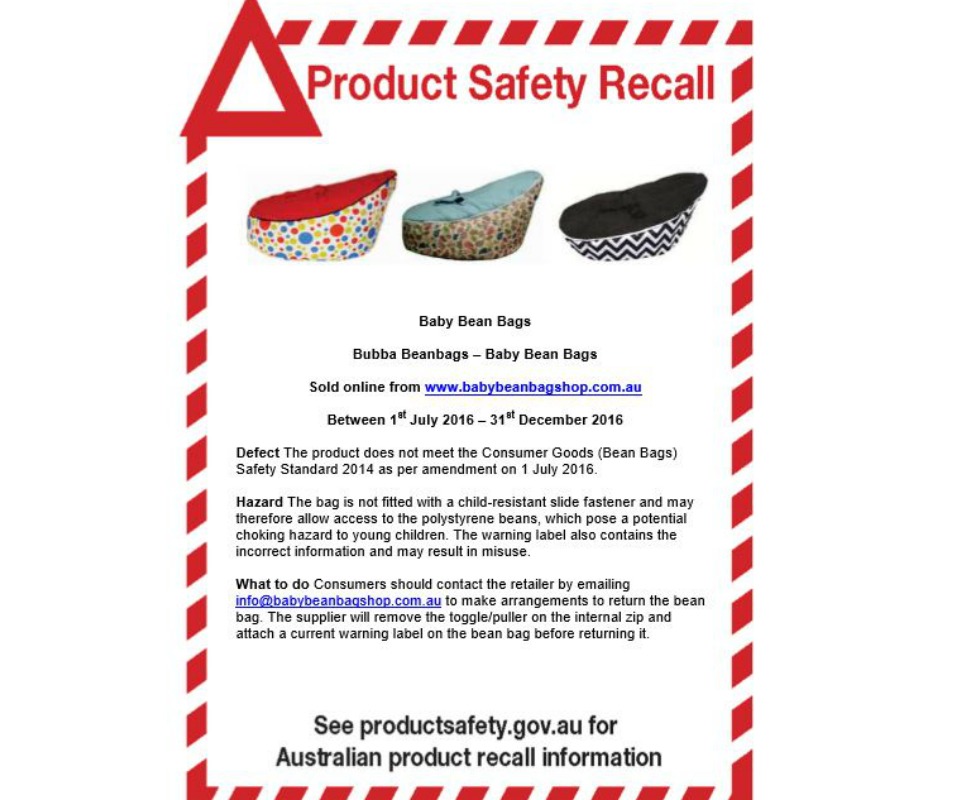 The first product recall took place in 2014, but the company failed to make the required changes to the product, resulting in a recall of all baby beanbags purchased between 1 July 2016 – 31 December 2016.
What are the hazards?
The problem lies in the polystyrene beans inside the bags which pose potential choking and suffocation hazards to young children. The internal bag is not fitted with adequate child resistant fasteners and the warning label provides incorrect information.
If you have purchased one of these bean bags, Product Safety Australia has requested that you contact the retailer by emailing [email protected]. The supplier will remove the toggle on the internal zip and attach a current warning label on the bean bag before returning it.
Do you know what to do if your child is choking?
Have a look at this powerful video that can help take you through the steps if your child is choking on a bean bag bead or any other item.
Yes, accidents happen, but the best way to prevent them is to be prepared. Because, as this heart-stopping 21 second video proves, children are a lot quicker than we may think. It only takes one unsupervised second for tragedy to strike.