This mum breastfeeding four year-old triplets is banishing stereotypes
Breastfeeding can be tricky at the best of times – juggling a wriggly newborn, getting the right latch, finding a comfortable position. Multiply that by three and you get a little glimpse into the life of Davina Wright.
The Healthy Mummy had a chat to Davina about banishing breastfeeding stereotypes, as she continues her breastfeeding journey with her almost five year-old triplets.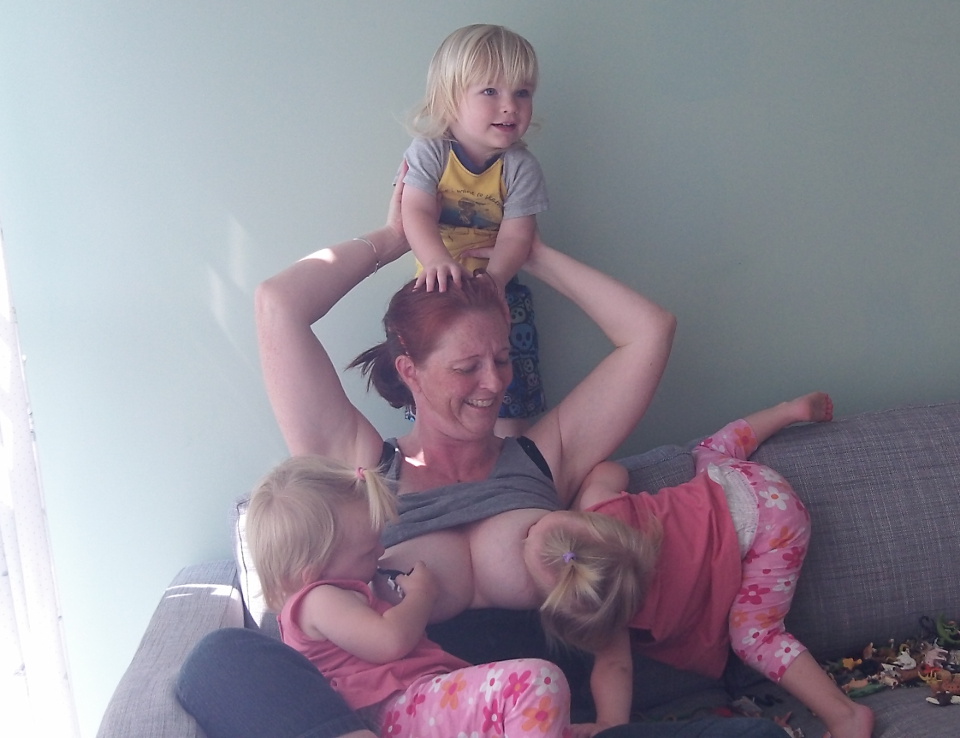 How is it possible to breastfeed newborn triplets?
I found getting the hang of breastfeeding my kids pretty tricky, and they were both singletons, so the idea of somehow nourishing three little ones at once is mind-blowing to me! But for Davina, who original hails from New Zealand, it was a case of believing in herself.
"I believed I could, I trusted my body, I fed on demand and just got on with it," she explains to The Healthy Mummy. "For me it seemed easier than bottle feeding because, one: when you breastfeed, especially tandem, you get to sit down with your feet up, so I was literally resting the whole time, and two: when you breastfeed, the boob is for everything, every whimper, every upset, you don't have to figure much out, you just put them on the boob.
"If they are tired, bored, upset, uncomfortable, grumpy…the boob fixes most things. I told myself that breastfeeding would be my full time job for at least six months and it was."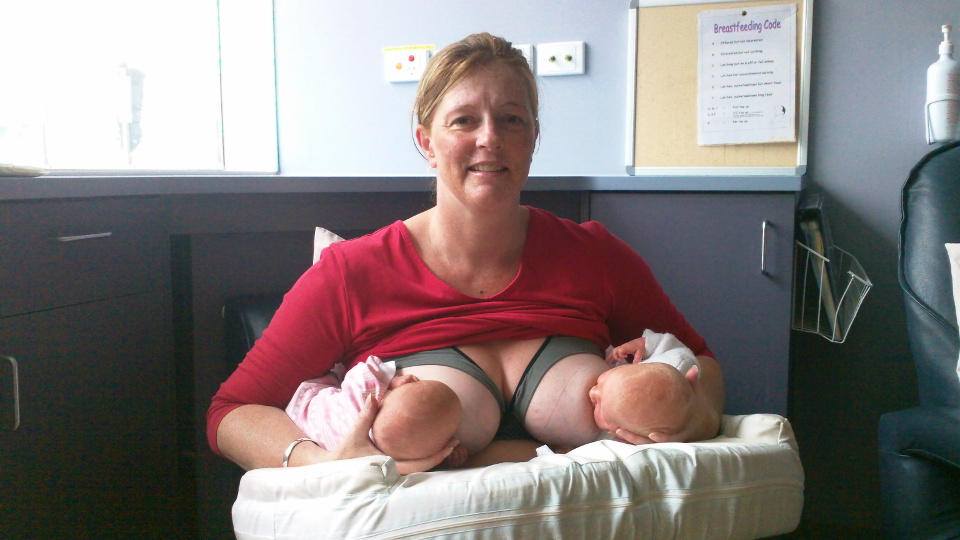 Davina's other two children were 19 and 20 when the triplets were born, so she was able to devote her time to her youngest, and as she puts it – she basically sat around all day with her boobs out!
What about night feeding?
Davina and her husband adopted a divide and conquer approach to night feeds. Her husband did night duty with the girls Summer and Willow in the nursery, while Davina slept in the main bedroom with her more wakeful son, Connor.
"Every one to three hours when he woke, I would nurse him on one side then double pump, and that milk would be for the girls bottles the following night. It worked out that because hubby had the two better sleepers, he generally got a better night's sleep than I did, up for two to three feedings while I did four to five.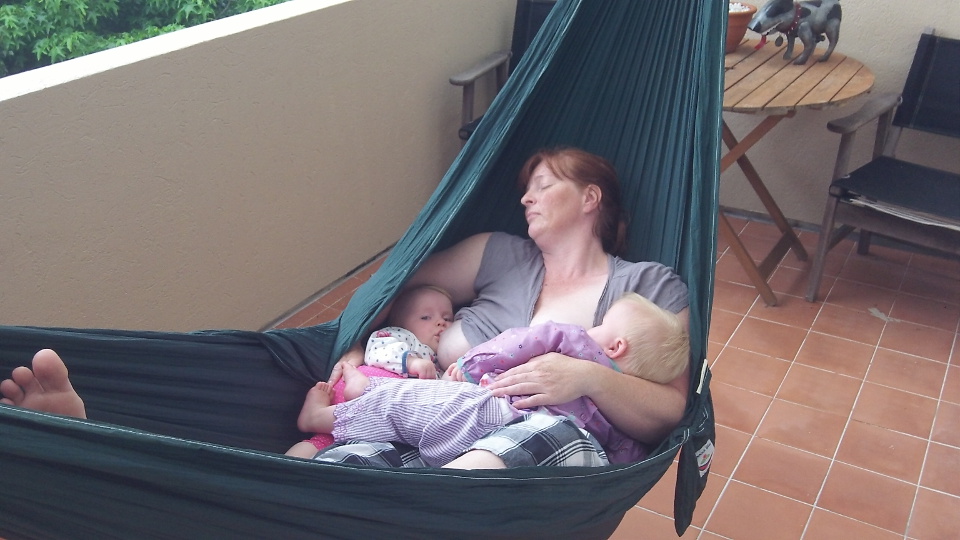 "But I only had one baby and he had two, so it meant that we shared the load during the night while getting the most amount of sleep possible. Between 6am and about 9pm I was solely breastfeeding, and only the two girls ever got bottles and only ever at night. This continued for 18 months until the girls both slept through the night.
"My boy continued to wake every one to three hours until he was two. The biggest challenge was simply not having enough boobs if everyone wanted some at the same time. I would talk to/soothe/play with the third while they waited but they were never happy about it."
Expressing two litres of breast milk a day!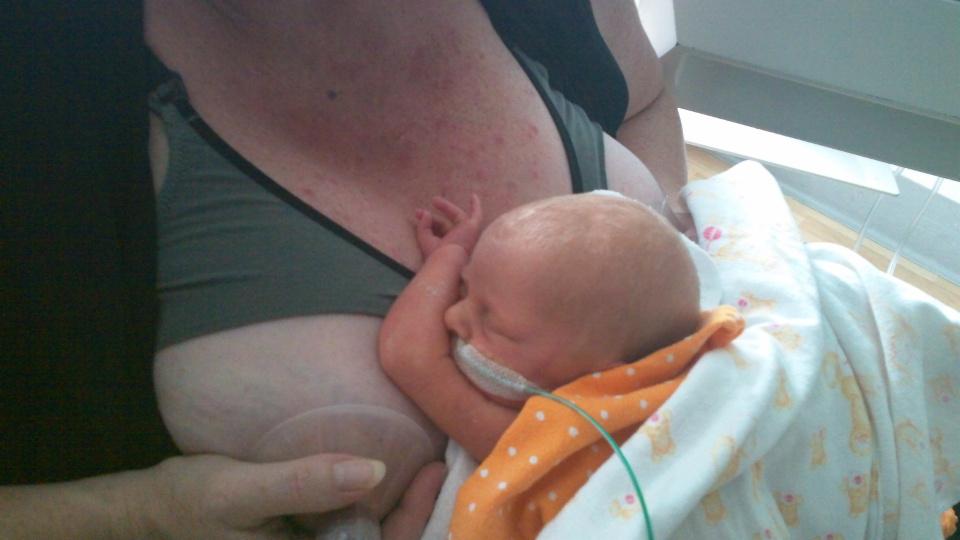 Davina admits that initially she was met with funny looks when she revealed she would be breastfeeding the triplets. But that eventually turned into a mountain of support, as she set her mind to exclusively breastfeeding her three new babies.
"I was lucky to have a great hospital in New Zealand with a very robust and transparent breastfeeding policy. They received no formula while in NICU, I started hand expressing colostrum almost straight away, by day three I was pumping and within a week I was pumping around a litre a day. By the time we left hospital at three weeks old, I was pumping around two litres a day which was way more than what they were drinking so I had a huge stash."
Support turns to negativity
While Davina has been overwhelmed by the support she has received as she's continued breastfeeding the triplets well into their fourth year, she's also very used to the negative comments.
"That is all mainly online, no one has been overtly negative to my face. I have two sisters who both breastfed their kids until six to seven years old so my family wasn't/isn't shocked as they get older.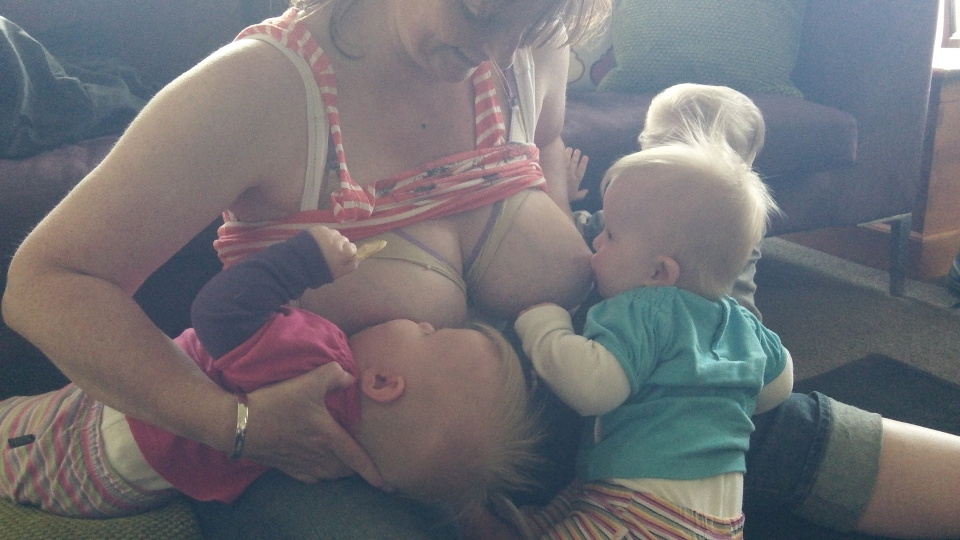 "I have surrounded myself with like minded mamas, many in groups online. This way I get lots of support, this is my community. I don't tend to talk about it with people in real life, but that is mainly because we are always moving (we have lived in three different countries since the babies were born), so my friends online are a constant, but friends in real life are always new and changing."
Every breastfeeding journey is different
Davina has some brilliant advice for anyone who is considering breastfeeding multiples – not the least of which is using your own definition of 'successful breastfeeding'.
"The main thing I have learned, from my own journey and from being so involved with other women's journeys, is that there are many ways to be 'successful' when breastfeeding triplets. Lots of women exclusively pump, lots exclusively breastfeed, lots are in between, lots supplement with formula…it is ALL successful, no mama of three babies should ever feel 'less than successful' because they didn't do the stock standard only babies on the breast kind of deal.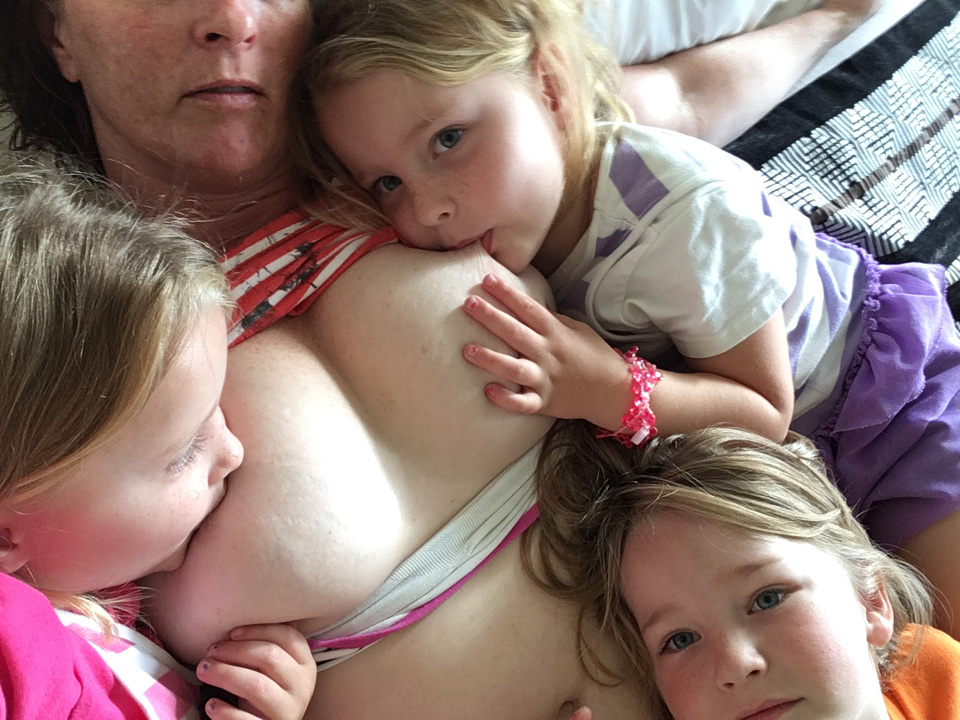 "There is no one way to do it, especially if you have other toddlers or kids to look after, or you're a single mother, or a working outside of the home mother. Women have to find what works for them and their situation. This is true of all mothers of course, but mothers of triplets even more so, it is a balancing act of what your body is capable of, what your situation demands, how much sleep you need, how much help you have, how important breast milk is in your scheme of things…all sorts of things personal to each mama."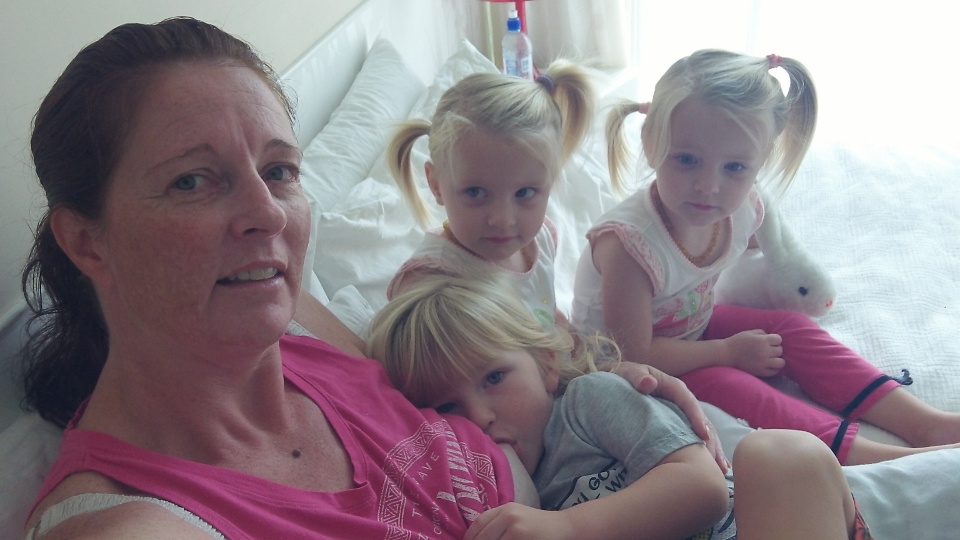 Davina admits that now the triplets are hitting their straps as almost five year-olds, she looks back fondly at the times when she was breastfeeding 30 to 40 times a day because it was probably easier than the tears and tantrums of sibling rivalry she currently experiencing!
If you're keen to continue following Davina's journey with her triplets, and other inspirational breastfeeding stories, head to Boobs, No Bollocks and The Milk Meg.
Did you know that The Healthy Mummy smoothies are breastfeeding-friendly?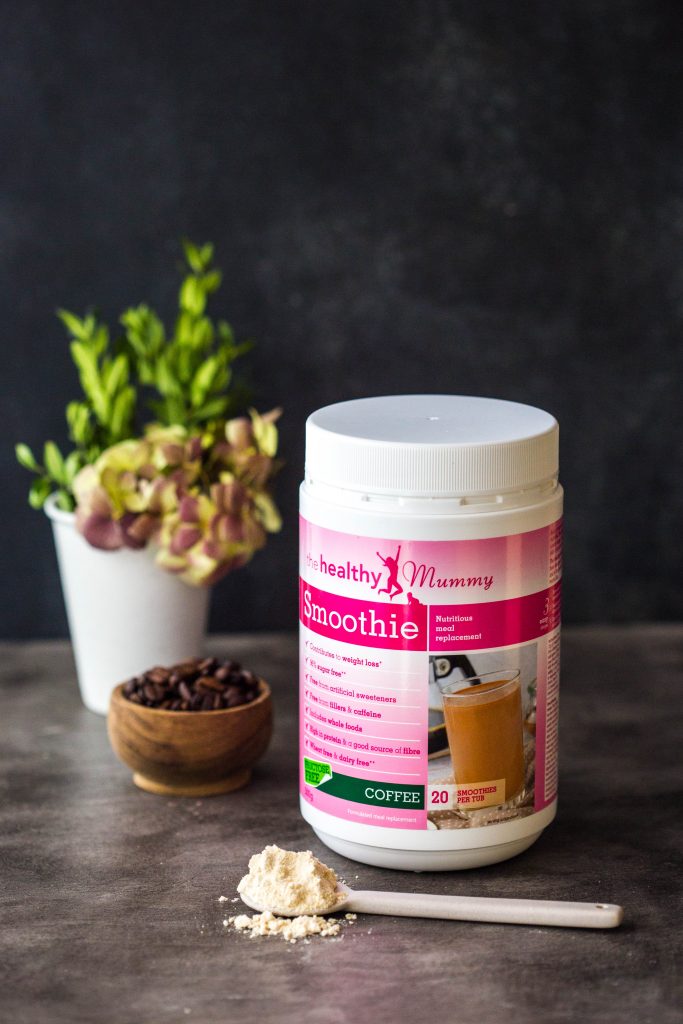 The Healthy Mummy smoothie has been created to help mums benefit from a wide range of nutrients which can also help support your healthy eating plan and exercise routine if you are trying to lose weight.
The smoothie range has been formulated by leading nutritionists, dieticians and with input from Monash University.
It offers an excellent source of essential vitamins, minerals, nutrients and important antioxidants.
It's also free from any weight loss accelerants, caffeine, contains no wheat ingredients, no fructose, is 96 per cent sugar free and is dairy free.
You can download our information fact sheet here. You can also download the smoothie label and ingredient list here.